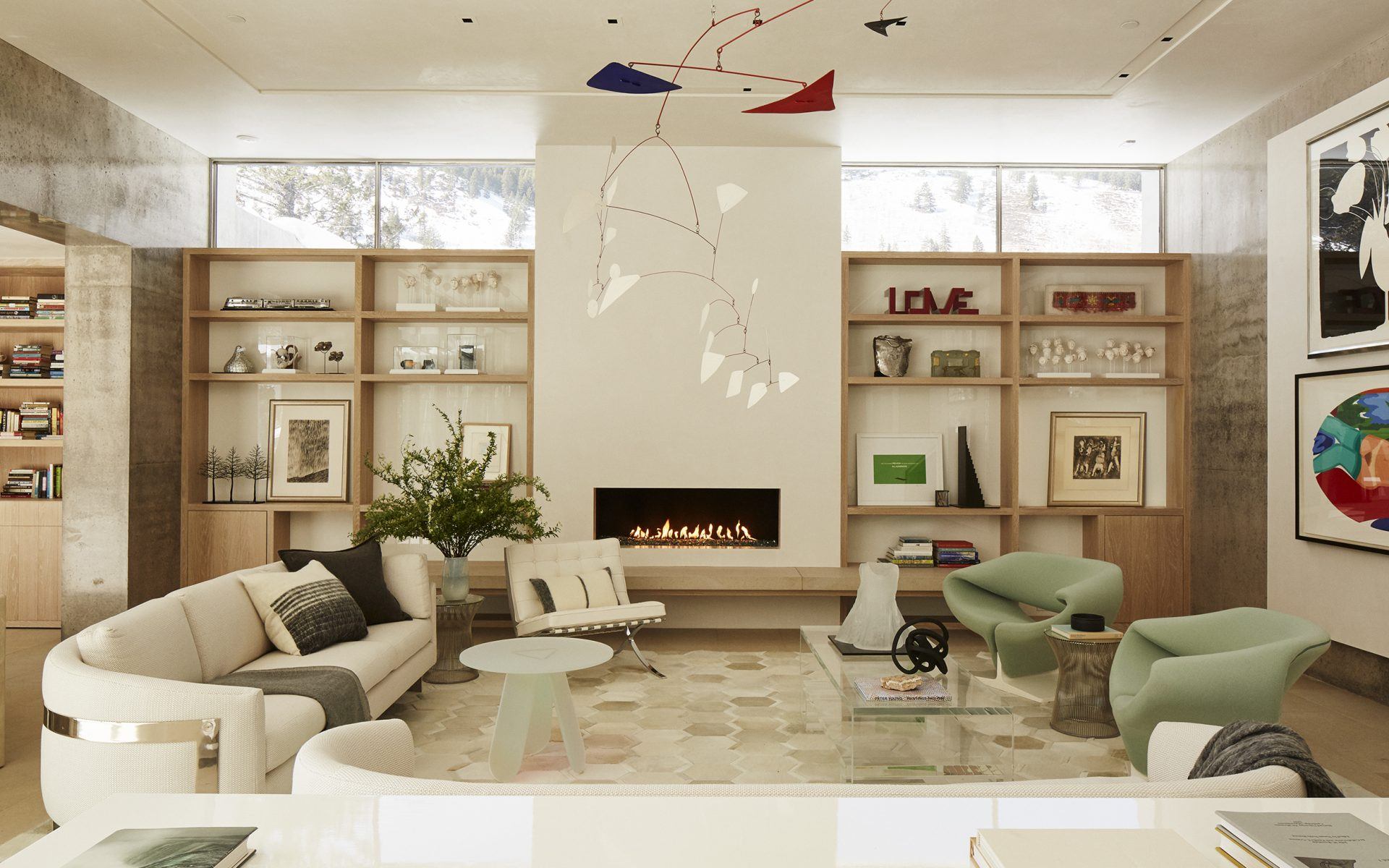 Inside a Modern Marvel in Aspen Designed by Architect Michael Imber
The poured-concrete home was designed to accommodate a remarkable collection of art while offering breathtaking views of the mountain and valley
Perched above Colorado's picturesque Castle Creek is a striking modernist house that classically trained architect Michael Imber designed for a major art collector and patron, built like a puzzle piece into a narrow promontory in the shadow of Mount Hayden. But the impetus for this unique collaboration can be traced some 1,200 miles away, in Houston.
On a book tour for his 2013 monograph, Ranches, Villas, and Houses, Imber was approached by a woman who recognized one of his West Texas designs, Rancho del Cielo, as her childhood home. Impossible, the architect insisted—the historic adobe compound burned down in the mid-1990s, and Imber had been hired to rebuild it at twice its initial size. "She told me that I had captured exactly the spirit of what she remember as a child," he recalls.
Inspired by his work on Rancho del Cielo, the client invited Imber to visit her alpine retreat in Aspen, Colorado, where she had cleared a plot to make way for a guesthouse. When she offered him the commission, the architect accepted, assuming that he would be designing a traditional home. "It turns out what she wanted was a Tadao Ando, poured-in-place, polished-concrete house," he says of what would become his first modern creation. "It was an interesting beginning to the project and the team getting simpatico with the homeowner's ideas, what she envisioned on the promontory, and re-gearing our aesthetic."
To reach the property, guests traverse a long drive that meanders through a scenic meadow and groves of silvery aspen trees. Upon arrival, the home's entry wraps around a gravel motor court with concrete walls, while a narrow, white portico and a figurative outdoor sculpture by Jim Rennert provide visual interest. "What we wanted to do was create a sense of suspense and mystery," explains Imber. "You're in this beautiful valley; you really don't have a sense for the view of Mount Hayden."
A glass-cube-enclosed entry hall seamlessly blends the exterior and interior, directing visitors down a set of stairs to the main living space. Here is where the majesty of the home's design is presented in its fullest glory as floor-to-ceiling glass walls offer epic views of the mountain range and towering trees. "It's only at that point that you discover that this house is all about the view," says the architect.
Situated on opposite ends of the structure, the two guests suites offer sweeping vistas. Acrylic cubes built into the copper roof, intended to patina over time, allow light to filter into the spaces during the day, then transform into sculptural lanterns by night. Anchoring the two wings is the living room, which was designed to showcase the homeowner's remarkable collection of contemporary art. A floating plaster gallery wall offers space to display works by Donald Sultan, Tom Wesselmann, and James Turrell. A white plater fireplace surround was intentionally left clean to provide a neutral backdrop for a mobile by Alexander Calder.
During construction, however, the homeowner became so infatuated by the space that the project morphed from a guesthouse to a main residence, and what was intended as a second-floor children's playroom was transformed into a master suite. The owner and her longtime interior designer, Suzy Wheeler, shopped from Palm Springs to Dallas to select a tightly curated array of furnishings, every piece a new acquisition. "It was easy to put minimal furniture in this house because the architecture is so fabulous," says Wheeler, who mixed neutral Milo Baughman rounded-back sofas from Thayer Coggin and a patchwork-hide Sinatra rug from Saddlemans with soft pops of color, like shapely robin's-egg blue Pierre Paulin Ribbon chairs and two opalescent Shimmer tables by Glas Italia. "She really wanted everything light and bright and white."
To offer space for entertaining, the floor plan was left open, flowing freely into the dining area and kitchen. "We wanted something that anchored that space but at the same time wasn't visually distracting," says Imber of the kitchen, which features polished-stainless-steel Ligne Roset barstools and Nick Veasey's tongue-in-cheek X-ray work, Rat Pack. To that effect, upper cabinets were scrapped and the ceiling raised several inches to allow for an expanse of stainless-steel-framed windows that echo the material palette and present the full drama of the surrounding area. Appliances were tucked into an alcove that leads to an outdoor barbecue area. A stainless-steel vitrine displays the homeowner's collection of Majorcan plates from the 1880s.
"I truly believe that although it would be very difficult for a modernist to design a classical house, I think it's very easy for a classicist to design a modern house," says Imber of the final 5,000-square-foot residence. "There are certain principles that the classicist understands about proportion, light, materiality, and sequence of space that help shape how you feel in the house."
And with a design that seems perfectly in tune with the Aspen landscape, layers of textures in a harmonious color palette, and punctuating moments of art, that feeling is one of home.
Next Post