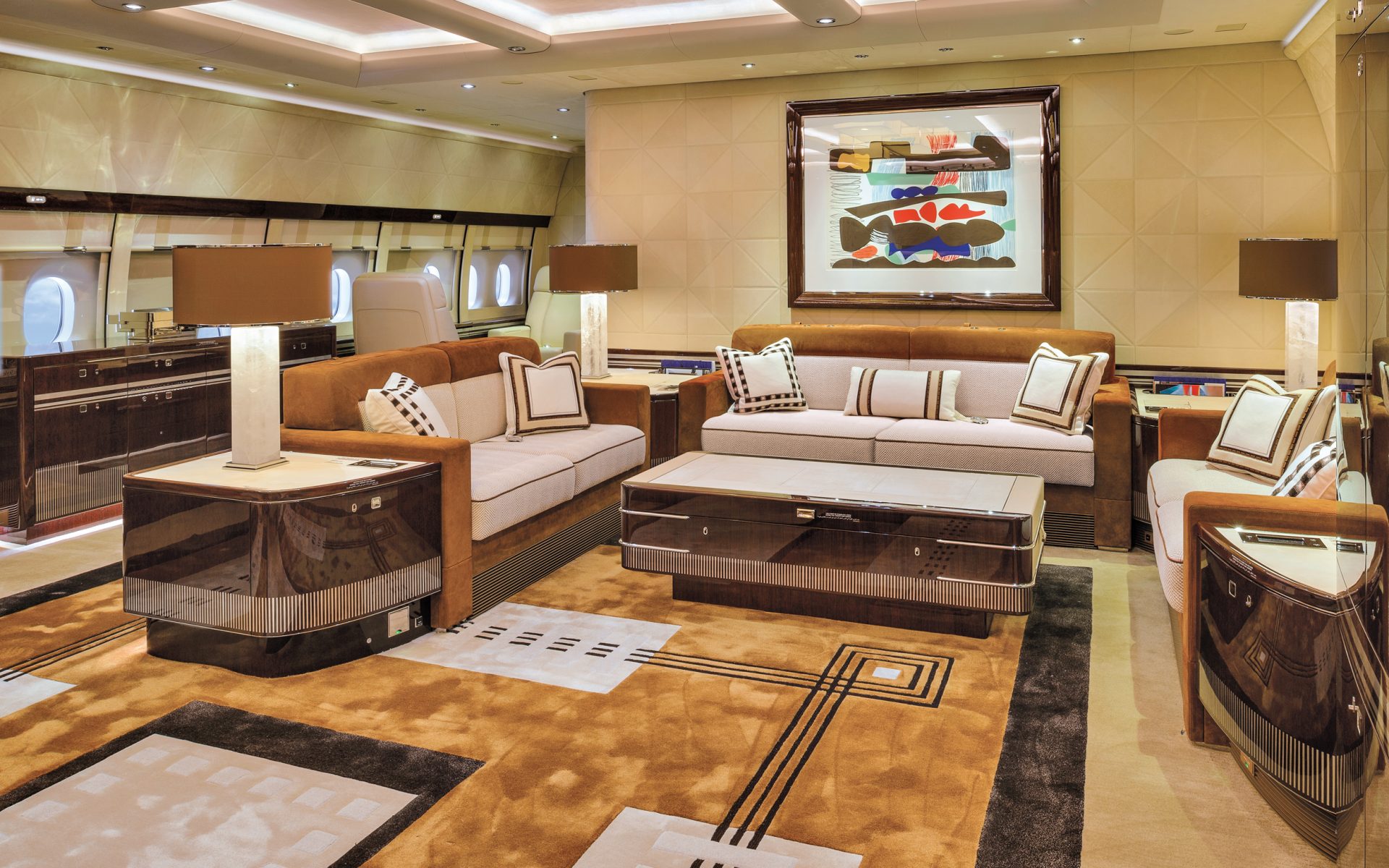 Tour an Ultra-Luxurious Boeing 747 Crafted by Alberto Pinto Interior Design
The plane, which took four years to complete, is a veritable airborne mansion
"It's not every day we're asked to do a real Boeing," says Linda Pinto, the dynamic leader of Alberto Pinto Interior Design, Paris's eminent source of disciplined, opulent interiors. While her company has outfitted many a stylish jet, including a Bombardier Global 6000, a Gulfstream G550, and a couple of Boeing 737-700s, the company has just completed its first-ever private Boeing 747-8.
Her brother Alberto's closest collaborator for 30 years, Pinto has masterfully carried on his legacy since his passing in 2012, working in a symbiotic relationship with the firm's 80 employees in the Hôtel de la Victoire, a five-story, 17th-century townhouse in the 2nd arrondissement. 
The plane, owned by a Middle Eastern businessman, is a veritable airborne mansion whose design and decoration fully reflect Alberto Pinto Interior Design's minutely balanced aesthetic of restrained elegance and deep luxe, true comfort and exquisite detail.
Despite the joint burdens of meeting myriad technical requirements—all fittings and materials had to satisfy Federal Aviation Administration and European Aviation Safety Agency flame-treatment standards, for instance—and working with the bulky, immovable seating and other furnishings necessary for air travel, the firm achieved an overall tone that is serene, luminous, and refined, strongly unified by fabrics in soothing creamy whites, leather accents, metal inlays, and marquetry in sycamore and African wacapou.
"The client was very clear, and he sort of gave us carte blanche," explains Pinto, a vibrant and energetic woman. Noting that the businessman and the firm knew each other well—her team previously designed for him "a very beautiful hôtel particulier in Paris, one in Morocco, and one in his own country"—she says, "He wanted something that was luxurious without being ostentatious. Luxurious things in a context of comfort, of simplicity. Which, for him and for us, is true luxury." 
As conceived by Yves Pickardt, the head of Pinto's private-jet department, and seven additional employees, this Boeing's interior was created over a period of four years: two years to design it, and another two to execute that design. Every sample created by the firm's network of top craftsmen in French marquetry, leatherwork, metalsmithing, and upholstery had to be reproduced by the artisans employed by AMAC Aerospace in Basel, Switzerland, an approved completion center for VIP/VVIP aircraft; AMAC guarantees that all work meets air-travel regulations.
Recommended: Get a Rare Glimpse of the Royal Family's Private Rooms at Buckingham Palace
"Everything is made by the completion center," Pinto says. "You have to go through them." Given her exacting standards, it would often take several exchanges between Basel and Paris before the Swiss team got every finish right. Pinto characterizes the resulting interior as "a contemporary classic, with a nod to Art Deco," which is evident in the color palette of whites and browns, the many rounded corners, and the panels with inlaid wood and metal.
Consisting of a master bedroom with a master bath, a guest bedroom with en suite bath, an office and conference room to conduct business, a private salon, multiple discreet lounging areas, and an upper deck divided between a vast children's area and quarters for crew and staff, this is a plane where the owner can truly feel "as he does in his house," Pinto explains. "This is a man who travels both for business and for pleasure, with his family—he has a large family. He uses it an enormous amount, around the world. Since it's a 747, there are no limitations of time, distance, or schedules." No doubt life is sweet in this Pinto-designed home in the air.
A version of this article first appeared in print in our 2018 Fall Issue under the headline Flight of Fancy. Subscribe to the magazine.
Next Post