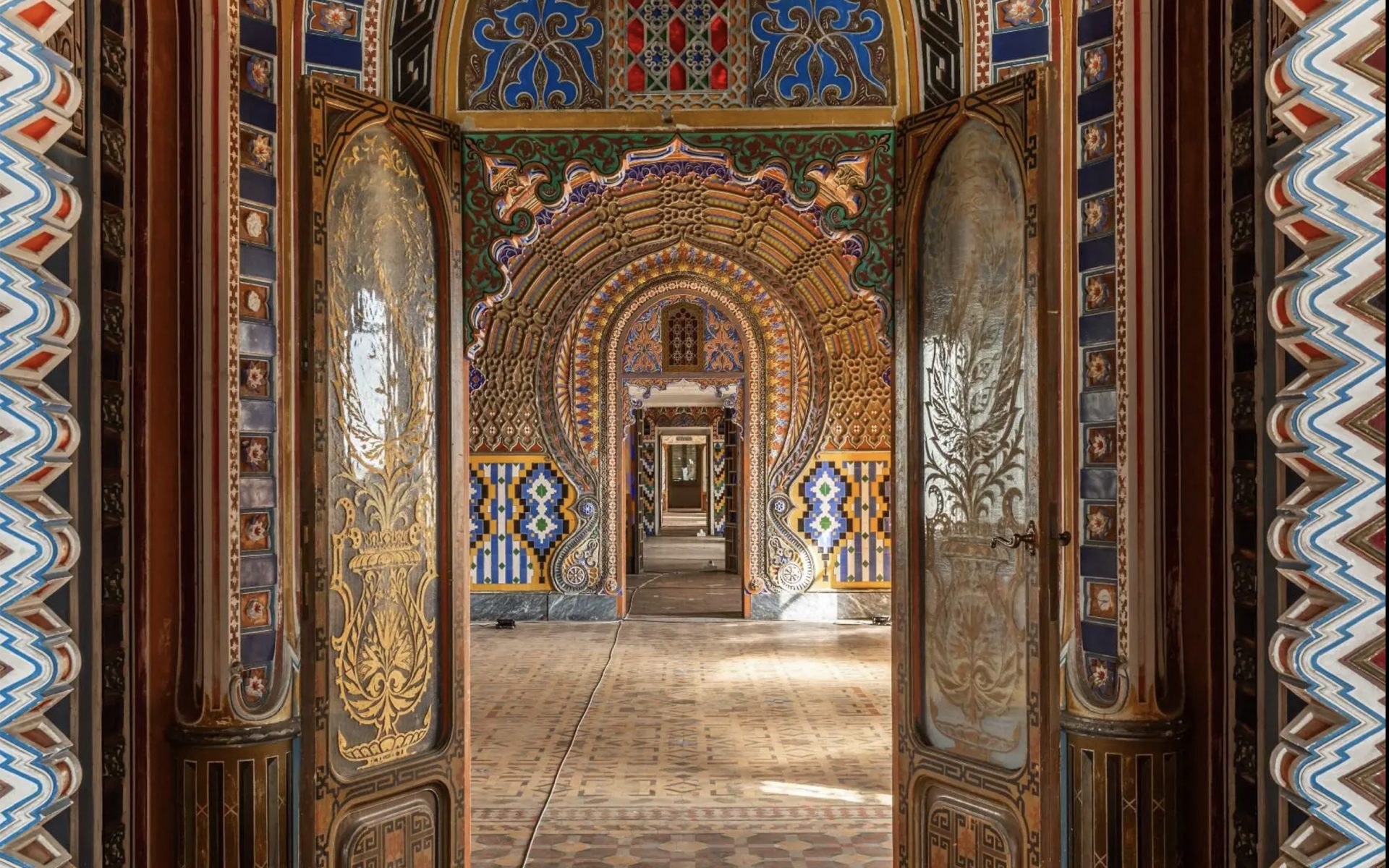 10 of the Most Architecturally Significant Homes to Hit the Market in 2018
Estates by Ettore Sottsass, Richard Neutra, Steven Harris, and, of course, Frank Lloyd Wright were all put up for sale
This was a banner year for real-estate lovers, with a smattering of architecturally significant homes hitting the market around the world. From Ireland to Mexico, these estates include both historic landmarks and dazzling modern masterpieces. See below for a glimpse inside estates by Ettore Sottsass, Richard Neutra, and, of course, Frank Lloyd Wright.
1. Frank Lloyd Wright
Los Angeles | $23 Million 
For this majestic 1924 estate on a bluff, legendary architect Frank Lloyd Wright was inspired by the Mayan temples of Uxmal, Mexico. Constructed of 27,000 patterned concrete blocks, the four-bedroom Ennis House has sweeping views of downtown Los Angeles and beyond.
2. Ettore Sottsass
Kula, Hawaii | $9.8 Million
One of seven residences designed by Sottsass (and one of just three in the U.S.), this colorful home was completed in 1997 and boasts majestic views of the nearby Pacific Ocean. Sottsass, who rose to fame in the 1980s by spearheading the Memphis design movement, created virtually everything inside as well, from furniture and objects to the dishes, flatware, glasses, and even the stationery and pens. (These custom goods are also for sale, to be negotiated separately.)
3. Richard Neutra
Bel-Air, California | $10.5 million
The year was 1954, and two young newlyweds asked California-modernism pioneer Richard Neutra to design this Bel-Air stunner as their dream home. Some half a century later, philanthropist Adele Binder acquired it from the couple, along with the original drawings for an unrealized second story. Enlisting preservation-minded architect John Bertram, Binder used the plans to orchestrate a $2.5 million expansion, and now the resulting 4,300-square-foot, four-bedroom structure—which sits on half an acre and includes a pool—is crowned by a glass-walled master suite with sweeping views from city to sea.
Recommended: Frank Lloyd Wright–Designed House in Kansas City Hits the Market
4. Ferdinando Panciatichi Ximenes d'Aragona
Tuscany, Italy | $18.4 Million
The 58,400-square-foot Sammezzano Castle is considered one of the most important examples of Moorish architecture in all of Italy. Built in 1605 and restored in the 19th century by an Italian nobleman, the estate was briefly used as a hotel and bar after World War II. A second attempt in the early 2000s to turn the palatial residence into a luxury hotel was unsuccessful, and it's largely sat empty for the past two decades.
5. Marmol Radziner and James Turrell
Las Vegas | $14.5 Million
In 2009, MGM Resorts CEO Jim Murren tapped California architecture firm Marmol Radziner to craft this eco-friendly retreat, nestled in the red desert rocks some 20 minutes from the glittering Las Vegas Strip. To reduce the carbon footprint, the firm designed a series of steel-framed prefabricated modules that were manufactured near its Los Angeles office and then assembled it in a matter of days on the 1.5-acre site. To accompany the glass-and-steel dwelling, Murren asked his favorite artist, James Turrell, to install one of his skyspaces on the grounds. Dubbed Arrowhead, the pyramidal structure features a pair of glowing rooms punctuated by apertures, one open to the sky, the other pointed toward the horizon.
6. Ogden Codman Jr. 
Brookville, New York | $15 million
In 1916, legendary Beaux Arts–style architect Ogden Codman Jr. built this classic French château—dubbed Haut Bois—on Long Island's scenic North Shore, modeling it after the Louis XIII hunting lodge that Louis XIV gradually expanded into the Palace of Versailles. After acquiring the seven-bedroom residence in 2000, the current owners spearheaded an extension renovation, including replacing the roof, windows, and mechanical systems and installing new floors throughout, plus adding an irrigation and lighting system outside.
7. Steven Harris
Mexico | $10 million
Enchantingly located on a cliffside some 250 feet above the Pacific, this 2001 residence served as a private getaway for songwriters Claire and George David Weiss. Constructed with reinforced concrete and high-strength laminated glass, the Steven Harris–designed refuge features two wings, totaling 7,500 square feet and containing five bedrooms. At the center lies a marvelous desert courtyard that incorporates boulders found on-site and is enlivened by a garden of succulents. This leisurely, convivial space offers a two-story outdoor living room and a cantilevered infinity pool with captivating views of the Baja Peninsula.
Recommended: Ralph Lauren Snags Oceanfront Montauk Estate for $20 Million
8. Sheehan & Barry Architects
Lienster, Ireland | $34.7 million
Half an hour from Dublin, this handsome 18th-century castle has welcomed such pop-music luminaries as Michael Jackson, Mick Jagger, and Bono. They were guests of the Guinness brewing family, which acquired the 5,000-acre estate, named Luggala, in 1937. In the 1990s, Irish conservation specialists Sheehan & Barry Architects oversaw a multimillion-dollar refurbishment of the seven-bedroom Gothic Revival main lodge.
9. Frank Lloyd Wright
Phoenix, Arizona | $3.25 Million
In the final decades of his illustrious career, Wright embraced the geometry of circles, conjuring the 1967 Lykes House, which would turn out to be the final residence he designed. Completed posthumously by Wright apprentice John Rattenbury, the circular concrete castle is affixed to—and inspired by—the rugged Arizona topography.
10. Sumner Spaulding
Bel-Air, California | $245 million
The most expensive house in the U.S. checks all the boxes on any real-estate lover's wish list. Weighing in at a staggering 25,000 square feet, the monumental Bel-Air mansion has 11 bedrooms (plus a ballroom), comes with a 40-car garage, and sits on ten manicured acres complete with a 75-foot pool, a guesthouse, fountains, and a tennis court.
Next Post