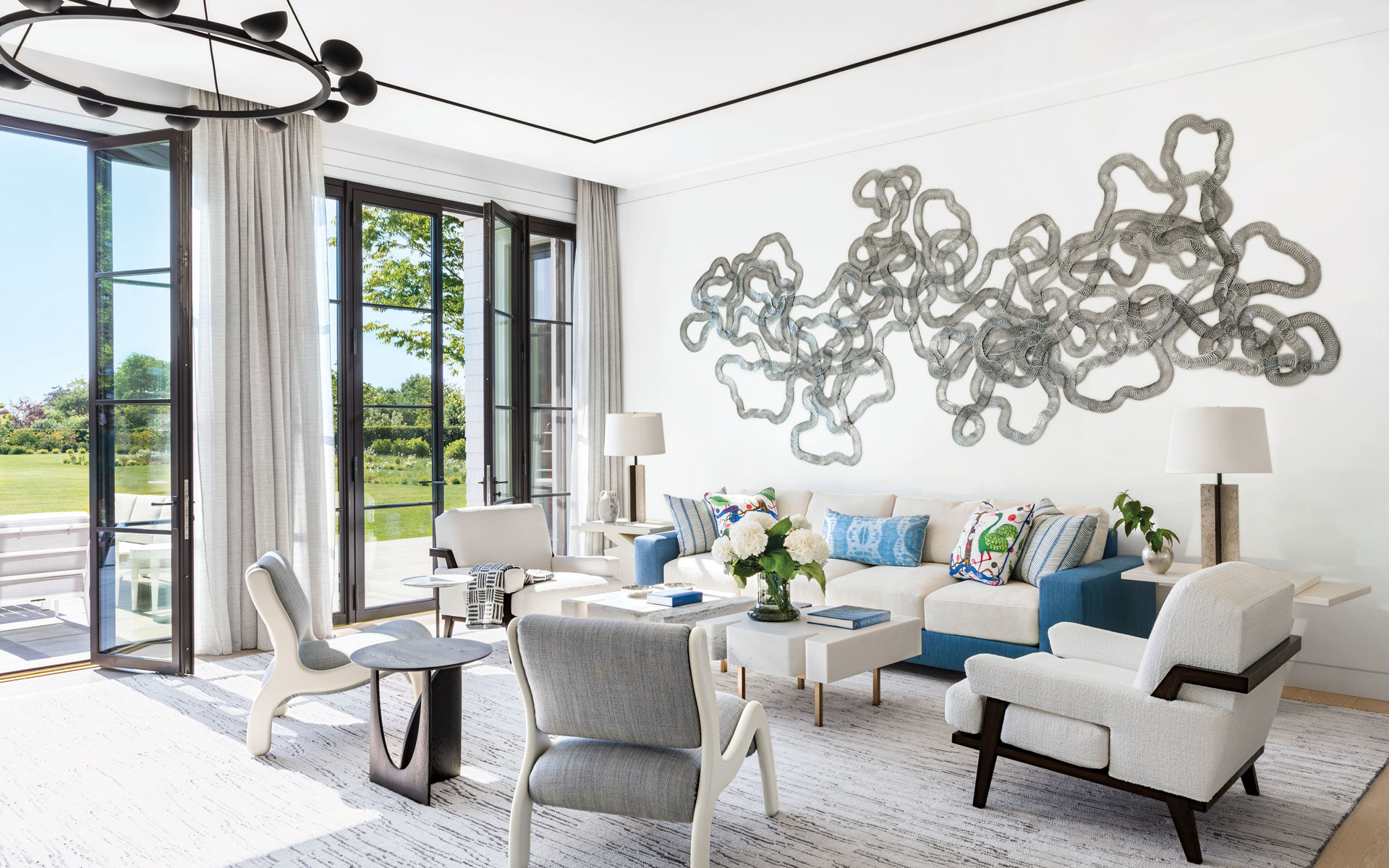 Victoria Hagan and Ferguson & Shamamian Architects Craft a Refreshing Southampton Escape
This Shingle-style Hamptons home whose stylishly laid-back interior exudes a sunny, unconventional spirit, embodies the best of summer, with a refreshing palette, spacious rooms that open to the outdoors, and spirited contemporary artworks
If there's one American interior designer whose overarching aesthetic personifies summertime, it's Victoria Hagan. For a quarter of a century she has been crafting welcoming, elegantly relaxed homes that invite kicking off shoes and throwing open windows. Her interiors have appeared in countless summer issues of design magazines, and she has published three books—including her 2021 monograph, Live Now (Rizzoli)—proving just how in demand she is for capturing how we indeed want to live now. And when Hagan collaborates with Ferguson & Shamamian Architects, the venerable New York firm behind stately Shingle-style houses up and down the Eastern shoreline, it's magic made under the sun.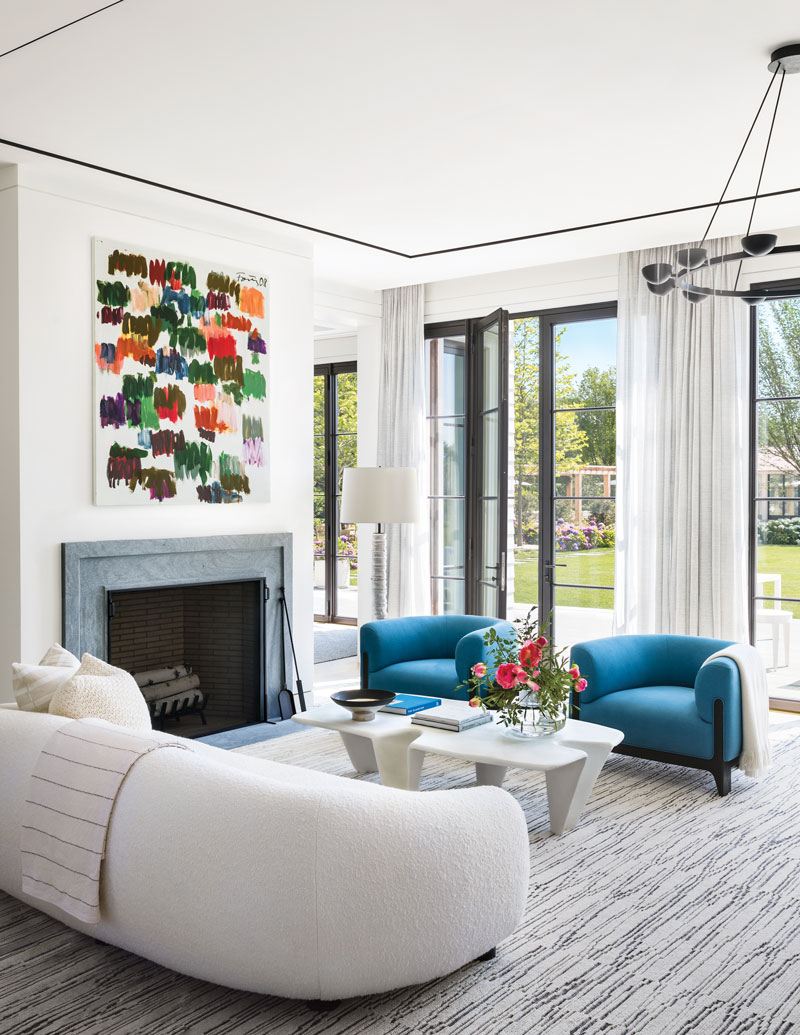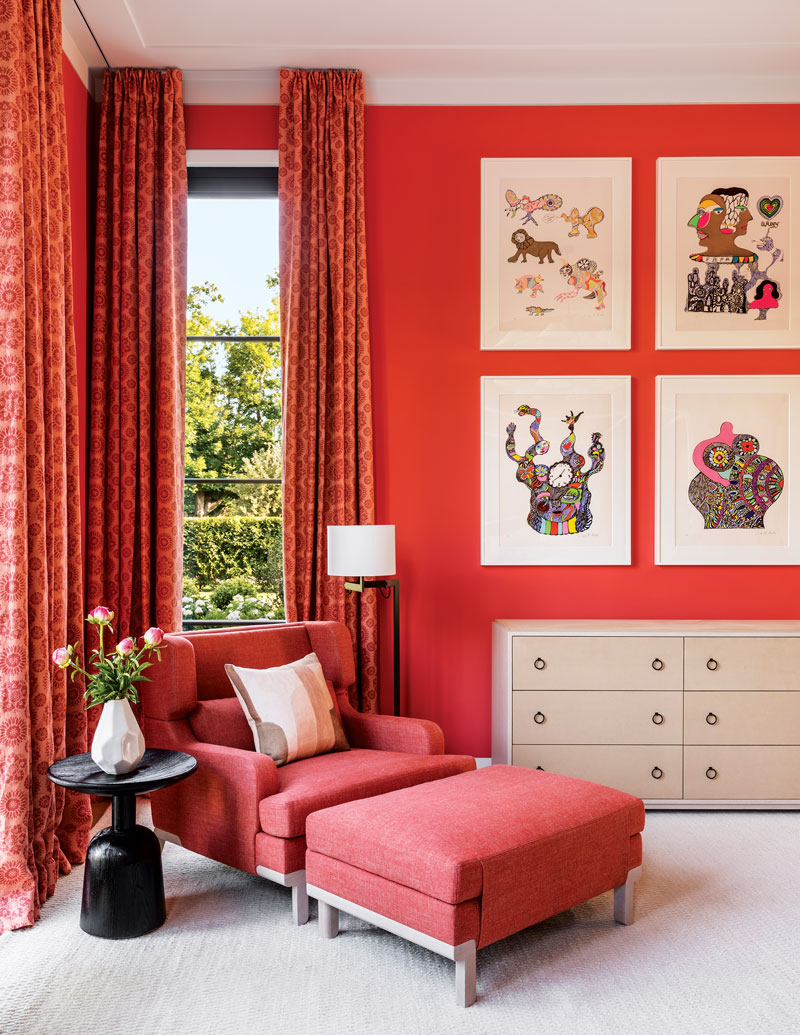 Over the past 20 years, they've teamed up for multiple projects, most recently an 11,000-square-foot, eight-bedroom home in one of Southampton's historic districts. Featuring a classic white-shingle façade and sloping gambrel roofs, the house not only passed muster with the town's rigorous architectural review board but also fits in seamlessly with the neighboring estates. Edmund Hollander's landscape design—which includes outdoor dining areas, pergolas, and shade trees—heightens the sense that the residence could have been here for decades, not completed last year.
Inside, however, it's an entirely different story. There's nothing play-it-safe or traditional Hamptons about the interiors, from the airy open layout and tropical palette to the contemporary artworks. Perhaps the most spirited feature is a plaster-clad spiral staircase that appears to twirl like a ribbon caught in the wind. "My husband wanted a 'wow' moment when you enter the house," the wife explains.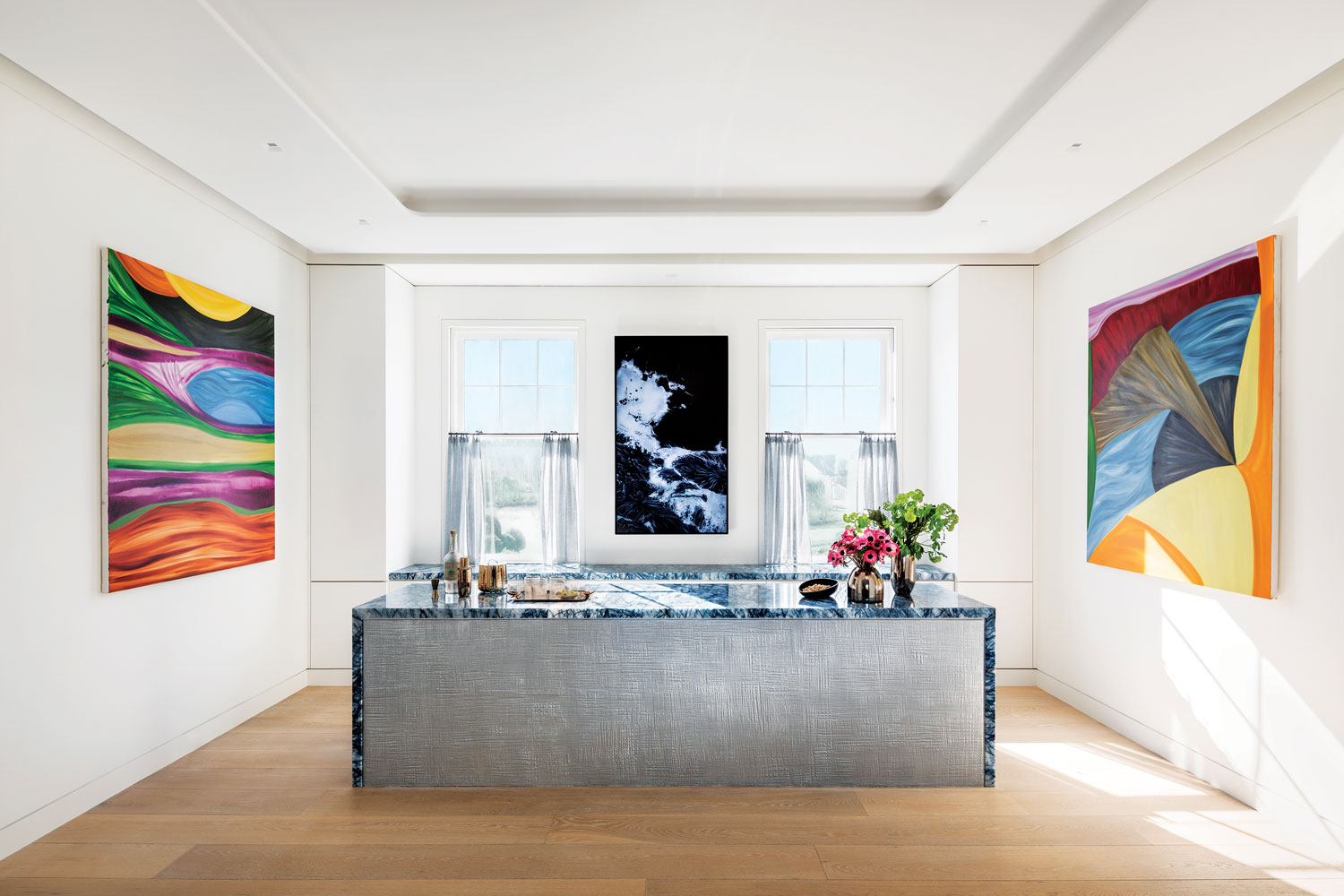 The design team was already very familiar with the clients, having built a Colonial Revival–style house in Greenwich, Connecticut, for the family in 2010. This time around, the couple—who are European and have three adult children—wanted something more informal and convivial. To achieve that, the architects devised an open floor plan with free-flowing spaces and high ceilings, installing vast steel-framed windows and glass doors that flood the rooms with light. "It's not cutting-edge contemporary—it's butter-knife contemporary," says Oscar Shamamian, who conceived the architecture with partner Thomas McManus. "You don't feel like you are in a house in the Hamptons. You feel like you are in a California gallery with lots of light."
"When you open the front door, you just feel the fun, that this is somewhere you want to be"

Victoria Hagan
For her part, Hagan focused on elements that would induce relaxation and facilitate gathering with family and friends. As the wife explains, "We wanted the core of the house to be very inviting." The spacious living room is filled with shapely, comfortable furniture, including a plush Jean Royère–like sofa, deep armchairs by Jean de Merry, and anatomically curved side chairs from the 1960s by Jean-Pierre Laporte—perfect for enjoying cocktails with the French doors open to the back terraces and gardens. In the dining room, Hagan designed a Corian-top table that extends to 16 feet and paired it with egg-shaped Poltrona Frau chairs that encourage lingering after a meal. 
"Creating a livable home is all about comfort and what feels good," Hagan says. "It doesn't matter what size the kitchen or any room is. It matters whether you feel good in it."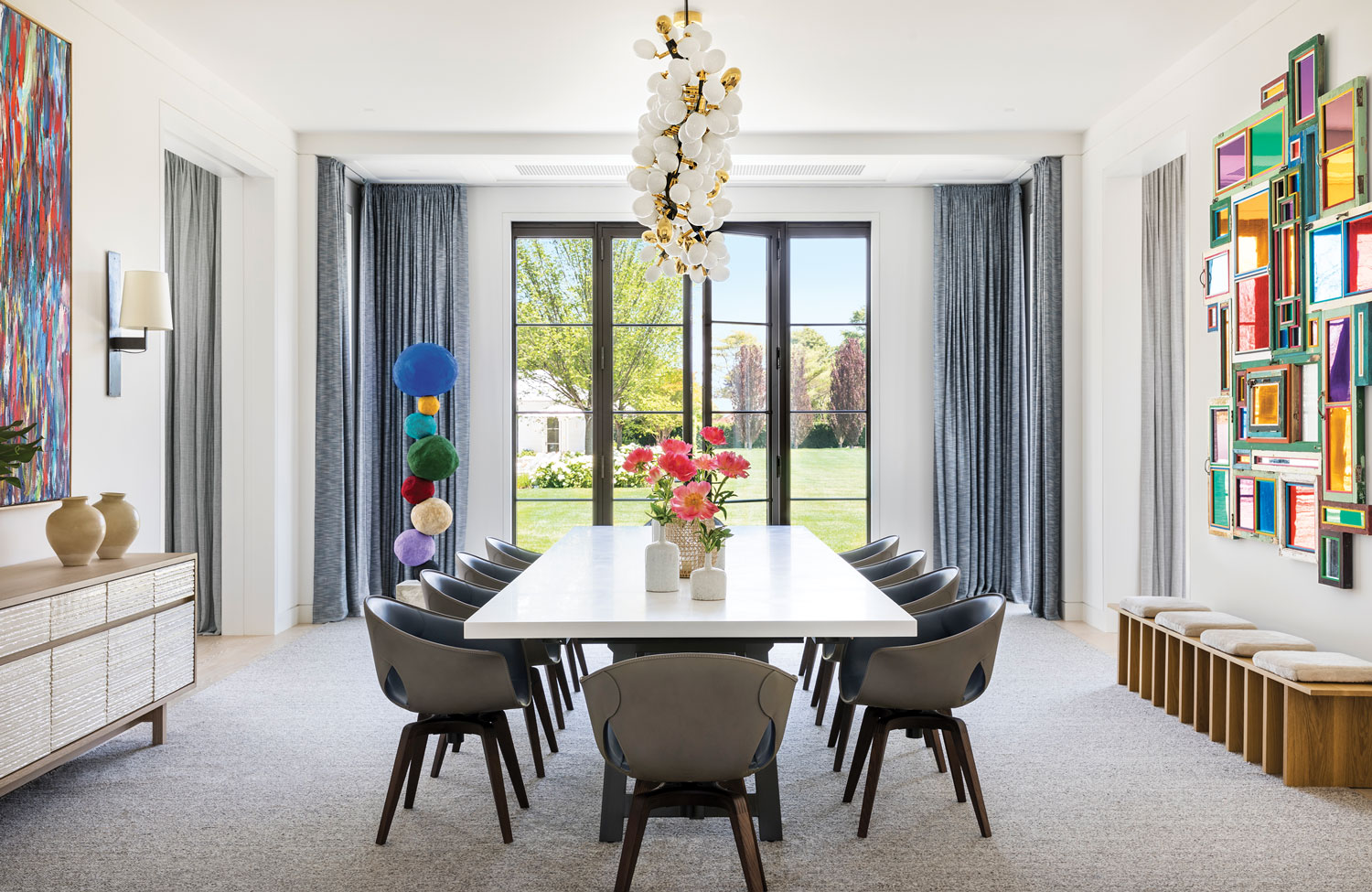 While the designer deployed exuberant color in the sleeping quarters—one guest room is dominated by a striking persimmon shade, and another guest room is splashed with summery greens—the entertaining areas provide mostly neutral backdrops for artworks from the couple's expanding collection. Assembled with the help of Carmen Zita of the art consultancy Heller Group, the works on display lean toward abstraction, often in lively hues, as with the Günther Förg painting prominently mounted above the living room fireplace. Bringing some whimsy to the opposite wall is a large-scale piece by Tara Donovan made with twisting Slinkys, while one of Annie Morris's "Stack" sculptures of colorful spheres is a lively presence in the dining area. 
"The art we buy isn't provocative or raw," the wife says. "We buy art that we want to live with. My favorites tend to be the pieces I've lived with the longest."
There's a genial spirit that permeates the entire residence—exactly what you want in a beach house. "When you open the front door, you just feel the fun, that this is somewhere you want to be," says Hagan. "I always say I'm in the happy business."
A version of this article first appeared in print in our 2022 Summer Issue under the headline "Easy Breezy." Subscribe to the magazine.
Next Post