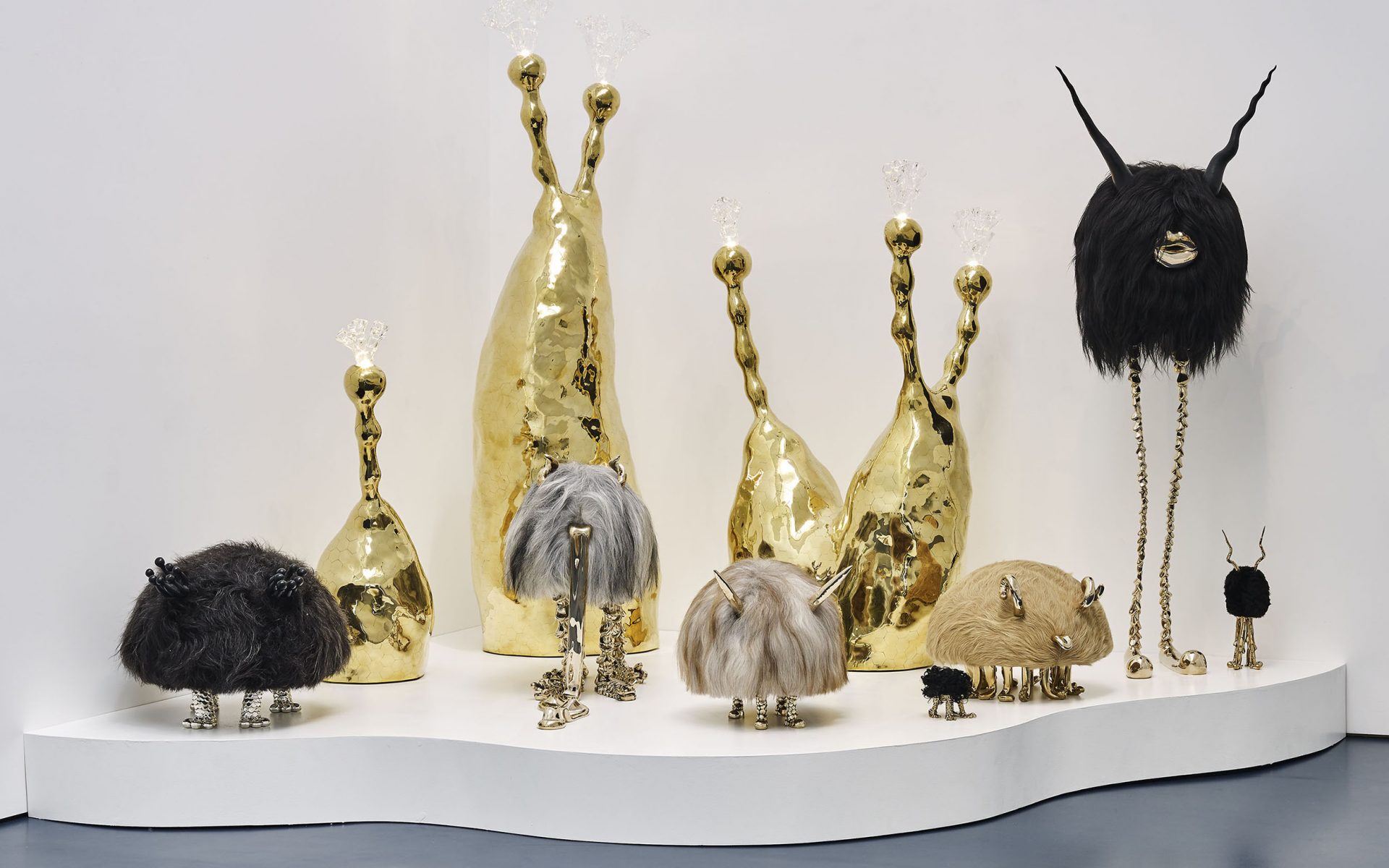 The Haas Brothers' First Solo Museum Show Dazzles in Miami
The Los Angeles–based design duo talks to Galerie about finding inspiration in the 1992 film Ferngully
It's been eight years since Simon and Nikolai Haas ventured into furniture design, and as of this week, the Los Angeles–based duo will celebrate a new milestone: their first-ever solo museum exhibition, "Ferngully," at Miami's Bass Museum of Art.
The twin brothers (who hail from Austin, Texas) refer to the works on view as "wild"—a term in keeping with the show's title, borrowed from the beloved 1992 animated film that takes place in an enchanted—but gravely threatened—rain forest. Likewise, the exhibition presents an ecosystem of animal-esque furnishings, fitting into the brothers' broader body of work, which has typically melded cartoonist elements and functional form into themes like sexuality, science, and nature.
Take, for example, the playfully named Rita Chaise-worth daybed, one of the works in the new show. Wearing a woolly coat of gray Icelandic sheepskin and crowned with a pair of carved ebony horns (ethically sourced, of course), the piece possesses an undeniable personality. It might even be perceived—if subconsciously—as sentient, which, the brothers say, is intentional.
"This was us beginning to put attitude and spirit into our objects, which is the early part of us separating from the design world and moving toward art," they said on a recent walkthrough of the exhibit.
The siblings also made a distinct effort to make the objects "cute." That decision, they revealed, traces back to an idea in aesthetics called the "uncanny valley." This hypothesis states that an object appearing almost but not entirely human will elicit feelings of revulsion—unless the object is also cute. In that case, the object inspires empathy.
Recommended: Liagre Showcases Stunning Ceramic Sculptures by James Oughtibridge
"We put a focus on making them cute," the brothers continued. "We kept faces off of them and saw how much attitude we could get across."
Reinforcing that notion are the works' cheeky titles, a few highlights being Uma Worm-an, Hair Witch Project, and Spotley Cru. 
Their wide-ranging creative processes are largely inspired by cartoons and computer programming—courtesy of Simon in particular, whose multifaceted background includes both. But additional methods are also employed: "We even derived one pattern by gluing leather onto a balloon and popping it."
Each of the works in "Ferngully" took years—and countless helping hands—to create. Though today the brothers lead their own studio, they formerly worked as fabricators for other designers. They ultimately branched out on their own after becoming concerned that their efforts were being overlooked. Recalling the frustration they felt, the brothers strive to recognize the contributions of the many craftspeople who help execute their visions.
This collaborative element became a pillar of the brothers' practice in 2015, when they teamed up with a group of South African women now known as the Haas Sisters. For that collaboration, the women executed 25 of the brothers' designs using traditional hand-beading methods for a series called "Afreaks," which debuted at Design Miami that same year.
Recommended: The Best Art and Design Exhibitions and Pop-Ups During Miami Art Week 2018
"That was when we started moving in a more social direction—when we realized we were gaining a platform and a level of privilege where we could do some bigger things," they recall. "It was a really important step in the direction of telling people that we're not the only ones who make our work. There are so many people who make this happen, including those in our studio."
Similarly, in "Ferngully," some credit is due to a group of women in Lost Hills, California, who handcrafted the beaded date pods that ornament the branches of fiber-optically lit palm trees. The collaboration came about by way of a friend back home who wanted to bring more opportunities for women to a male-dominated farming community.
"Now those women are making more money than their husbands," the brothers reveal. "It's a super awesome project."
Additional reporting by Rozalia Jovanovic.
"Ferngully" is on view at the Bass Museum of Art through April 21, 2019.
Next Post