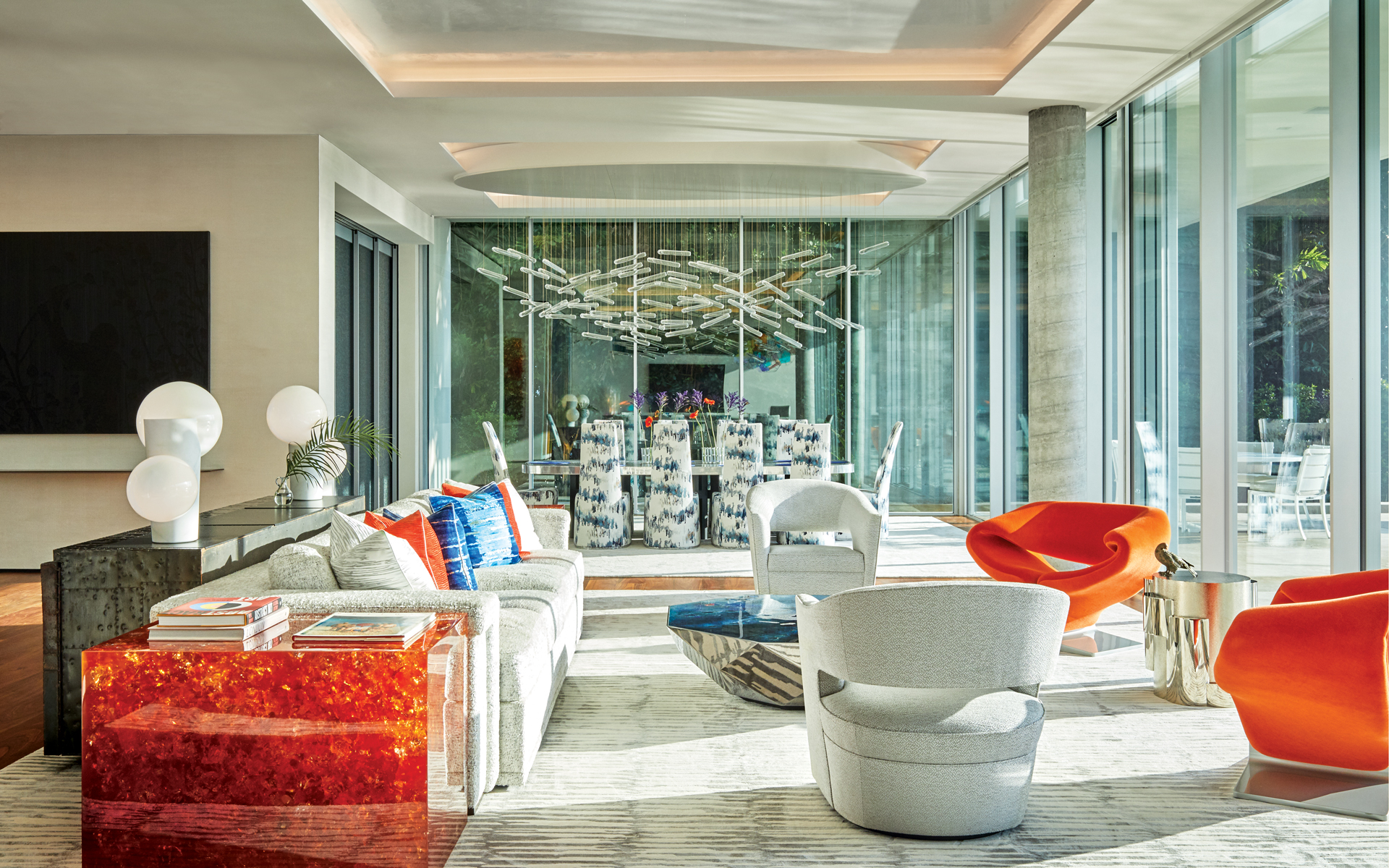 Tony Ingrao and Randy Kemper Devise a Striking Waterside Residence in Miami
On an island in Biscayne Bay, the interior aces of Ingrao Inc. pair with the architecture firm Choeff Levy Fischman to fashion a tropical modern getaway
When you think of Miami architecture, two great traditions come to mind: Art Deco, as in the 1930s turquoise-and-pink fantasias of South Beach, and the exuberant postwar Miami modernism known as MiMo, exemplified by Morris Lapidus and his designs for the iconic 1950s Eden Roc and Fontainebleau hotels. In more recent times, a third school has taken hold: tropical modern, a contemporary style rooted in the cool geometry of Paul Rudolph, Lina Bo Bardi, and Luis Barragán and fine-tuned for settings with balmy temperatures, abundant sunshine, and vibrant foliage.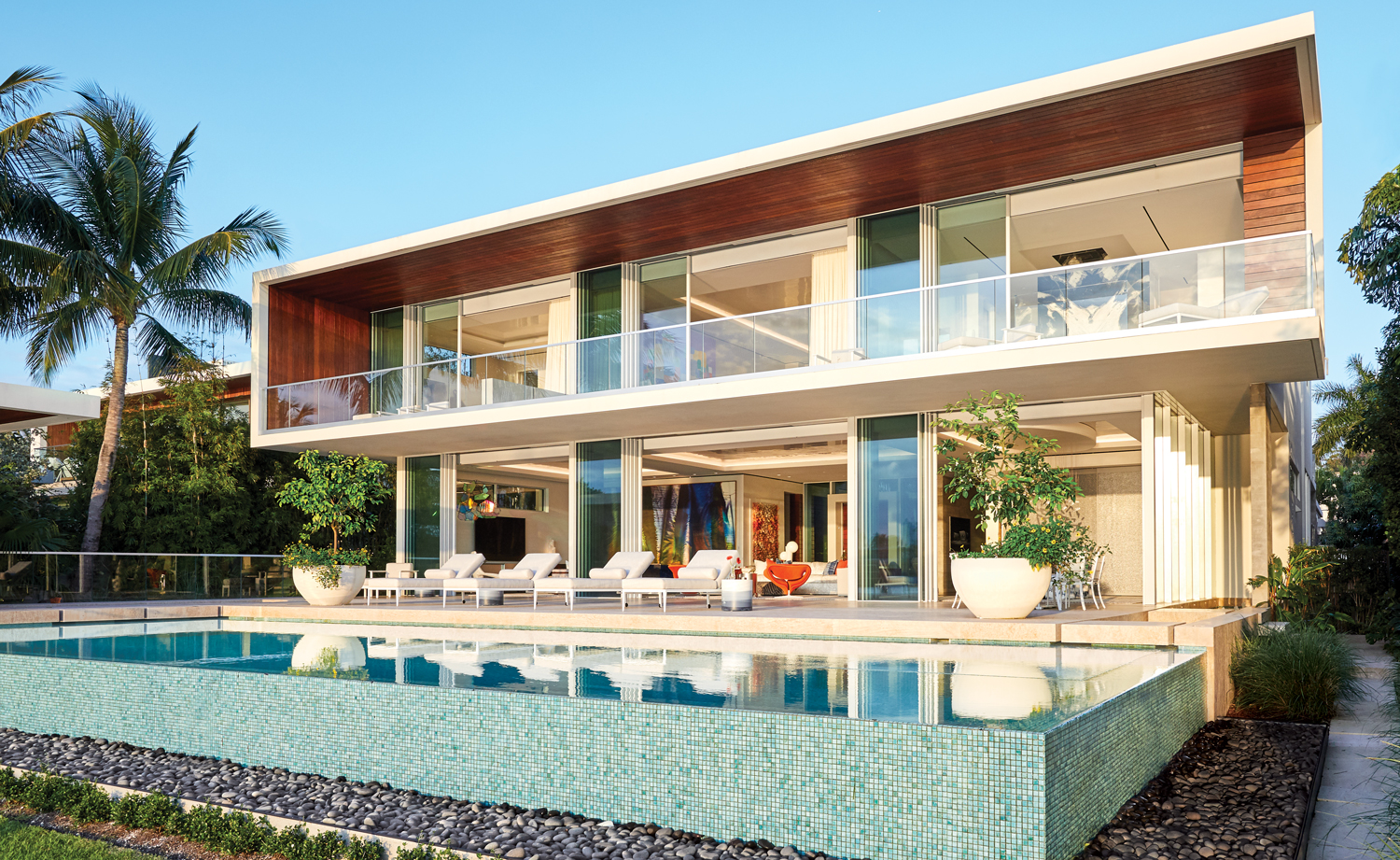 "Too much is never enough" was Lapidus's famous credo for building in sybaritic, leisure-filled Miami. But as the city's leading practitioner of tropical modern, the firm Choeff Levy Fischman has perfected an architecture, as seen in projects such as the Mondrian South Beach hotel and its oasis-like house for former baseball star Alex Rodriguez, that is neither too much nor too little. It's all about rigor and balance—in material and space, structure and palette.
When an art-collecting couple based in the Northeast fell in love with Miami living, they commissioned Choeff Levy Fischman to build a waterfront tropical modern house on tiny Di Lido Island, part of the man-made archipelago in Biscayne Bay called the Venetian Islands. To round out their distinguished design team, they tapped Tony Ingrao and Randy Kemper of New York's Ingrao Inc. to give the interiors their unique stamp, masterfully melding distinctive art and furnishings.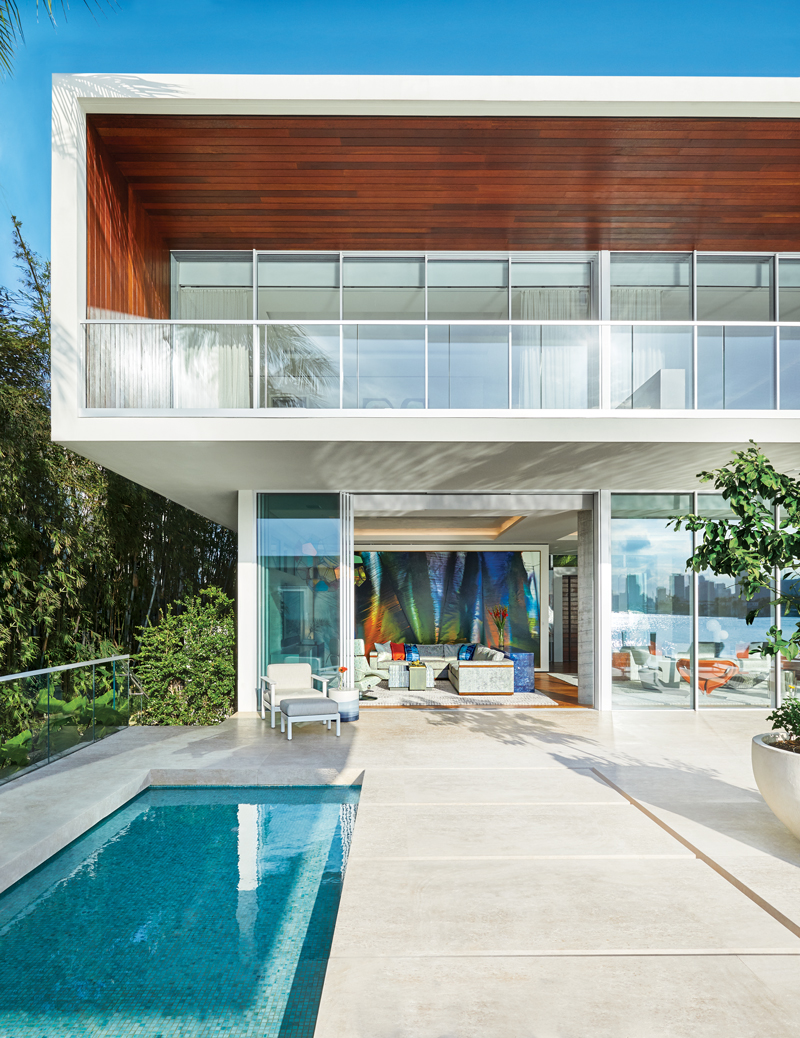 It was a surprising decision by the clients, whose taste had previously run more toward the antique and traditional, to build a midcentury-inflected house whose crisp lines and rectilinear volumes with deep overhangs and expanses of glass were inspired by Pierre Koenig's celebrated Stahl House in Los Angeles. The 9,000-square-foot residence—designed for indoor-outdoor living and maximizing light and views—features four bedrooms, an infinity pool, and a rooftop deck for taking in jaw-dropping sunsets over downtown Miami
The home was also conceived as a showcase for contemporary art by the likes of Katharina Grosse, Bernard Frize, Federico Herrero, and Matt Mullican. "We make the architecture simple to make the art stand out," says Ralph Choeff, whose team gave the walls a floating effect, with base and crown reveals—the kind of thing you might see at a blue-chip gallery in London or New York.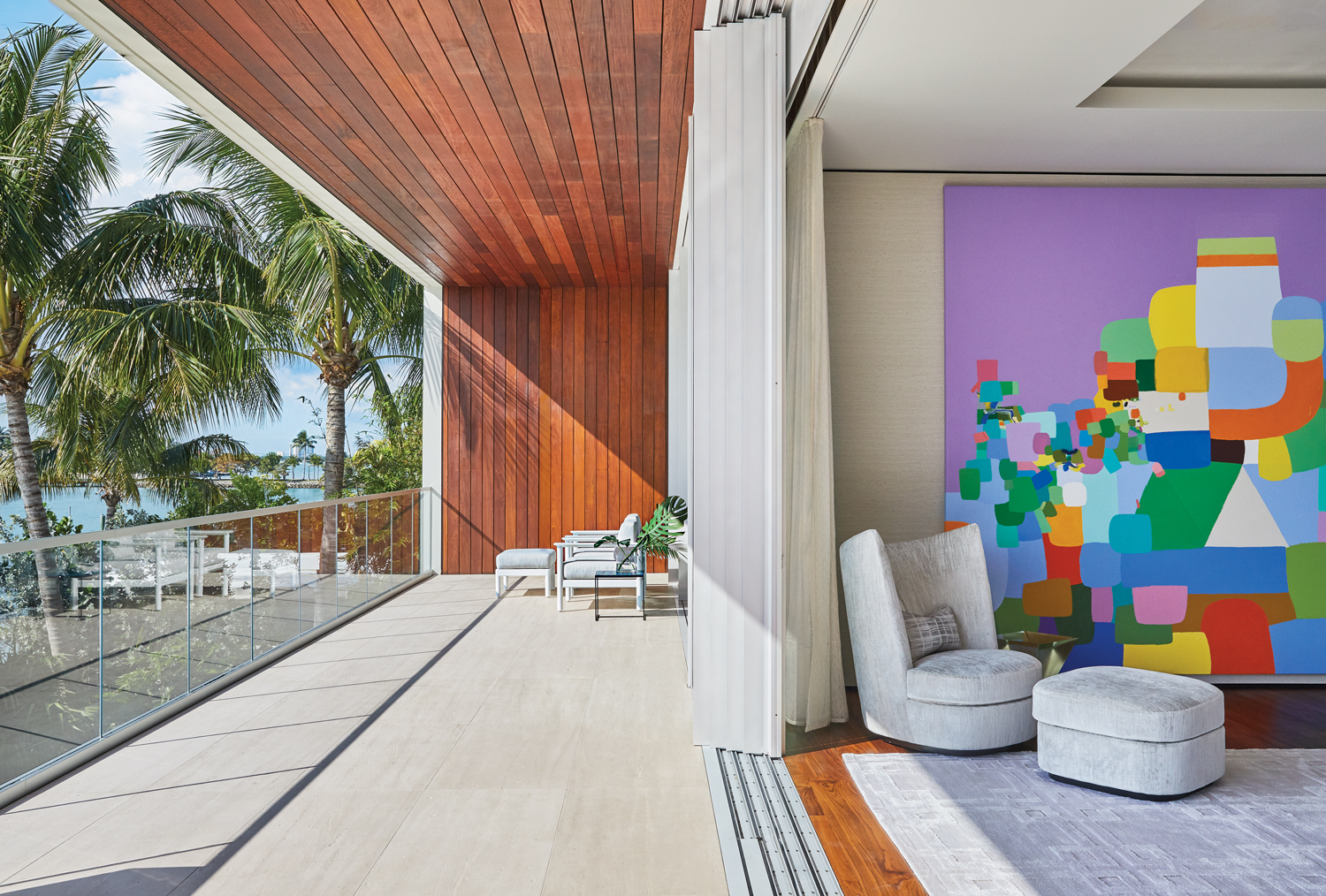 Ingrao and Kemper, who worked to find perfect placements for each piece, were delighted to learn that, unlike so many clients in modernist dwellings who prefer everything "neutral, neutral, neutral," as Kemper says, these homeowners wanted plenty of color. The duo happily obliged with strategic chromatic hits like the blue agate backsplash in the glossy white kitchen or the cobalt lamps in a pale guest bedroom.
"Working in a place like Miami, there's a certain exoticism to it. There's something tangy about the feel of that city"

Tony Ingrao
World-class furniture and objects populate every room, from the living area's tangerine-hued Pierre Paulin Ribbon chairs to a glittering bronze Harry Bertoia sound sculpture, memorably installed in an indoor reflecting pool. "When they came to the office," Kemper recalls of the homeowners, "we showed them a Paul Evans credenza and they said, 'We want one!' We said, 'Well, we're not selling this one, but we can find one for you.' " So he and Ingrao did, and for the formerly traditionalist couple, a passion for modern design was born.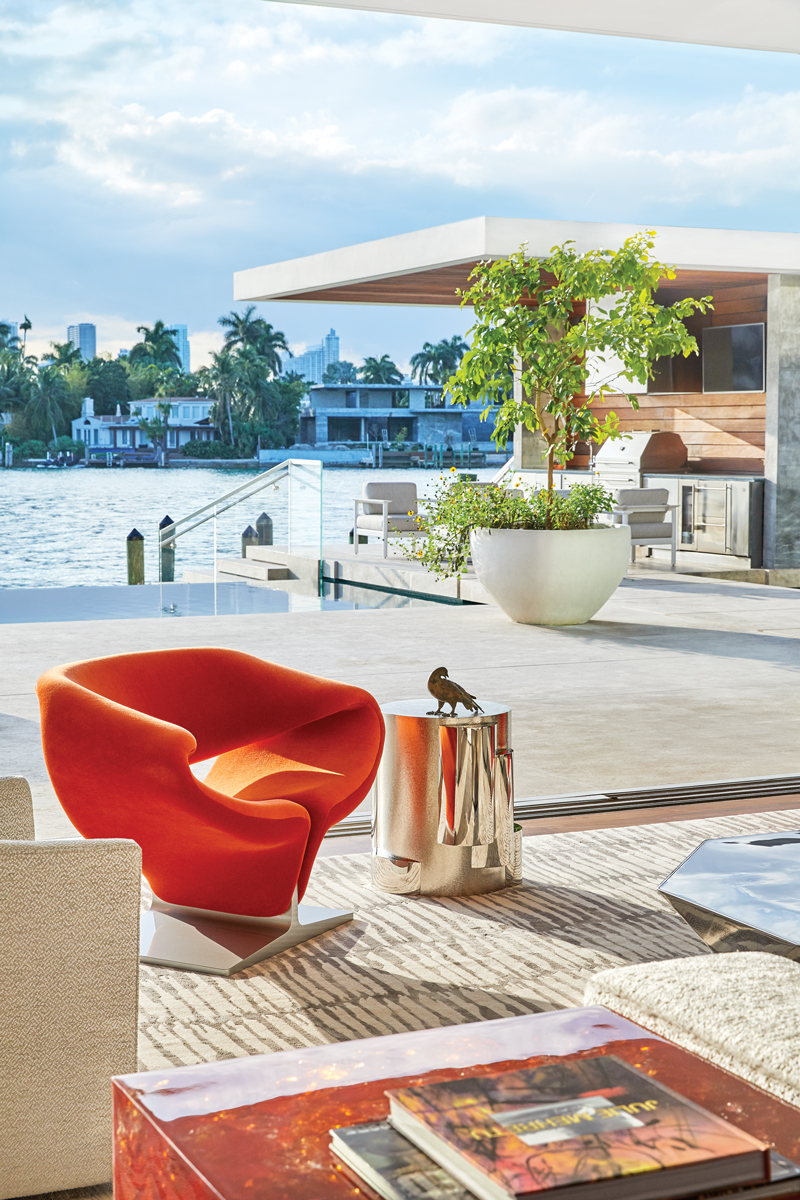 These 20th-century icons sit alongside such cutting-edge contemporary pieces as Studio Drift's Flylight chandelier, with its kinetic form mimicking the flight of birds, and Ingrao Inc.'s own resin side tables, in a striking blood orange, whose fractalized patterns were achieved by sending an electrical charge into the material, essentially exploding its inner structure.
Throughout the house, with its emphasis on such materials as sustainably harvested Brazilian ipe wood, French limestone, and textured board-formed concrete, the feel is urbane yet elemental, elegant yet laid-back. Which is to say that it's the perfect Floridian setting for formal fundraisers, poolside cocktails with friends, or just watching boats sail by—pure relaxation. "It's very calm," Kemper says of the house, "and then there are those punches of color."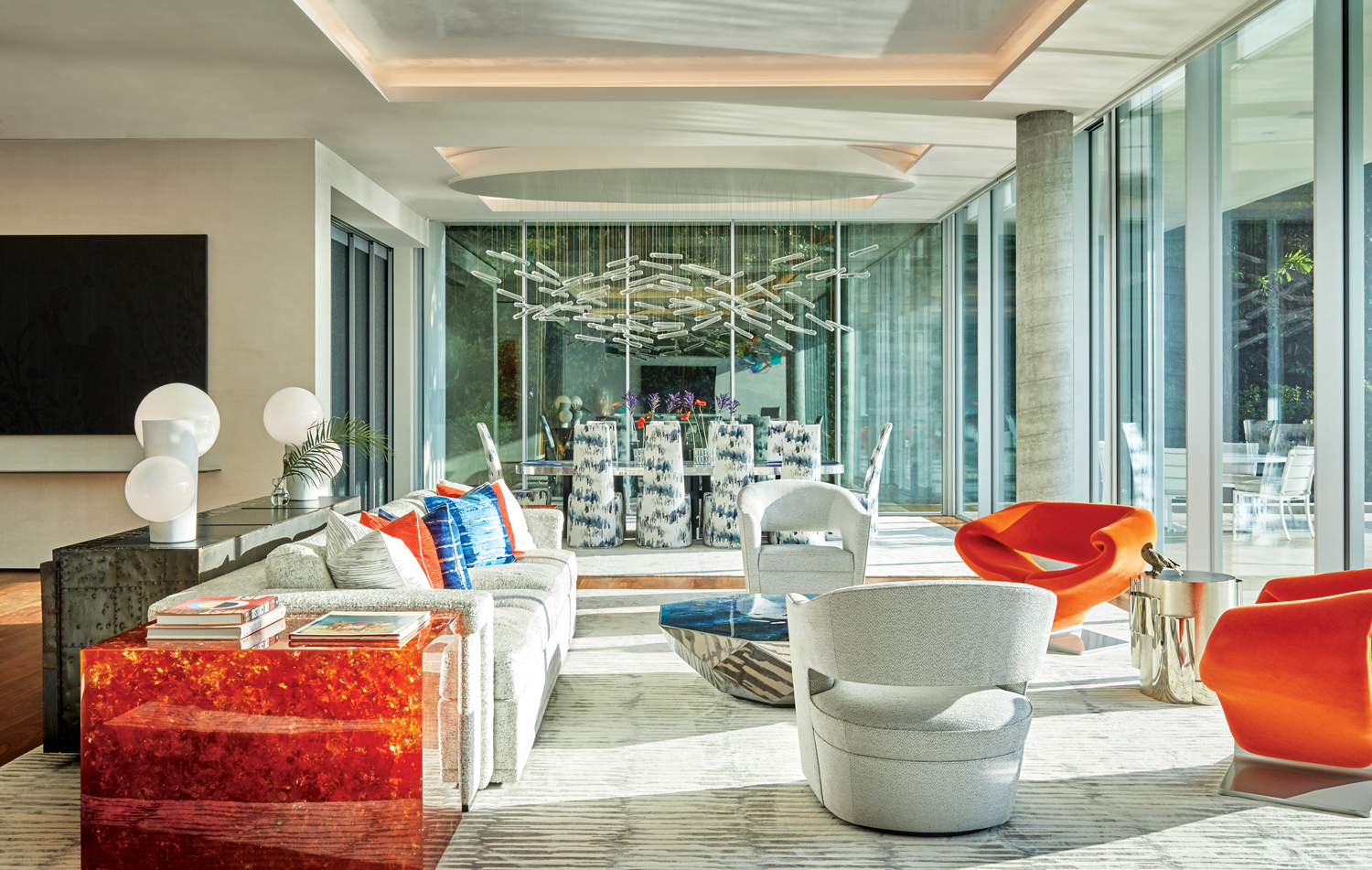 "Working in a place like Miami, there's a certain exoticism to it," Ingrao observes. "There's something tangy about the feel of that city, and you try to reflect that."
Paul Fischman, a principal of Choeff Levy Fischman, credits the Ingrao team with helping the clients "bridge the gap between midcentury and tradition, while making it not just a cool, minimal house but a house specifically for them." That said, one-half of the client couple was admittedly a bit anxious during the process.
"She's a very classic gal," Kemper points out, "and she was like, 'I'm afraid I'm going to be overwhelmed!' " To everyone's relief, this tropical modern home turned out to be the kind of project that gives designers and architects the greatest joy—one that actually alters a client's worldview, even her life. "Now she absolutely loves this house," Kemper says. "And that's a great feeling."
A version of this article first appeared in print in our 2021 Summer Issue under the headline "Biscayne Bravura." Subscribe to the magazine.
Next Post