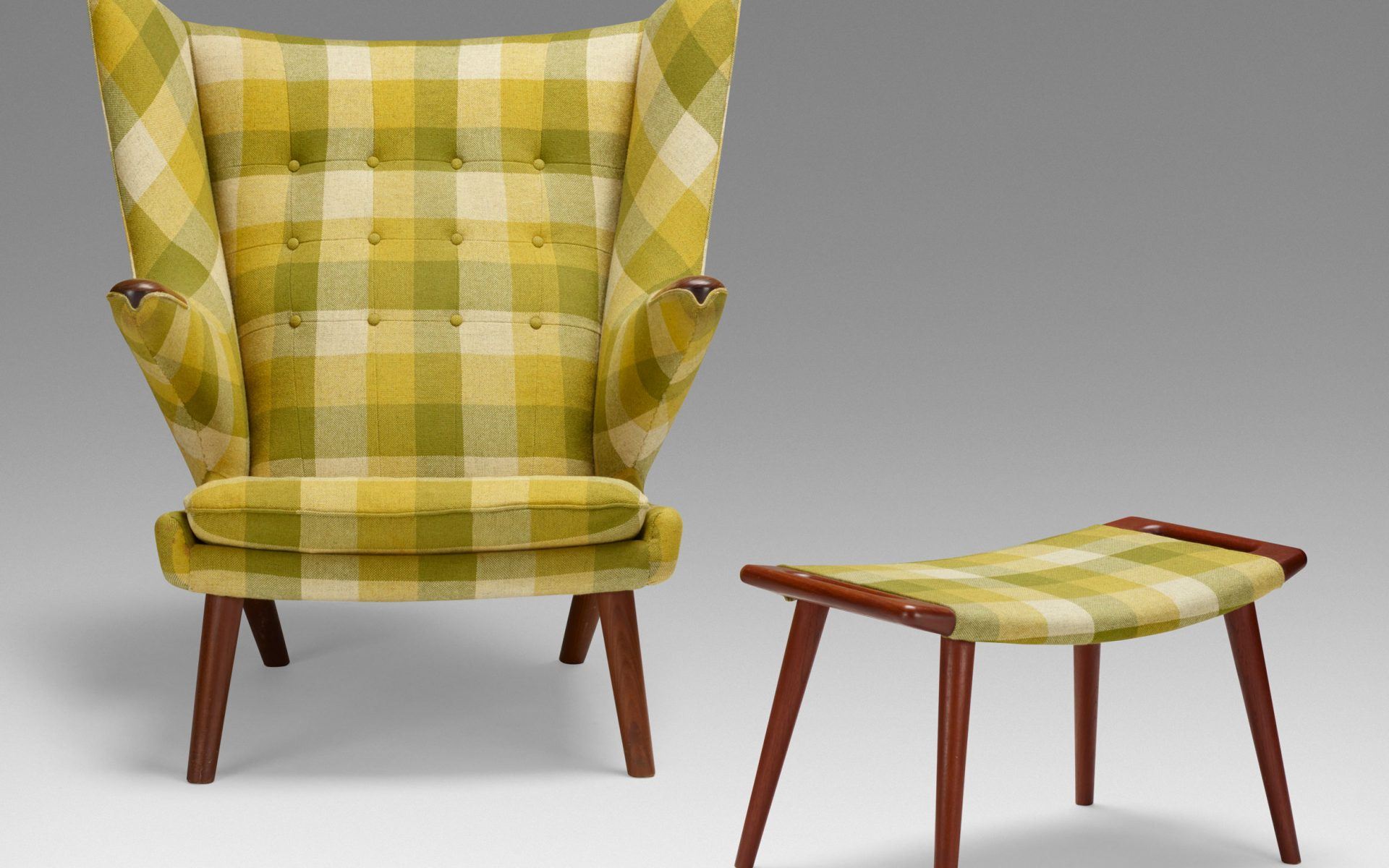 What Makes Midcentury Design so Timeless?
From Frank Lloyd Wright dinnerware to a Paul Evans cabinet, these magnificent finds at Wright's Design Auction transcend trends
As trends come and go, why does mid-20th-century design remain the most enduring? It is a perennial question. Perhaps those striking modernist interiors—from the offices of Sterling Cooper to the TWA Hotel's sunken lounge—evoke a nostalgia for the future; clean lines and bold colors signify progress in any age.
"Midcentury design has been so wildly popular for the last decade or more, it's a wonderful time to reassess the best of the period and explore ways to use it less literally," says designer Jamie Drake of New York firm Drake/Anderson, who spearheaded the Gracie Mansion renovation under Mayor Michael Bloomberg.
A keen eye and punched-up contrast are key; embrace modern and contemporary furnishings that create an eclectic viewpoint. "I'm especially fond of pieces that put a smile on one's face," Drake adds, "a cabinet, for example, that has a sense of wit."
Fortunately, Wright kicks off its Design auction—a treasure trove of masters like Charles and Ray Eames, Arne Jacobsen, and Jean Prouvé, in addition to more courant standouts—as scheduled at noon (CST) on March 26 in Chicago. Working remotely, Wright will conduct a live online sale, so collectors around the world can participate.
Here, we share six of the most timeless designs that are slated to hit the block.
1. Shay Alkalay Established & Son, Stack cabinet, 2008
Designed by Shay Alkalay Established & Son, this multicolored, lacquered Stack cabinet (2008) with 13 drawers resembles a pile of teetering books and epitomizes furniture with a subtle sense of humor. "I think this piece is just spectacular and would ignite any room," Drake tells Galerie, "whether in a strict Milanese minimalist space or one with traditional elements, such as a suite of Louis Cannes bergères." It is on offer for $5,000–$7,000.
2. George Nelson & Associates, Kangaroo chair, 1955
The iconic Kangaroo chair joins a pair of molded-plywood shells overlaid with latex foam padding that is similar in construction to the ubiquitous Saarinen Womb chair. Adding some midcentury bravado is the black-and-blue atomic-galaxy Dot pattern upholstery from renowned designers Charles and Ray Eames. "How thought-provoking would it be to live with this now as we're all trying to connect the dots that will lead us to the future?'" asks Drake. The chair is on offer for $5,000–$7,000.
3. Frank Lloyd Wright, Imperial Hotel dinnerware, 1922/1984
Unveiled for the Imperial Hotel in Tokyo, which was designed by architect and interior designer Frank Lloyd Wright in 1922, the bold, geometric pattern of this Art Deco transfer-porcelain dinnerware (1922/1984) is as visually compelling today as when the hotel first opened its doors. The service includes ten dinner plates, ten salad plates, ten dessert plates, ten bowls, five small bowls, ten saucers, and nine teacups—64 pieces in total. The set is on offer for $6,000–$8,000.
Recommended: 6 Noteworthy Sales at Wrights 'Important Design' Auction
4. Hans J. Wegner, Papa Bear chair and ottoman, 1950.
A prolific influencer from the golden age of Danish design, with nearly 500 chair prototypes under his belt, Hans Wegner is as classic as it gets. Legend has it that his sculptural Papa Bear chair and ottoman (1950) were named  after a reporter assigned to review the chair felt the arms resembled great bear paws. This lot, which features original retro plaid upholstery and teak woodwork, is on offer for $5,000–$7,000.
5. Harry Bertoia, Mushroom Landscape, 1965
Acquired directly from interdisciplinary artist Harry Bertoia—popular for his industrial wire-mesh chairs but originally a painter who also completed numerous public art projects—Mushroom Landscape (1965) reflects Bertoia's influential sculptural practice. Known for experimenting with metal (including jewelry design), Bertoia worked for the Eamses in Los Angeles after art school. Welded and painted bronze, the stunning tabletop artwork conjures a fantastical netherworld and is accompanied by a letter from the artist to the original owner. The piece is on offer for $10,000–$15,000.
6. Paul Evans, Argente cabinet, model PE 38A, 1972 
Hailed as one of the most collectible American furniture designers of the late 20th century, Paul Evans stands apart from modernist staples like Finn Juhl and Marcel Breuer. The signature silver aluminum and black wave-front credenzas have broken all sorts of auction records. Favored by fashion and music insiders—from Diane von Furstenberg to Gwen Stefani—an Argente cabinet by Paul Evans (1972) injects high glam into any interior. This piece, which features two doors concealing storage and one adjustable shelf, is on offer for $30,000–$50,000.
The Wright Design auction takes place on March 26 at 12 p.m. (CST). 
Next Post