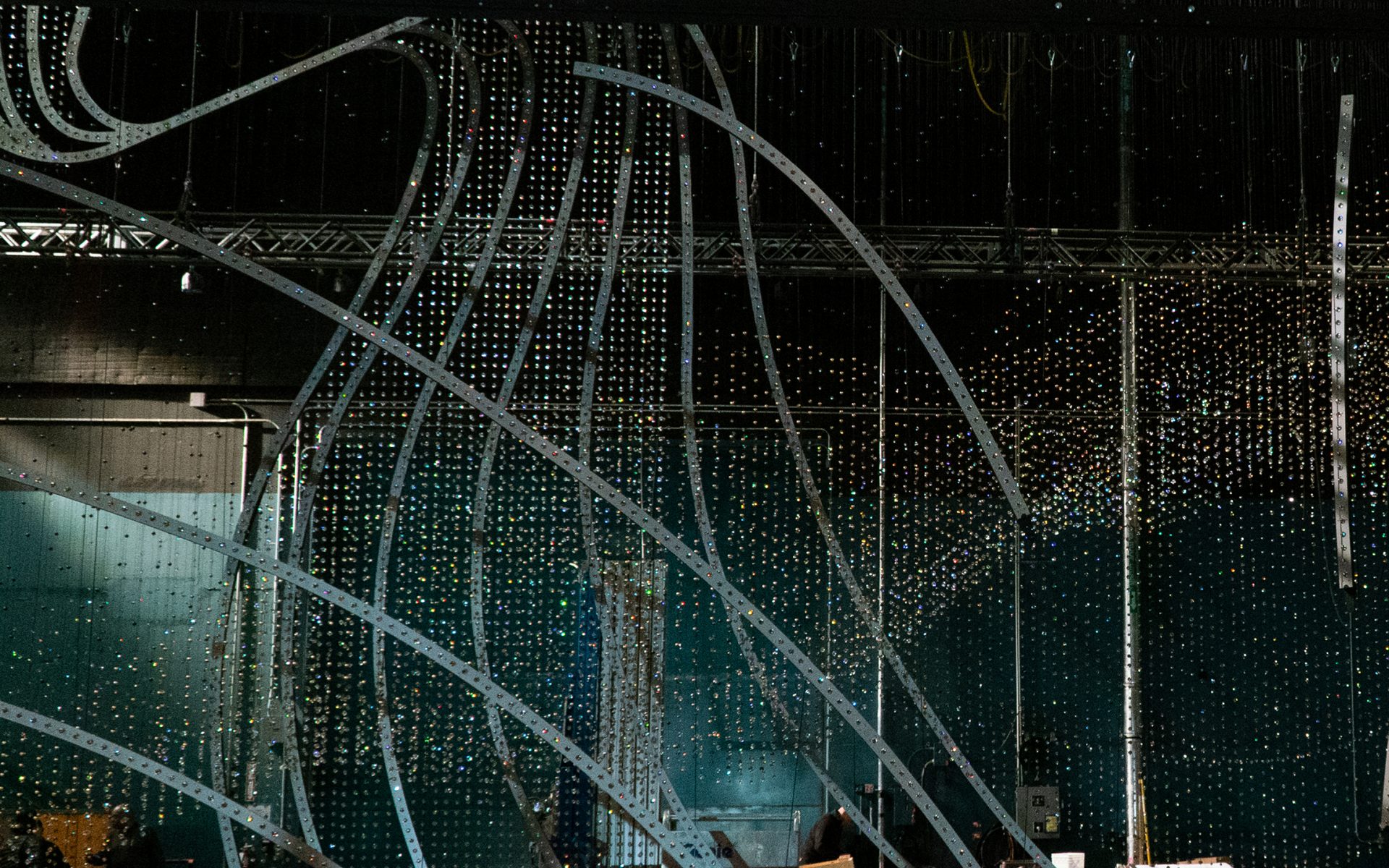 Go Behind the Scenes of the Dazzling Swarovski-Adorned Oscars Stage
Galerie spoke with David Korins, the lauded designer of Hamilton, who created a set for the Oscars that features 41,000 Swarovski crystals
While there will be no host at the 91st annual Oscars ceremony this Sunday, there will be no shortage of glamour on the stage. The show's production designer, David Korins, worked with Swarovski on a series of crystal-adorned backdrops for the set, which took a team of 15 people over 2,100 hours to fabricate.
For the show, Korins, the Tony Award–nominated set designer behind Broadway blockbusters Hamilton and Dear Evan Hansen, wanted to create abstract and organic shapes out of the crystals. "I took three days to just sit and think about what feeling I wanted people to take away from the show," Korins told Galerie.  "And what I came up with was a feeling of inclusion. I wanted to make a set that was warm and welcoming and feminine and organic, that literally crossed the aisles and brought people together in an inclusive way. Because the truth is that we all experience this show as a community. "
Key features of his designs include the Crystal Cloud, a 1,600-pound cloud-shaped installation; the Crystal Swag, a three-story-high, 54-foot-wide ribbon-like formation; and two Crystal Presenter Backings. Korins said that there will also be more than 40,000 red roses from OnlyRoses on the stage, which he says are meant to convey beauty and elegance, but also an organic sense of warmth.
Recommended: 5 of Karl Lagerfeld's Most Spectacular Runway Shows
Over 41,000 Swarovski crystals will be integrated into the four designs. The Crystal Cloud is a sparkling interpretation of atmospheric clouds, with over 1,250 crystal strands floating ethereally over the stage. The striking Crystal Swag, created from nearly 400 crystal strands alongside a crystalized steel structure, is designed to look like a waterfall flowing from the ground up. The Crystal Presenter Backings, which will appear onstage behind award presenters, are free-flowing creations adorned with 1,800 crystals.
"People know that there's a longstanding and iconic collaboration with the Oscars and Swarovski, but the difference is that I've taken the crystal and tried to think about it differently," Korins said. "I wanted to see if I could take these little pieces of architecture and make an atmosphere out of them."
The designer said that, as a collaborator, Swarovski seemed "game for anything."
"They saw my designs and they got really behind the idea of executing this thing," he said. "They're so good at taking what's on a page and putting it on stage."
The show marks the 12th time Swarovski has added some sparkle to the Oscars stage. In addition to adorning the sets at this year's ceremony, Swarovski crystals feature in the costume design of several of this year's nominated films, including Mary Queen of Scots and Bohemian Rhapsody.
The 91st Academy Awards will be held on February 24 at the Dolby Theatre and televised live on ABC at 8 p.m. EST.
Next Post