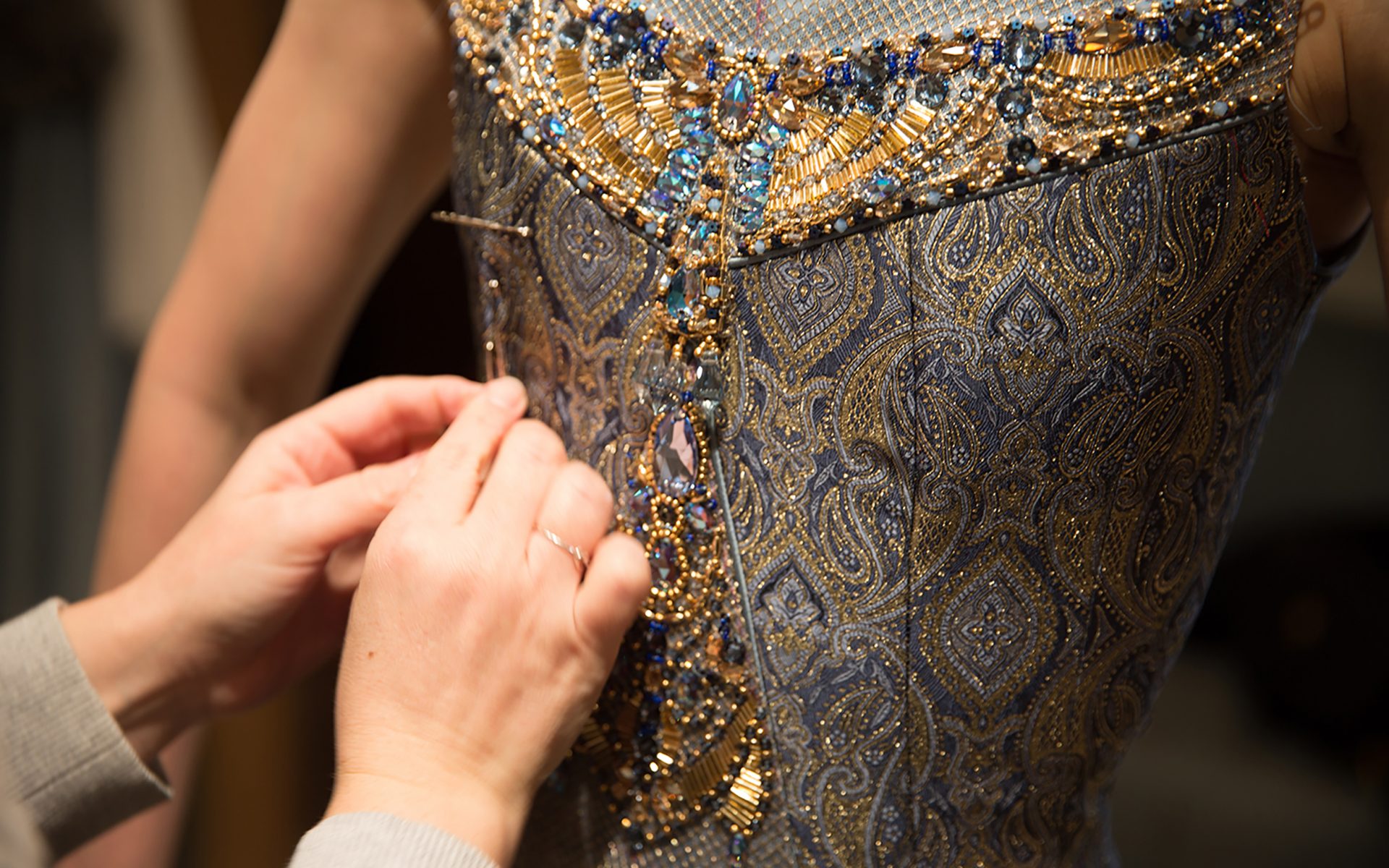 New York City Ballet Unveils Stunning Swarovski-Adorned Costumes
The famed jewelry company donated more than 38,000 crystals to the renowned ballet
George Balanchine's Tschaikovsky Piano Concerto No. 2 returned to the repertory of the New York City Ballet in a major revival last week, and the new costumes, embellished with more than 38,000 Swarovski crystals, stole the show.
They were designed by NYCB's director of costumes, Marc Happel, and mark the first time that the outfits for this show have been redesigned since 1990. "I knew I wanted to partner with Swarovski," Happel tells Galerie. "I knew this was a ballet that needed crystals—it needed that sparkle."
The ballet previously collaborated with the famed Austrian jewelry company on the redesigned costumes for Symphony in C, another of the NYCB's Balanchine-choreographed staples. Knowing he wanted crystals to adorn the new costumes for Concerto No. 2, Happel reached back out to Swarovski, which donated the nearly 40,000 stones that now adorn the costumes and headpieces.
"I think that there's probably a certain faction of this company that feels that I go overboard," Happel says of his use of the crystals. "With a ballet like this one, when the curtain goes up, I think the audience wants to have that moment of 'oh and ah.' They want to see that sparkle."
Recommended: Manhattan's Famed Halston House Sells for $18 Million
Happel had never been a fan of the show's 30-year-old costumes, which were a light, fleshy pink. "The colors were washed out," he says. For his new concept, Happel was inspired by a swatch of blue-and-gold brocade. "It's a very imperial color palette, and I decided that it was going to be the cornerstone of the design."
Despite the change in the colors and pattern, Happel kept the structure of the costume the same as its predecessor, with a circular skirt made of two layers of chiffon and dotted with shining stones. "It just works so beautifully, so we kept it," Happel says.
While he admits that the NYCB is not a company known for sparkly, eye-catching attire, he also notes that Balanchine himself was a proponent of change.
"He never left things just the way they were," Happel says of Balanchine. "He would have costumes redesigned and change choreography. I think it's good to change. You don't want to become a museum of a company."
After the ballet's first performance last week, Happel says that people told him that they felt as though they had just watched a new ballet. "That's incredibly satisfying to hear. And all of the dancers were very supportive and loved the new costumes. A happy dancer is something I strive for."
Tschaikovsky Piano Concerto No. 2 runs through January 30 at the New York City Ballet.
Next Post