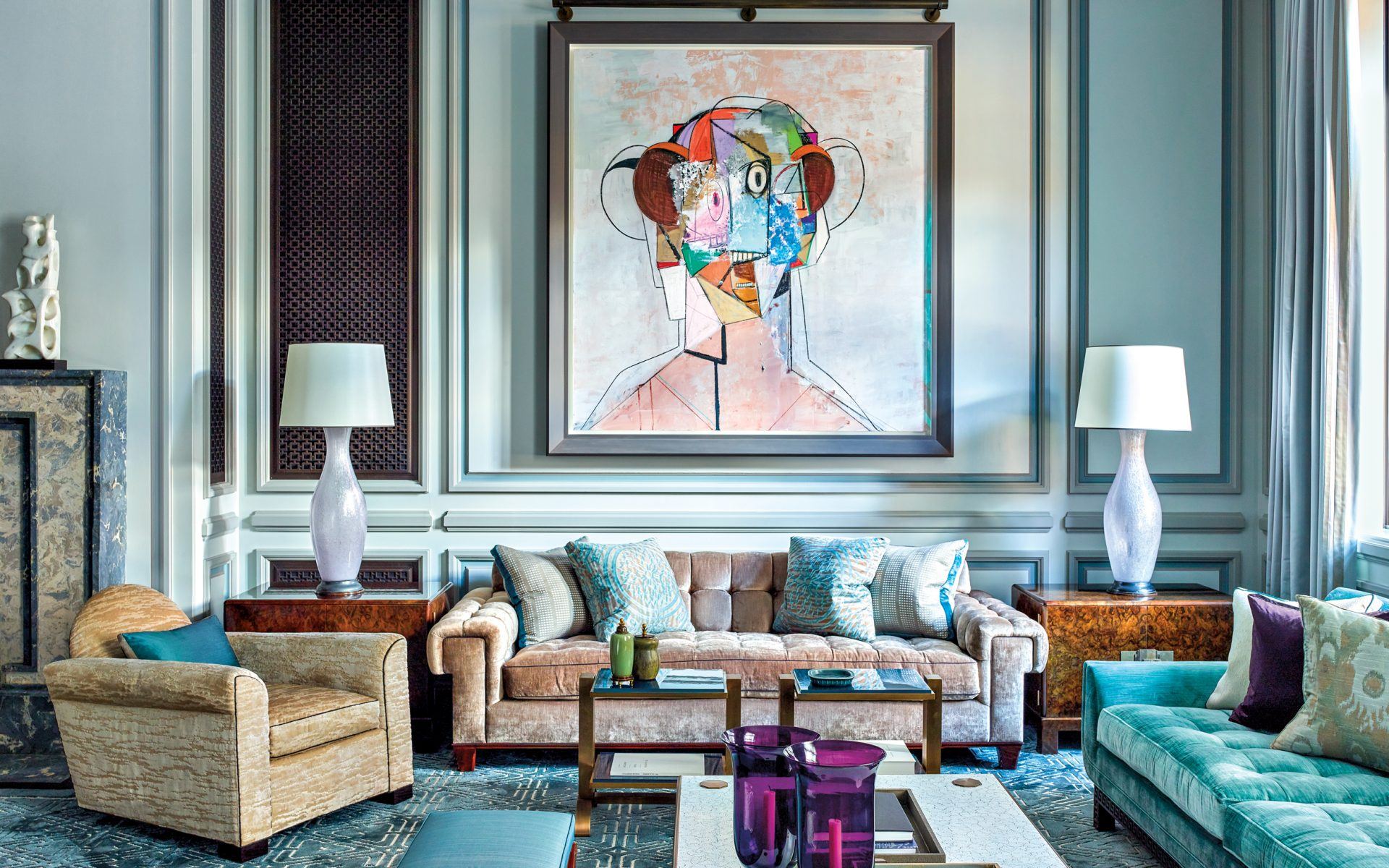 Steven Gambrel Designs a Palatial Home in Greenwich Village for Major Art Collectors
The 22,000-square-foot historic building boasts works by George Condo, Cy Twombly, and Sam Francis
A century ago, Greenwich Village reigned as the cultural heart of New York City, teeming with art galleries and schools, artists' studios and writers' garrets, experimental theaters and cafés galore. Life in the Village was colorful, dynamic, intellectual, and unconventional—and it was central to New York's emergence as the creative capital of America, if not the world.
That rich legacy provided inspiration for designer Steven Gambrel's latest project: the transformation of a 1911 limestone-and-brick building located on one of the neighborhood's historic blocks into an art-filled, arrestingly glamorous home. Four years ago, over a summer lunch at the client couple's Hamptons residence, Gambrel mentioned the imminent sale of an institutional building in the Village that, he suggested, "would make the most extraordinary home."
They were looking for a residence, he recalls, that would be a welcoming family retreat as well as a dazzling place to entertain and showcase their impressive art collection, which their adviser, Erica Samuels, describes as "almost encyclopedic," with "the very best examples by great artists," including Philip Guston, Franz Kline, and Helen Frankenthaler. Most of all, Gambrel says, the clients wanted something unique.
[Slideshow: See more photos of this Greenwich Village home designed by Steven Gambrel]
Working with frequent collaborator Henry Jessup, who was the project architect, Gambrel delivered exactly that. Totaling an extraordinary 22,000 square feet, the six-bedroom home—which features a 50-foot swimming pool on the lowest level and a roof garden on top—is probably Gambrel's largest residential commission to date. "It's certainly the most substantial," he says. "Once in a while you are given the opportunity to go into detail beyond your measure. In every single corner there are more details, more creativity, more imagination. This was a no-holdback situation. The goal was to create perfection."
Gambrel likes to establish a personality for each home he designs, and here he sought to come up with a "very clear language," as he puts it, to channel the history and spirit of Greenwich Village in its 20th-century heyday, while giving the homeowners an up-to-the-minute bespoke house. "I wanted more green, more patina, more surface texture," the designer recalls. "I was trying to eliminate the polish that one might expect with a building of this magnitude." In other words, this was not going to be Park Avenue in the Village. "It's downtown," he adds, "with a twist."
Recommended: Grade Creates a Gorgeous Chelsea Apartment for an Art-Loving Brazilian Couple
The twist is in the distinctive furnishings, fabrics, and finishes, which together project the kind of artistry, originality, passion, and ambition Greenwich Village is identified with—albeit on an incredibly rarefied level. And the drama builds from room to room, floor to floor.
A glittering 1960s Sputnik chandelier in the circular entry hall, a subdued study in black and white, sets a beguiling mood. The sprawling living room, bathed in serene blues and platinum grays, leads to the vivacious dining room, whose verre églomisé ceiling casts kaleidoscopic reflections in the hues of three gold-lacquer-top tables and a battalion of turquoise-upholstered chairs.
Upstairs, Gambrel raised the volume a notch. In the game room, massive arches framing expanses of smoky églomisé mirror are surrounded by metallic wall panels flecked with silver and gold. The breakfast room, with its zippy Op Art–inspired oak flooring and a rare FontanaArte chandelier, is anything but casual. And the tour de force kitchen—outfitted with lacquer-and-bronze cabinetry, a trio of architectonic Art Deco lights, and a La Cornue range—is topped by an arched mosaic-tiled ceiling that recalls a chapel. "I love kitchens and I keep coming up with new ideas, but if you told me when I was younger that I would be an expert at designing kitchens I would have never guessed it," Gambrel says. "It's not like I was a chef in a previous lifetime."
[Slideshow: See more photos of this Greenwich Village home designed by Steven Gambrel]
Throughout, the designer's custom-made furnishings match the soigné mood of the blue-chip 20th-century antiques and midcentury gems, including in the master bedroom, where he installed ultrarefined modern pieces by Paavo Tynell, Osvaldo Borsani, and Paolo Buffa against a backdrop of hand-painted wallpaper depicting scenes of New York. "We shopped the world and did a lot of damage," jokes Gambrel of forays he made, often with his clients, to stores, auctions, and antiques fairs in Paris, London, and New York.
Equally important was the art, with more than 50 works from the couple's collection—including paintings, drawings, a video installation, and sculptures—arrayed around the house. Many of the pieces were acquired with the guidance of Samuels, a Christie's-trained art historian who established her namesake consultancy a dozen years ago. "It's what I call the 'eye mile,' " she says, describing the couple's approach to amassing works by artists such as Willem de Kooning, Joan Mitchell, George Condo, and Thomas Nozkowski. "They looked at art through travel, in auction house catalogues, and at estate sales. They don't love buying at art fairs. They take a more personal approach. Everything comes together in a sincere way."
Recommended: Look Inside Artist Pat Steir's Treasure-Filled Townhouse in Greenwich Village
Which helps to explain why such an outlandishly big house in the heart of Greenwich Village manages to succeed so well as a real family home. "A professor once told me that the greatest architects were masters of the obvious, that success comes when you are honest and authentic about how you live," says Gambrel. "We tried to build this full-throttle picture of what it means to live in this place in New York today." 
A version of this article first appeared in print in our 2020 Spring issue under the headline "Take It to the Limit." Subscribe to the magazine.
Next Post