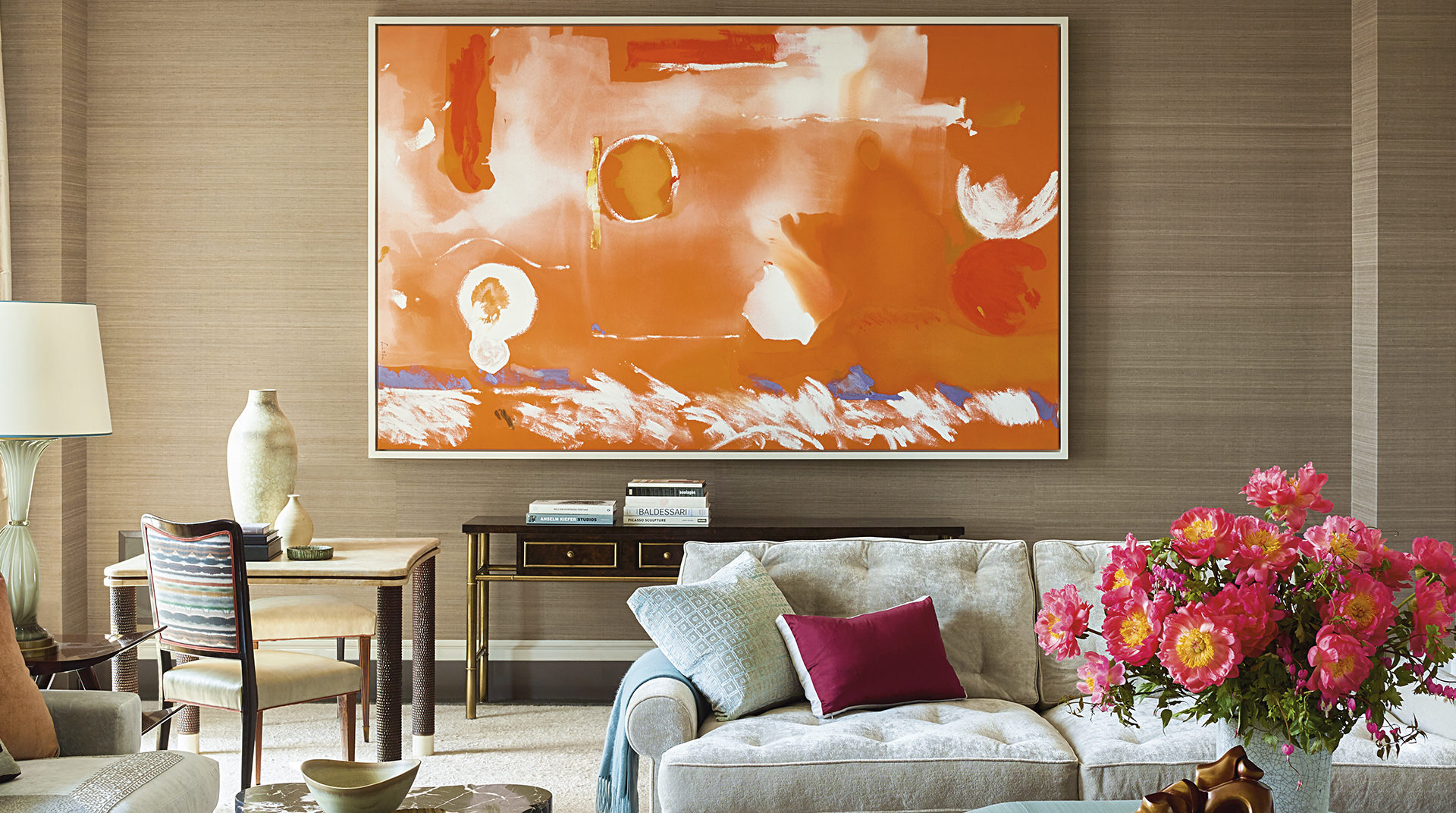 Steven Gambrel Decorates an Art Collector's Park Avenue Apartment
The designer dials up the drama in a Manhattan residence
Polarized" means trouble these days, suggesting locked-horn adversaries unable to accomplish anything worthwhile. But poles also symbolize balance—yin and yang, male and female, traditional and contemporary—and between them lives creation.
So which kind of pair is architect and designer? An art-collecting client had a hunch when she brought together hot-list designer Steven Gambrel and classically trained architect Gary Brewer, partner at Robert A.M. Stern Architects, to collaborate on the renovation of a spacious apartment in a Rosario Candela building on Park Avenue that she shares with her husband and children. Experience had taught her the importance of keeping structural and decorative aspects of a project in equilibrium; she'd also worked with the pair on a country house. Most of all, she knew herself. "I have a traditional bent," she says, "but not totally. Pushing the envelope makes a place fun."
The particular envelope she was endeavoring to push was as plain as, well, an envelope. The previous owners, renowned art collectors themselves, had embraced the notion that the finest works deserve the blankest settings—featureless walls, dropped ceilings, recessed lighting. Gambrel had a different philosophy: "I never feel like art is more important than the other elements in an interior." Yet he didn't want to fill the rooms with a cacophony of voices. "I wanted everything to have the same volume," he says, "so that nothing jumps out at you. The art layers on top of that."
Brewer, too, was aiming for harmony when he considered how artwork would fit into his architectural plans—but harmony of a more mathematical sort. Art is "part of an overall composition," he says, pointing out how a large Louise Nevelson wall sculpture hung to one side of the living room fireplace creates perfect symmetry with a substantial door on the other, and an orange Helen Frankenthaler painting at one end of the room faces off against an equally vivid Raymond Pettibon across the way.
But such careful evaluations of scale and impact were hardly Brewer's first order of concern, given the challenges of this project. The apartment layout had barely changed since the 1930s and included a suite of servants' bedrooms, meager closet space, a claustrophobic kitchen, and a dining room too vast for the new clients' needs. So Brewer brought the configuration of rooms into the present while recalling the past with their moldings and profiles. Gambrel, meanwhile, envisioned a residence that was urbane and patinated, an authentic reflection of the building and neighborhood. They settled on Art Moderne: tradition filtered through the sleek, aerodynamic angles of the Gatsby age. Brewer paid homage to the period with every detail. Gambrel aimed for a looser interpretation. "I like to bring in a little irreverence and freshness," he says. For each room, he blended shapes, surfaces, colors, and patterns to create what he calls "a funny alchemy." His color palettes, for example, include groupings—"icy blue, turquoise, a questionable cinnamon, an odd Cadillac yellow"—that he describes as "not entirely comfortable but compelling. It's like making salad dressing."
His palettes also underscore his attitude toward art. "It would look contrived if I replicated the colors of a painting in the decor," he says. "Like that giant hit of orange"—from the Frankenthaler—"instead of trying to work it into the living room, I wanted the room to stand on its own." And stand it does, with a thrilling poise. A fanciful cocktail table by Serge Roche and Gilbert Poillerat sits beneath a graceful Italian chandelier, both offset by the comforting density of upholstered pieces.
When it was discovered that shrinking the dining room to the desired size would result in an off-center fireplace, Gambrel embraced the eccentricity. "It's a nighttime room," he says, and he filled it with reflective surfaces, shimmering textures, and humming patterns, all grounded by dark woodwork. He designed a silver-and-gold églomisé tabletop that dissolves into brilliance by candlelight, and incorporated a copper log holder he created with Brewer.
As art collectors, the clients are engaged in a lifelong pursuit, and the apartment will keep evolving. Gambrel is happy to provide stopgaps for empty walls, such as the salon-style arrangement over the master bed, which, he admits, is "probably hung at a height a curator wouldn't like." Says the wife, "He told me, 'Just live with it until you find something better.' " So she does, having learned to trust his instincts. "He always says, 'If you don't like it, we'll get rid of it later.' " That "later" seldom comes. "I grow to love it," she says.
Click here to view more images
Next Post