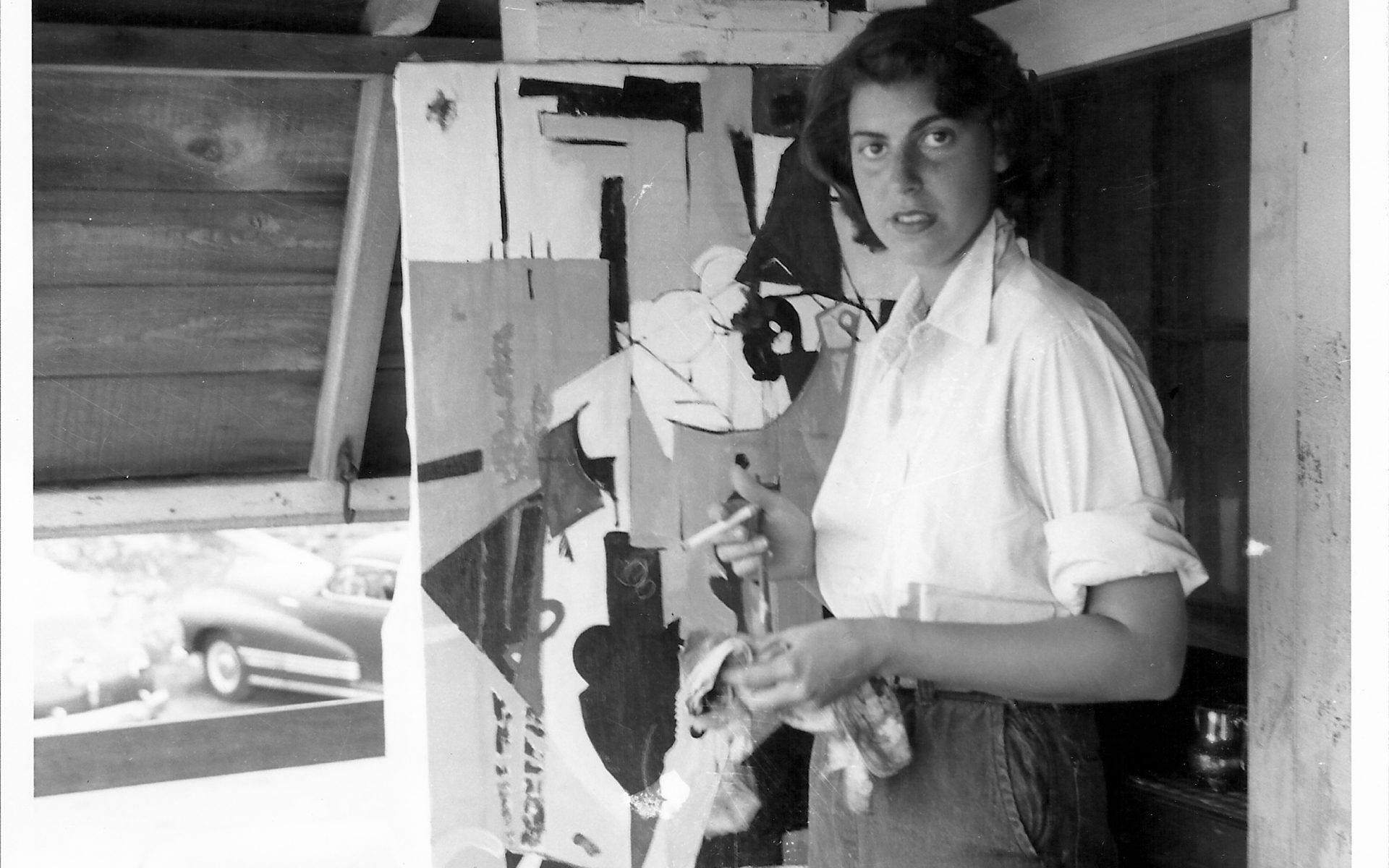 Lise Motherwell Recalls Childhood Summers with Helen Frankenthaler
As a must-see Frankenthaler exhibition opens at the Parrish Art Museum in Water Mill, her stepdaughter talks to Galerie
Helen Frankenthaler's work seems especially suited for the summer. Saturated with color, her canvases and drawings exude an energy that harnesses the power and beauty of nature. On August 4, the exhibition "Abstract Climates: Helen Frankenthaler in Provincetown" will go on view at the Parrish Art Museum in Water Mill, New York, featuring paintings, photographs, and archival materials from a period when Frankenthaler and her then husband, painter Robert Motherwell, would head to Provincetown for the summer.
The show is cocurated by the artist's stepdaughter Lise Motherwell and Elizabeth Smith, the Helen Frankenthaler Foundation's executive director. Highlights include a selection of Frankenthaler's beloved large-scale masterpieces, many of which were too large to be on display at the Provincetown Art Association and Museum, where the exhibition was organized and on view last year. All 30 of the works capture the spirit of the place: The minimally colored Blessing of the Fleet (1969), for example, is inspired by Provincetown's annual Portuguese Festival, while Low Tide (1963) is a stunning wash of blue, green, and ocher. The '50s and '60s also marked a time of Frankenthaler's most intense experimentation. That's when, after visiting Jackson Pollock's studio in Springs, she arrived at an innovative variant of his technique.
Recommended: Three Artists to Discover at Art Aspen
Before the show opens this weekend, we sat down with Lise Motherwell to learn about the more personal side of the exhibition.
There have been many exhibitions of Helen Frankenthaler in recent years, in line with a renewed appreciation of her work. What sets this show apart and what are you most looking forward to seeing displayed at the Parrish?
I wanted Helen to be seen in a more three-dimensional manner, both as a person and as an artist. With access to the Frankenthaler Archives we were able to pull together letters to and from friends, photos, lists of paintings made each summer, postcards, and catalogs, which give us a broader and deeper view of who she was as a person: her passions, her struggles, her thoughts about painting and her social world. In addition, many of her 1960s paintings hadn't been seen since they were painted, so it seemed right to bring them home to Provincetown, where they were first created, and to show them at the Parrish in Long Island, where she was inspired by Jackson Pollock between her first visit to Provincetown and her decade of summers painting there.
How did spending time by the sea impact Frankenthaler's work? In what ways did it allow her to experiment and develop her style?
The landscape in Provincetown is always changing due to the fluctuation of tides and the changing light. Its atmosphere can be described as temperamental—one minute sunny and bright, the next foggy or glum. Helen harnessed these moods and rendered them on unprimed canvas with thinned paint. Not only does she capture the emotional atmosphere, her use of thinned paint captures the watery feel of the sea and sky. She painted these "landscapes" as feeling memories rather than as exact renderings of what she saw.
Recommended: Restaurant by Olafur Eliasson Opens at the Tate Modern
You've said some of your favorite paintings of hers are from the 1960s? What is it about them that you're most drawn to?
Helen's 1960s paintings capture and reflect my own experience of Provincetown summers: the crunch of sand between one's toes, the sleepy mornings and brisk swims; being surrounded by a vast sea; the extraordinary light and landscape; the many summer rituals; the freedom from daily demands; the celebratory atmosphere; the deep reds, purples, and browns as fall approaches; and, last but not least, our family time together. Helen's paintings are powerful because she captured and rendered the experience of the place.
What are some of your fondest memories from the time you shared with Frankenthaler in Provincetown as a child?
Helen had a joie de vivre that was contagious. She was playful, a punster, and loved to laugh. My favorite times with her were when we could share in her spontaneity. She loved to dance. When my sister and I were in the studio with her, she would put on Chubby Checker and say, "Come on. Let's dance," and the three of us would twist and do the mashed potato. I loved it when she took us in her Fiat Jolly, a small white convertible with wicker seats and a blue canvas top, to swim in the pool, listen to the steel band, and eat hamburgers at the Governor Prence Motel in Truro.
What do you hope visitors take away from the show?
One hope I have for this exhibition is that viewers will see and acknowledge how groundbreaking and creative her risk-taking was. Not only did she abandon the easel, she poured and controlled enormous amounts of paint on unprimed canvas with squeegees, sponges, and her fingers.  She moved from oil to acrylic paint.  She integrated materials of her daily environment into her paintings: coffee grounds, sand, plaster, and crayon.  She worked on canvas, paper, in metal, and in clay. When it came to her work, she feared nothing, so she could risk all. As a young woman growing up in the '60s, she was a great model to have.
Next Post