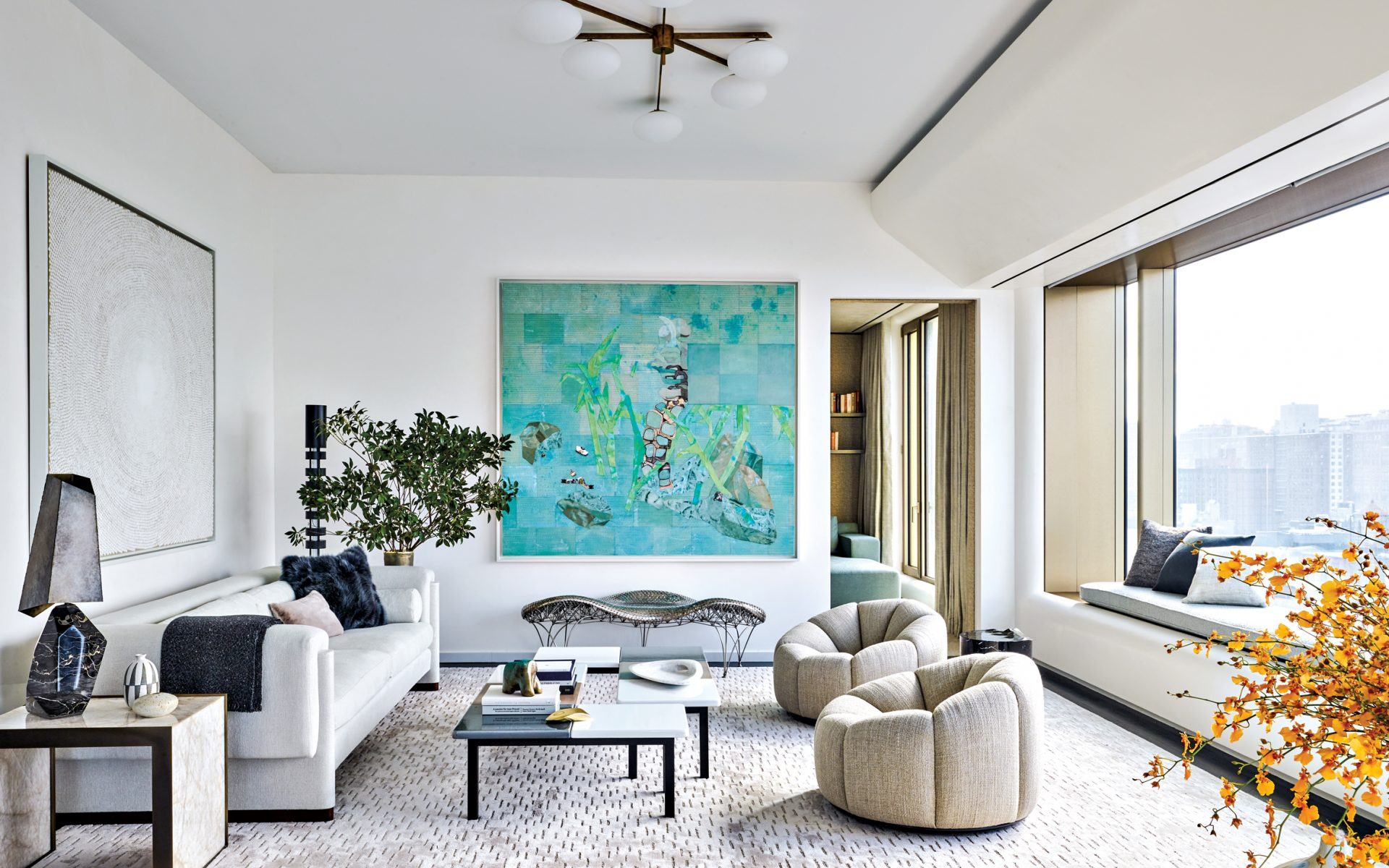 Grade Creates a Gorgeous Chelsea Apartment for an Art-Loving Brazilian Couple
Perched in a Foster + Partners building, the stylish residence offers breathtaking views and major works of art
Just as many great art collections begin with a single acquisition—so too can a great home. In the case of a Brazilian family's New York pied-à-terre, it all began on the opening day of Art Basel in Miami Beach a couple of years ago, when designer Edward Yedid of Grade Architecture and Interior Design found himself captivated by an Ellen Gallagher painting. "The artist had shown the series at the Venice Biennale a couple years prior, and I thought this work was so beautiful, calming, colorful, and powerful," says Yedid. He snapped a photo of the painting and texted it to a client who agreed: The work would be the perfect starting point for the interiors of his new apartment.
The whole process had been set into motion only a few months earlier, when a cryptic message turned up in Grade's general email inbox. In less-than-perfect English it stated, "We bought apartment in Chelsea. Need furnitures." Six days later, a Brazilian financier arrived in town and met Yedid and his partner, architect Thomas Hickey, at the 4,300-square-foot apartment he'd purchased in a West 21st Street building designed by Foster + Partners.
Dressed in full Loro Piana, a symphony of beiges and creams, the client made his priorities clear. His choice of neighborhood was intentional: He and his wife wanted to be surrounded by galleries, just steps away from discovering new artists and acquiring new works. Taking that cue, Yedid and Hickey knew the apartment's focus would be on the art, while the palette for the decor would have to be soft, neutral, and textural—just like the client's wardrobe.
[Slideshow: See more photos of this New York pied-à-terre designed by Grade]
While the overall feel of the building's architecture is distinctly modern, the layout of the apartment suggests an updated version of a classic Upper East Side residence with its graceful sequence of distinct rooms. "Every project we do has traditional principles that apply," says Hickey, who worked for Robert A. M. Stern before establishing a practice. "Grade is short for 'gradient,' because what we do is really a distillation of traditional values into a modern context to suit our clients' lifestyles."
That refined sensibility comes through immediately in the entrance gallery, an exquisitely balanced mix of design and art. Grade covered the ceiling in white-gold leaf, reflecting a gentle glow down onto paintings by Josef Albers and Lucio Fontana as well as a towering "Stack" sculpture by Annie Morris. White-stained ash wall panels provide a subtly textured backdrop without distracting from the art.
"This room was about introducing a level of sophistication, quality, and culture," explains Yedid. "Drawing from all their travels, we wanted a collection of different types of works—not just art hung on walls but sculpture and collectible design." Cloud-like Ayala Serfaty lights float along the ceiling above a sculptural Maarten Baas chair, a Haas Brothers gilded table, an Ingrid Donat bench, and an Eric Schmitt console that hosts a carefully curated selection of ceramics.
Recommended: Steve Giannetti and Anna Busta Create a Stunning Residence for Major Art Collectors
Presiding over the main living area—with its expansive views of the Hudson River and New York Harbor—are a swirling Y. Z. Kami abstraction and that seminal Gallagher work, which graces the cover of Grade's first monograph, New York Contemporary, published this fall by the Monacelli Press. Poufy Pierre Paulin swivel chairs and a Johnny Swing undulating metal bench enliven the mix of furnishings.
Perhaps no space better reflects Grade's holistic approach than the dining room, where the designers devised a floral-form ceiling installation from suede panels to disguise electrical systems while adding a distinctive flourish. "The idea was to have petals sort of flowering out of the ceiling and that you could imagine water drops falling down onto a table, spilling off onto the floor." The custom-designed table below features a hand-cast glass top, smooth on the surface yet rough underneath, and a cast-bronze base. Carrying out the watery theme, the rug captures the cascading effect of a waterfall. Nearby, the artful moment is complemented by a George Condo painting surrounded by a group of Rogan Gregory sculptures.
[Slideshow: See more photos of this New York pied-à-terre designed by Grade]
It was the creative details that the Brazilian financier and his wife gushed over when they first visited the finished home. "He walked into each room and sat in all the different chairs to see the space from different perspectives and the art from different angles," recalls Yedid. "What we expected to be a nothing project ended up being one of the most wonderful.
"I've always found art collectors to be the best clients because they appreciate beauty and design," he adds. "They're willing to go through that journey with you to come up with something really special." With more residences in the works for notable art-collecting clients, Yedid and Hickey no doubt have many incredible journeys yet to unfold.
A version of this article first appeared in print in our 2019 Late Fall issue under the headline "Contemporary Classic." Subscribe to the magazine.
Next Post