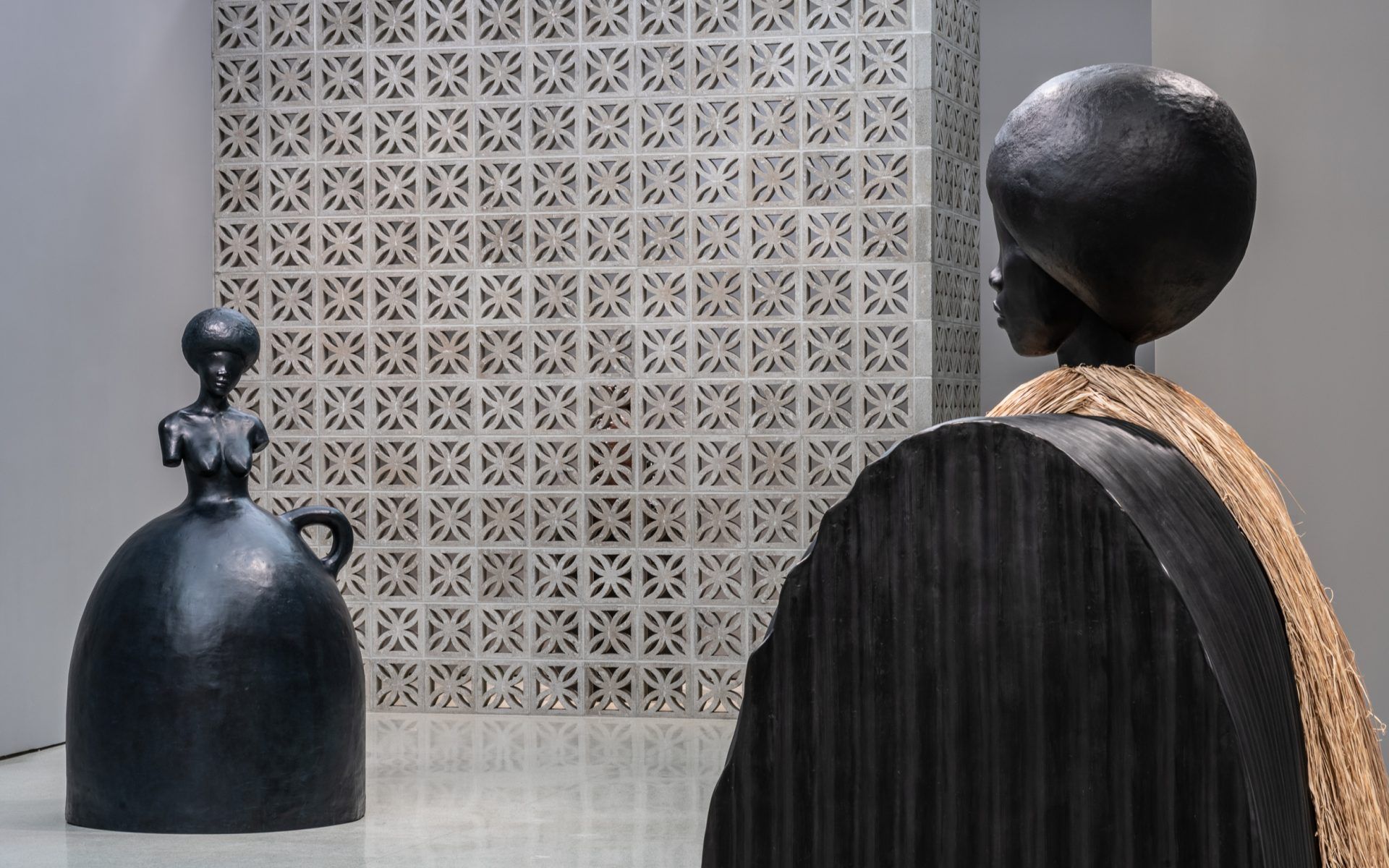 Simone Leigh's Powerful Exhibition Opens at the Guggenheim
The Hugo Boss Award winner creates a suite of enchanting new bronzes
By any measure, Simone Leigh has had a momentous couple of years, and the attention only seems to be growing. Just months after winning the 2018 Hugo Boss Award, a prize that recognizes achievement in contemporary art, the Brooklyn artist is opening a highly anticipated solo exhibition at the Guggenheim Museum. Titled "Loophole of Retreat," the small but powerful show comprises a new series of sculptures and a dynamic sound installation, all made specially for the institution.
"We were unanimous in selecting her," Guggenheim curator Susan Thompson and jury member tells Galerie. "Simone Leigh has a longstanding and unwavering commitment to addressing black women as both the subjects of and audience for her work and recalibrates the outmoded structures that shape contemporary society."
Recommended: 3 Major Public Art Installations that Will Thrill this Spring 
For the past 25 years, the Chicago-born talent has worked across many disciplines, including sculpture, installation, and film to address the agency of black women. Entering the room on the Guggenheim's fourth floor, visitors are faced with three monumental female forms that gently allude to notions of domesticity, dwellings, and community. Jug, for example, depicts a black female bust emerging from a weighty vessel with a handle. Sentinel is a sphynx-like form that features a woman's face sitting atop what resembles the corrugated iron of a roof or dwelling. Leigh's women are rendered without eyes, as if resisting the complications that come with that gaze. Instead of seeming sightless or overlooked, however, they encapsulate a sense of self-contentment and deep wisdom.
At 11 feet high and titled Panoptica, the largest sculpture is an expansive skirt form covered in raffia (dried fibers from African palm trees) that supports a prefabricated terra-cotta clay pipe, abstracting the female form all together. As the title alludes, the work acts as a panopticon that seems to scan all parts of the room from above.
Leigh's themes of self-preservation and community in the sculptures are intensified in the back of the room, where we face a concrete structure made of breeze block walls, a common construction material in the global south. Inside, there is a layered sound montage of old songs, quotidian sounds such as children's clapping games, and even a recording of a recent protest at a Brooklyn women's prison.
The exhibition's title is a coinage of the once-enslaved abolitionist Harriet Jacobs, who in 1861 pseudonymously published an account of her life—including seven years she spent hiding from her master in a crawl space. "This extraordinary feat of courage and patience is reflected in the works in this exhibition," says Katherine Brinson, one of the show's cocurators.
The show expands outside the gallery walls too. Known for her sustained mentorship of the young women artists and interest in the wider social impact of her artmaking, Leigh will also be bringing together an international constellation of writers, poets, artists, filmmakers, and academics for a daylong gathering on April 27 to celebrate the intellectual life of black women. An accompanying film program featuring works by the artist and by director Madeleine Hunt-Ehrlich takes place daily at 3 p.m. in the Guggenheim's New Media Theater.
Recommended: Isamu Noguchi's Queens Studio to Open to Public for First Time
Downtown, don't miss Leigh's majestic 16-foot-high totem Brick House, which sits above the High Line at 10th Avenue toward 30th Street in a new series of large-scale commissions. Commissioned by the High Line curator Cecilia Alemani, the woman with a dome-shaped torso is her largest sculpture to date and remains on view through October 27. "I was thinking about different notions of beauty," Leigh told Galerie in a recent interview about the project, "the kind of femininity that might be associated with solidity and strength as opposed to fragility."
Last fall, Leigh had her solo debut show at Luhring Augustine's Chelsea gallery, which was one of the most powerful shows of the season. In addition to the Hugo Boss Prize, Leigh has received a Foundation for Contemporary Art Grant (2018), a John Simon Guggenheim Fellowship (2016), and the Anonymous Was a Woman Award (2016). She was included in the New Museum's biennial "Trigger: Gender as a Tool and as a Weapon" (2017), and in 2016 she took over Harlem's Marcus Garvey Park and had a solo exhibition at the Hammer Museum in Los Angeles.
"Loophole of Retreat" is on view through October 27 at the Guggenheim Museum in New York City. 
Next Post