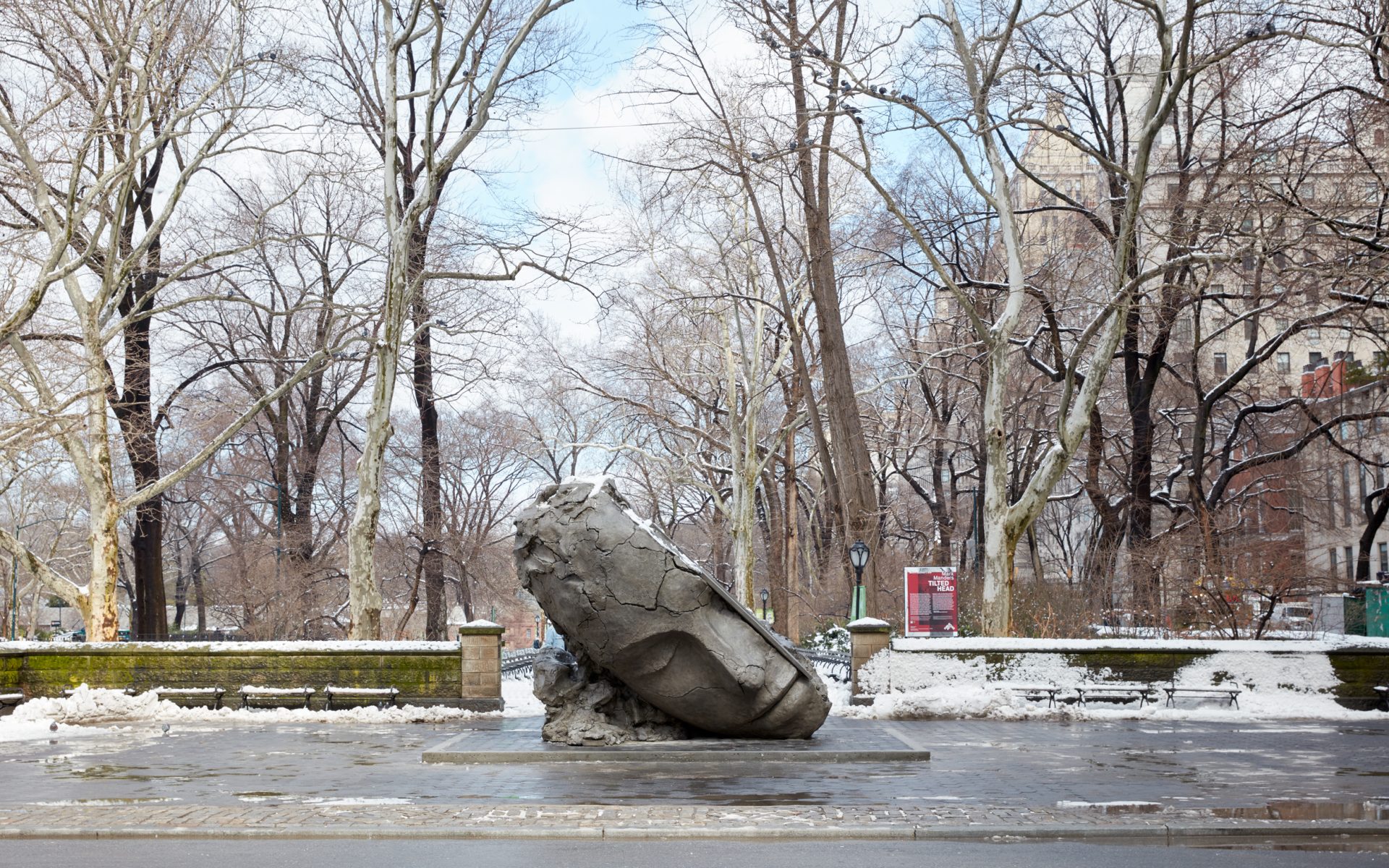 3 Major Public Art Installations Will Thrill New Yorkers This Spring
The new High Line Plinth will get a major work by Simone Leigh while Joseph La Piana and Mark Manders will debut striking new sculptures uptown
With genre-defining permanent outdoor sculptures and a history of attention-grabbing exhibitions, New York may be one of the greatest destinations for public art. Installations range from honorary monuments, such as David Rockefeller's commission of Jean Dubuffet's Group of Four Trees in 1969, to contemporary pieces, such as Isa Genzken's Rose III in Zuccotti Park (2018). In recent years, impermanent works, such as Olafur Eliasson's Waterfalls (2008) and Christo and Jeanne-Claude's The Gates (2005), have created citywide buzz.
The most democratic of genres, public art has no lines, tickets, or viewing hours to speak of—and this spring marks one of Manhattan's most invigorating seasons. From Doris C. Freedman Plaza and Park Avenue's grass medians to 2019's newcomer, the High Line Plinth, the path's first space dedicated to a rotating display of commissions, there will be a wealth of new outdoor sculptures on view.
Here, a look at three defining public projects coming to the city this season.
Joseph La Piana, Tension Park Avenue
Selected by the Park Avenue Sculpture Committee, Joseph La Piana unveils his first large-scale public project, Tension Park Avenue: six vivid, primary-yellow installations along the storied East Side thoroughfare from March through July. "Given politics and environmental issues, our limits are being pushed to a breaking point on a day-to-day basis," he says of the work, which strains material boundaries with rubber and stainless steel. "The sculptures will not collapse, but they are being pushed to the point of collapse."
According to the artist, Tension also references daily pressure. "We all have gone through fragile periods that have pushed us to personal emotional limits," says La Piana, whose 2015 variation of the project stretched 11,000 feet of yellow latex across a 20,000-square-foot warehouse in Red Hook, Brooklyn.
Despite the manicured tulip backdrop of Park Avenue, Tension is not meant to be pristine. "I don't like shiny objects," explains La Piana, who cites Louise Bourgeois's raw, rusted beauty as inspiration. "Everything about the way I create, live, think, cook, and dress—everything—is as pure as it can be."
Mark Manders, Tilted Head
Those who first mistake Tilted Head for a massive classical ruin needn't worry—Dutch artist Mark Manders would consider it a compliment. "My work is about freezing time and thoughts," says Manders, whose more-than-13-foot lolling face appears as cracked, wet, or unfired clay, although it is, in fact, cast in bronze.
Tilted Head, which will be installed on Public Art Fund's signature site at the southeast entrance to Central Park from March 6 to September 1, is Manders's largest single-cast sculpture to date. The artist, who represented the Netherlands at the 2013 Venice Biennale, describes the work as silent and peaceful, a nod to the modernist pioneer Constantin Brancusi, but emphasizes that it should resonate context-free.
According to Public Art Fund director and chief curator Nicholas Baume, the aim is to inspire artists to do something above and beyond what they've done before—a direct contrast to the city's baseline for safety and logistics. Tilted Head ticks all the boxes. "The city wants to see great work by contemporary artists in our public sphere," says Baume, "so with Manders's piece our interests converge."
Recommended: Inside Bosco Sodi's Sprawling Red Hook Studio
Simone Leigh, Brick House
"I was thinking about different notions of beauty," says artist Simone Leigh of the 16-foot-tall bronze female bust Brick House, which she created for the High Line Plinth inaugural commission, "the kind of femininity that might be associated with solidity and strength as opposed to fragility."
Leigh's work will be installed on the Spur, the latest Diller Scofidio + Renfro–designed section of Chelsea's elevated greenway, which opens in April and features a new commission every 18 months. Brick House is the largest in the artist's "Anatomy of Architecture" series, which integrates West and South African architectural elements with figurative forms. "Black women are my primary audience," says Leigh, the recipient of the Guggenheim's 2018 Hugo Boss Prize. (The museum is also mounting a concurrent solo show of her work.) "I'm interested in their response primarily to having a figurative representation of a black woman in a public square."
Cecilia Alemani, the director and chief curator of High Line Art, describes the Plinth's mission: to produce monumental artworks that connect with an extensive audience and reflect on today's most pressing issues. With a contemporary goddess reigning over the High Line, Leigh looks primed to start the conversation. 
A version of this article first appeared in print in our 2019 Spring Issue under the headline Outdoor Voices. Subscribe to the magazine.
Next Post