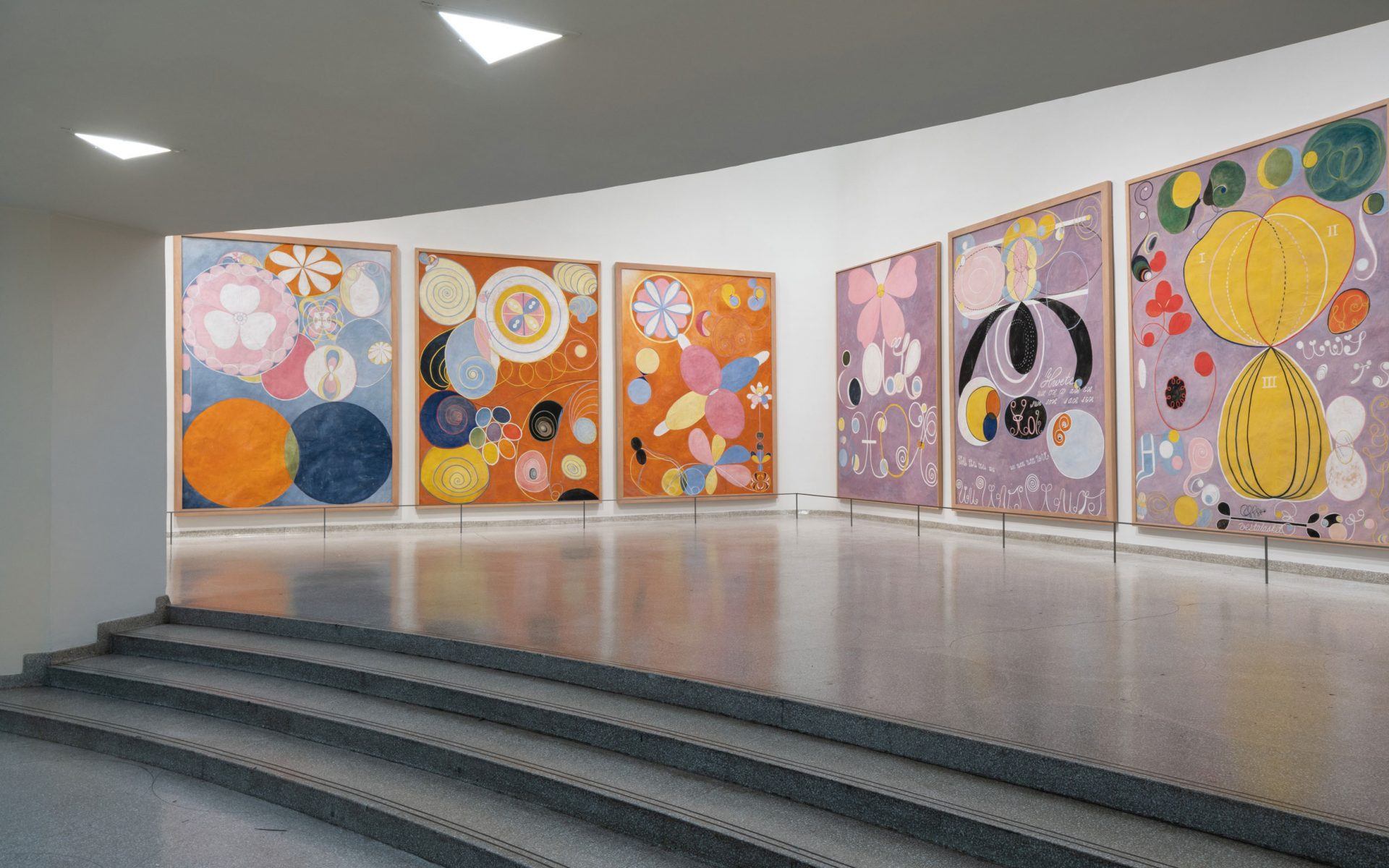 See the Guggenheim Museum's Most Popular Show Ever
The survey of the abstract paintings of artist Hilma af Klint has been drawing record crowds since October
The Solomon R. Guggenheim Museum's exhibition "Hilma Af Klint: Paintings for the Future" has officially become the most-visited exhibition in the museum's 60-year history, the museum has announced. Since it opened in October, the groundbreaking show dedicated to the late Swedish abstract artist has welcomed over 600,000 visitors, resulting in a 34 percent increase in museum membership.
The Guggenheim Store, meanwhile, has seen Af Klint–related products account for 42 percent of its sales. It's the fifth time the museum catalogue has sold out, a museum staff member told Galerie this week, and a total of more than 30,000 copies have been sold, surpassing the previous record set for the 2009 catalogue of the exhibition "Kandinsky," according to the Guggenheim.
Visitors interested in purchasing the catalogue—which is edited by the museum's director of collections and senior curator, Tracey Bashkoff (who also edited Kandinsky), and includes essays exploring the social, intellectual, and artistic context of Af Klint's 1906 break with figuration—can add their name to a wait list.
The show features 160 beguiling and imaginative works by the artist, including some of the first examples of nonrepresentational artwork, before Wassily Kandinsky, Frantisek Kupka, and Piet Mondrian created their abstract canvases (though hers depicted mystical ideas). Adding to her contemporary allure, the artist requested that her spiritual works remain hidden for 20 years following her death. Honoring Af Klint's wish, her family boxed 1,200 paintings as well as journals with over 26,000 pages of notes in their attic. The work stayed largely unknown until a few of the paintings were included in an exhibition at the Los Angeles County Museum of Art in 1986. While perhaps 100 years too late, Af Klint finally gets the recognition she deserved for being so far ahead of her time.
Recommended: Isamu Noguchi's Queens Studio to Open to Public for First Time
"For me, the 2018–19 art season will always belong to the Swedish painter Hilma af Klint," wrote art critic Roberta Smith in the New York Times. "I say this simply as a measure of the psychic and historical shift caused by the Guggenheim Museum's extraordinary full-dress retrospective of her nearly 40-year career."
This weekend marks the last chance to see the show: It closes Tuesday, April 23. For the exhibition's final weekend, the museum will be open from 10 a.m. to 8 p.m. daily to accommodate last-minute crowds.
"Hilma af Klint: Paintings for the Future" is on view at the Solomon R. Guggenheim Museum through April 23. 
Next Post