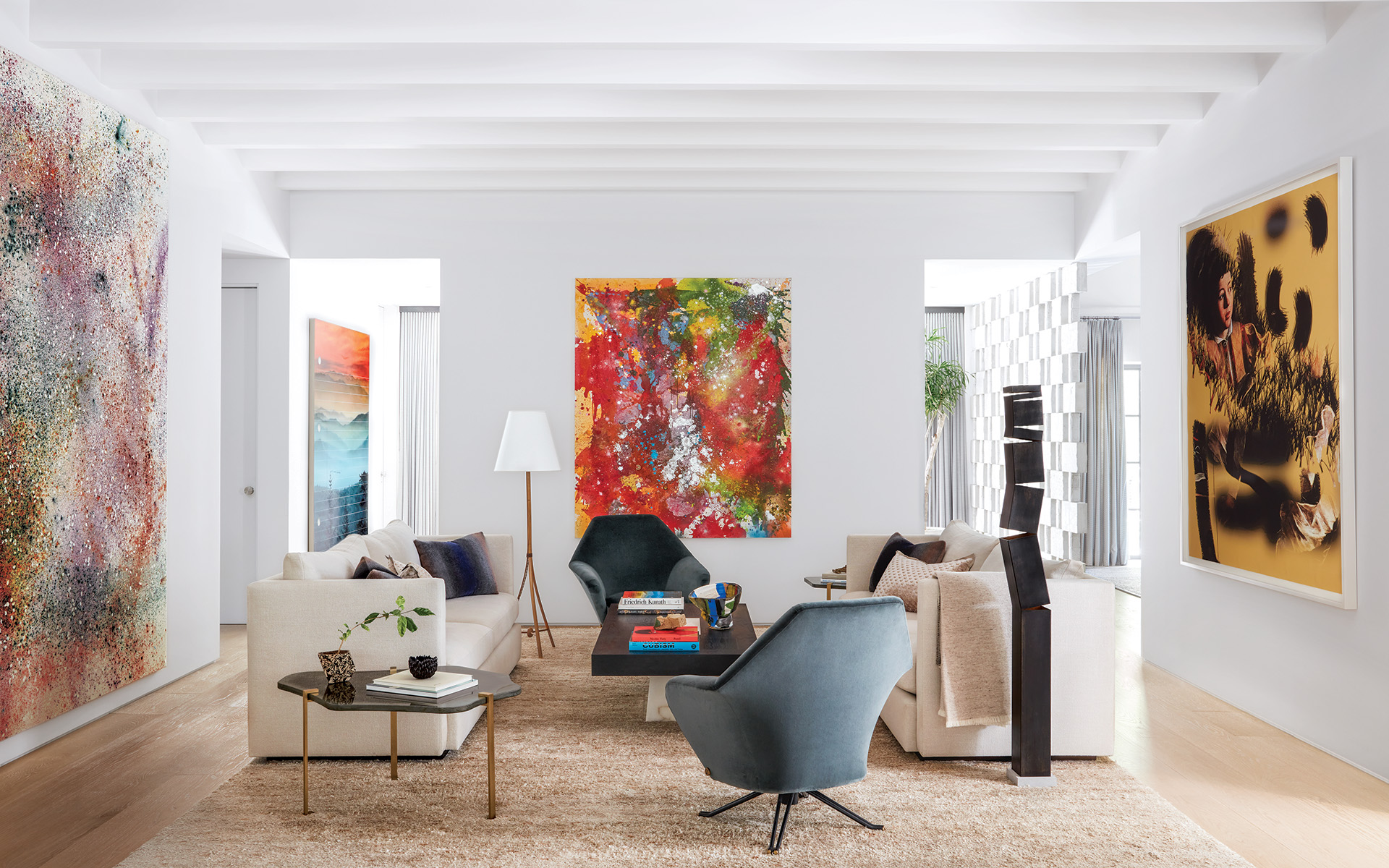 Sara Story and Standard Architecture | Design Collaborate on a Los Angeles Home for Sprinkles founder Candace Nelson
The airy, postwar residence balances sophisticated modern design, splashy art, and child-friendly comfort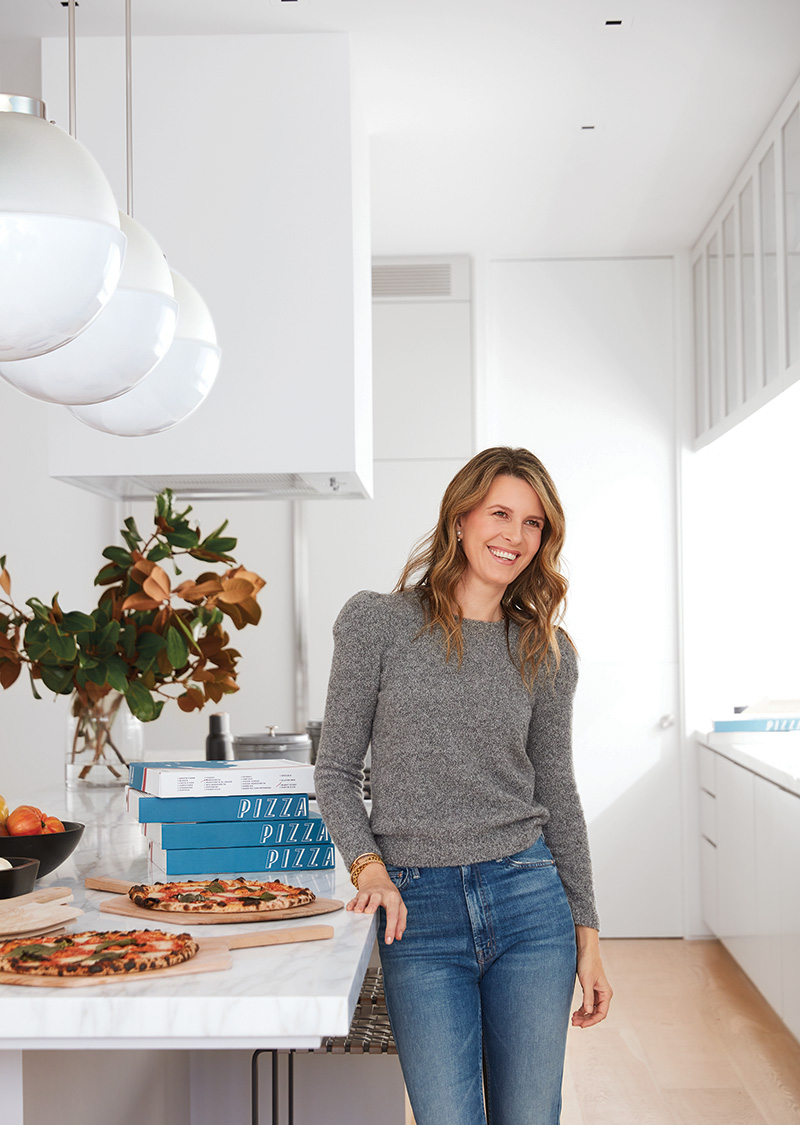 A personal Pinterest board can reveal a lot about someone's design tastes. It might betray a fondness for a particular shade of blue, a predilection for curvy postwar sofas, an obsession with black-and-white tile floors. For Candace Nelson, the cupcake genius behind the Sprinkles chain of bakeries, a close look at her own pins led to an unexpected conclusion: that she absolutely had to hire New York–based designer Sara Story to do the interiors of her Los Angeles home.
"I had this Pinterest page full of photos, and I realized that 75 percent of them were the work of Sara Story," explains Nelson, whose book on entrepreneurship, Sweet Success: A Simple Recipe to Turn Your Passion into Profit (HarperCollins Leadership), was published in November.
With a gut renovation by Standard Architecture | Design already underway, the energetic Story hit the ground running with ideas for how to tailor the 1960s modernist house for Nelson and her husband, Charles, who have two young boys. "I wanted to create happiness," says Story. "Something that is fresh and playful yet is timeless and sophisticated."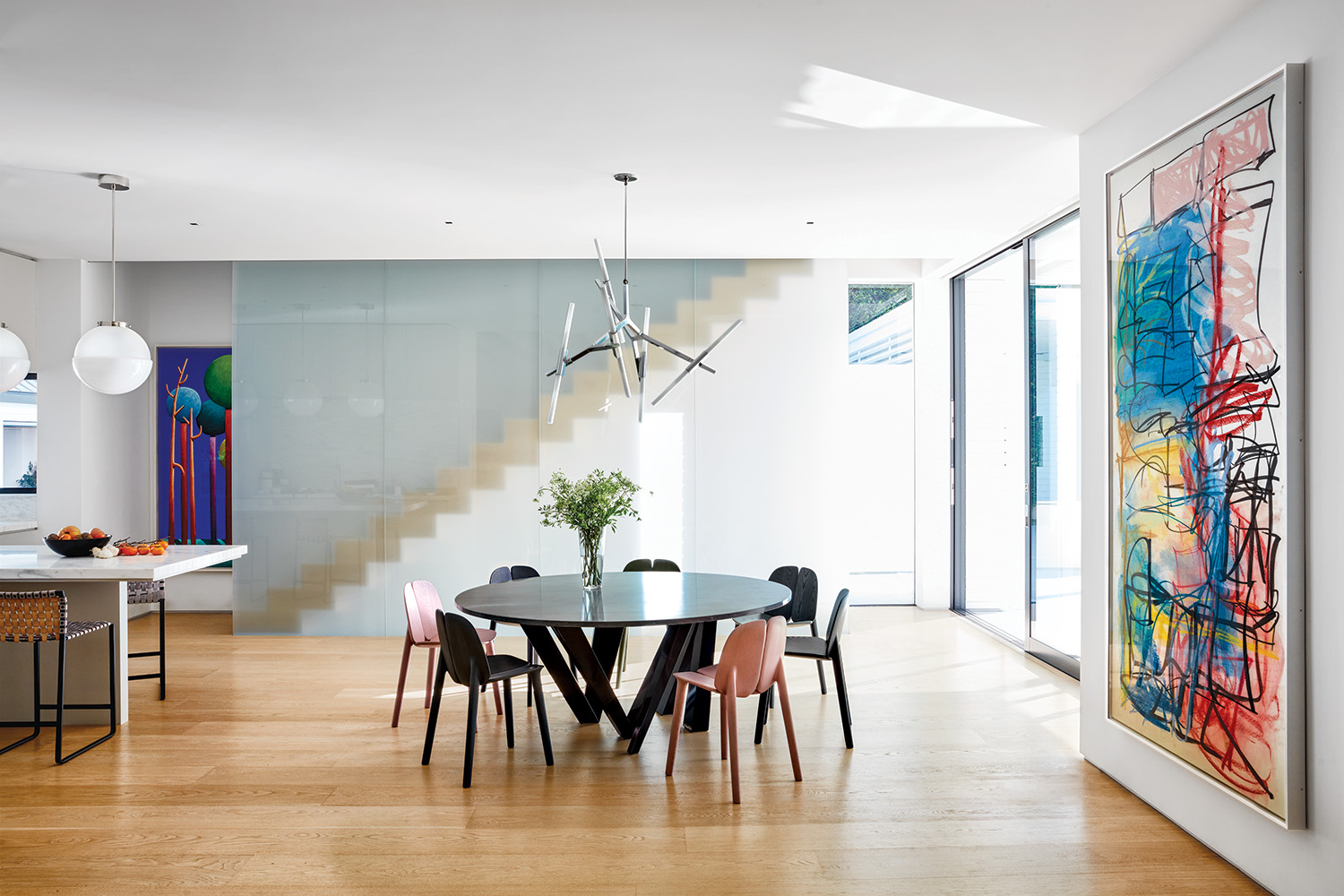 She achieved that with rooms in warm, soft neutrals punctuated by spirited artworks and collectible design from a variety of eras—from vintage Osvaldo Borsani chairs paired with a Rick Owens cocktail table in the living room and a Paavo Tynell Snowflake chandelier descending from the primary bedroom's vaulted ceiling to Gio Ponti chairs and a Patrick Naggar credenza in the dining room. "Each piece is special and very intentionally placed, but we have two rowdy boys," says Nelson. "The challenge was, how do you balance these things and have a home that's beautiful and special but also a family home?"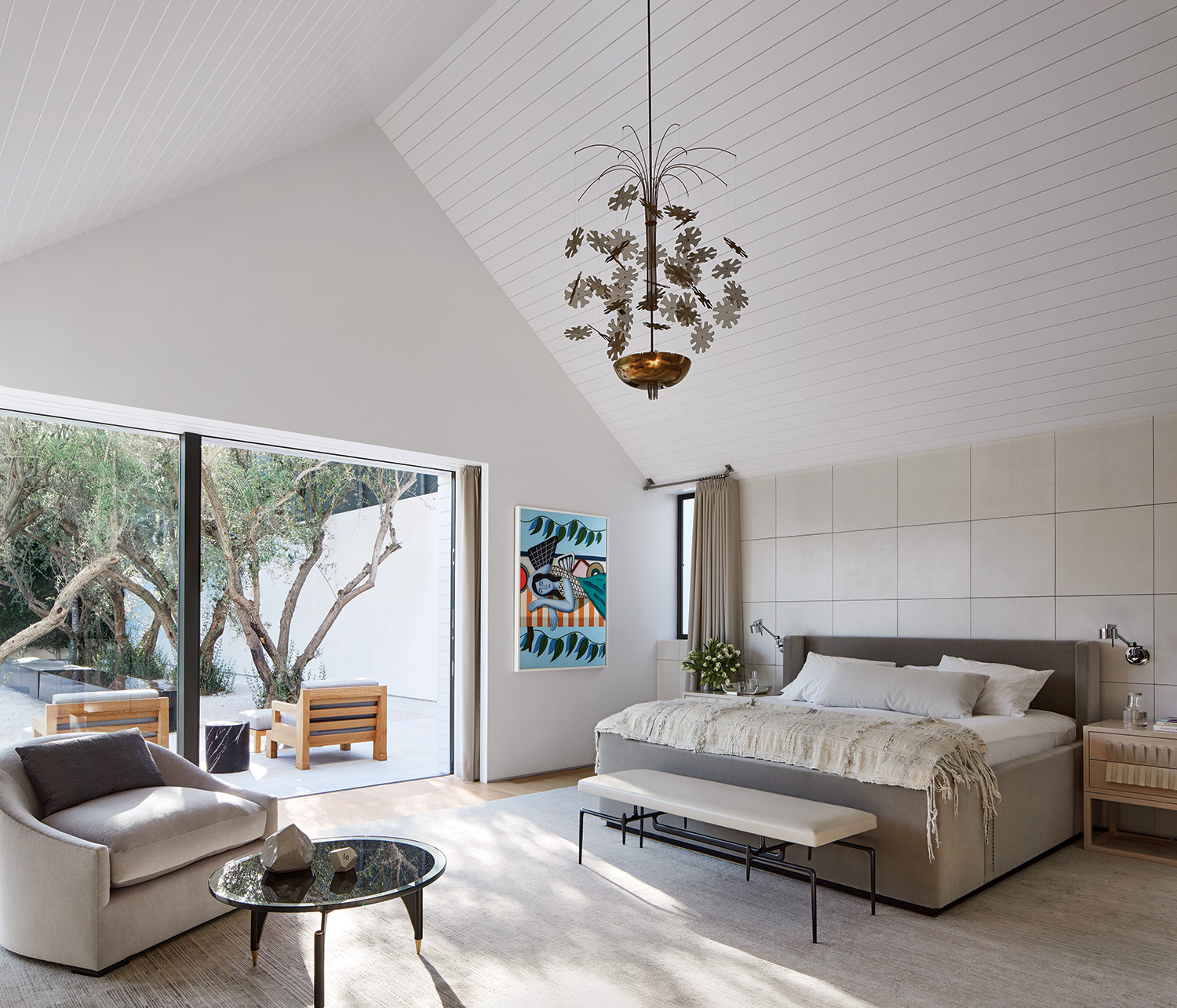 It's a tightrope walk that Story knows well as a mother and an avid collector herself. Bonding with the Nelsons over their shared passion, she relished the opportunity to install their ever-expanding collection, which features a wealth of L.A. artists, including Ed Ruscha, Jonas Wood, and Brenna Youngblood. "I never design a space thinking it's just for this one painting," explains Story. "If you're a true collector, you're going to keep finding new things and need versatility with your space." 
"If you're a true collector, you're going to keep finding new things and need versatility with your space"

Sara Story
Accommodating some of the Nelsons' largest works was made possible by Standard's dramatic reimagining of the original house, an architecturally undistinguished dwelling that the couple had purchased primarily for its generous parcel of land in the Beverly Hills Flats. While making only modest tweaks to the street façade, Standard devised a clean, modern extension off the rear that almost doubled the overall square footage. "The house is very dialed in on a design level," says Standard principal Silvia Kuhle, who is partners in the firm with Jeffrey Allsbrook. "But there were a lot of discussions during the process that made it clear that everything had to be usable by the family."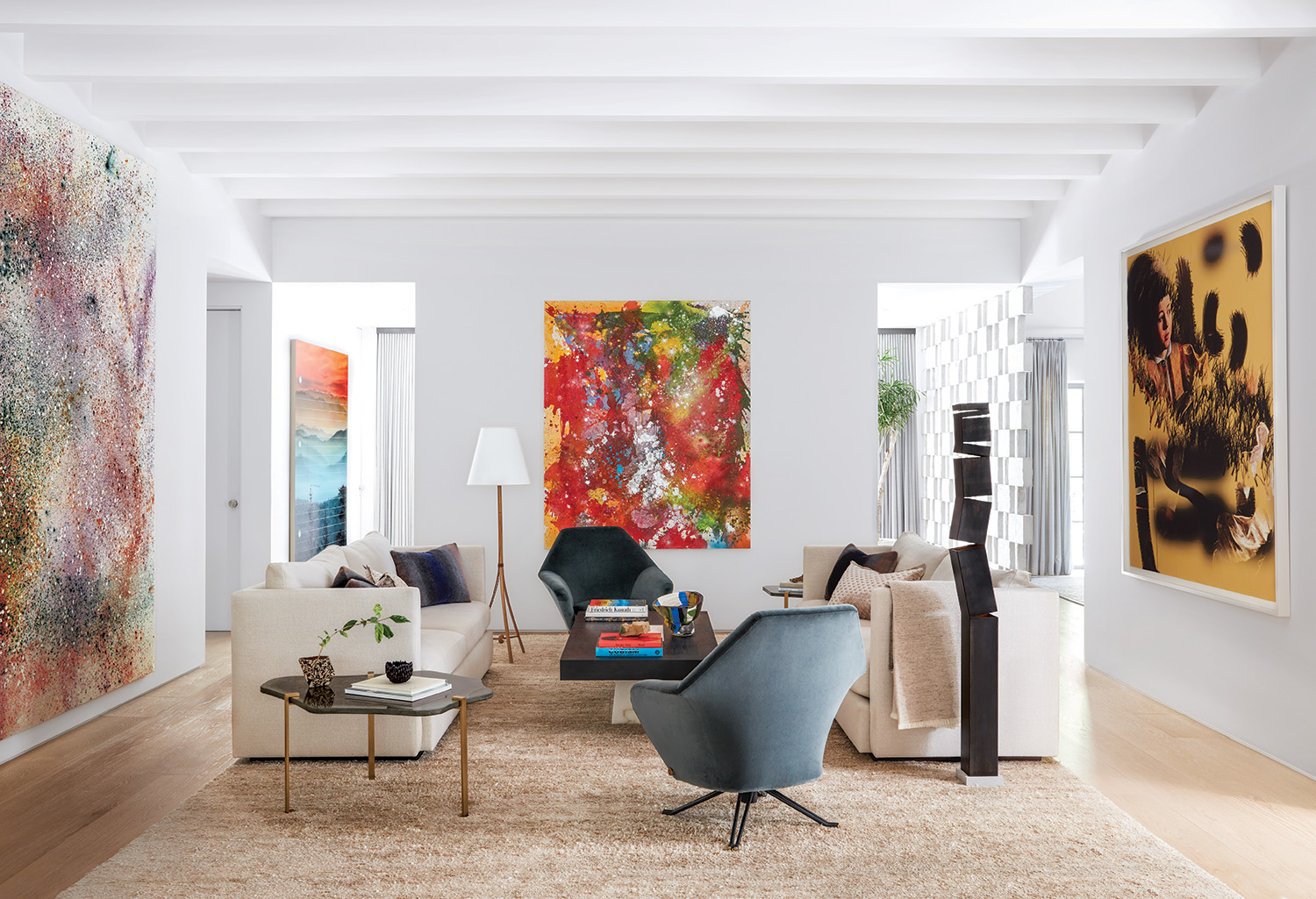 That functionality comes across in the living room, where Story created three versatile seating areas unified by a tone-on-tone palette. There's a formal arrangement with facing sofas surrounded by floor-to-ceiling paintings at one end, a sprawling sectional sofa looking out to the backyard through a glass wall at the other, and a cluster of cozy armchairs next to the fireplace with a monumental travertine surround in the center.
But it's the kitchen that serves as the home's hub, featuring a long, child-friendly island with counter stools and offering views of the sports court outside that allow the couple to keep an eye on their sons. (An occasional home cook, Nelson says the family frequently orders from the chain of pizzerias that they own called Pizzana, whose Brentwood location was designed by Story.) Bordering the kitchen on one side is a floating staircase that rises arrestingly behind an expanse of translucent glass. "It's a very visible feature, and it's used all the time," says Kuhle, who notes that the stairs lead up to the playroom and down to the media room. "It's a vertical integration of living with the stairs as the connector."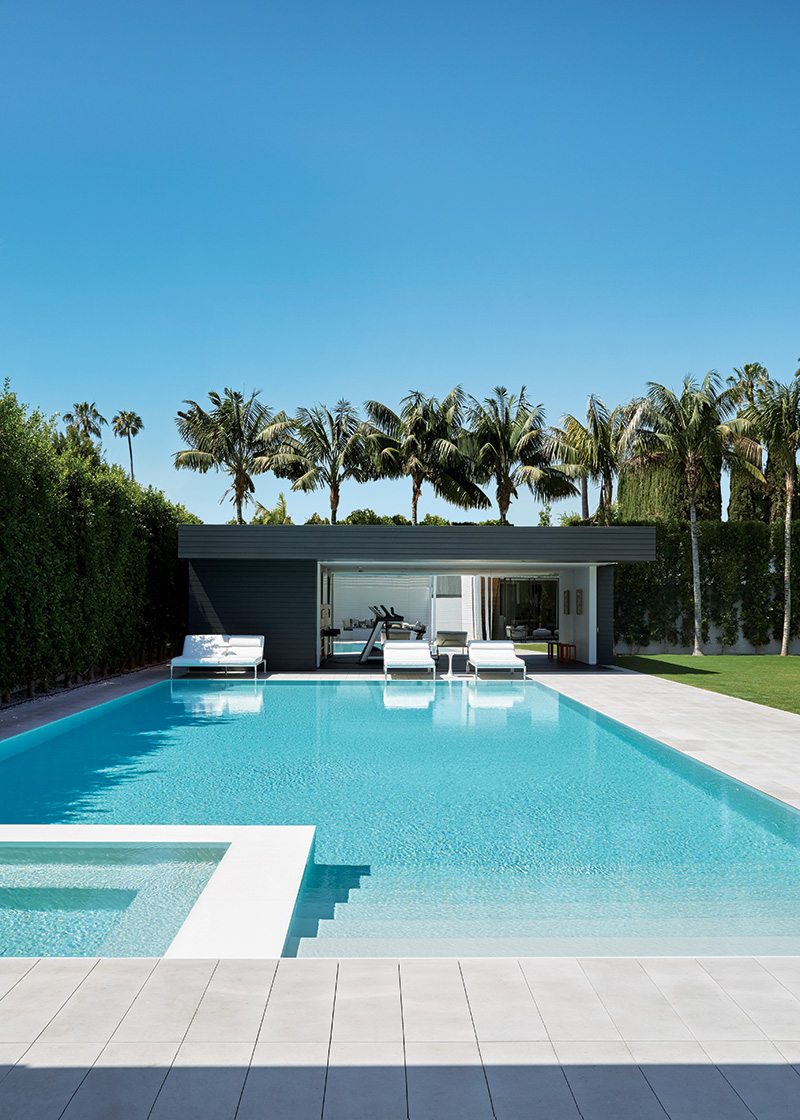 Connections are a theme throughout, not least between the indoors and the outdoor spaces, which were overseen by landscape architect Shane Coen, from the mirror-flat perimeter overflow pool to the elegant allée of olive trees in the garden outside the primary bedroom. Most important are the juxtapositions and dialogues between artworks collected by the Nelsons, who have relationships with many of the artists they champion.
"We love finding artists when they're just on the cusp," says Charles. "We've never sold anything, because we buy things we want to live with." Of course, the couple recognizes that such an approach means eventually running out of wall space. To that end, they've already begun construction on another building on the property, one that will contain an office and, yes, more room for art. 
A version of this article first appeared in print in our 2022 Winter Issue under the headline "Hitting the Sweet Spot." Subscribe to the magazine.
Next Post