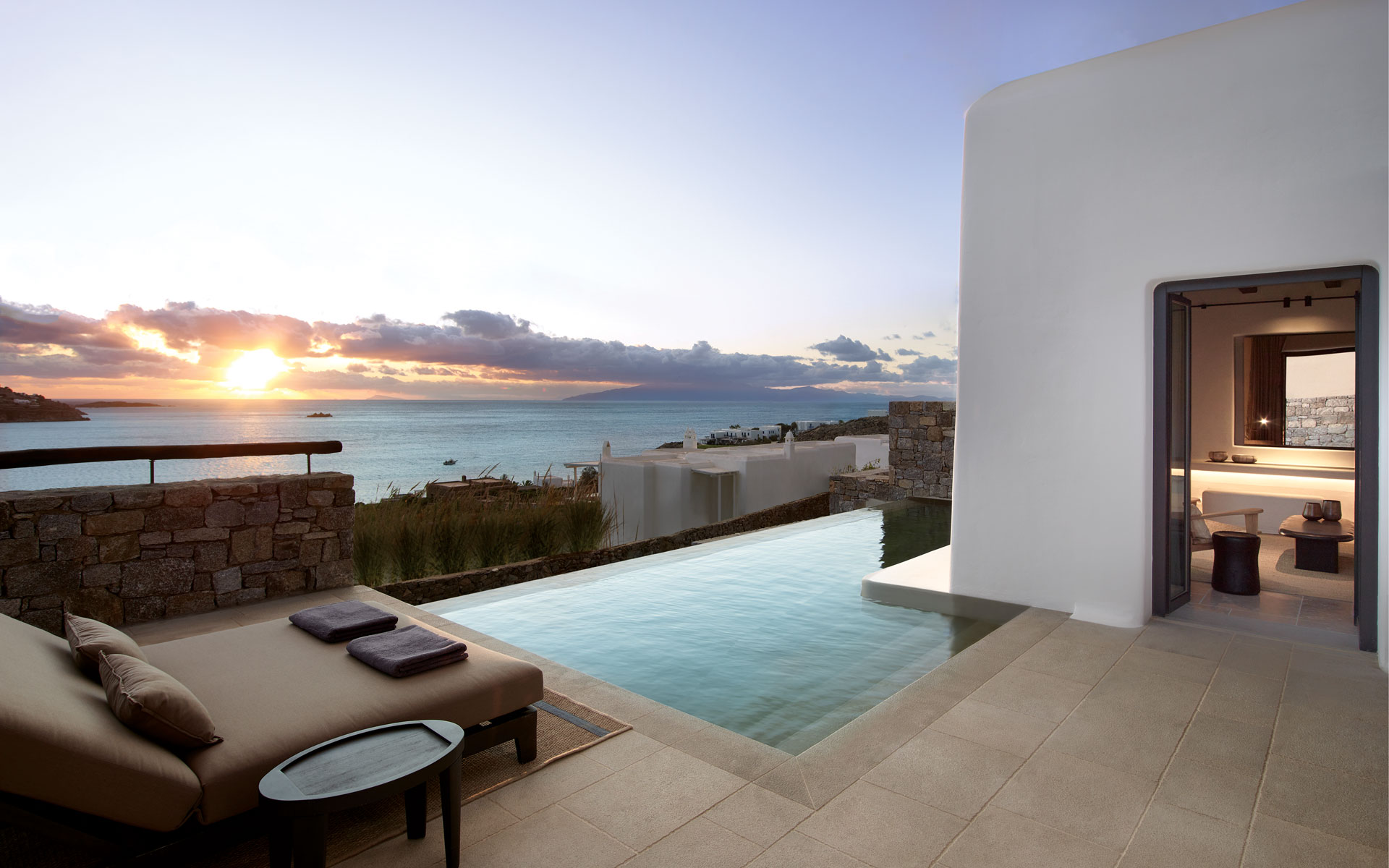 This Serene Resort in Mykonos Melds Rick Owens Furnishings with Local Craftsmanship
With spellbinding view of the Aegean Sea, Kalesma is the first hotel in the world to feature Owens's sculptural pieces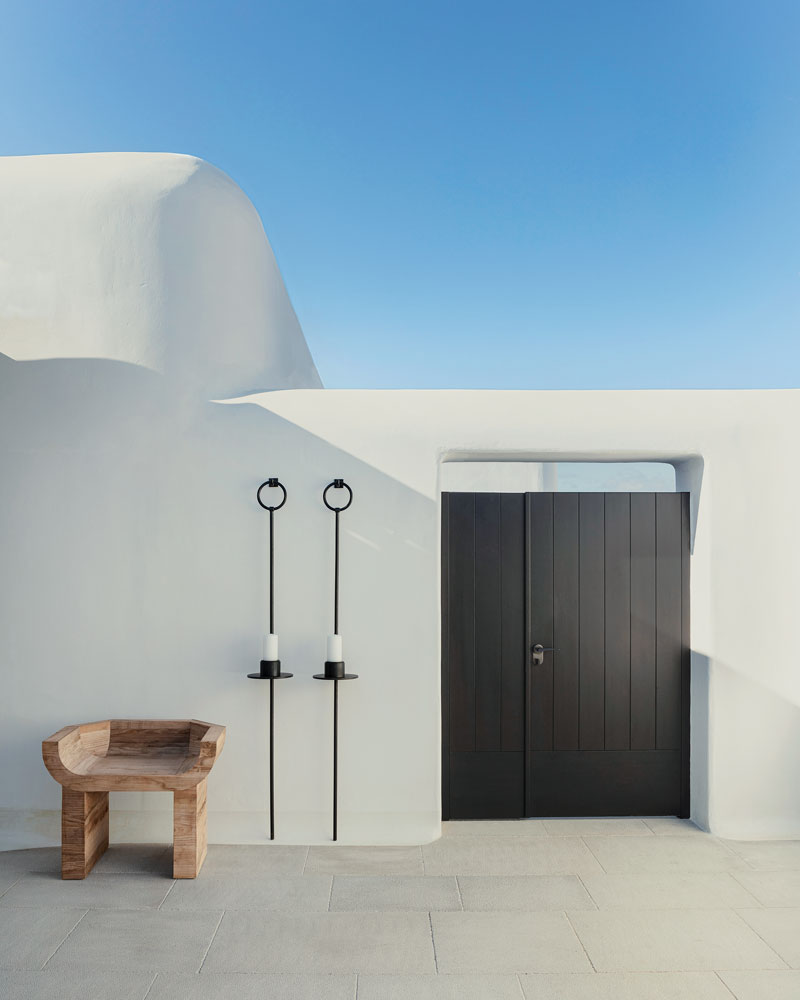 It's often the landscape that presents the greatest inspiration to architects, but at Kalesma, a new boutique hotel on Mykonos, Greece, its location provided too much of a good thing. Situated on a plateau with sunrise views to the east and unobstructed vistas of the ancient landmark Delos to the west, the resort needed to transform a breathtaking setting into an even more remarkable one.
"It's a big responsibility—how can you make something already beautiful even more so?" says architect Dimitris Karampatakis, cofounder of K-Studio. "The site gave us so much easy decision-making—how to enter it, where to look, how to hierarchically place things. It was telling us on its own what to do."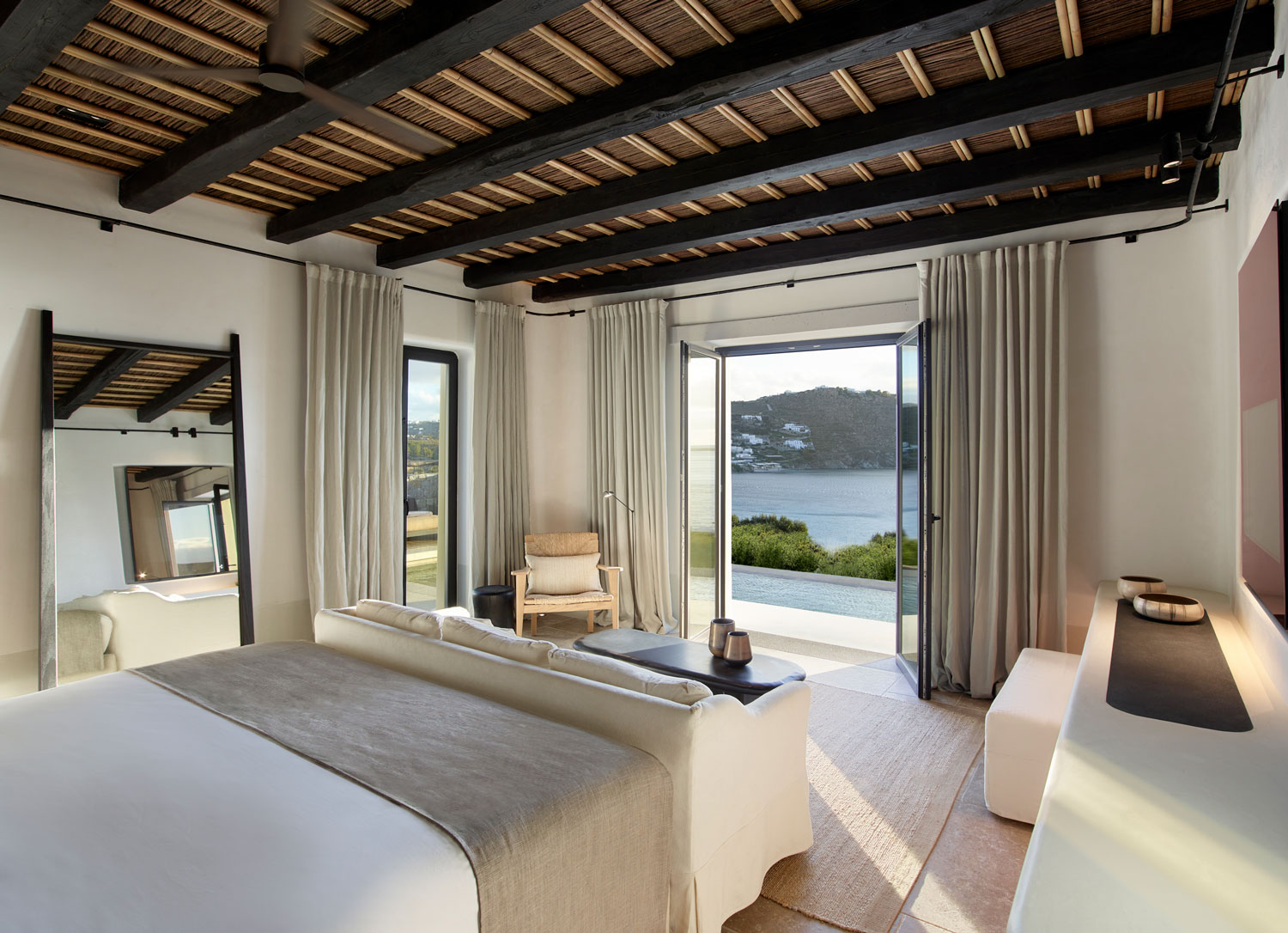 Kalesma is so naturally sited, it seems as if the famed winds of Mykonos guide visitors directly to its front door, where a reception piazza has been artfully arranged with a selection of Rick Owens furnishings, making this the first hotel in the world to feature his pieces. Interior designer Vangelis Bonios, founder of Studio Bonarchi, sourced the Double Bubble sofa, Brazier tables, and Curial chair directly from Owens's studio in Paris, working with his wife, Michèle Lamy, to select unique furnishings for Kalesma. "Rick Owens's magnificent furniture expresses the same idea as the interiors themselves—brutal forms dressed up in rough, authentic materials," says Bonios.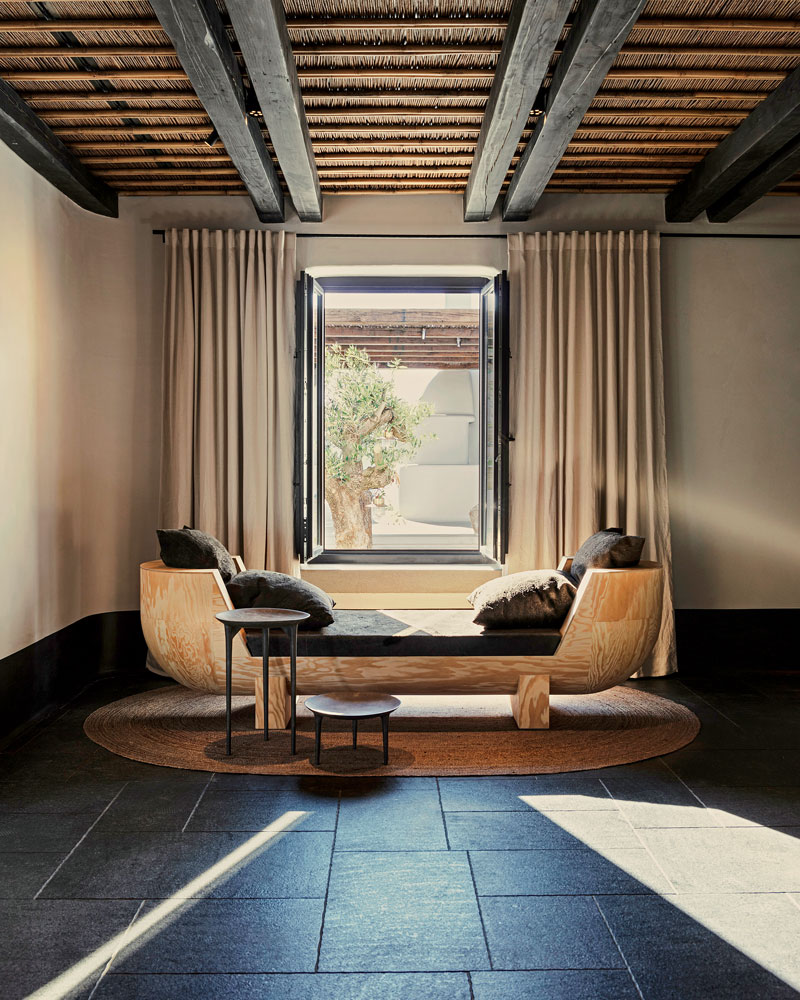 The resort's 25 suites and two villas are designed in a similar "primitive, Cycladic, chic" style, says Bonios. Furnishings are custom made by Greek craftsmen, while artwork by Serbian talent Aleksandar Vac completes the neutral living spaces, which provide a serene backdrop for the unparalleled views of the Aegean Sea.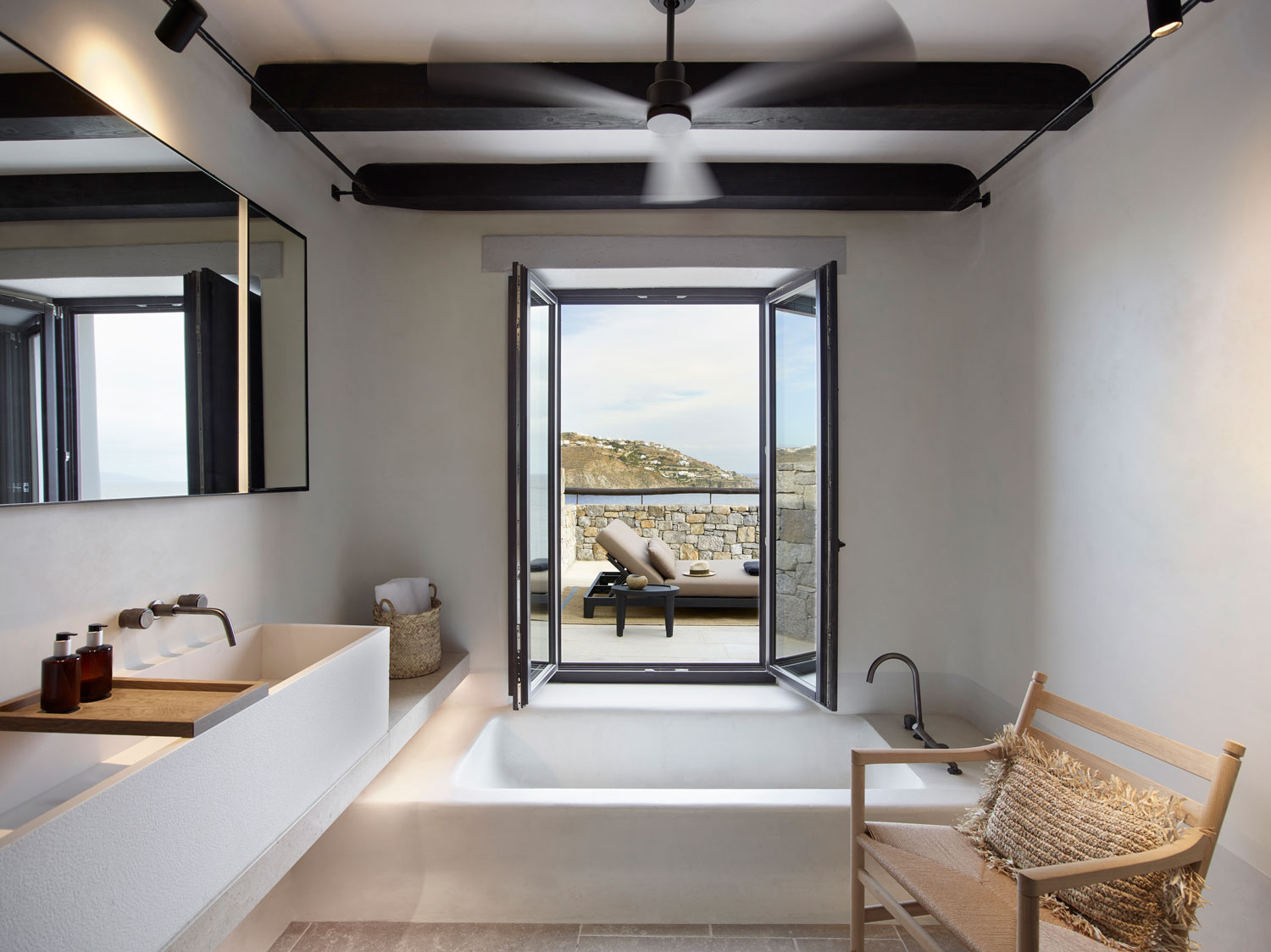 In a departure from the typical vivid white and cobalt blue found in Grecian resorts, the team chose a darker assortment of colors offset by creamy shades inspired by the distinctive hues of the country's granite and traditional limewashing. Stone was pulled directly from the site to create the exterior, which is accented by wood pergolas and doors finished with the Japanese wood-burning technique yakisugi, which was customary in the production of Greek fishing boats. "We wanted to add a new kind of palette on our island," says Bonios. "It's a contrast between the Greek white and the dark-brown patinas that reflect an elegant refinement."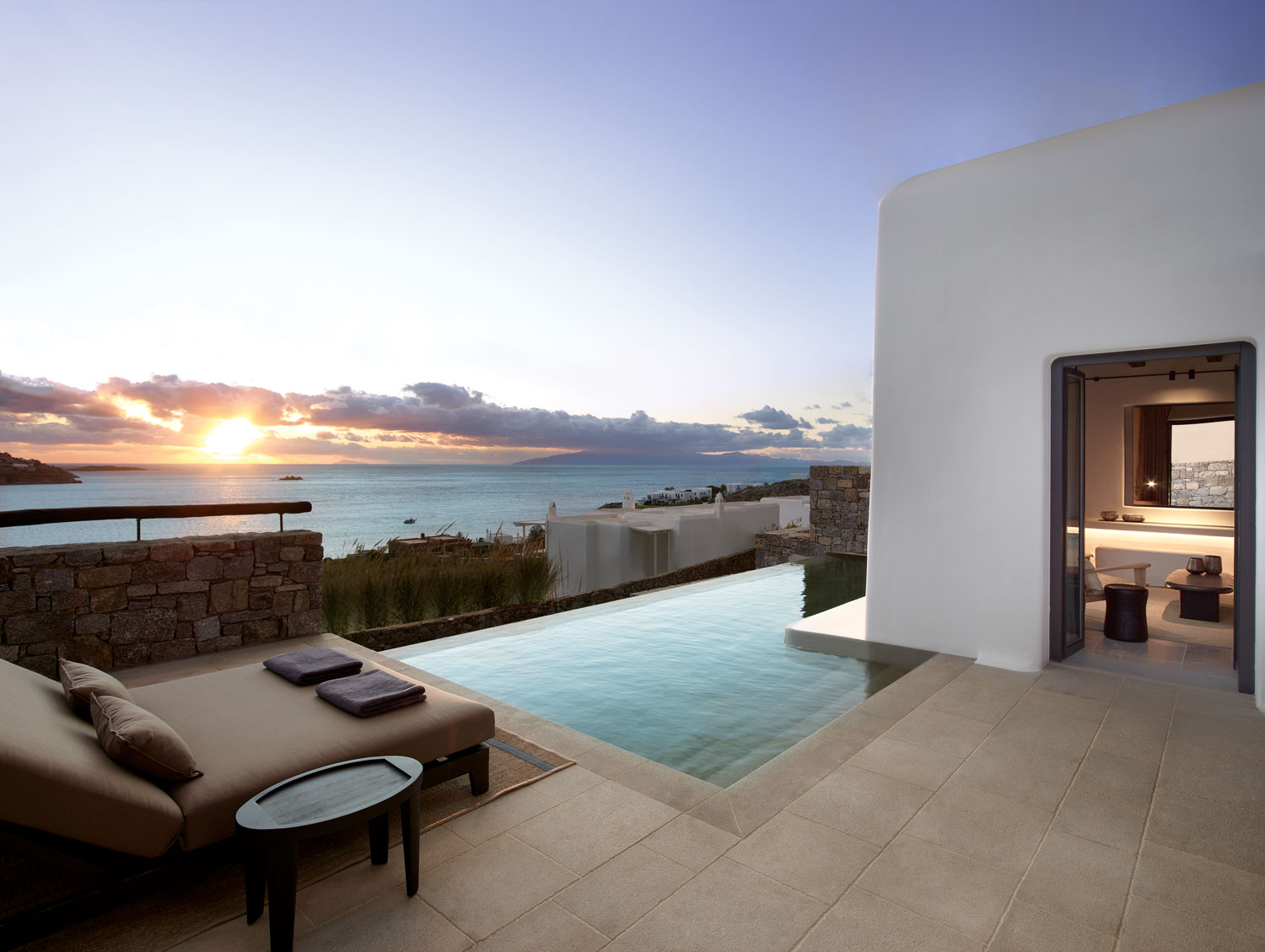 A version of this article first appeared in print in our 2021 Spring Issue under the headline "Greek Revival." Subscribe to the magazine.
Next Post