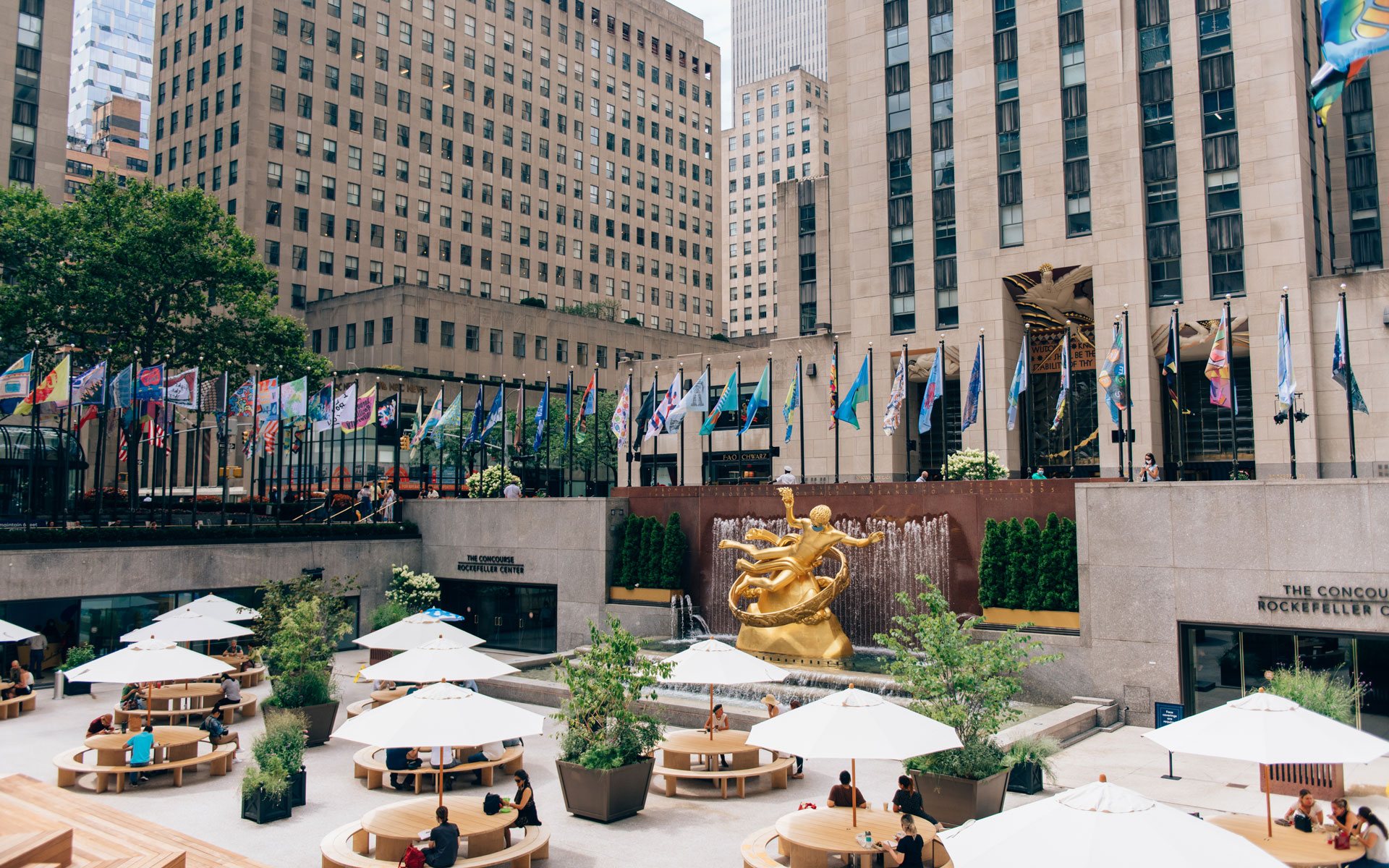 Blue-Chip Artists Create Flags as Symbols of Hope and Unity at Rockefeller Center
For its latest public art exhibition, the New York landmark tapped Hank Willis Thomas, Carmen Herrera, Marina Abramović, and more
If the COVID-19 pandemic has proven anything about New Yorkers, it's their unwavering resilience. Since the health crisis began earlier this year, the city has transformed its most iconic spaces into symbols of hope, where inspiring messages can reach both a national and international audience. In May, Times Square's screens projected artists' messages of gratitude for frontline workers (which were then blasted across the five boroughs and other American cities), and this August, Rockefeller Center is quite literally rising to the occasion.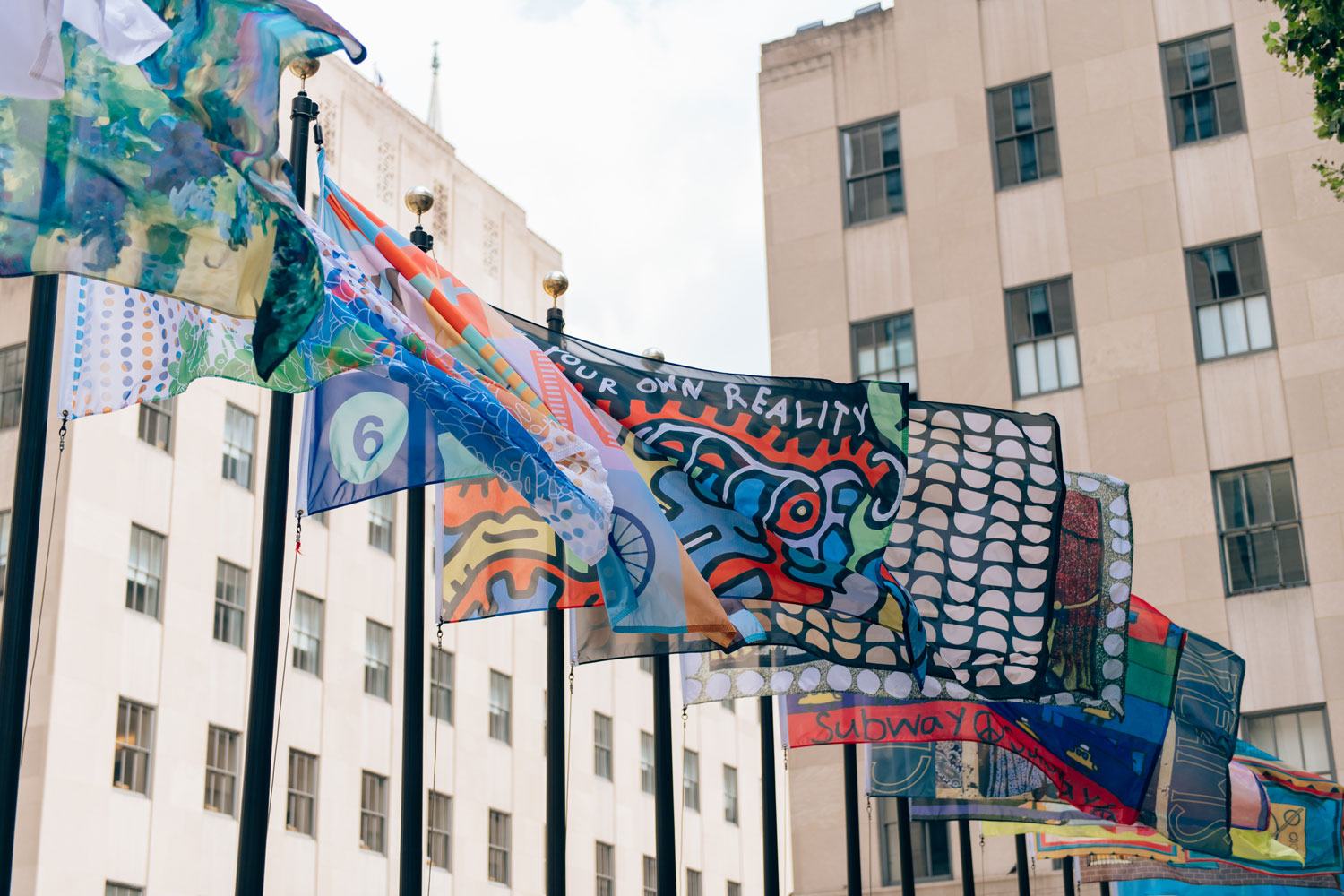 On display through August 23, "The Flag Project" brings together 193 flags, both crowdsourced from New Yorkers and made by many of the most significant artists of our time, that surround the Rink at Rockefeller Center. While typically the poles bear flags of countries recognized by the U.N., they sometimes change in celebration or in honor of other occasions. During the annual Pride celebration, rainbow flags wave, as do American flags on the Fourth of July.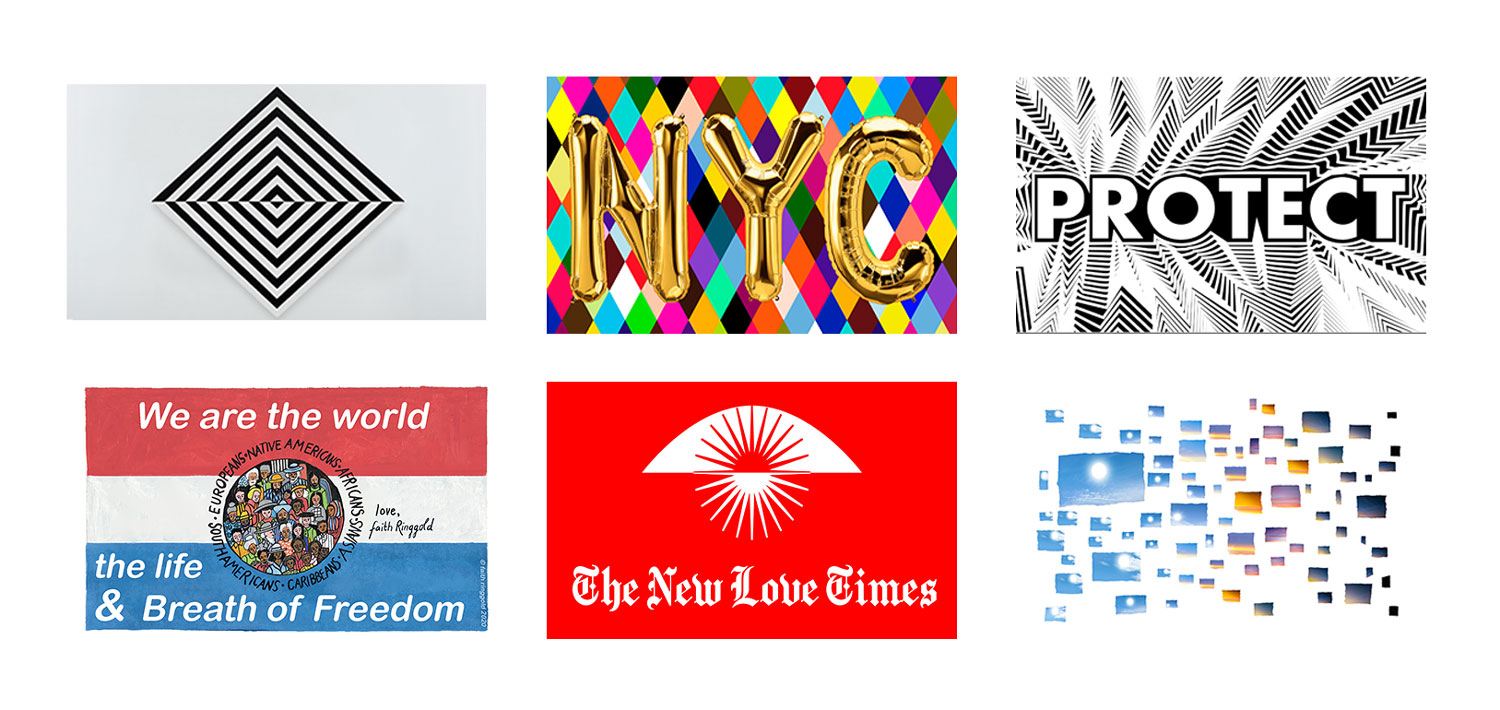 Anticipating a summer like no other, the center's longstanding real estate company and developer Tishman Speyer posed a challenge where any local could submit a flag design that would hang beside those made by artists and talents, including Marina Abramović, Jenny Holzer, KAWS, Laurie Anderson, Steve Powers, Sanford Biggers, and fashion designer Christian Siriano.
The final selections have been produced in eight-by-five-foot flags, instilling the rink with a deeply felt sense of local pride, hope, strength, and togetherness. Also with its new, spacious outdoor dining in the Sunken Plaza, Rockefeller Center is providing ample reason to brave the summer heat, but masked sculptures, including the fountain's gilded, cast-bronze Prometheus, serve as reminders that social distance and proper protocol remain essential.
The artist's flag imagery ranges from minimal black-and-white abstractions by Carmen Herrera to Sarah Sze's colorful design, in which apparent screens of varying sizes depict a changing sky from sunrise to sunset. Other artists, such as Hank Willis Thomas and Shantell Martin, call for New Yorkers to unite through love.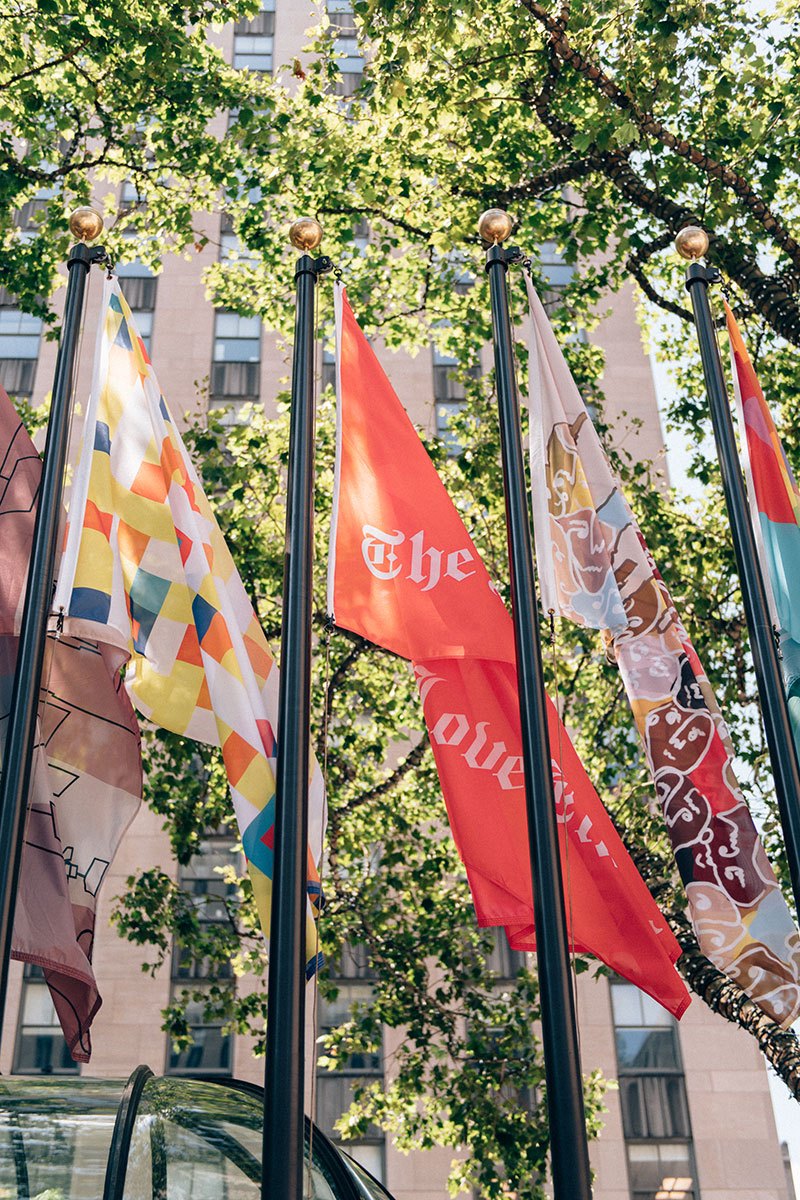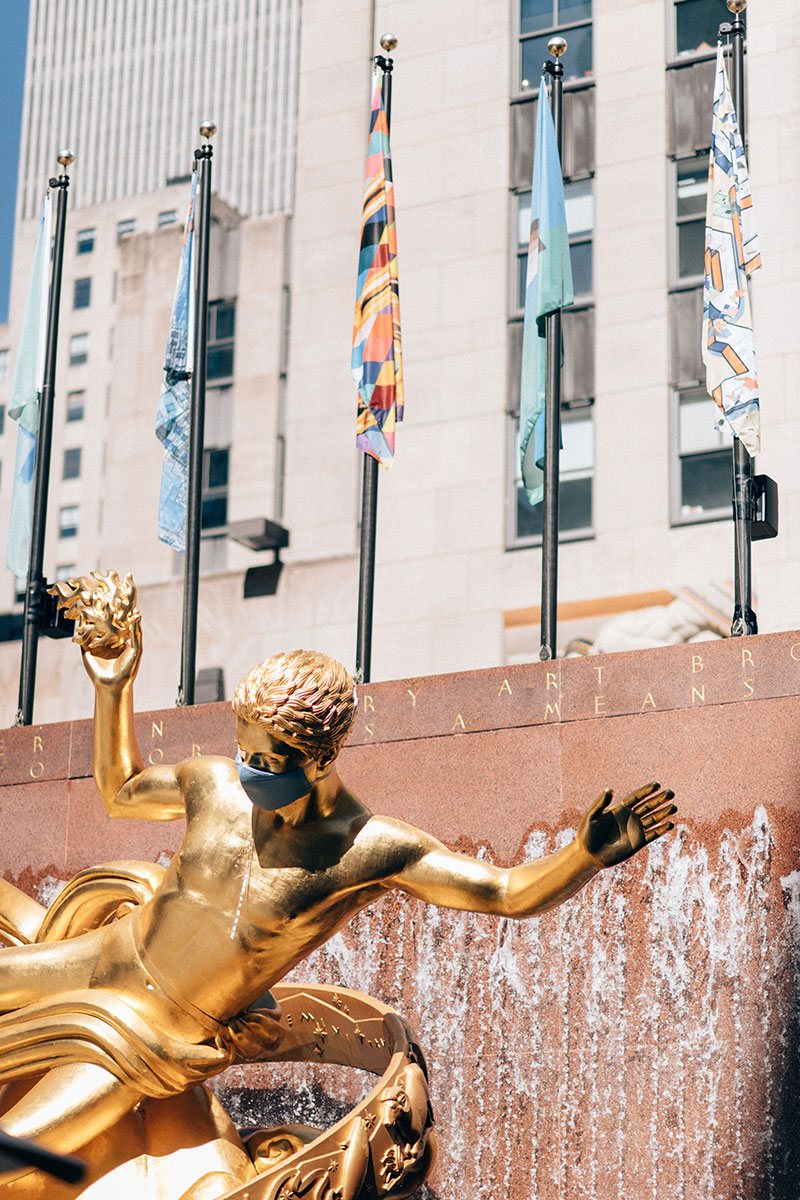 "My flag strives to capture the optimism and diversity that New York City offers all people. The reflective NYC Mylar balloons symbolize the potential and excitement of the city while the multicolored diamond pattern in the background represents the diversity of New York City and all the opportunities that one can be engaged in," Jeff Koons, who has created several large-scale public works for Rockefeller Center, said in a statement to the institution. "I wanted to create an image that reflects how I feel about New York City and the unlimited potential, opportunities, and diversity that it represents."
Many artists celebrated not just New York's diversity but also the country as a haven for freedom. Faith Ringgold's flag, for example, features an image from her children's book We Came to America. The artist shared an excerpt from a poem in the book with Galerie:
"We came to America
Americans just the same
We came to America,
Every color, race and religion
Different, and the same
In spite of where we came from,
Or how or why we came,
We are Americans
just the same."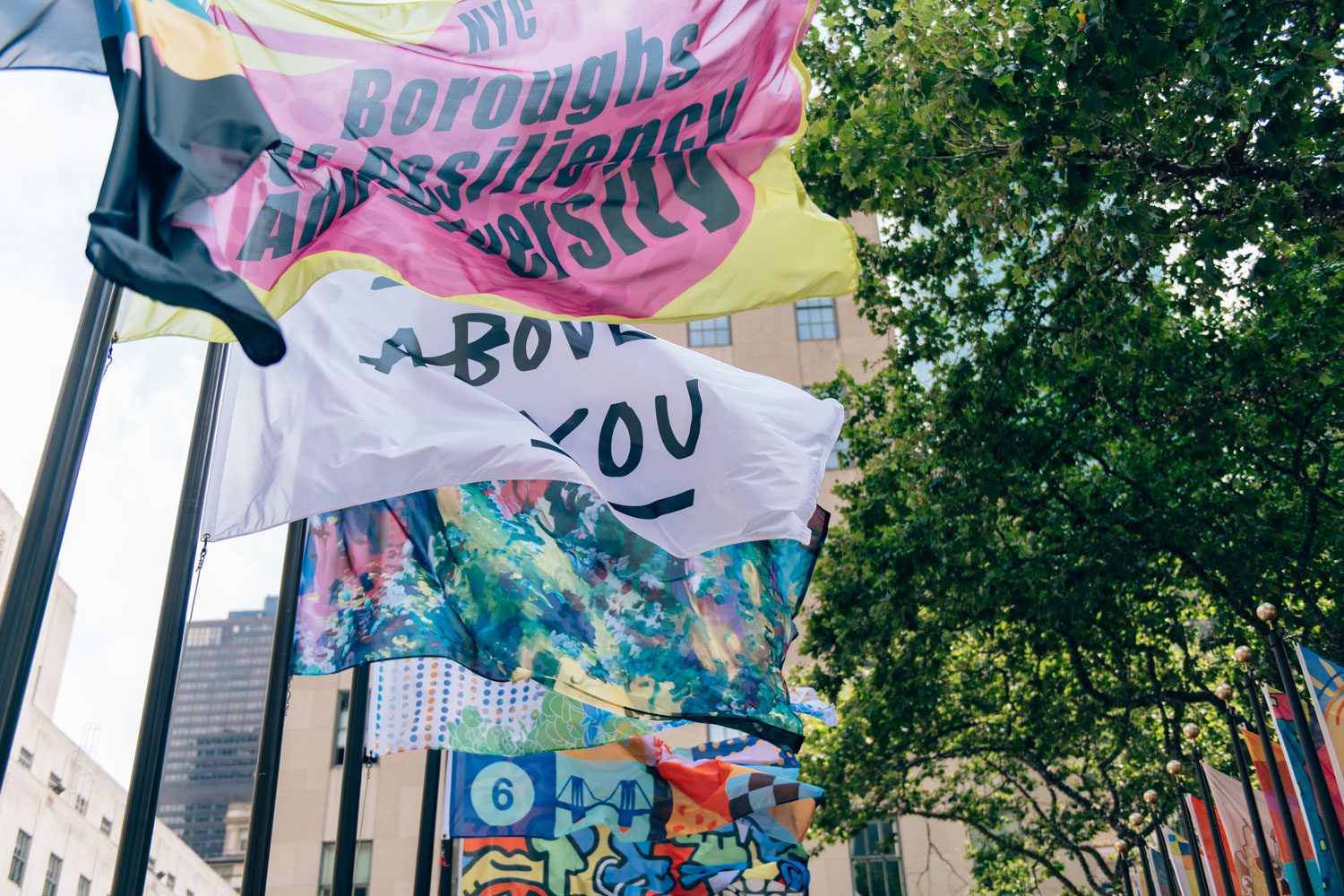 While it's hard to top the winter's skating rink and awe-inspiring tree, Rockefeller Center has made its public plazas and spaces a year-round destination—even in times of crisis. "It is our aspiration that Rockefeller Center in 2020, much as it did when it was first built almost 90 years ago, symbolize the strength, perseverance, and beauty that is New York," E. B. Kelly, Tishman Speyer managing director, said in this art initiative's press release. "'The Flag Project' is a chance for us to honor the city and people who created our campus and reaffirm our long-standing commitment to public art."
"The Flag Project" is on view at Rockefeller Center through August 23. 
Next Post