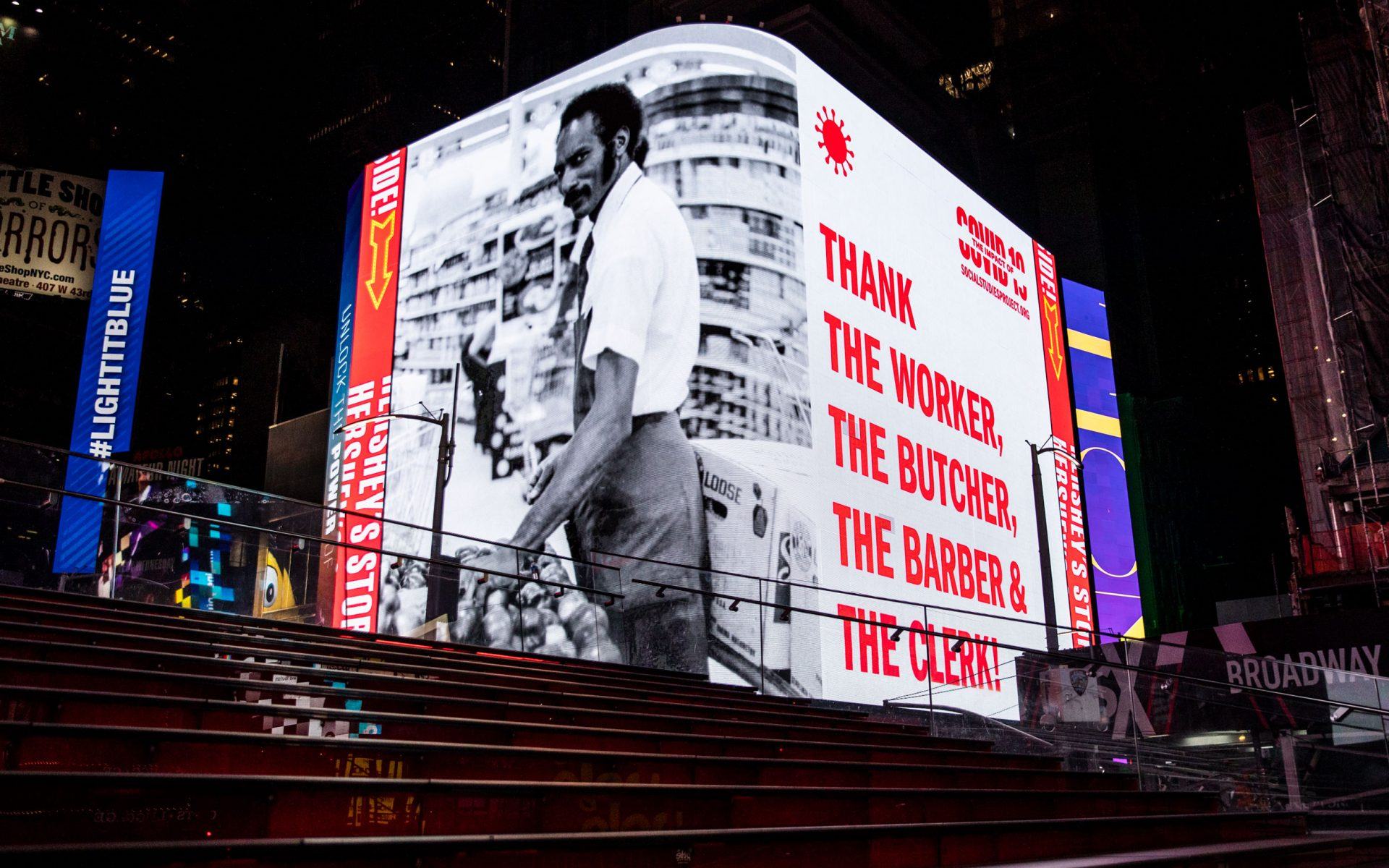 Jenny Holzer, Carrie Mae Weems, and More Craft Digital Works of Gratitude Across NYC
The collaborative public art campaign will be blasted throughout the five boroughs, plus Boston and Chicago
Images of paralyzed cities possess a rare power in conveying trying times. In 2012, when Hurricane Sandy struck America's East Coast, New York magazine's jarring cover featured a blacked-out Lower Manhattan. This year's parallel photograph has proven to be an eerily empty Times Square, but this time, the image is emblematic of crisis on an international level.
In thinking of how she could maximize her platform to provide inspiring messages to those on the front lines of COVID-19, Times Square Arts director Jean Cooney decided to combine forces with old and new collaborators across industries. Together with Poster House—a new design museum focused on the power of the print medium—and For Freedoms, a platform for creative civic engagement and action, Times Square Arts launched a three-part digital PSA campaign, beginning with graphic designers sharing messages, in April.
Recommended: A Love Letter to MoMA: Glenn Lowry and Curators Share the Works They Miss the Most
"We knew that because so many people were looking at Times Square to see how swiftly public life was shifting, we could do something that was first and foremost for the essential workers, but with the added benefit that the messages would be amplified out to the world," Cooney tells Galerie. She notes that while 360,000 people would typically pass through the tourist destination daily this time of year, the current pedestrian count of 30,000—predominantly comprised of essential workers—still seems surprisingly high.
For the campaign's second part, launching May 15, more than ten established and emerging contemporary artists, including Jenny Holzer, Carrie Mae Weems, Mel Chin, Duke Riley, and Pedro Reyes, contributed images and animations to be shared during minute-long video rotations, with new releases over the next several weeks. While some artists like Riley and Reyes combined graphics with words, others, such as Holzer and Kameelah Janan Rasheed, stayed true to their minimalist text-based practices. Nekisha Durrett's "Frontline workers: we see you" and Weems's "Thank the worker, the butcher, the barber & the clerk!" are among the expressions of support and acknowledgement.
In addition to the 24 massive Times Square screens donated by Morgan Stanley, American Eagle, Maefield Development, and Branded Cities' NASDAQ and Thomson Reuters displays, the videos will be shown on 1,774 LinkNYC kiosks across the five boroughs, and 300-plus JCDecaux Screens in New York, Boston, and Chicago.
Also new for the second campaign is a limited-edition benefit print by Pedro Reyes, produced by Brooklyn Editions. Proceeds from the print—which, in a move counterintuitive to social distancing, depicts interlocking hands—will be donated to the New York Immigration Coalition (NYIC). "Social distancing is a privilege," states Reyes. "I chose this drawing as an homage to those workers who work with their hands and on whom we depend to keep society going."
Recommended: Treats Help Gives Medical Workers Sweets from New York's Best Bakeries
"Often our immigrant workers—and our undocumented immigrant workers—are the most vulnerable, without a safety net of sorts," says Cooney, who was already interested in highlighting NYIC's pandemic work. "In a lot of conversations, we use 'essential workers' as this blanket term, or we only talk about the healthcare professionals when really there are people from a variety of professions on the front lines."
United by an inclusive approach and a can-do attitude, Cooney and the myriad organizations involved were able to forge this unprecedented collaboration at lightning speed. "It's all been a little bit fast and loose, but I feel like that defines the moment," she says. "I don't think we would have moved this quickly pre-pandemic."
Planning to continue the campaign throughout the duration of the virus, Cooney hints its third part will feature the essential workers themselves, as to prevent one-way communication. "Right now all of our interests and urges are shared," she says. "We all want to do the same thing—to help figure this out."
Recommended: 13 Artworks That Reflect This Time, According to Art World Luminaries
Next Post