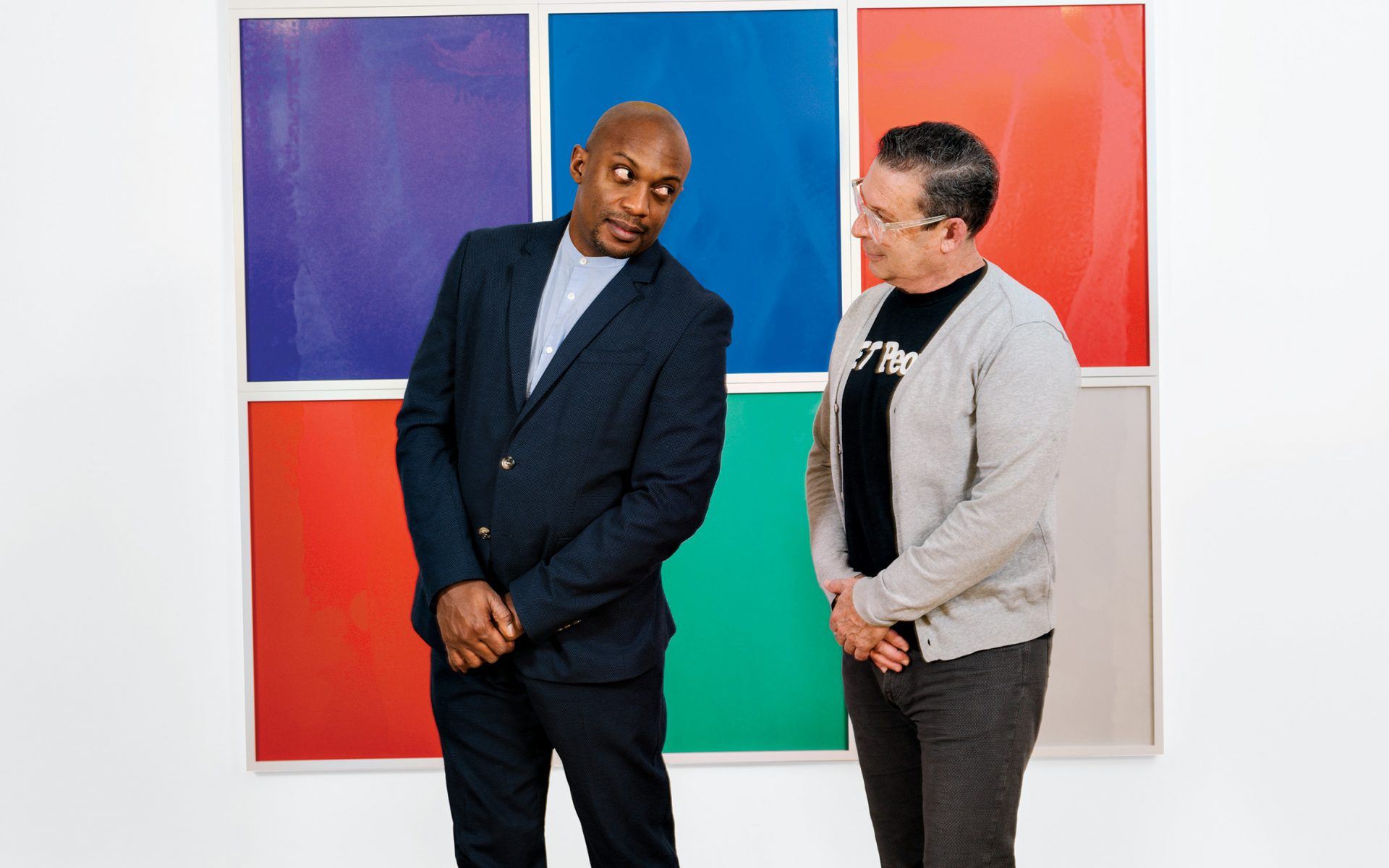 Artist Hank Willis Thomas and Gallerist Jack Shainman Share Their Story
The two friends look back on 15 years of collaborating
Hank Willis Thomas is in demand more than ever, with his traveling museum survey now on view at Crystal Bridges Museum of American Art in Bentonville, Arkansas, and public art commissions in the works for the Brooklyn Academy of Music and Boston Commons. But 15 years ago, gallerist Jack Shainman took a chance on the then young, unknown photographer and has nurtured his career ever since.
How They Met
Jack Shainman: It was through Claude Simard, my partner in the gallery who passed away—he found Hank in 2004 through an art handler who had gone to school with him.
Hank Willis Thomas: I was living in San Francisco. I knew zero about commercial art galleries because I was a "photographer" and there were so few focused on photography. Claude just called me up, with his very thick French-Canadian accent, and said, "I like your work. Can you send me some so I can see it in person?"
Shainman: The day the photograph Branded Head arrived, Claude was ready to give him the whole gallery. We immediately hung it in the office. We were really interested in the subject matter that Hank was working with—advertising and branding, oppression, race—and the fact that it looked like nothing I had ever seen before.
Thomas: When I made that image, I was a grad student. I was like, "What, you want to sell it?" Do you remember how much that picture cost? It was $600. I was like, "Wow, $600!"
Their First Show
Thomas: We'd been working with each other for a couple of years, but I hadn't had a show yet. I happened to be visiting the gallery from San Francisco in 2006, and another artist had just fallen through.
Shainman: So we just offered him that show, "Hank Willis Thomas: B®ANDED," while he was standing at the front desk. As it opened, we were still waiting for the work to arrive. We had put in an order with the printer months earlier, and the work got delivered kind of late. I always say to people, the first show—it's just the beginning.
Life Change
Thomas: Around 2008, Jack called me. I was living in San Francisco peacefully, enjoying my life. Jack said, "Hank, it's time that you move to New York. It's nice to see you every few months, but I think it will really make a difference." I moved back to New York because of Jack. And he was right.
Shainman: I like to encourage artists to push themselves.
A Unique Collaboration
Thomas: In the last presidential election season, I was telling Jack that my friend Eric Gottesman and I were thinking about starting a super PAC. Jack said, "You have to do this. You can have the gallery." We turned the 24th Street space into our headquarters for the summer of 2016. We started doing advertisements, billboards, town hall talks in the gallery,
an exhibition and titled it "For Freedoms." We had top artists like Carrie Mae Weems. We put Nina Chanel Abney, who was then still an emerging talent, in the show. Jack gave us carte blanche.
Recommended: How the New ICP is Shaping the Future of Photography 
Shainman: Hank helped me cross one thing off my bucket list. I had always kind of been jealous of Chris Ofili and Andres Serrano; that getting denounced by the right wing catapulted them to the top of the art world. I saw pictures of Dread Scott's piece A Man Was Lynched by Police Yesterday and said, "Bring that over." We put that flag out in front of "For Freedoms." The next day Fox News called for an interview, which I naively actually did, and we started getting death threats. It was horrible. But I was able to cross a second bucket list thing off: The New York Times had a story about the show and Dread Scott's flag.
How They See Each Other
Shainman: Hank is super generous. A lot of artists are not interested in other artists' work. Hank loves to support artists and give them a chance. Over the years he's shown me so many people—one of them was Toyin Ojih Odutola.
Thomas: Something that I've always loved about Jack is that when I want to do something crazy that I've never done before, he's like, "Okay." 
A version of this article first appeared in print in our 2020 Spring Issue under the headline "Freedom of Expression." Subscribe to the magazine.
Next Post