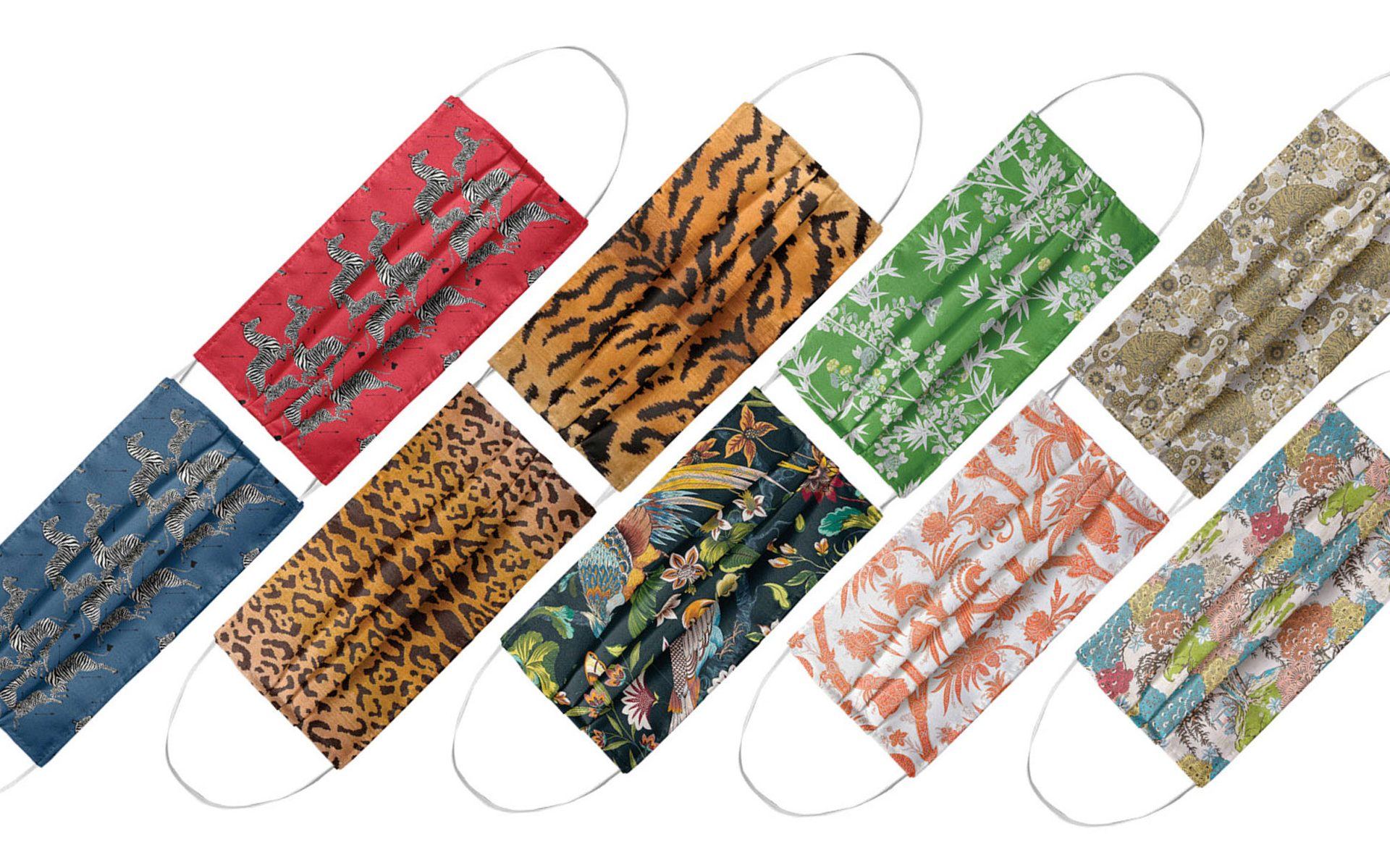 9 Designers Creating Striking Face Masks for the Aesthetically Inclined
Top fashion and textile brands rise to the occasion with protective gear that doesn't sacrifice style
It just may be time for lipstick to take a back seat. As a result of COVID-19, many companies have temporarily turned their studios and factories into mask-making operations, and designers are starting to meet demand for those also seeking a chic solution to pandemic attire. While proper hygiene and medical-grade filtration remain of the utmost importance, creative talents are increasingly producing aesthetically pleasing masks and coverings, hoping to strike the balance between utility and style.
Likely the new normal, masks are now being globally embraced as canvases for self-expression, much like cosmetics or other fashion accessories. With makers ranging from runway favorite Proenza Schouler to luxury carpet and rug brand Stark, the following face masks shy away from subtlety in favor of bold, original, and highly imaginative designs.
1. Collina Strada
In keeping with the brand's signature aesthetic, Collina Strada's pattern-clashing, psychedelic face masks are the medical staple's visual antithesis. In 2008 New York–based Hillary Taymour launched the sustainable label, which has since become a platform for social awareness. For every mask purchased, Collina Strada will provide five free masks—each composed of the line's excess fabrics—to New York City healthcare workers. The masks are bow tied, machine washable, and contain an opening to insert a filter. $100, collinastrada.com
2. Maki Yamamoto
A graduate of Tokyo's renowned Bunka Fashion College, Maki Yamamoto creates textiles though unique dyeing processes and sewing techniques. Her products subtly nod to her Japanese heritage and emit a calming, handwoven sensibility. She is selling face masks in two cotton prints: Tenugui (derived from traditional Japanese hand towels) and Yukata (fabric originally from a summer kimono). Due to the small quantity of available fabric, each mask is part of a limited-edition collection and is sold on a first-come, first-served basis. If interested, customers can email maki@maki-yamamoto.com or direct message her on Instagram. $59–$69, maki-yamamoto.com
3. Hunt Slonem
Beloved for his chromatic portraits of rabbits and birds, Hunt Slonem has found yet another medium to depict his favorite animals. Sold in sets of two, the artist's reversible masks have been so popular that they are now back-ordered until later this May. A reminder that patience is a virtue, part of the proceeds from these whimsical masks will benefit Feeding America, so hop to it and get yourself on the waiting list. $48, hopup.shop
Recommended: The Most Artful Puzzles to Buy from Museums Right Now
4. Stark and the House of Scalamandré
In spite of physical boundaries, creatives are still finding ways to collaborate during this period. Carpet and rug brand Stark and American textile company Scalamandré have partnered with the newly launched direct-to-consumer MaskClub on an affordable line featuring dozens of designs, including Scalamandré's iconic Zebra print. For every mask purchased, MaskClub will donate a medical-grade mask to First Responders Children's Foundation, and Stark and Scalamandré will additionally match 10 percent of sales from its collection to be donated to the Kips Bay Boys & Girls Club. $14, maskclub.com
5. Araks
Araks Yeramyan's sustainable swim and lingerie line now includes face masks with the same ethereal quality. Fabric is sourced from Araks's previous seasons, while Liberty of London fabrics are used for certain florals. For every mask purchased, a medical-grade one will be donated to a healthcare professional. $40, araks.com
6. Proenza Schouler
The New York design duo behind Proenza Schouler launched seven limited-edition face masks composed of archival collection fabric. One hundred percent of net proceeds from its runway-ready masks will be donated to the New York City mayor's COVID-19 Emergency Relief Fund. The designs range from black satin to multicolored jacquard and are also available in children's sizes. $100, proenzaschouler.com
7. Eskayel
New York textile company Eskayel creates rugs, linens, and more using eco-friendly, painterly processes that render each design one of a kind. For every purchase of its 100 percent cotton face masks, which come in a pack of five watercolor-esque patterns, the company will send a sixth to someone in need. $38, printmakerscollective.com
Recommended: 12 Artworks That Reflect This Time, According to Art World Luminaries
8. The Mighty Company
Visual artist Jessie Willner launched her outerwear line, the Mighty Company, in 2016 and turns to West Coast style for design inspiration. The brand's masks, offered in several colorful archival fabrics, are lined with 100 percent antimicrobial cotton—some feature fabric from Malhia Kent, the French mill that has produced many of Chanel's tweeds. For every mask sold, the Mighty Company will donate one to Midnight Mission, a downtown Los Angeles organization dedicated to improving the lives of those experiencing homelessness. $25, themightycompany.com
9. Maison Atia
Faux-fur brand Maison Atia has crafted plush, cotton-lined face masks using excess material. With a pocket for a filter and several prints to choose from, these masks are being sold with 100 percent of the proceeds benefitting New York City's Metropolitan Hospital. $30, maisonatia.com
The products featured are not intended to be a replacement for surgical masks or medical-grade respirators, such as the N95.
Next Post