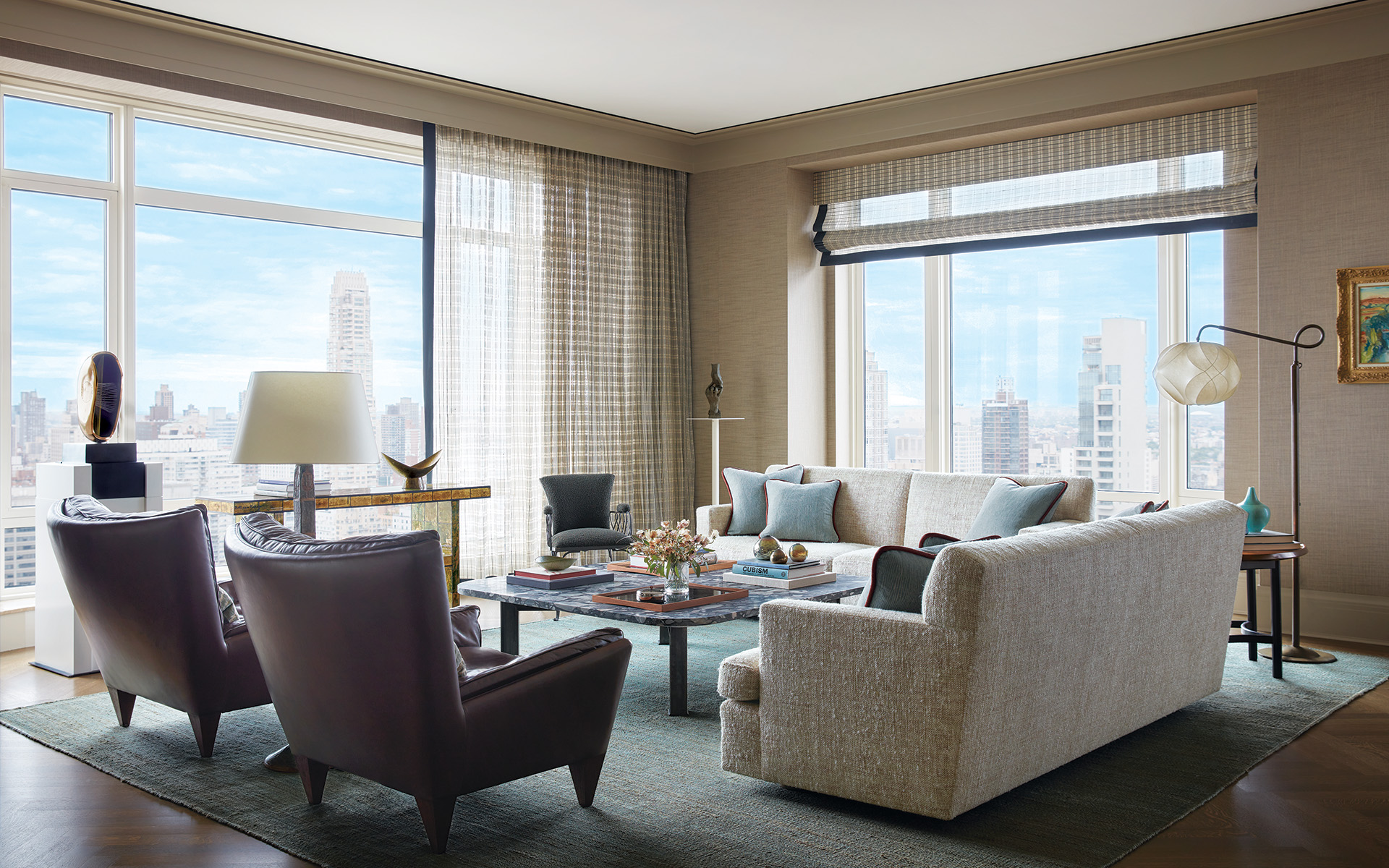 Ries|Hayes Composes a Quietly Elegant Manhattan Apartment Filled with a Major Art Collection
On an upper floor of a Manhattan tower, David Ries and Thad Hayes mastermind a quietly glamorous residence where architecture, art, and the owners' personalities are perfectly in sync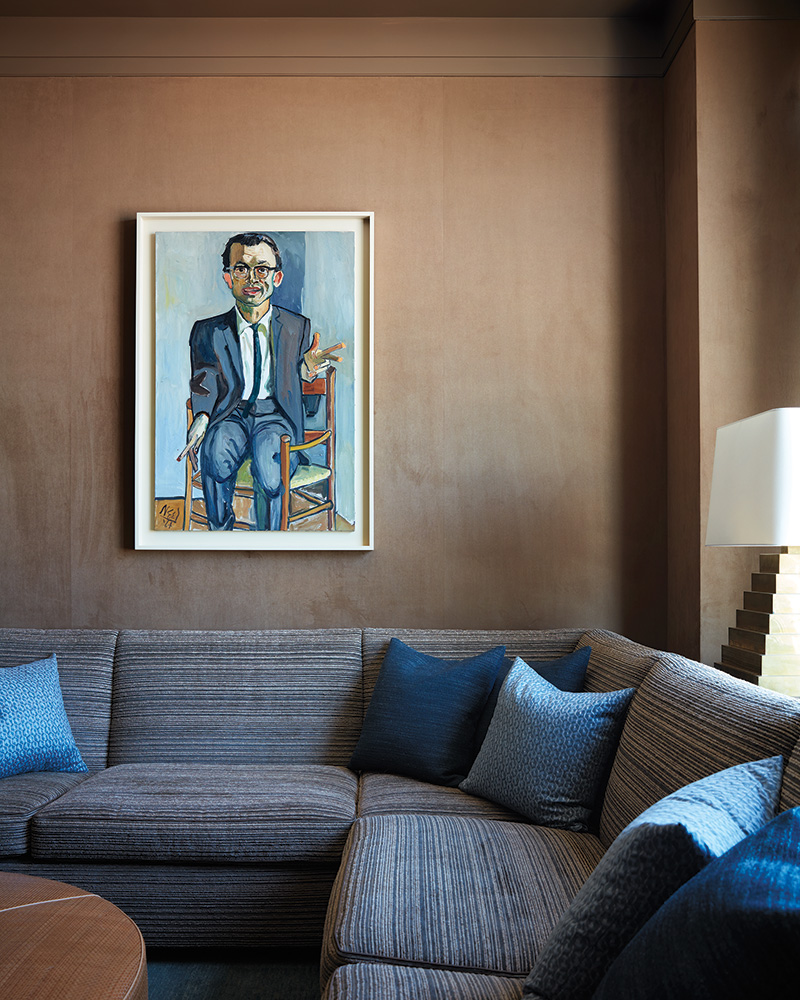 Anyone familiar with the New York City skyline can't miss the profusion of new high-rises that have altered the iconic cityscape in recent years. These gleaming, mostly glass-wrapped towers offer every imaginable modern convenience and all the up-to-the-minute style an urban dweller might desire. And while new residential construction has its many appeals, not everyone wants to live in a minimalist white box.
In 2019, a New York couple with a supreme collection of art purchased a high floor in one of these new skyscrapers, in this case a 54-story, limestone-clad condominium designed by one of the masters of postmodern architecture, Robert A.M. Stern. The husband and wife, who have grown children, sought an interior design firm to transform what looked like "a developer's apartment," as the wife describes it—well built with quality finishes but lacking in warmth and character—into a tranquil, homey environment that reflects their personalities.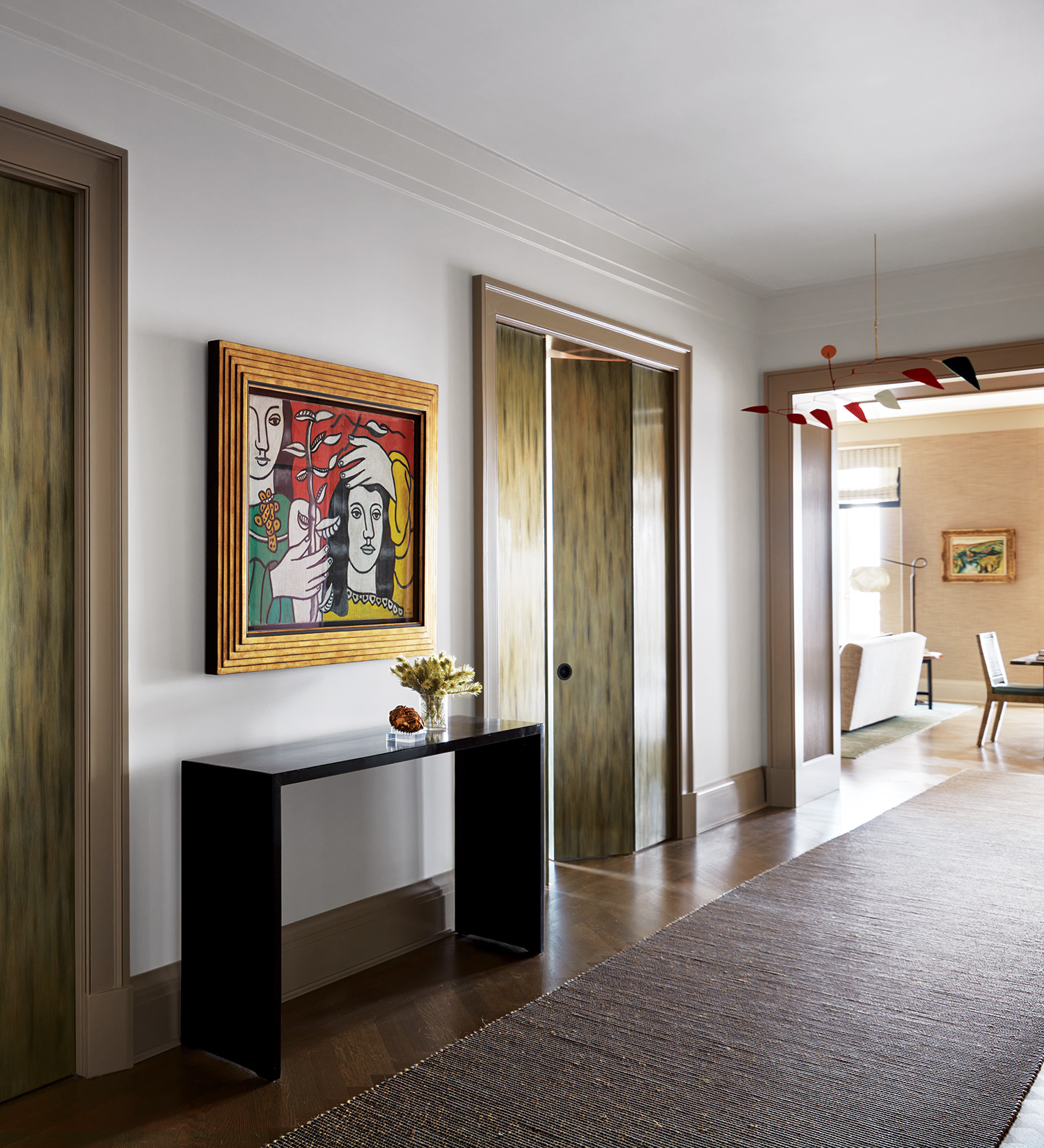 Their choice was the New York design firm Ries|Hayes, whose partners, David Ries and Thad Hayes, are specialists in crafting tailored, timeless interiors rooted in historical design. "We're not trendy," Ries emphasizes with a laugh. "In a new building, with the use of the right materials and curation of the furniture, it would be hard for anyone to walk into one of our projects and be able to pinpoint exactly when it was done. We're not creating rooms that have a completely of-the-moment look."
For the 4,500-square-foot, three-bedroom apartment, which overlooks Central Park and came with an open living plan entirely in neutral hues, the designers drew inspiration from Japanese gardens, adopting a palette of mossy greens and earthy browns, while deploying warm accents of yellow and orange reminiscent of autumn foliage. The biggest challenge, according to Ries, was "how do we bring all of these nature-based elements into this big, open space?"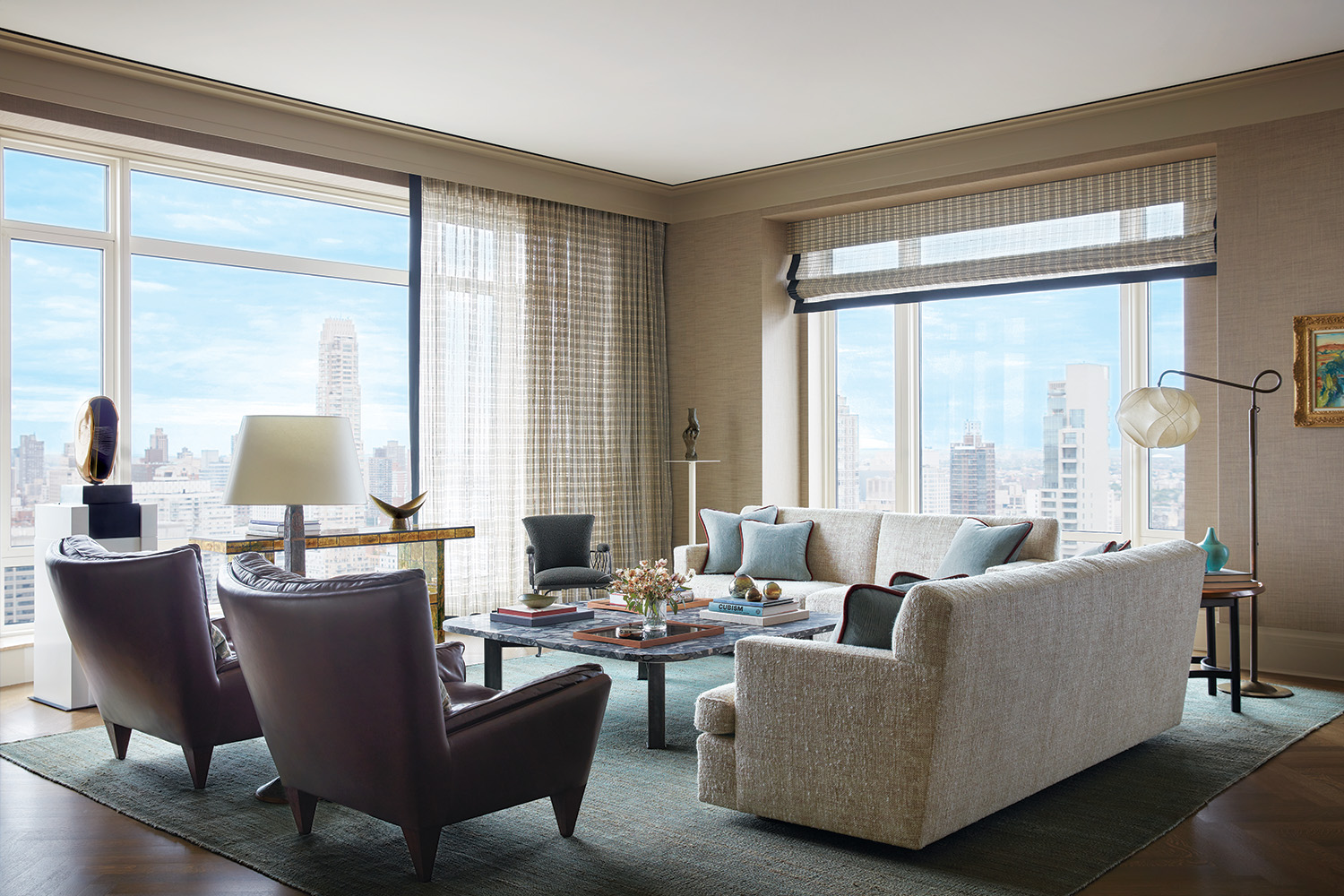 The first order of business was to close up some of that open space to create a graceful sequence of distinct rooms. In the entry, a pair of doors resembling vintage screens and stained a bamboo-like green-brown were inserted to close off the dining room and library and give the entrance, as Ries puts it, "some magic and a sense of unveiling." Certainly, a vivid painting by Fernand Léger, hung between those doors, provides its own magic and hints at more artful surprises to come as the rooms unfold. The herringbone floors here and throughout the apartment, originally light oak, were stained a richer, grounding brown.
In the living room, which features nearly floor-to-ceiling expanses of glass, the designers installed handwoven sheers trimmed with Ultrasuede to create a scrim effect, enhancing the sense of privacy and intimacy while softening the light and urban views. Custom-made sofas in a classical style are paired with 1960s Danish armchairs and a '60s Italian globe floor lamp in the main group of seating.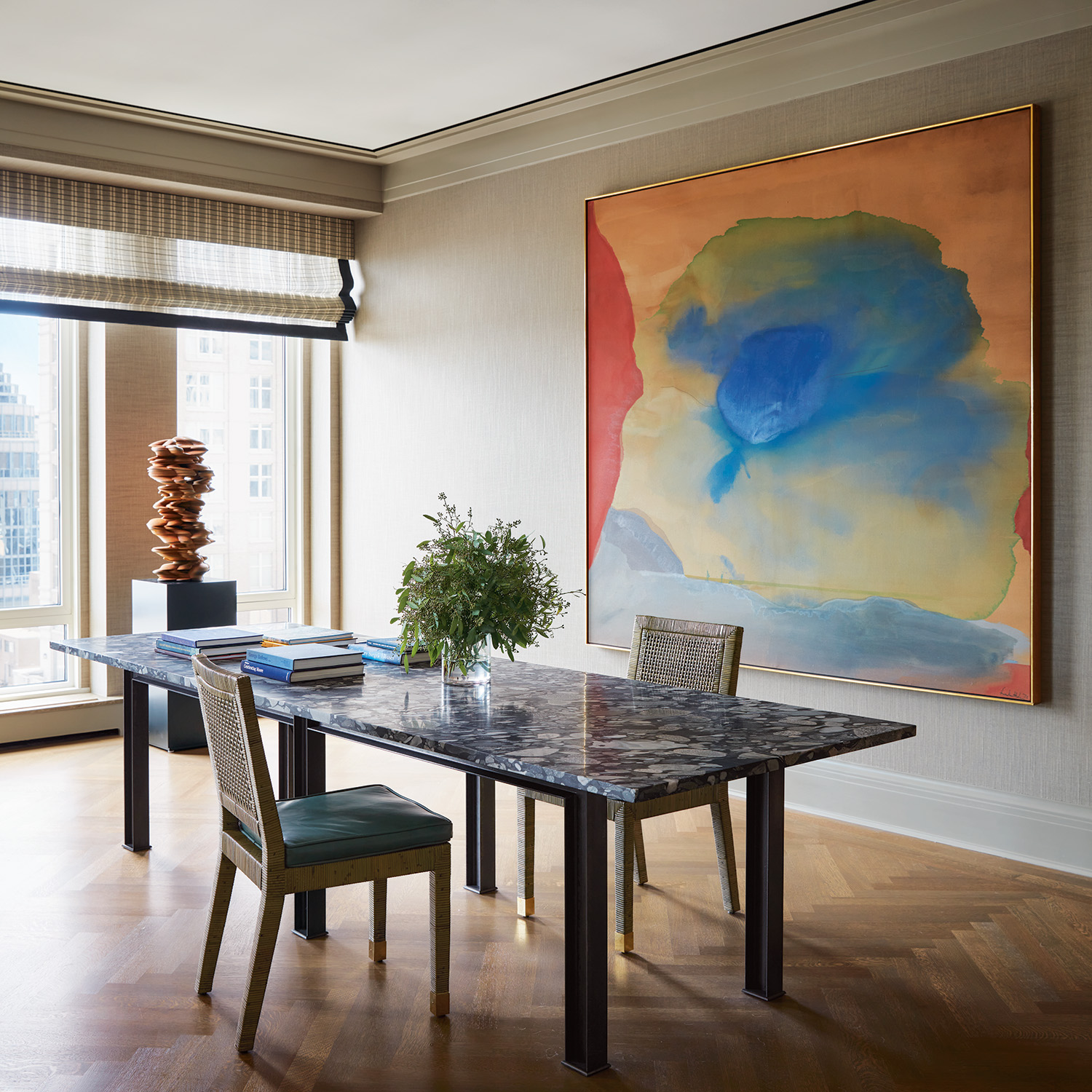 At the room's other end, Ries and Hayes conceived a multipurpose area with a stone-top, steel-leg table surrounded with the same cane-back chairs used in the dining room, so that the couple has extras on hand. "We designed this space right before COVID, and I remember thinking, Maybe they'll want a table if one of them ever wants to work from home," Ries recalls, laughing. "Needless to say, that table does get used." They kept the area sparely furnished, leaving plenty of room to breathe for artworks such as a large abstract painting by Helen Frankenthaler that dominates one wall and a swirling Tony Cragg cast-iron sculpture in the adjacent window.
"We're not trendy. We're not creating rooms that have a completely of-the-moment look"

David Ries
In the inviting library, a powerful Alice Neel portrait mounted above the cozy sectional sofa jumps off the soft, mocha-hued Ultrasuede that clads the room. The formerly all-white kitchen, meanwhile, was painted a restful green-gray. "It was a busy kitchen with all these drawers," Ries explains. "This color actually quiets down the design." And for the primary bedroom, whose walls are sheathed in forest green silk, the designers created some artful separation between the bed and the rest of the suite by installing a 1960s steel-and-wood screen by Paul Evans along one side, its oval loops playing off the cacophonous shapes in a nearby Jean Dubuffet painting.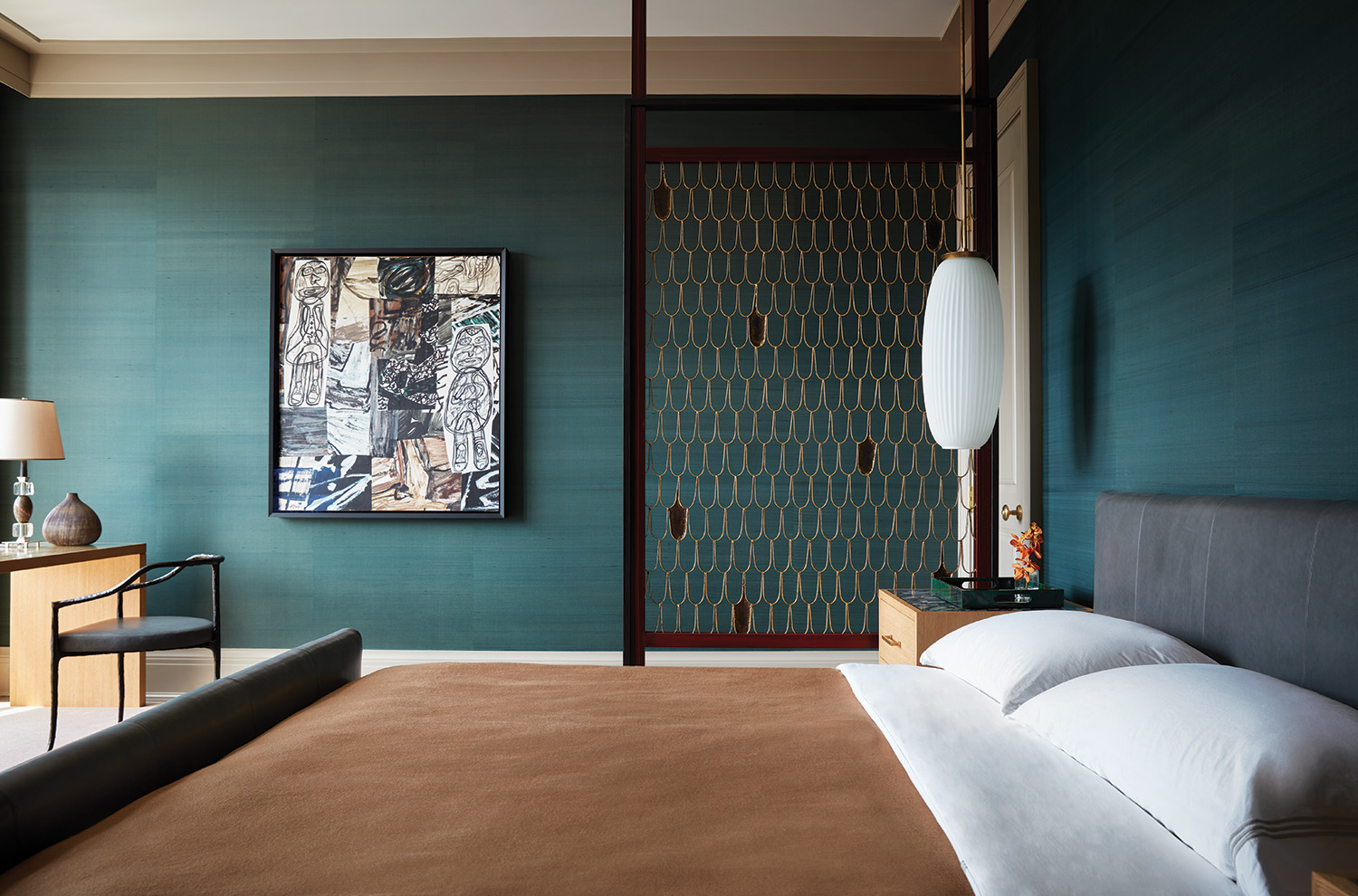 The couple started collecting art about 15 years ago, and the first piece they bought was the Louise Nevelson sculpture that occupies a prominent corner of the living room. Since then, they have gone on to acquire a number of notable works, mostly dating from the late 1800s to the 1980s, by artists such as Pablo Picasso, Henri Matisse, and Willem de Kooning. "We collect art by first falling in love with the piece," the wife explains. "We tend to like thick brushstrokes and beautiful colors, and we shy away from highly contemporary work simply because it often doesn't suit our taste."
Now, in a modern apartment with a timeless, classical spirit, they finally have a setting that perfectly aligns with their personal style.
A version of this article first appeared in print in our 2023 Summer Issue under the headline "High Fidelity." Subscribe to the magazine.
Next Post