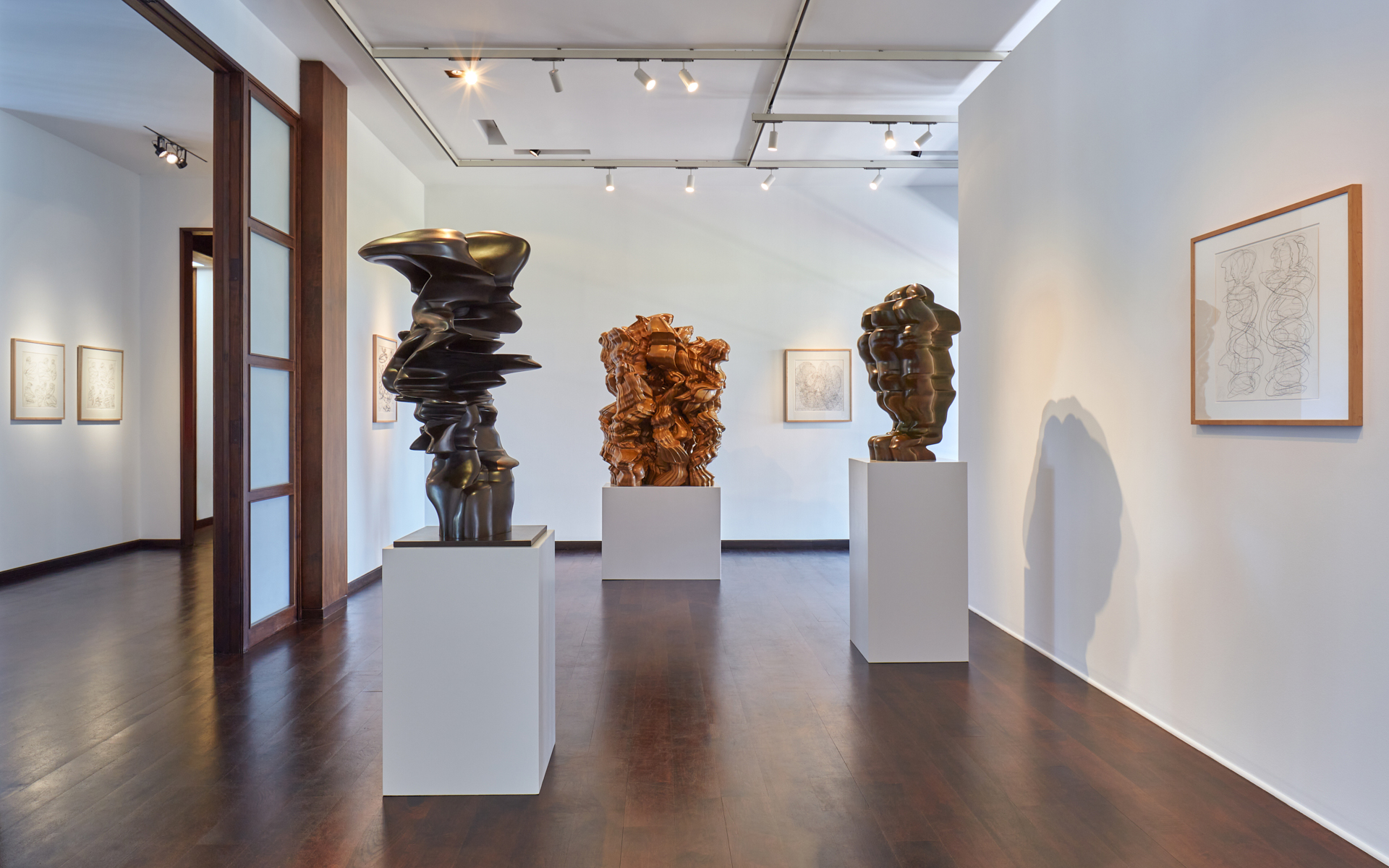 Master Sculptor Tony Cragg Opens a Captivating Solo Show at Windsor in Florida
An array of bronze, steel, and glass works by the Turner Prize–winning artist are on view through May 19 at The Gallery at Windsor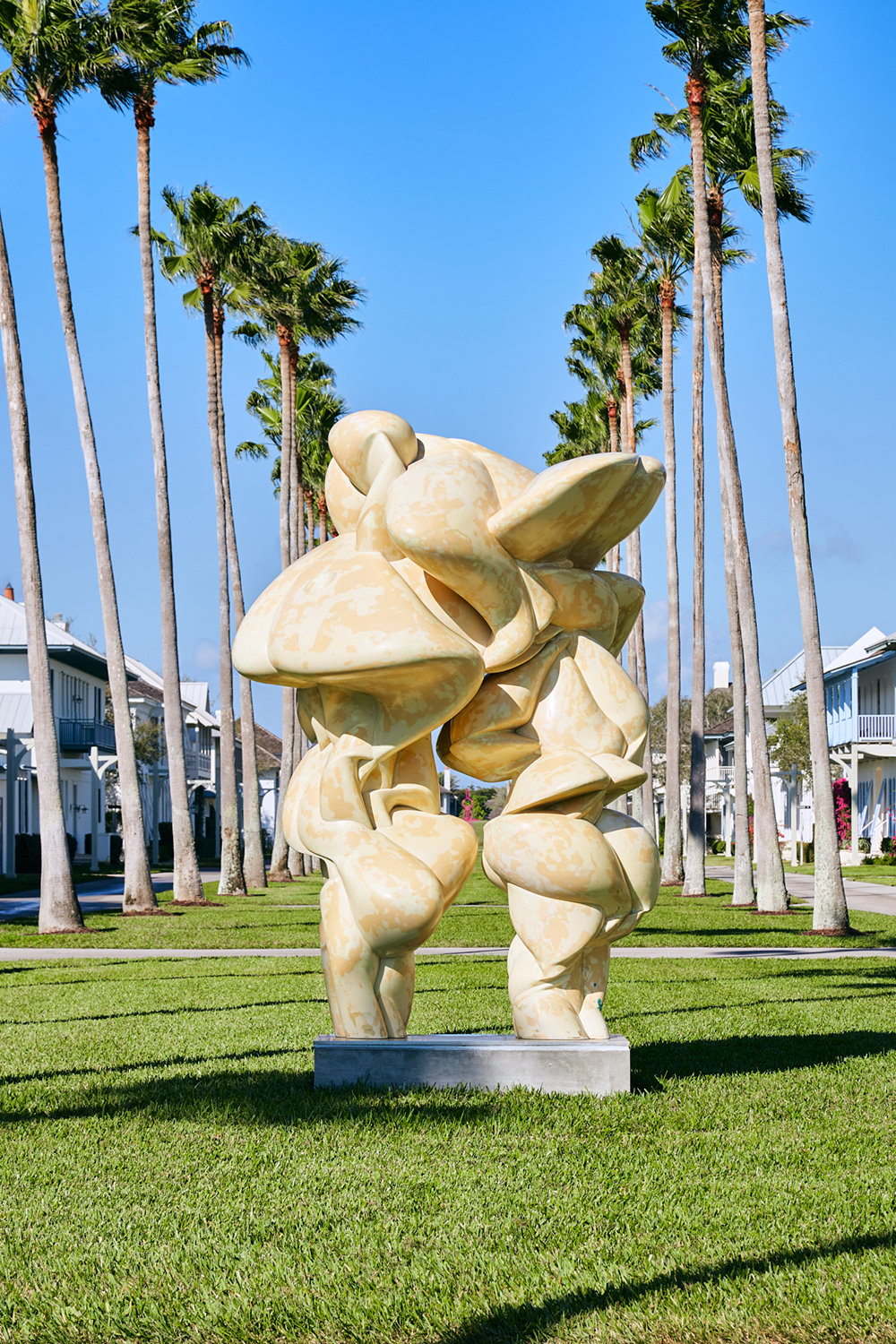 A titan in the contemporary art world, Turner Prize–winning sculptor Sir Tony Cragg is known for his unique ability to create works that challenge our perceptions of space, form, and materiality. For his latest show, the influential British artist has brought a stellar selection of his enigmatic pieces to Windsor, the private seaside community located on a lush slice of Florida's Atlantic coast. On view at The Gallery at Windsor through May 19, the solo exhibition was curated by art historian Dr. Jon Wood and features an array of sculptures made of bronze, steel, and glass as well as a selection of works on paper from the artist's own trove. Notably, the show has even spilled out onto the enclave's manicured grounds, where Cragg has also installed a large-scale fiberglass sculpture within an allée of palm trees.
"I've been making sculpture for 50 years," says Cragg, who represented Britain at the 43rd Venice Biennale in 1988. "You don't start from zero, you're always starting on the basis of what you've learned in the past." The cumulative nature of his practice is on full display at Windsor, with the majority of the works on view made within the past five years. An array of sketches and drawings serve to complement the sculptures, giving insight into Cragg's creative process, which also includes exploring shapes by devising miniature models before moving to full-scale sizes. "Most of these sculptures were made in layers and layers of plywood, which allows me to change the form a lot," he explains. "It's not additive or subtractive, but it's like old-fashioned sculpture, building it up and taking it down as I want to."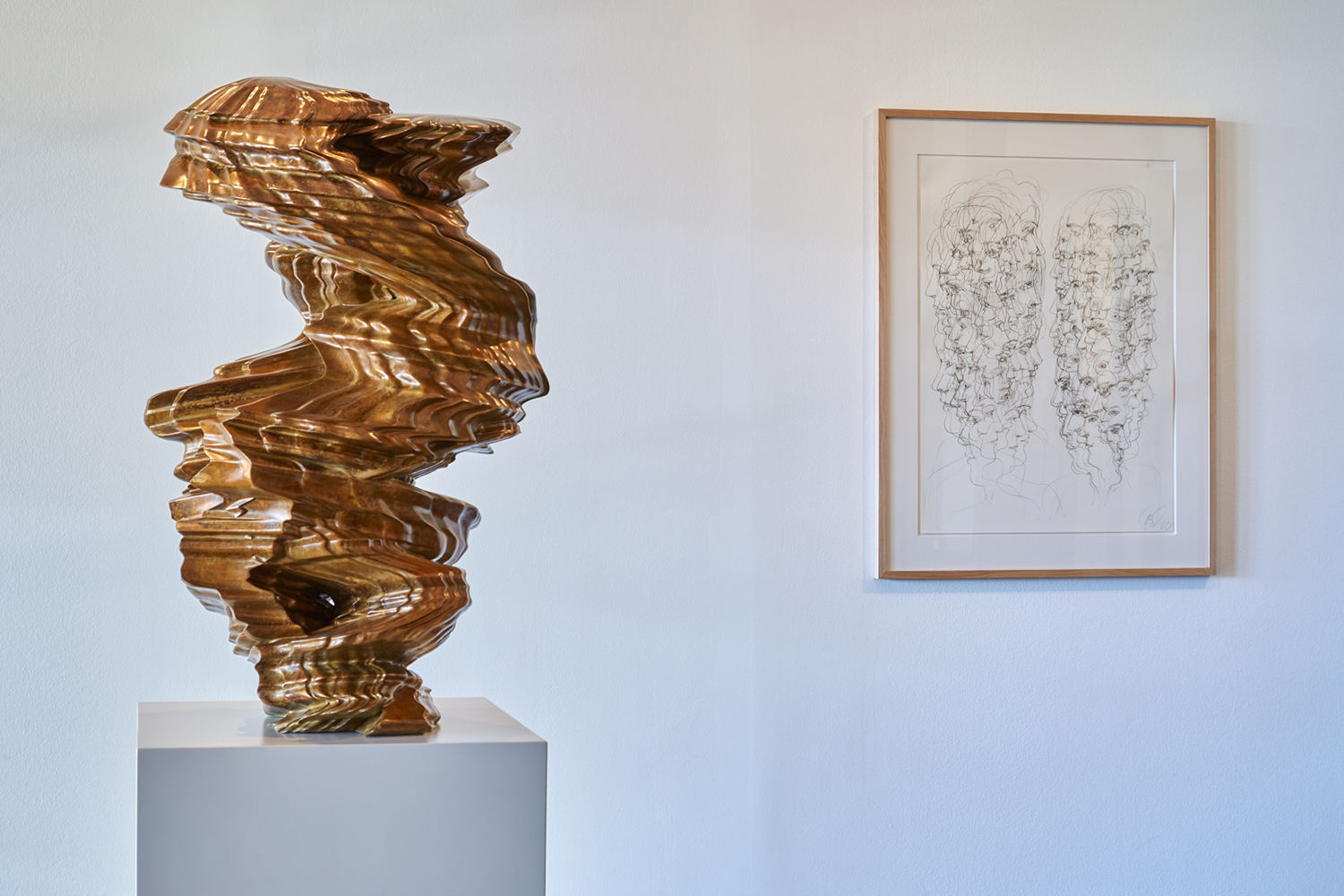 Although his work is largely influenced by geological structures and organic movements, their abstracted nature allows viewers to find unexpected references within them. "There are a lot of human profiles stuck in there as well," he says. "The point is to make a work that has its own wisp of smoke." This is especially apparent in one of the show's earliest works, 2015's Woman's Head, a whirling tornado of bronze abounding with soft curves and unexpected angles. "My feeling is when you actually look at the reality that surrounds us, we're only seeing the iceberg in a sense," he says. "There are whole realms and volumes of reality that we don't pick up on."
Aside from the bronze pieces, some of the most intriguing works at Windsor are a pair of captivating glass creations, Tower (2018) and Processor (2022). "The great thing about glass is that, because it's used as a liquid, it's also automatically fluid," he explains. "It's like a raindrop, a perfect geometric form, so I don't really have to fiddle around." Though they're made of the same material, both works appear radically different, with Tower taking the shape of a leaning column composed of transparent blocks and Processor—with its a trio of legs and multitude of swirling colors that reference the Murano glass traditions of the 1920s and '30s—embodying an almost otherworldly form.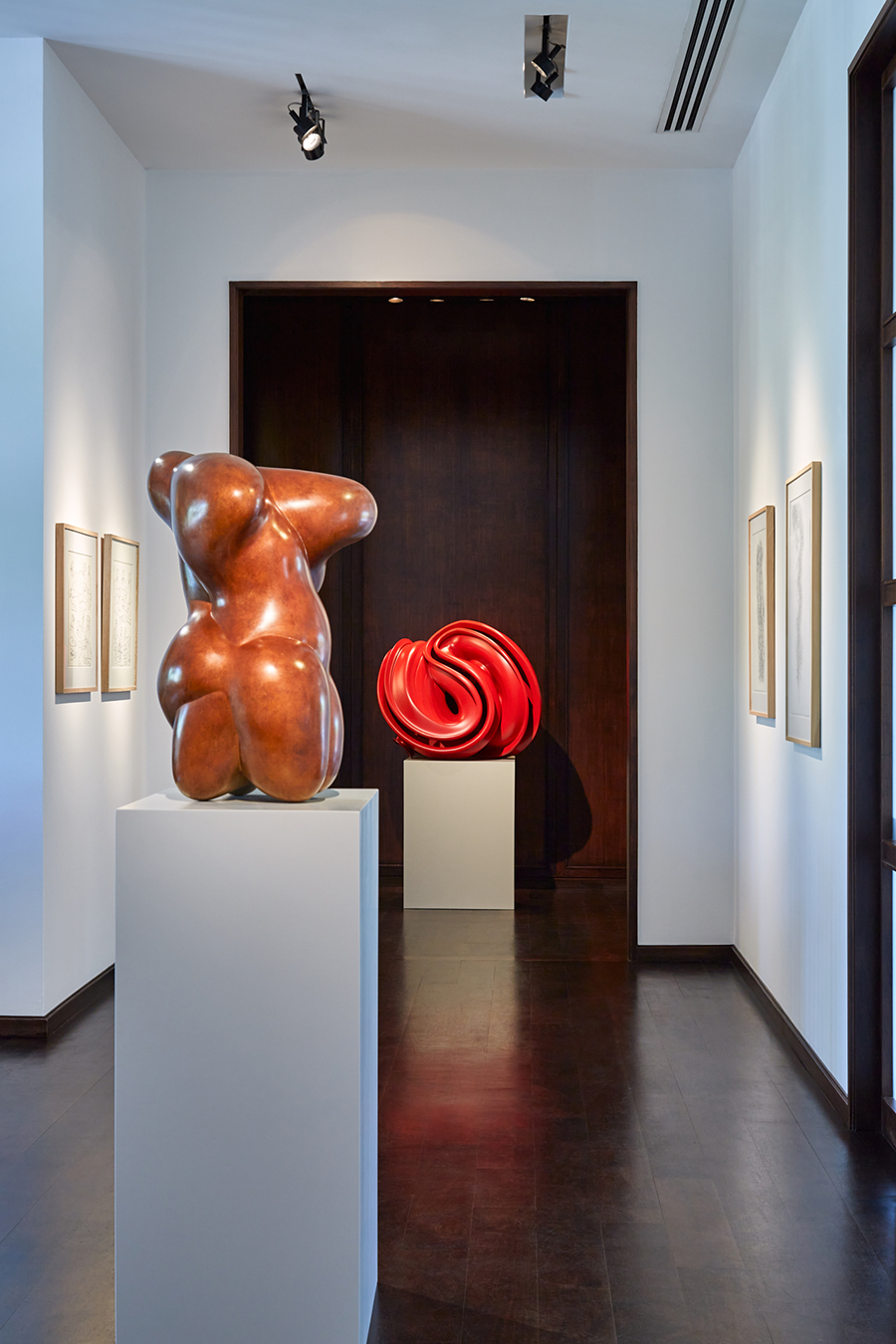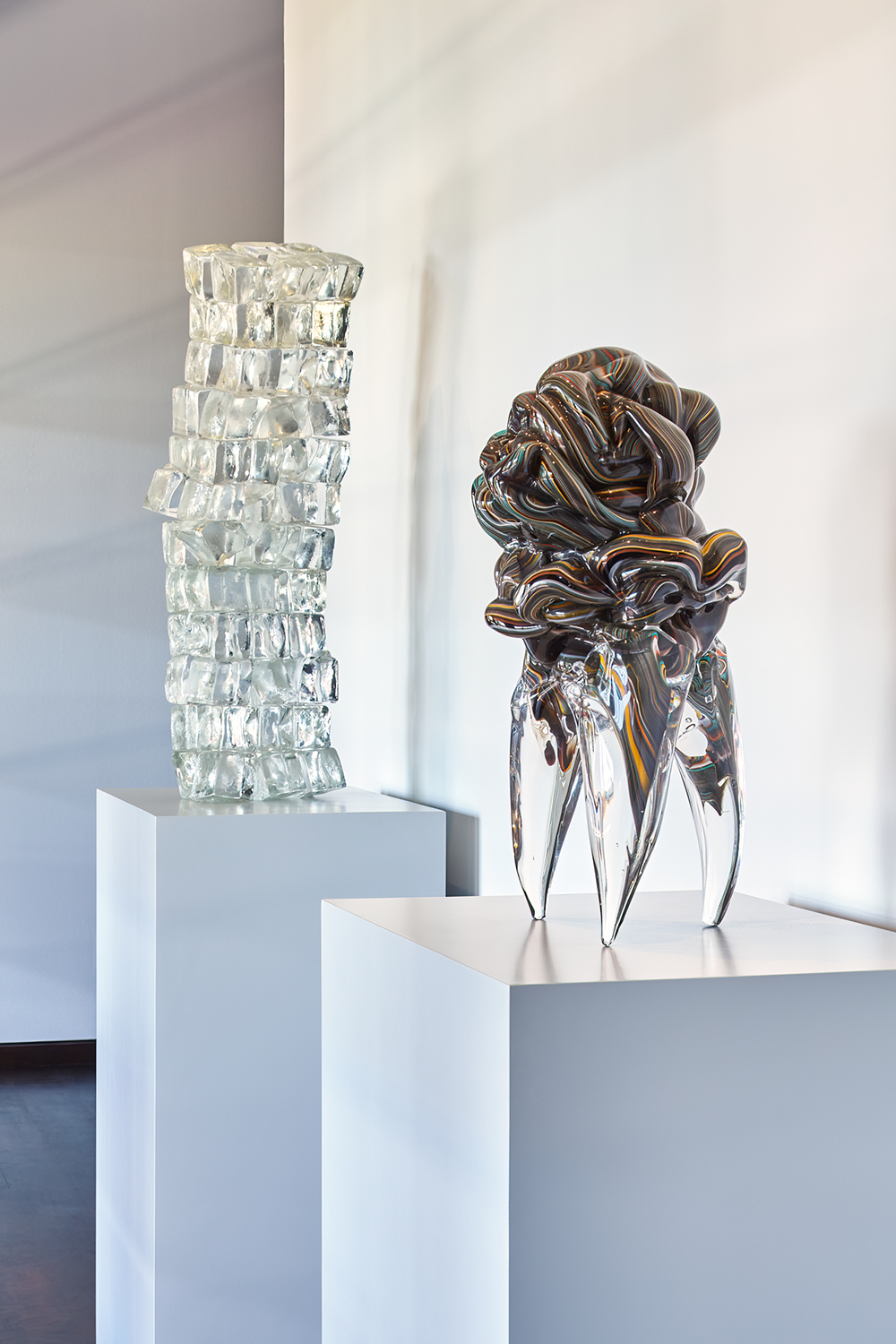 As anyone who has ever seen Cragg's work in person knows well, he has an uncanny ability to evoke an emotional response though his pieces. "Even emotions have a material base," he reflects. "You look at the huge universe around us and you feel an extraordinary sense of astonishment and wonderment at the unlikelihood of our existence." It's no surprise, then, that these sculptures are not only visually striking but also invite the viewer to explore the space around them, as well as their own perceptions of the material world.
"Tony Cragg: Sculptures and Works on Paper" is on view at The Gallery at Windsor through May 19, 2023.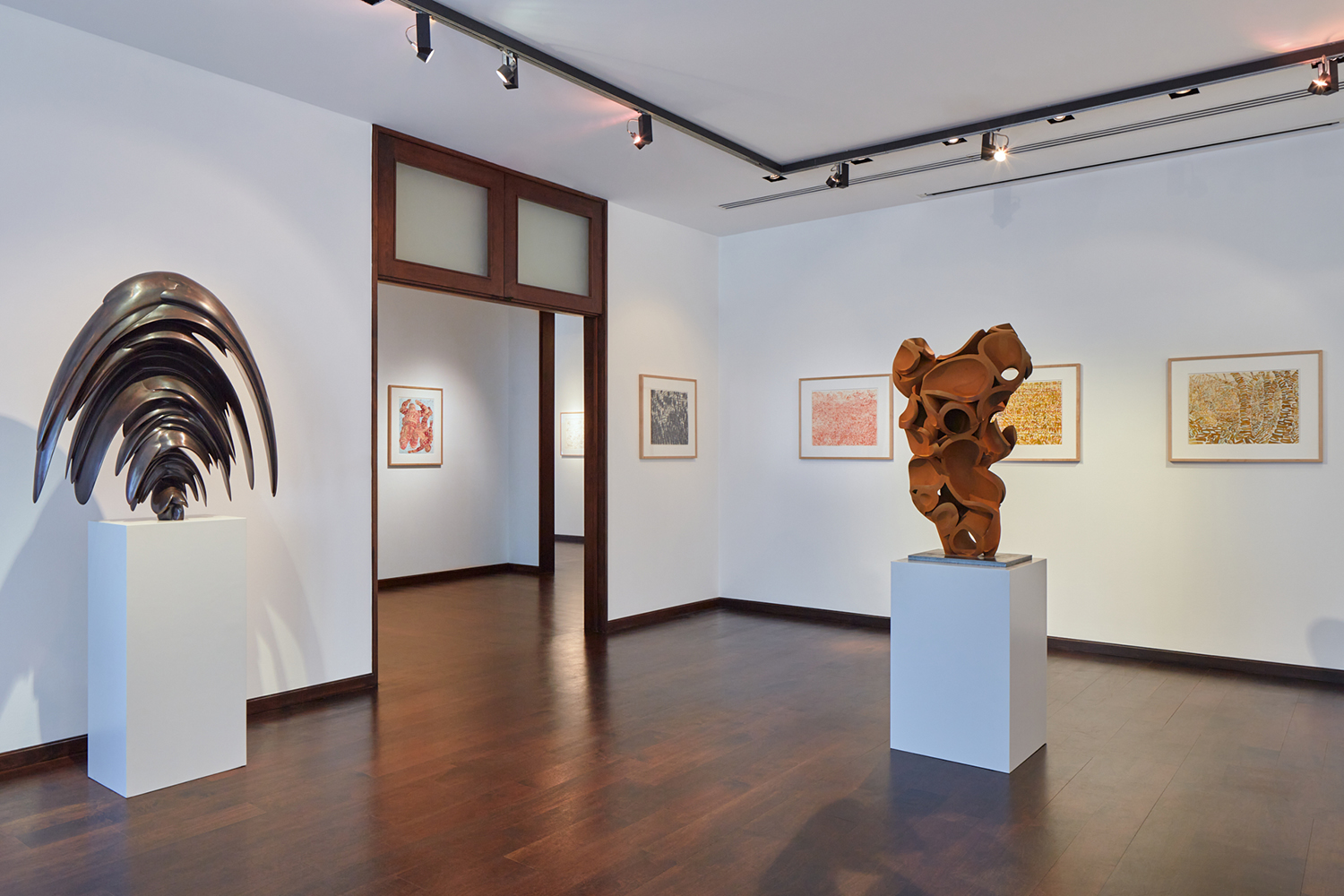 Next Post