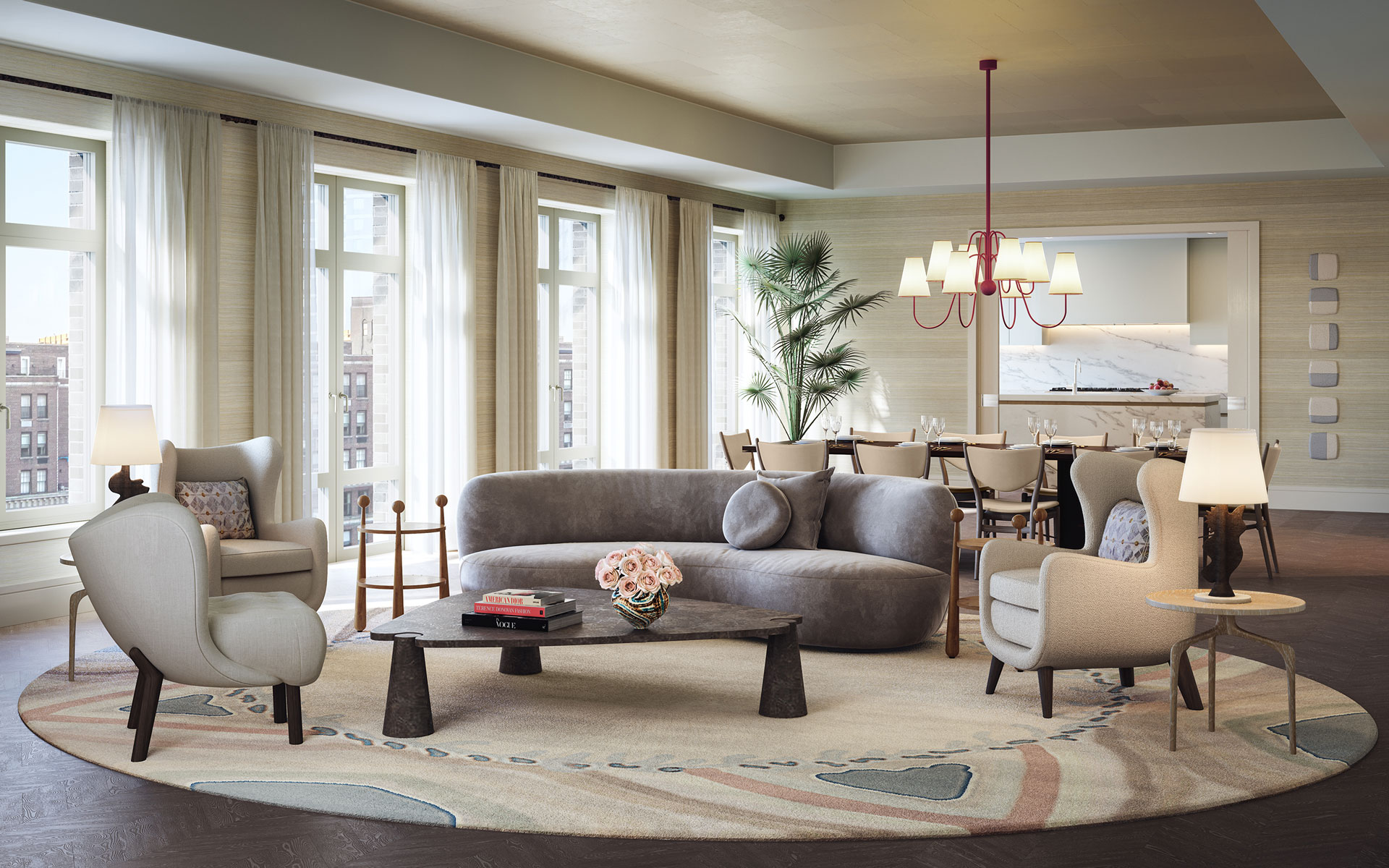 Robert A.M. Stern Architects and Kelly Behun Unveil an Ultra-Bespoke Residential Collaboration
1228 Madison Avenue, the unlikely design duo's debut project, offers 14 full-floor homes just steps from New York's Guggenheim Museum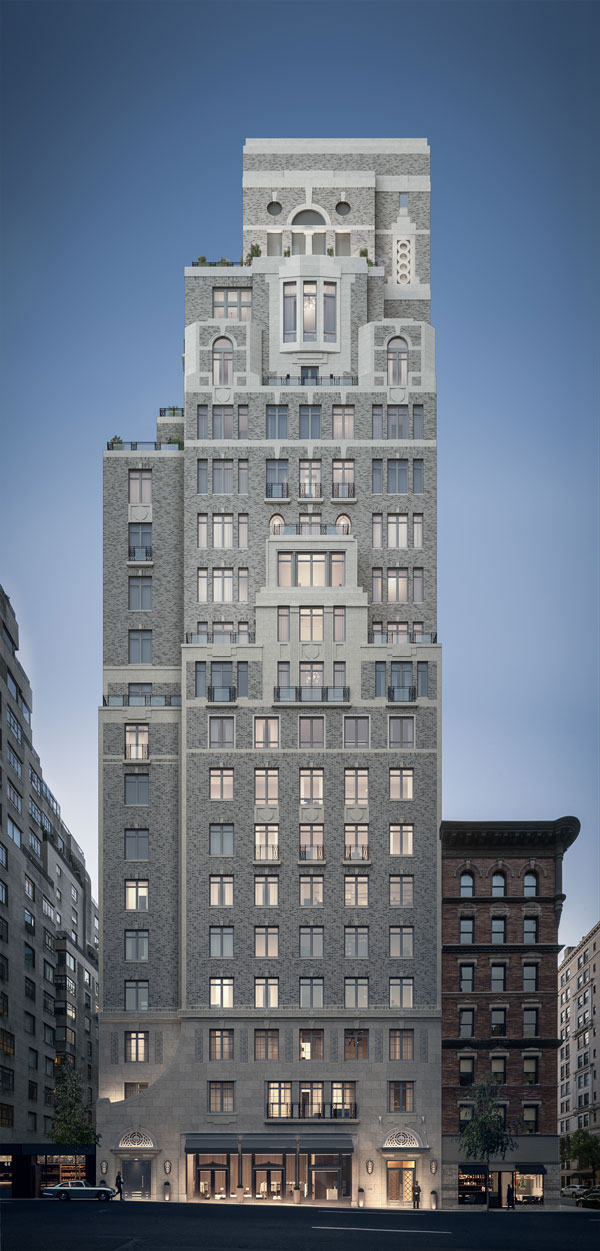 As New York City's residential buildings soar to record heights, some discerning developers elect to preserve a neighborhood's charms through quainter constructions. Such is the case with the recently unveiled 1228 Madison Avenue, a boutique-scaled luxury building by CBSK Ironstate, where the bespoke craftsmanship begins with each of the 15 units (14 full-floor homes and one duplex penthouse) bearing their own distinct names.
Imbuing these spaces with architectural rigor and unmatched sophistication are Robert A.M. Stern Architects (RAMSA) and interior designer Kelly Behun. While the architecture firm's work ranges from 220 Central Park South—a 950-foot-tall, 67-story residential tower—to a serene Hamptons home for an art-collecting couple—1228 Madison Avenue marks its smallest multifamily co-op project to date.
World-renowned for its clean, classic designs sheathed in limestone, RAMSA paired with avant-garde Behun in an unlikely combination. "My first reaction when our client introduced us to Kelly Behun was, 'What are they thinking? Her work is so different from ours!'" RAMSA partner Michael D. Jones tells Galerie. Upon researching her portfolio further, Jones discovered that many of her ideas stem from postmodernism, which played an important role in the development of RAMSA's approach. "Although Kelly brings her own perspective to the project—her interiors are a bit more contemporary and a bit less formal than our designs—both firms share a common understanding and a common set of principles."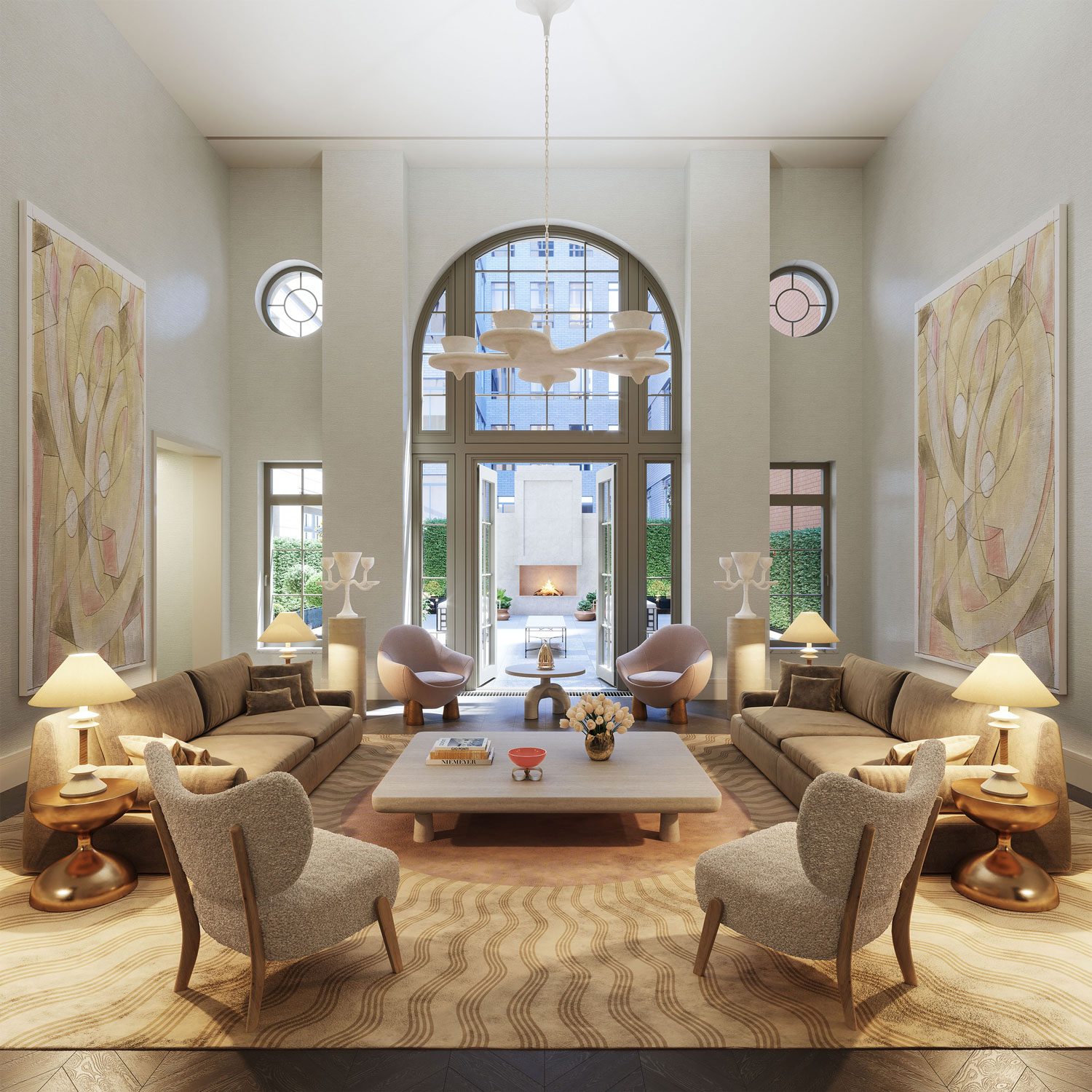 For Behun, working with RAMSA's varying aesthetic made for a deeply compelling opportunity. "Their projects are so iconic, and 1228 Madison, like so many of their buildings, has a way of inhabiting its space in the neighborhood so elegantly it feels as though it was always there," Behun tells Galerie. The designer adds that she is particularly fond of Carnegie Hill because she lived there upon first moving to New York from Pennsylvania. "For a building that's not massive it has this real importance to it."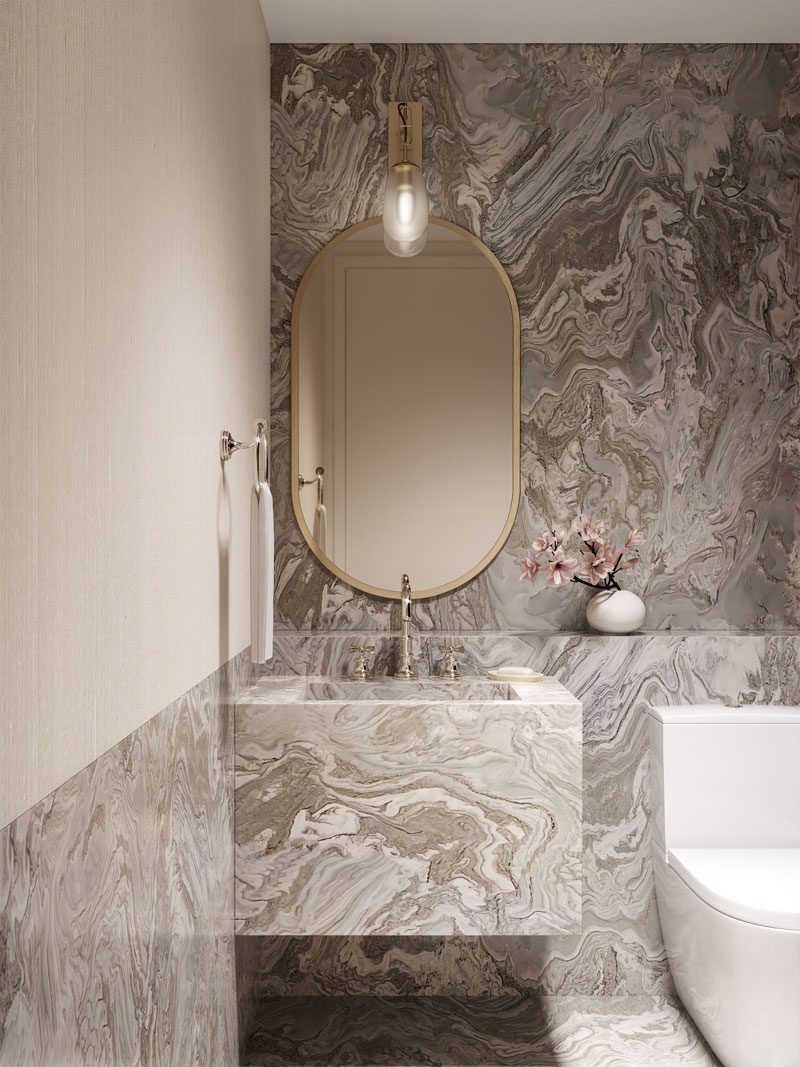 Classic columns and arches comprise the Regency-style building's façade, which was also constructed with the surrounding buildings in mind. "We designed 1228 to grow out of the residential character of the Carnegie Hill neighborhood, and the great tradition of Upper East Side's 1920s and '30s apartment buildings designed by Rosario Candela, Emery Roth, and others, but adapted for our time," says Jones. "We drew on the best elements of the building's context—Art Deco neighbors, Beaux Arts townhouses—which led us to find inspiration in the work of the English architect Sir Edwin Lutyens to design a building with classically derived detailing made highly graphic with a combination of limestone and a mix of gray brick," he explains.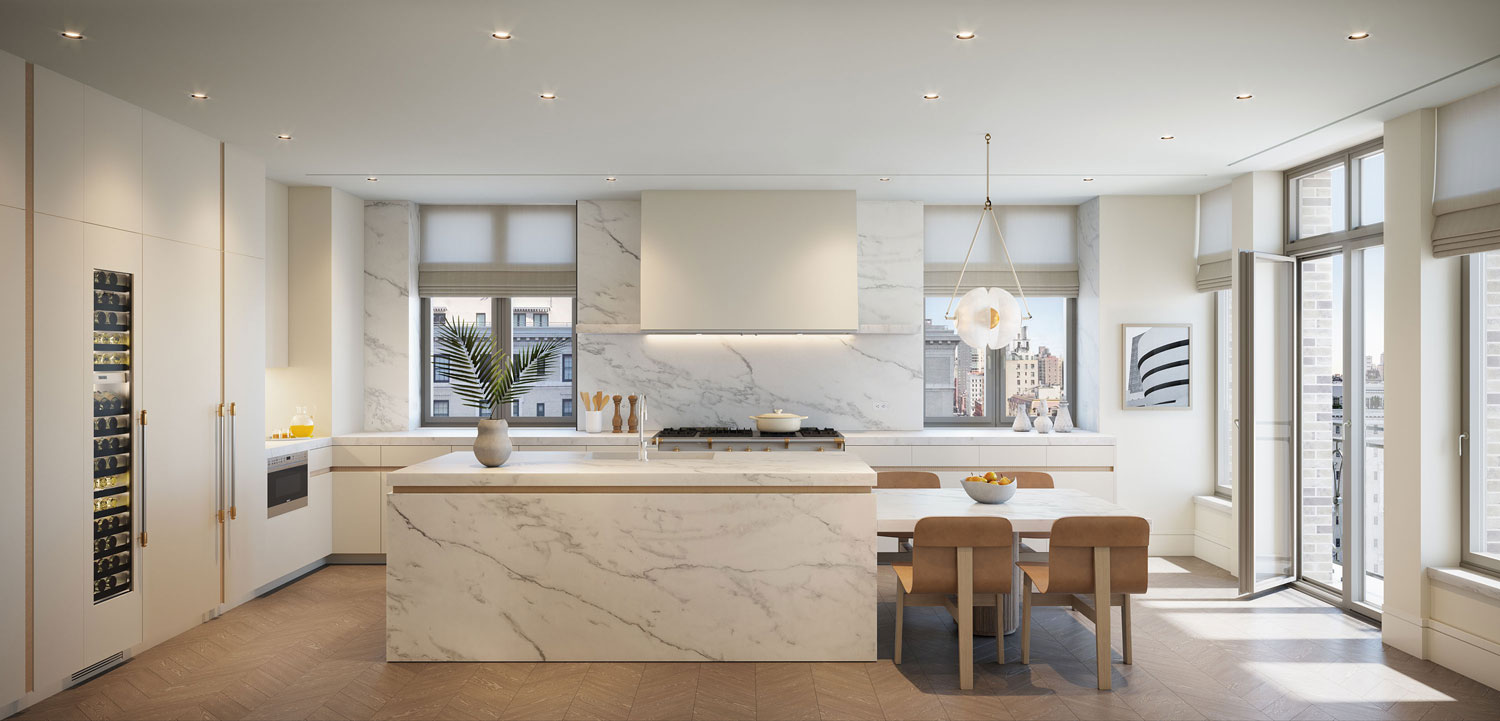 Approaching the units' varying floor plans as it would a house, RAMSA calls the building "formally organized on axes and views, but equally appropriate for day-to-day living as for entertaining." Given the freedom to inject the residences with her specific point of view, Behun strategically built on this formal yet relaxed dynamic with detailed touches.
Throughout the building are chevron oak floors and cream furnishings with a contemporary twist. The kitchens, which, Behun adds, are "made for hanging out in," feature Portuguese marble countertops with gray and gold veining, as well as French Lacanche ranges. Subtly lending an organic sensibility and warmth to the space, a bleached-oak wood tambour lines the island and lacquer cabinetry.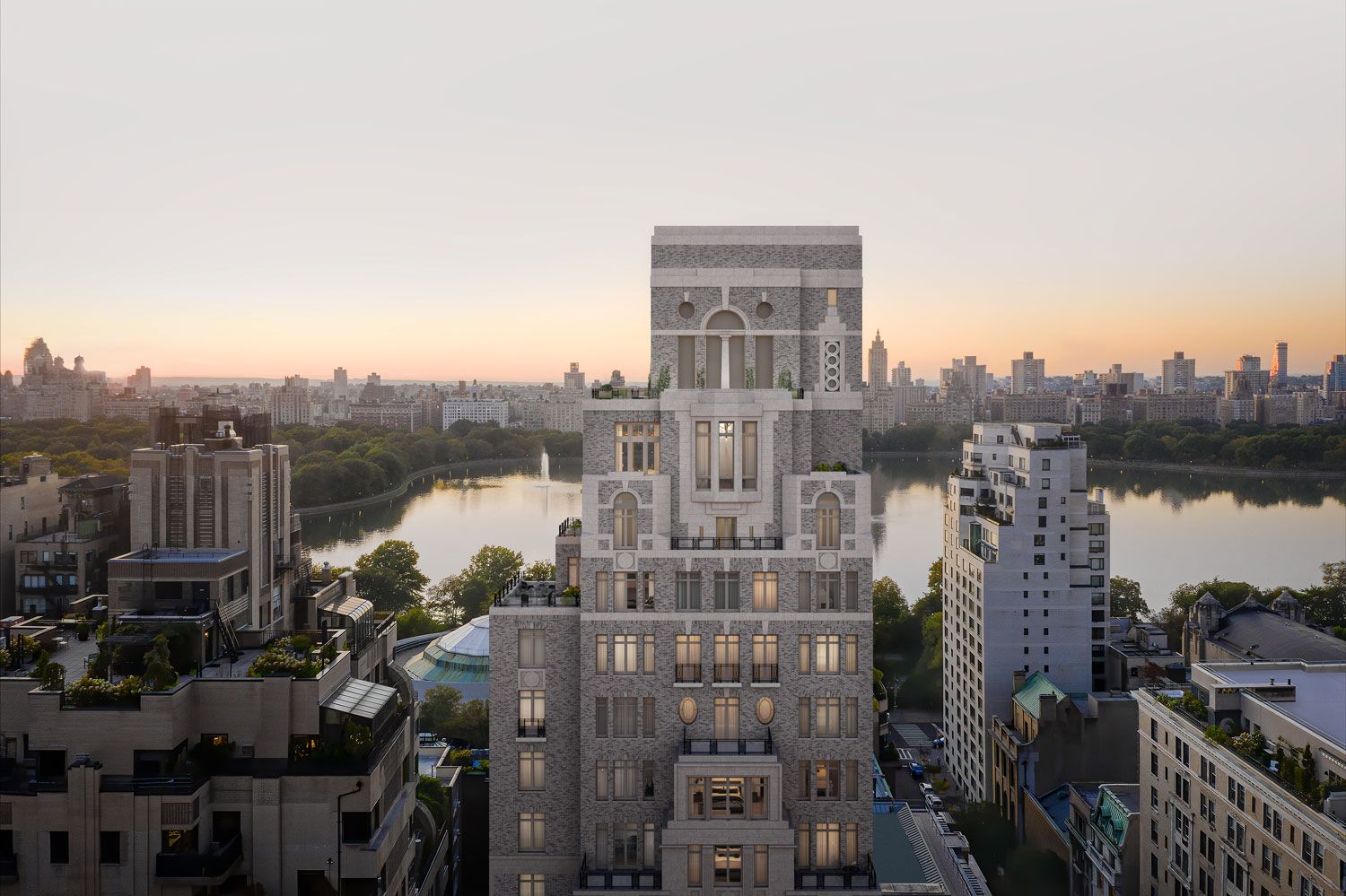 Units range from two to four bedrooms, and nearly half offer outdoor space, whether Juliet balconies or private gardens. Among the myriad amenities are a landscaped rooftop terrace, a 24-hour doorman, and a fitness and training center. The second floor, known as the Garden House, features a living room with a double-height ceiling that gives way to an enormous courtyard. As the units ascend, the windows and layouts change to provide optimal views of the Central Park Reservoir, Madison Avenue, and the Guggenheim Museum. With its triple-exposure great room and multiple terraces, the duplex penthouse is the building's crown jewel: "It will truly feel like a house in the sky," Jones says.
Sales at 1228 Madison Avenue are slated to launch this fall with Corcoran Sunshine, with delivery in late 2021. 
Next Post