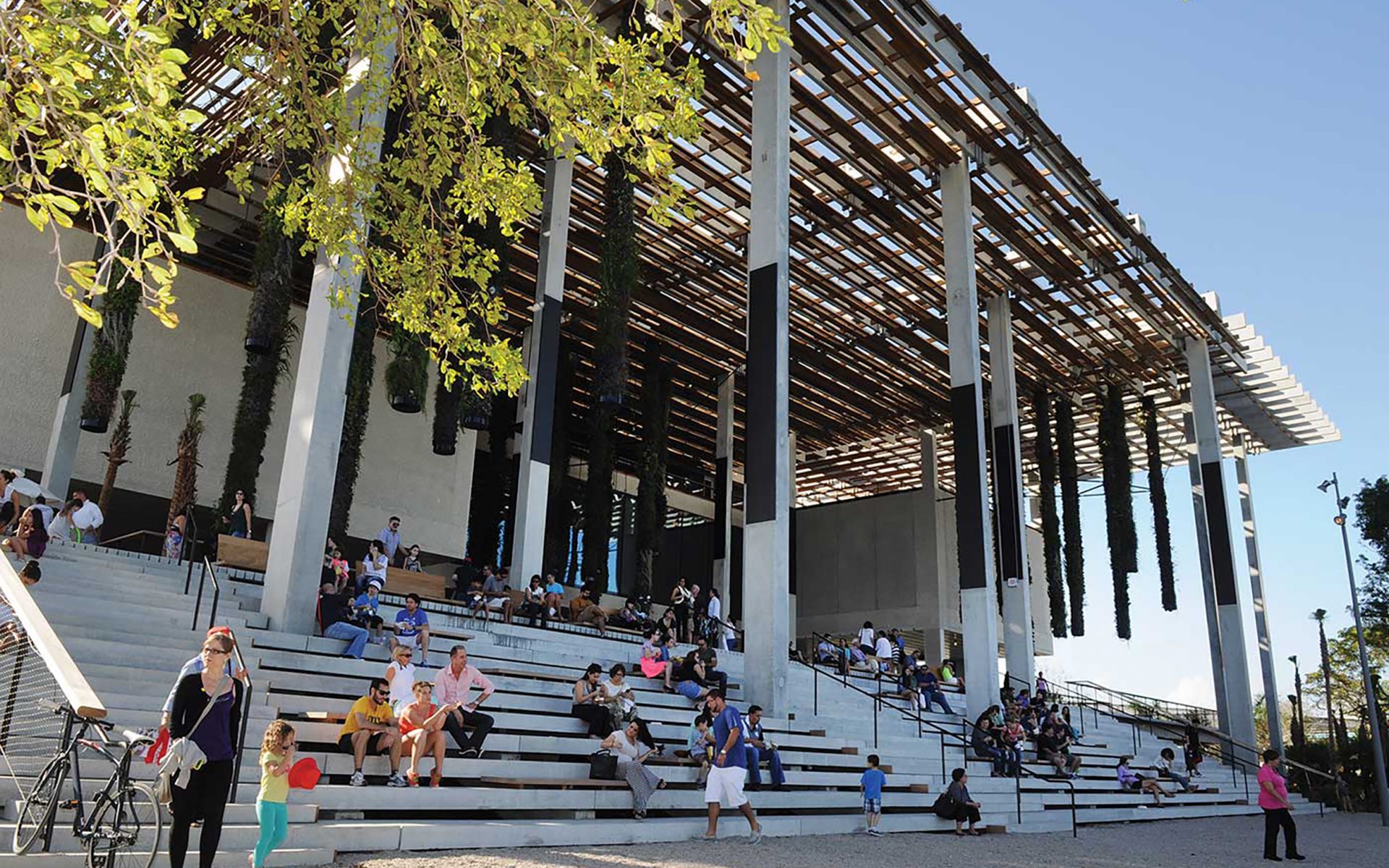 The Ultimate Art Insiders' Guide to Miami
As the city prepares for Miami Art Week, Galerie asked some of the world's top curators, gallerists, and museum directors to share their go-to spots
The art and design world will soon descend on South Florida for Miami Art Week. Anchoring the events is Art Basel, which takes place from December 6—9 and features some 268 exhibitors from around the globe. Also taking place during the same period are Untitled, Pulse, NADA, and Art Miami. Galerie asked some of the top curators, gallerists, and museum directors—among them Untitled's director Manuela Mozo and artistic director of the new Faena Festival, Zoe Lukov—to share their must-visit spots while in town.
Manuela Mozo, Director, Untitled
"When I am in Miami, I like to be outside (or feel like I'm outside) as much as possible. My favorite is Cecconi's at the Soho Beach House. For a quick bite for lunch or late night, La Sandwicherie is a great. The Faena is a beautiful, whimsical universe. I love grabbing at drink at the Tree of Life. I'm also looking forward to The Raleigh reopening, hopefully soon! For those moments when I need to escape everyone, the spa at The Standard is my happy place." 
Peggy Leboeuf, Partner, Perrotin U.S. and exhibitor at Art Basel 
"I love the bar Sweet Liberty. It's fun, with a slightly kitsch feel—great to grab a quick drink and oysters. For modern Asian food, Kyu Miami is a restaurant with a wood fire grill; I love their delicious mushroom dishes. To grab a quick spontaneous bite in Fort Lauderdale, Hardy Park Bistro has the best Australian vegetarian burgers.
"I adore the The Webster for its finely curated clothes from the best collections each season—it's so chic. For cool emerging designers, I go to TenOverSix Miami—they have the best artisan accessories. A must-see is the amazing Margulies Collection at the WAREhOUSE created by collector Martin Margulies in a converted warehouse displaying video, sculpture and photography. I will always visit the Bass Museum run by the wonderful Silvia Karman Cubina. Right now they have a great show with our artist Paola Pivi, who we are also showing at our booth at Art Basel."
Zoe Lukov, Artistic Director, Faena Festival
"Sunrise runs or swims at the beach are sacred during the fair week. My go-to restaurant is Mandolin (Greek & Turkish food and open-air seating), which is near another of my favorites—the de la Cruz Collection. While I'm certainly not an unbiased voice, I'm very proud of the arts and cultural programming throughout the Faena District, and if you're looking for self-care, a day at the Faena Hotel's spa, Tierra Santa Healing House, can't be beat. As for Miami's famous nightlife, The Love Below party is the best dance party."
Recommended: 12 Art and Design Heavyweights Share Their Stunning Collections
Elizabeth Margulies, art advisor 
"The Nautilus South Beach always hosts fun pop-up events during Art Basel. This year, they're showing new works by Vik Muniz and Fab 5 Freddy. They're also doing a poolside popup of their New York City lounge Make Believe every night during the week of the fair. For shopping, Eveliina Vintage has an amazing selection of silk gowns and floral-patterned dresses from the 1950s, '60s, and '70s—perfect for a day or night out in Miami. My go-to for bikinis and swimwear is Mermaids Boutique in South Miami. One of my favorite restaurants in Miami is Il Gabbiano. Started by the original owners of New York's Il Mulino, the food, service, and wine list are exceptional. I love having a late lunch or early dinner outside overlooking Biscayne Bay as the sun sets."
Eleanor Acquavella, Acquavella Galleries and exhibitor at Art Basel 
"My favorite place to stay lately is The One hotel. I enjoy its clean and modern aesthetic, and the fact that it's a 'green' property with beautiful views of the ocean. In terms of restaurants, Casa Tua is a refreshing change of pace from what you typically experience in Miami Beach—it's a warm and intimate space with delicious Italian food, a lovely outdoor terrace, and a great lounge for after-dinner drinks with friends or clients."
Adam Sheffer, Vice President, Pace Gallery and exhibitor at Art Basel 
"I cannot imagine Art Basel in Miami Beach without a visit to the Pérez Art Museum Miami. It's a glorious Herzog & de Meuron–designed mecca for modern and contemporary art, overlooking the beautiful Biscayne Bay. And this year it's an especially perfect time for a visit—the museum has organized an ambitious documentary exhibition dedicated to Christo and Jeanne-Claude's renowned, site-specific project Surrounded Islands, which celebrates its 35th anniversary this year. We have recently begun a partnership with Christo, and I'm thrilled to have the chance to revisit this seminal work."
Brandi Reddick, Cultural Affairs Manager, City of Miami Beach Art in Public Place
"Public art is always a highlight during Art Basel in Miami Beach. This year, I look forward to the opening of Franz Ackermann's monumental mural, About Sand, located on the southeast corner of the Miami Beach Convention Center, and Bill Fontana's audio video installation, Sonic Dreamscapes. The Bass consistently shows outstanding contemporary art, and this year is no exception with exhibitions by Paolo Pivi, Aaron Curry, and the Hass Brothers. My top hotel pick is The Setai. I love the Far East–inspired interiors that seamlessly merge Shanghai Art Deco with Miami Beach Art Deco, plus it is a very short walk to the Convention Center. As for dinner, Upland, located in the South of Fifth neighborhood, is a standout."
Recommended: Designer Lillian Fernandez Creates Her Dream House in Palm Beach
Jackie Soffer, Chairman and CEO, Turnberry
"In the past few years, we've seen both the creation and the expansion of really amazing contemporary art institutions. The ICA Miami (Institute of Contemporary Art) in the Miami Design District is a must-see. I'm on the board, and we thought it was important to create a sculpture garden—during the week of Art Basel and Design Miami, a stop there can be a meditative break from the business of the fairs. I love the Louise Bourgeois exhibition, which will be up through the new year. I acquired some of her surrealistic "eye benches" for the public to interact with at Aventura Mall, and people love their playfulness."
Carla Camacho, Partner, Lehmann Maupin and exhibitor at Art Basel 
"I have several traditions that I keep for Art Basel in Miami Beach. One is that I run on the boardwalk in the morning—it's the only time that I actually get to enjoy the beach, and it's a fun way to see other dealers and collectors. On Wednesday night, after the first day of Art Basel, I have spaghetti and a bottle of Brunello di Montalcino at Scarpetta with my colleagues. It's our decadent treat for all the hard work we put into the fair. By Friday night I'm ready to take a break from the art parties, and I sneak away to old school Ocean Drive club Mango's for a night of dancing."
Olivier Audemars, Vice Chairman of the Board of Directors, Audemars Piguet 
"I never miss an opportunity to visit the Bass Museum when I am in Miami Beach. Since it reopened last year, it's a wonderful respite to experience contemporary art during Art Basel, within a historically preserved and classically Miami Beach architectural setting. Conveniently, the museum is located near where Audemars Piguet art commissions are installed. This year the artist is Tomás Saraceno."
Sam Bardaouil and Till Fellrath, Co-founders, Art Reoriented, and Chairmen, Montblanc Cultural Foundation 
"A trip to Miami would not be complete without a visit to the Perez Art Museum. Under the directorship of Franklin Sirmans, the museum has become one of the most coveted institutions in the country. If you are trying to avoid the traffic jams, a fun place to dine is the Matador Room at The Miami Beach Edition, which is a 20-minute walk from the fair. With a menu featuring an eclectic Latin fair, the restaurant and bar come particularly alive at night. Make sure to ask for an outdoor table on the terrace overlooking the pool. The best thing, however, about visiting Miami during Art Basel is how easy it is to escape from it! Just a few steps, and you are on the four-mile Miami Boardwalk, which runs from 46th Street and Collins Avenue all the way down to 23rd Street."
Lorie Mertes, Director, Locust Projects
"My favorite hotel is definitely the Vagabond. As a native Floridian, I totally love that this 1950s-era roadside motel along Route 1 has been beautifully modernized but with all the MiMo character preserved down to the fabulous neon signage. For locals and out-of-towners, it's truly an urban oasis with its pool bar and new sushi restaurant. We put our visiting artists and curators up there and we get raves. I also recently found out it was a regular stop for the Rat Pack back in the day! We are lucky to have a number of amazing restaurants steps from Locust Projects in our Design District neighborhood. I hear the new Swann is awesome and there are more to come, but I still cannot get enough of KYU in Wynwood. The short rib one of the best ever, the roasted cauliflower is so good, and don't miss the coconut cake."
Jennifer Inacio, Curator, Pérez Art Museum Miami 
"The Pérez's restaurant, Verde, has a great view of Biscayne Bay. Elsewhere, I recommend Plant Miami, an organic and vegan-friendly restaurant designed by architect Rene Gonzalez with delicious seasonal and fresh food. Another great restaurant I enjoy is Soul Tavern, serving healthy gastropub food options and amazing crafted cocktails. It's located in Miami Beach, an easy hop from Art Basel."
Recommended: How Rene Gonzalez Translates Nature into Architecture
Nina Johnson, Director, Nina Johnson Gallery 
"My favorite hotel is always The Standard—such a classic and unpretentious Miami vibe with a great spa and easy access to the city. My favorite restaurant has to be a toss up between Mandolin and the new Thomas Keller at the Surf Club. For art, I head to 4510/SIX; Kristen Cole's eye for the modern woman is flawless, and I obsess over every piece I have ever gotten from them. This year they are showcasing the incredible Batsheva Hay, who is also in Of Purism, a group show curated by Charlap Hyman & Herrero downstairs at my gallery, Nina Johnson. This year my heart is with Judy Chicago's four-decade retrospective at the ICA Miami. She is an icon, a legend, and soothsayer for artists everywhere."
Jonathan Schwartz, CEO, Atelier 4
"My perennial extracurricular visits include Macchialina on Alton Road for dinner—delicious, authentic, and consistent. That said, I'll hit Cheeseburger Baby on Washington at least once. Off-season, I get my culture on at The Wolfsonian for a respite from contemporary art and all the fairs. To get away from almost everyone and everything, drive out to No Name Harbor on Key Biscayne and have a beer and a fried whole snapper on the beach at Boaters Grill."
Lee Siegelson, Owner, Siegelson and exhibitor at DesignMiami/
"I am attracted to the Art Moderne architecture of the Raleigh and the National hotels, which evokes the 1930s. You can see some of the same features—curving forms and long horizontal lines—in jewelry from this period, making it one of my favorites. I always visit the Wolfsonian, located in the heart of the Art Deco District of Miami Beach. It's a museum, library, and research center all in one, and its impressive collection illustrates the persuasive power of art and design. Sylvano is also a great hidden gem, and for lunch we love the Cuban sandwich at Puerto Sagua. For drinks, I recommend the champagne bar at Le Sirenuse at the Four Seasons Surf Club, the Bar at The Setai, or the SoHo Beach House."
Next Post