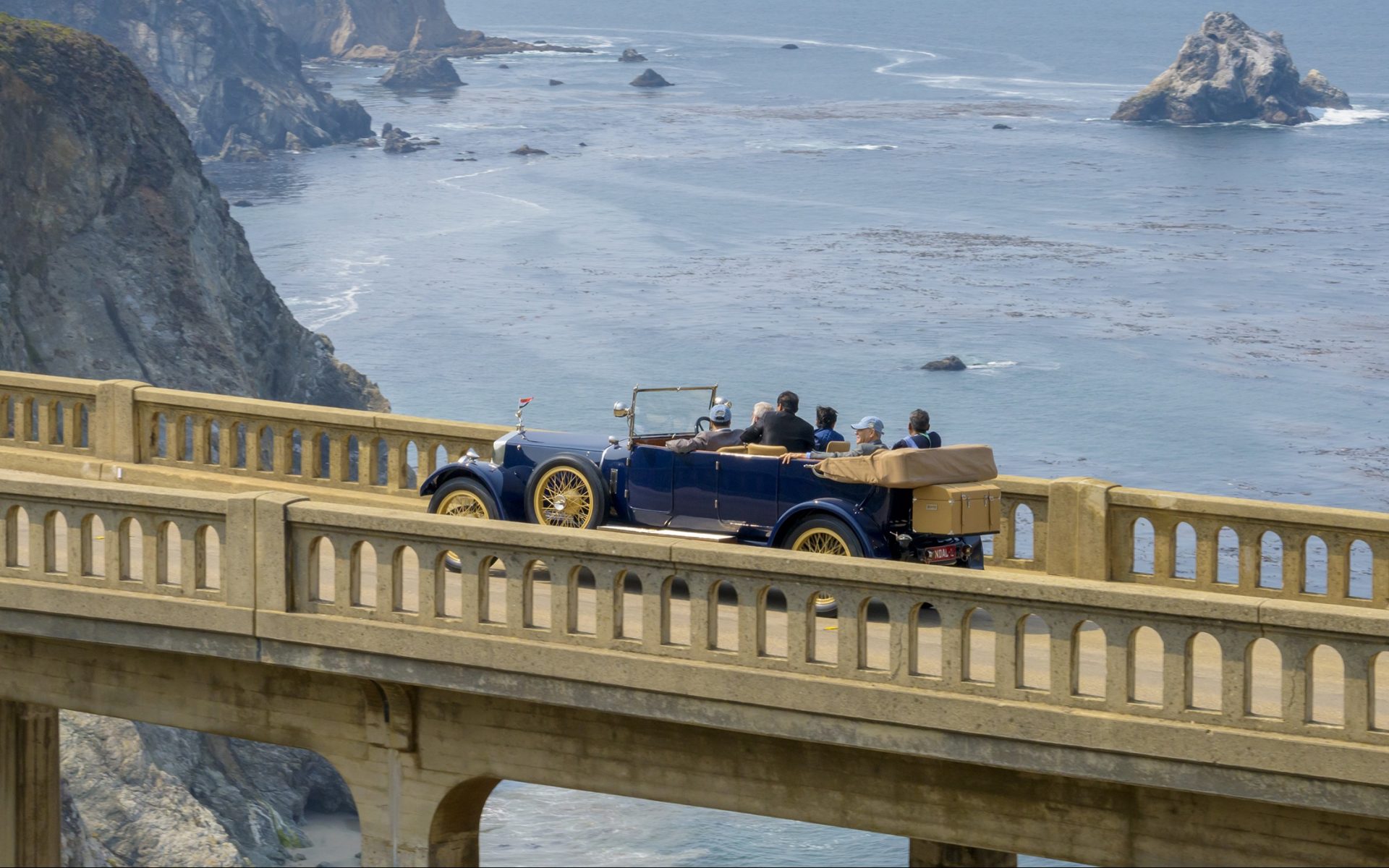 6 Great Events Not to Miss at Pebble Beach This Year
From the high-end auctions to the Concours d'Elegance, these are the best events for automotive fanatics
For automotive enthusiasts, there's only one place to be this week: California's idyllic Monterey Peninsula. Pebble Beach's famed Car Week will bring thousands of priceless cars to the region—from timeless Ferraris of yesteryear to modern speed machines, and everything in between. Here, visitors will have unrivaled access to some of the most enviable autos on the planet.
Whether you're inhaling the intoxicating aroma of aged leather and handcrafted wooden interiors of prewar coaches on the fairway at the Pebble Beach Concours d'Elegance or listening to iconic Le Mans–winning race cars rip around Laguna Seca's track, August will offer guests the chance to be surrounded by pinnacles of automotive excellence at every turn. With a slew of special events and gatherings on the schedule, here are some of our favorite happenings during the 2019 Monterey Car Week. 
1. Gooding & Company's Pebble Beach Auction
Whether you're a serious collector with a few million to spend or just want to watch those who do, the esteemed auction house of Gooding & Company is the place to be August 16 and 17. In two separate auctions, the roster of vehicles crossing the block will vary from a 1975 Ferrari 312T, driven by Formula 1 champion Niki Lauda (expected to hammer for at least $6 million) to a pre-war 1913 Isotta Fraschini Tipo IM (estimated to sell for $3 million).  
Recommended: 7 Great Vintage Cars to Take for a Spin This Summer
2. Werks Reunion Monterey 
If you're a Porsche collector, this is your gathering. On August 16, hundreds of Porsches will gather at the Corral de Tierra Country Club in one of the largest displays of the German manufacturer's best and brightest. You'll see everything from brand new GT3s to ageless 356 Speedsters shimmering on the lawn. Go early and you may catch a glimpse of Jerry Seinfeld, a noted Porsche connoisseur. 
3. Rolex Monterey Motorsports Reunion
This multi-day track extravaganza steps off on August 15 at the Laguna Seca race track. Much of Monterey's Car Week features static vehicles, but here you'll get to see—and hear—everything move in spectacular fashion. Famed American endurance driver Hurley Haywood serves as grand marshal and some 550 race cars from various series will be buzzing around the track, including two classes of Formula 1 cars harkening back to the mid-'60s, heaps of Grand Tourers, and even a special Bentley tribute, as this year marks the marque's centenary. 
4. The Quail
Staged at the Quail Lodge & Golf Club in Carmel, this August 16 event showcases everything from pre-war sports cars to custom coachwork-builds. A cadre of themed, gourmet food tents will ply guests with wonderful fare as they peruse 2019's featured exhibits, including a celebration of Bentley's 100 years, the 25th anniversary of the incomparable McLaren F1, and an electric car tribute. 
Recommended: Bentley Pays Homage to Race Car Driver Tim Birkin for Its Centennial
5. Concorso Italiano
Enamored with bella machinas hailing from Italy? This concours, held on August 17, is the place to see dozens of Ferraris, Alfa Romeos, and Lamborghinis, many of them in shades of head-turning rosso. The celebrated cars this year will be Ferrari Dinos and some De Tomasos, but rarely seen Isos, Lancias, and Abarths will also be on display. 
6. Pebble Beach Concours d'Elegance
Held on August 18, this is the week's main event. Several hundred cars will dot the coastal fairway of the famed golf course, all vying for top spots in classes like Rolls-Royce Prewar, Bugatti Grand Prix, Ferrari Competition, and more. Winged Bs galore will grace the lawn as Bentley has five separate classes on offer. Early birds (like regular visitor Jay Leno) flock to Dawn Patrol, which starts at 5:30 a.m., when the vehicles are assembling on the lawn as the fogs rolls in off the Pacific Ocean. 
Next Post