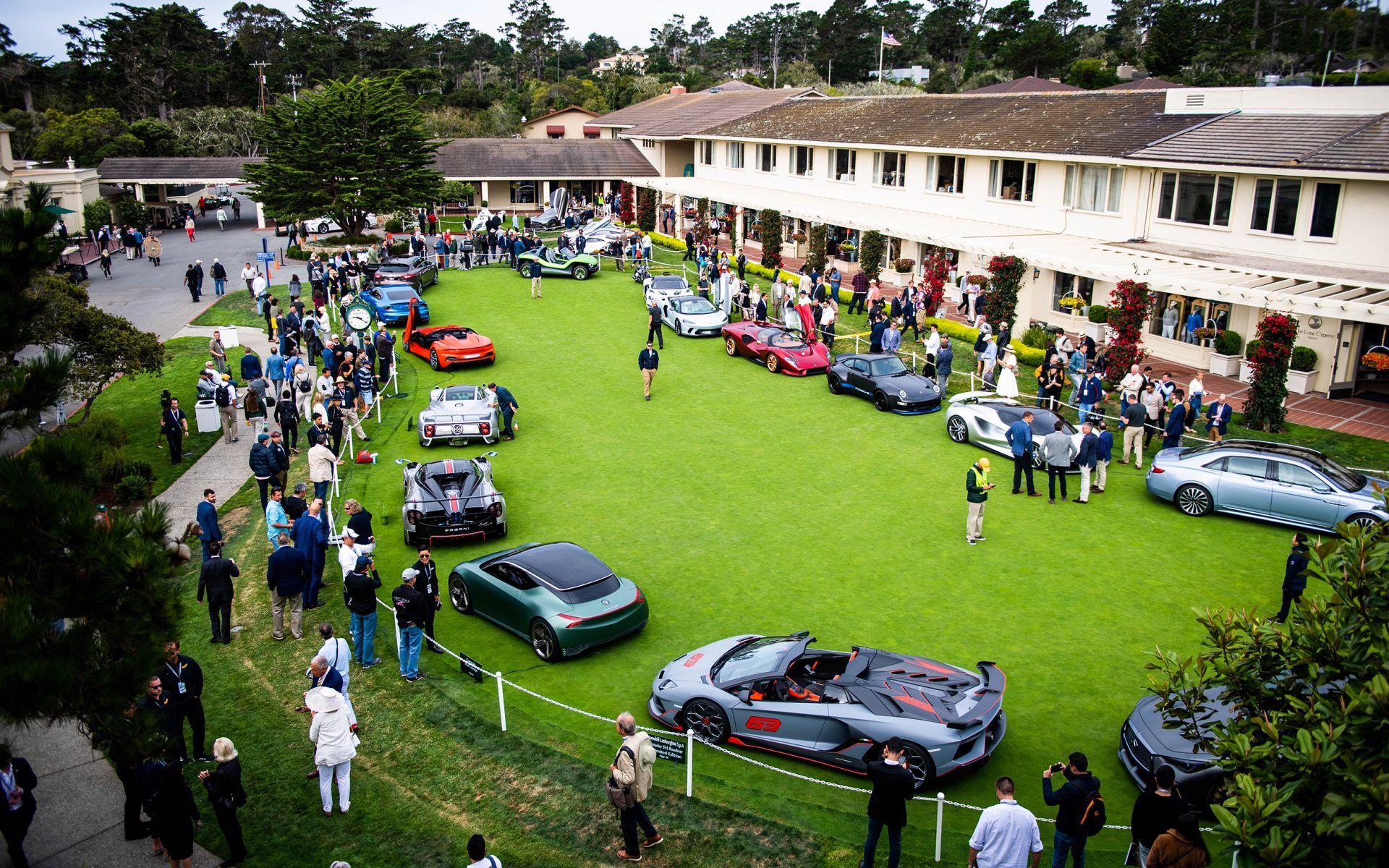 8 of the Most Talked-About Moments from Pebble Beach Car Week 2019
There were stunning debuts from Bugatti, Bentley, and Lamborghini—plus, a $70 million auction blunder
The talk of Pebble Beach's Car Week in Monterey, California, wasn't the 1931 Bentley 8 Litre Gurney Nutting sports tourer that won Best in Show. It was the 1939 Porsche Type 64 that never even sold. This one-of-three beauty, widely considered to be the first Porsche created in the vision of what the company would become, was expected to fetch more than $20 million (a would-be record for Porsche's auction prices) when it went under the hammer at the RM Sotheby's auction last Saturday night. 
Except there was one little problem: the accent of the auctioneer.
Gavel holder Maarten ten Holder's native language is Dutch, and when he started the bidding at $13 million, those manning the large screen behind him mistakenly heard—and displayed—$30 million as the opening price. By the time Ten Holder thought he was up to $17 million, the screen was showing $70 million. The gaffe was realized and the auction was immediately halted with the 1939 Porsche removed from bidding, prompting groans and jeers from the raucous crowd.
Recommended: Elizabeth Taylor's Iconic Rolls-Royce Sells at Auction
What RM Sotheby's was able to sell was a 1994 McLaren F1 "LM-Specification," the world's first modern supercar. This timeless three-seater from Gordon Murray's time at McLaren fetched $19.8 million after a five-minute fervent bidding process. What makes this particular car pricier than a regular McLaren F1 is the Le Mans specification that gave it a more powerful engine and extra high-downforce package, installed by the factory.
Meanwhile, Gooding and Company's auction resulted in a staggering $76,824,740 in sales, with more than a dozen cars gaveling past the $1 million threshold. The 1913 Isotta Fraschini Tipo IM commanded a world-record price of $2.6 million, while the 1975 Ferrari 312T, piloted by famed racing legend Niki Lauda, went for $6 million. When the race car appeared onstage, it received a standing ovation because of Lauda's recent passing. 
At The Quail, Bugatti debuted a $9 million whopper that ferries drivers from zero to 186 miles per hour in a spine-tingling 13.1 seconds. That's due to a ginormous W16 engine—effectively two V-8s smashed together—that generates a staggering 1,600 horsepower. The supercar is based on its half brother, the Chiron, but the design has been radically altered in homage to the EB 110, Bugatti's first modern supercar that emerged in 1991. Visual cues to its forebear abound, including a smaller horseshoe in the grille, circular side vent details, and the overall wedge shape. Apologies if you want one; all ten units are already spoken for. 
Lamborghini also made waves at The Quail by debuting the limited-edition Aventador SVJ 63 roadster. The mid-mounted V-12 engine has 770 horses on offer and will propel grinning occupants to 60 miles an hour in 2.8 seconds. Only 63 examples of this drop-top flagship with a full carbon-fiber body and monocoque will be produced, a number specifically chosen to honor Lamborghini's inaugural year of 1963.
Recommended: 7 Great Vintage Cars to Take for a Spin This Summer
Bentley brought its luxe concept car, the EXP 100 GT, as the British marque celebrated its centenary throughout the weekend. It's a fully electric beaut, a 20-foot shimmering beacon of the future of vehicular elegance, and boasts four elect motors that'll bestow it with 1,400 horsepower. The kicker? It's got an autonomous driving mode that'll see the steering wheel retract and your seat swivel around while Bentley's digital assistant can talk to you about what you're seeing during the drive or whatever else you'd prefer. 
Bentley closed the weekend with a strong showing at the Pebble Beach Concours d'Elegance. More than 200 cars hailing from 17 countries graced the 18th fairway of the Pebble Beach Golf Links, with more than 30 rare Flying Bs on display. Taking top honors of Best in Show was a 1931 Bentley 8 Litre Gurney Nutting sports tourer, a gorgeous four-seater owned by the billionaire chairman of Peninsula Hotels.
Next Post