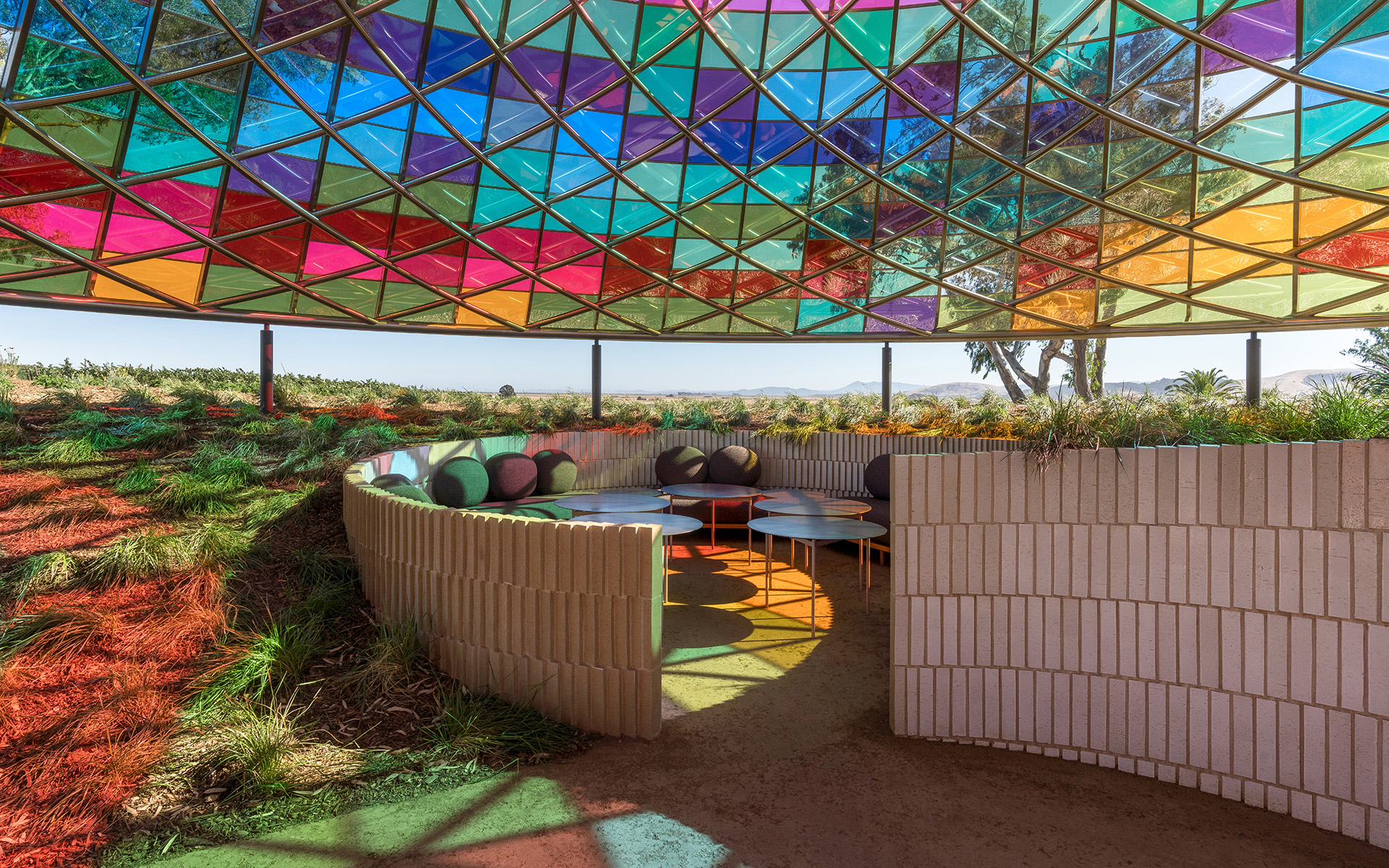 Olafur Eliasson Crafts a Kaleidoscopic Pavilion at Sonoma's Donum Estate
The Icelandic-Danish artist's architecture firm, Studio Other Spaces, designed the conical structure with more than 800 colorful glass panels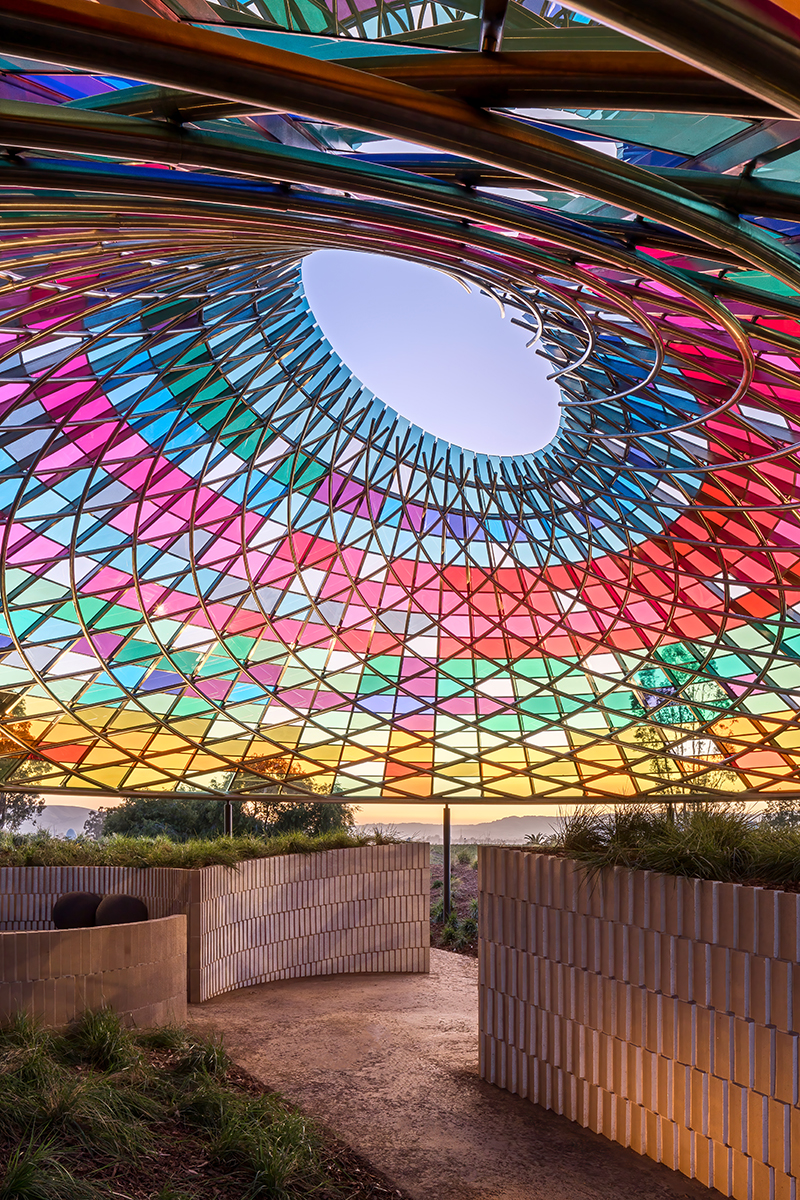 Wind, earth, sun, and microbes… The natural ingredients to transform grapes into wine have remained unchanged for millennia, although, over the years, mass production has altered wine-making's inherently organic process. Upon an invitation from Sonoma's Donum Estate to build a wine-tasting pavilion, Icelandic-Danish artist Olafur Eliasson and his German architect partner Sebastian Behmann in their firm, Studio Other Spaces (SOS), realized they could reverse our bacchanal habits back to its roots. 
"We started with an attempt to 'un-numb' our tastes and free the wine experience from everyday corporate side elements," Eliasson said, standing underneath SOS's 22 feet high color-busting canopy, Vertical Panorama Pavilion. Perched close to the 200 acres estate's David Thulstrup–designed main tasting center, the Donum Home, the oculus is built with 12 intertwined stainless steel columns and 832 colored recycled glass panels.
On any given day, the structure can host around a dozen curious mouths for wine tasting, which as Eliasson tells Galerie, "is a very external and personal journey," not unlike encountering with art. "Our offering is to open up and amplify senses but also allow people to disagree on what they're tasting." He believes the beauty in a true wine tasting ritual is this potential for discussion. "I see it as a parliament where everyone can have a different idea on their experience in an organic way."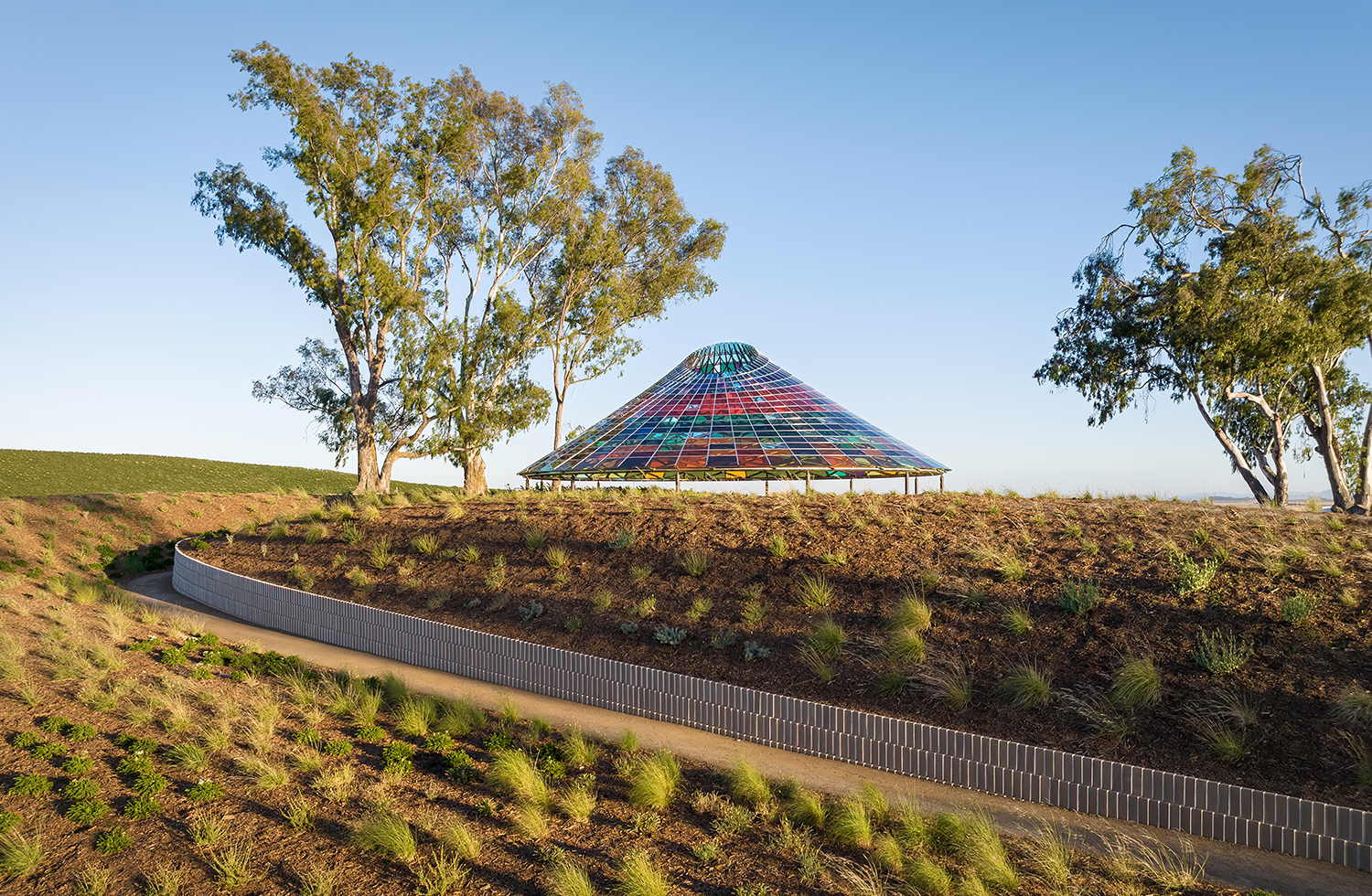 The duo's concept of a vertical landscape stems from wine's very earthy journey from blossoming up through the soil towards the sun and finally be poured into the glass. The surrounding flora inspired the panels' colors which are contrasted by the glaring steel rods whose number echoes the months in a year. The light's illumination with the California sun, as well as its setting into pastel hues during dusk, envelop the overall bodily experience. Behmann, who comes from a lineage of farmers "who could estimate the forecast by reading the sky," considers the project as an invitation to return to "an intuitive relationship with nature." 
The pavilion radiates an otherworldly alien presence sunken into the lush green purposefully to even the visitors with the earth's level. The artwork, however, is only the most recent addition to a lofty collection that adorns the estate. Hong Kong–based art collectors Mei and Allan Warburg acquired the Napa Valley parcel in 2010 to produce single-appellation Pinot Noir and Chardonnay, and two years later, large-scale art started sprouting on the estate's vine-lined hills. Zhan Wang's larger-than-life stainless steel sculpture, Artificial Rock No. 126 (2007–13), was the first artwork that the couple placed on the estate, which has in a decade grown into what could be described as an outdoor sculpture museum—one where wine is bountiful and Northern California sky is an ever-changing backdrop.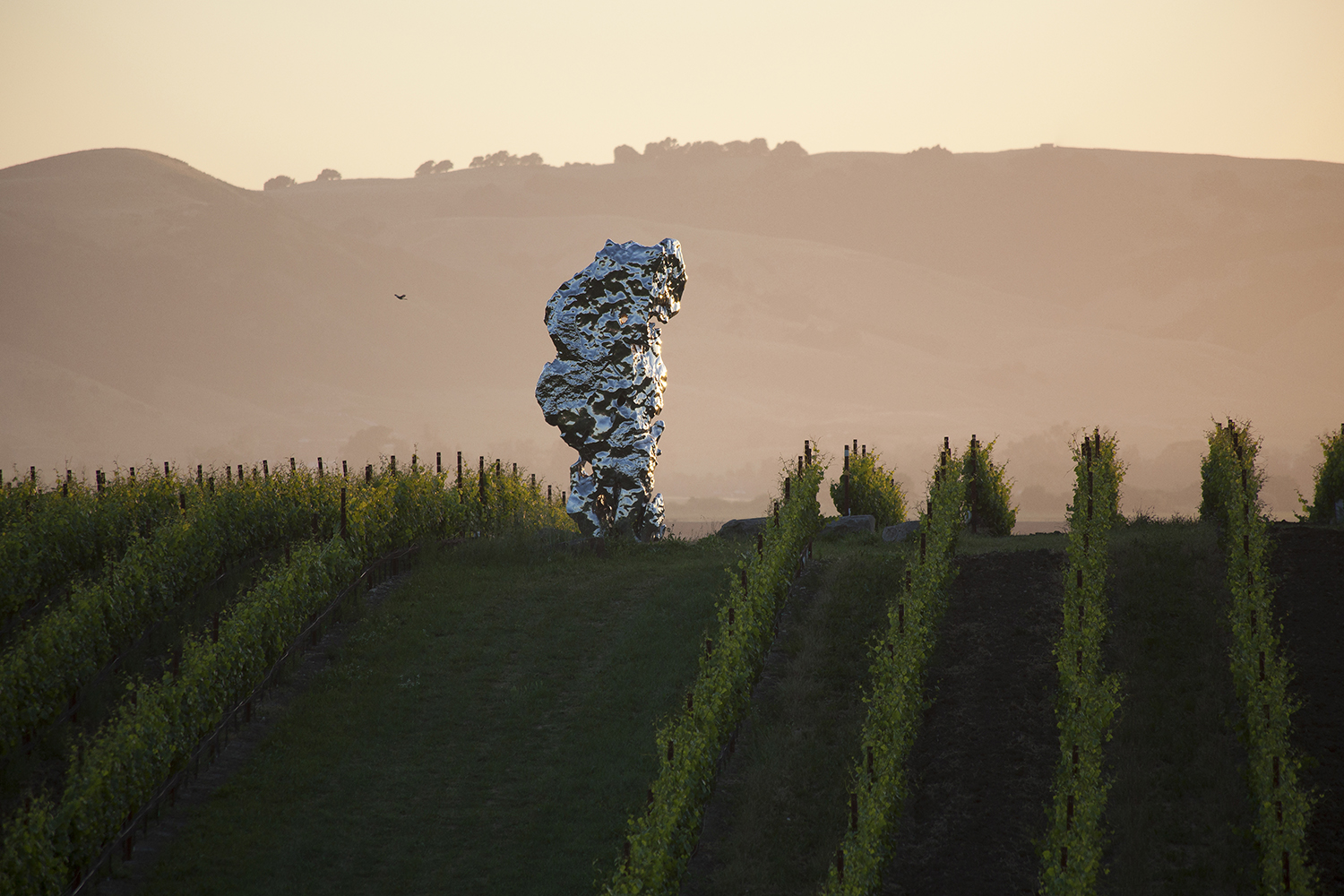 Ai Weiwei's circular installation Circle of Animals / Zodiac Heads, which includes 12 large scale bronze sculptures of animal heads from the Chinese calendar, claims an ample land by a vegetable garden. Steps away is Subodh Gupta's Soma (2016), a piling of the artist's signature material—tiffin boxes—into the form of a tilted Pinot Noir bottle and a bunch of grapes on the grass. Reaching Out (2020), Thomas J Price's nine-foot-tall bronze sculpture of a young Black woman checking her phone, has an edition installed on a sculpture trail in East London and another one by a reed field in the estate.
Not so far away are Elmgreen & Dragset's homoerotic bronze sculpture of two young men The Care of Oneself (2017), Tracey Emin's bodily yet abstract bronze sculpture Another 30 Years (2019), and Anselm Keifer's zinc-and-lead warplane re-cast Mohn und Gedächtnis (Poppy and Memory), (2017). The first of Louise Bourgeois's Maman series, here made out of steel rather than the usual bronze, stands inside a special gallery next to one of El Anatsui's iconic wall-hung bottle cap tapestries, title Rehearsal (2015).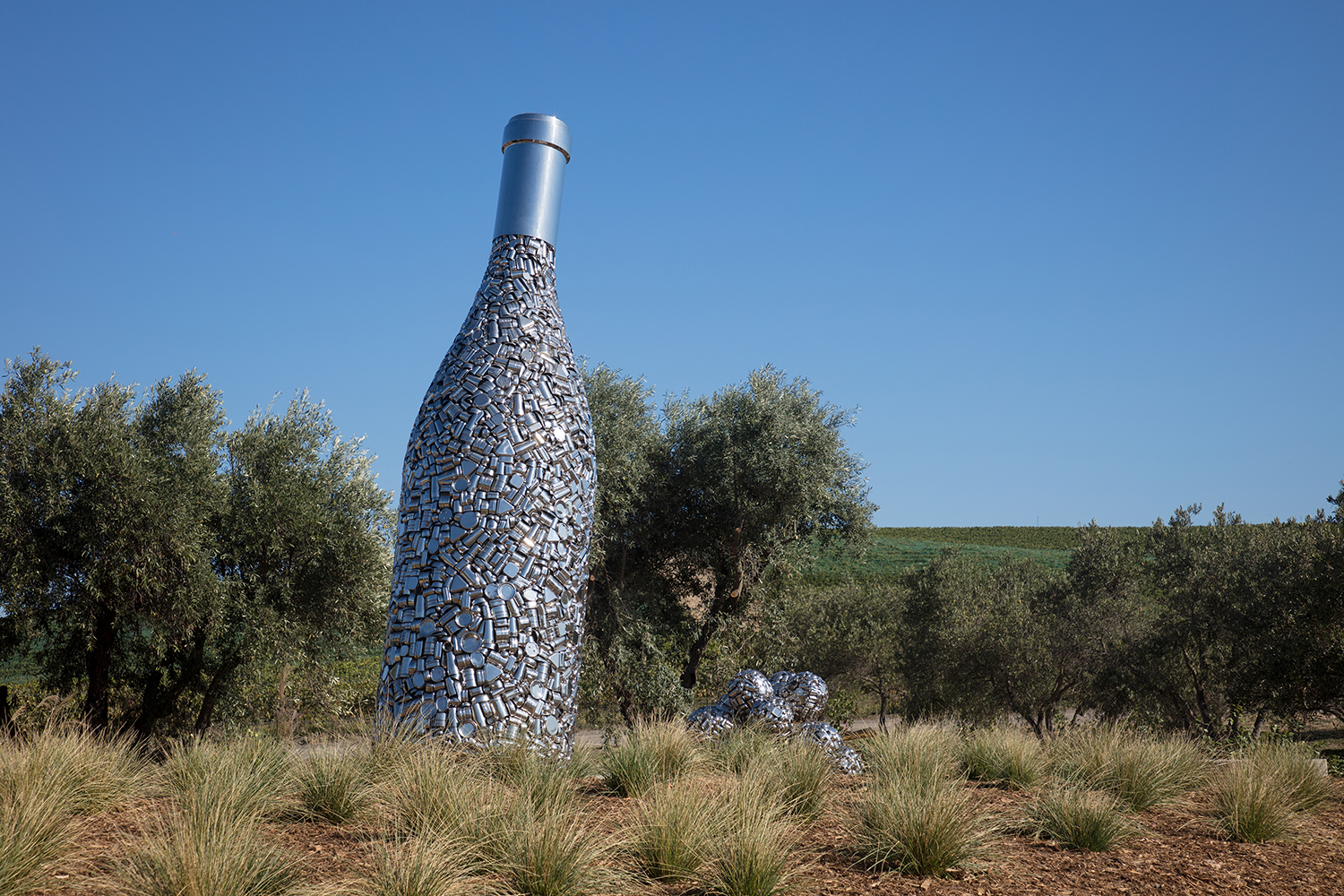 "When you take incredible art, put it into a beautiful landscape, and add some great wine, we believe that the combined experience is much much larger than if you experienced each of them by themselves," Allan Warburg told his guests during the pavilion's unveiling this week. Then, pianist Yang Bao performed his new composition, which blended into the estate's wind-blown fauna while Vertical Panorama Pavilion provided a backdrop for the piano's melody.
For Eliasson and Behmann, the pavilion is in fact for all senses as well as discoveries. "Look into your glass when you are having a glass of Pinot Noir under the pavilion," says Eliasson. "You will see an incredible reflection of colors and shapes in moving inside." 
Next Post