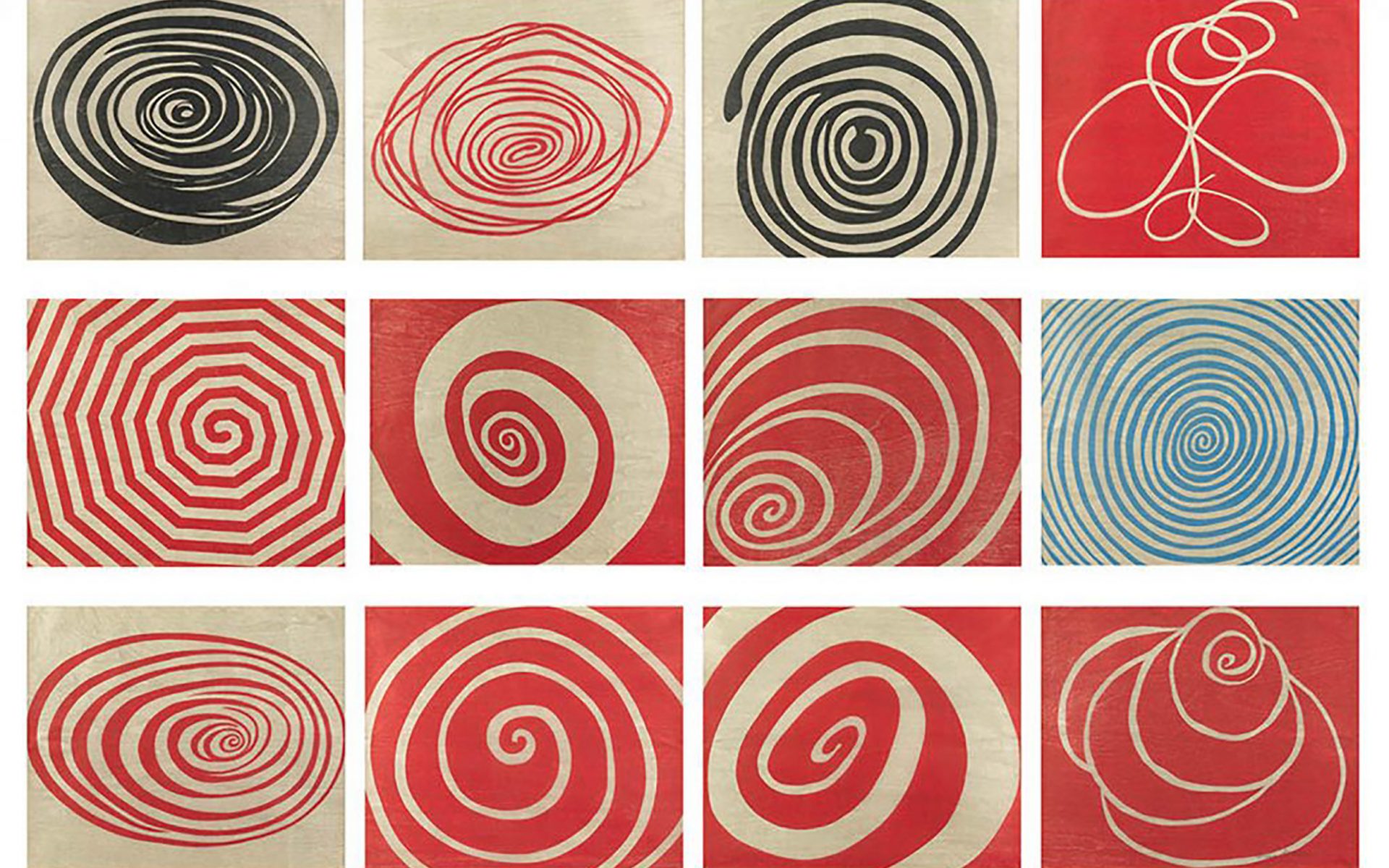 Spiraling into Louise Bourgeois's Inner Realm
The exhibition, the last at Cheim & Read's Chelsea space, includes 15 word drawings that have never before been shown
Celebrated for her giant sculptural spiders, stitched together fabric figures, and psychologically charged cell installations, Louise Bourgeois continually found inspiration for her artwork in her troubled childhood. Although most people associate the revered artist, who died in 2010 at 98, with figuration, there was another, more formal side to her prolific body of work that was purely abstract.
The exhibition "Louise Bourgeois: Spiral," which is on view through December 22 at Cheim & Read in New York (and is the last show at the gallery's space on West 25th Street), engagingly explores the artist's interest in abstraction through her imaginative use of the twisting form of the spiral, a primal shape that symbolizes the evolving journey of life and a subject to which Bourgeois repeatedly returned. Curated by Jerry Gorovoy, Bourgeois's assistant of 30 years and the current president of her Easton Foundation, and the gallery's cofounder John Cheim, the show presents works in a variety of mediums created over a 52-year span of the artist's captivating life.
The earliest work in the show, Untitled (1947), is a poetic charcoal-and-ink drawing that depicts a spiraling scribble atop a pair of crutch-like poles, which could be a reference to The Cripples (1568) by Pieter Bruegel the Elder, an artist who influenced other works by Bourgeois. We know, for example, that her nearby sculpture Labyrinthine Tower (1962) was inspired by Bruegel's famous The Tower of Babel (1563), even though she purposefully constructed a more sexually suggestive tower—one built up from jumbled abstract shapes that create a curving phallic form.
Recommended: See These 20 Great Exhibitions Before They Close
The second gallery offers a sparser presentation, with two sculptures, a painting, and some drawings. The eye is immediately drawn to the freestanding sculpture Suture (1993), consisting of a column with pivoted brackets holding spools of thread and a dangling rubber rod, which has needles connected to the thread penetrating its skin and a brooch with the letter L attached to it. Assembled from abandoned materials found in an old sewing factory in Brooklyn that Bourgeois rented as her studio in 1980, the piece references both the medical procedure of stitching to repair and heal a wounded body and the religious martyr Saint Sebastian, who was tied to a tree and shot with arrows yet did not die.
A red-and-white oval-shaped painting, Untitled (circa 1970) floats on the wall like an unraveling moon rising on the horizon; a blood-red gouache, Spiral (2009) creates a visual vortex while dotting another wall; and Nature Study (1986), a sumptuous white marble sculpture of a knotted, intestine-like cord, where one protruding end looks like a penis and the other contrastingly resembles a female breast, rests graciously on its roughly chiseled base. The most revelatory work in the room, however, is a series of 15 word drawings, each labeled Loose Sheet of Writing (1986), that have never previously been shown.
Diaristic in nature, the texts are written on loose sheets of blue stationary in spiral forms, with a couple of the coiling words looking like spiders. Reminiscent of Apollinaire's visually constructed poems, Bourgeois's Loose Sheet of Writing drawings illustrate a stream of consciousness—randomly switching from English to French and changing direction at a whim. Reading these doodles provides insight into the artist's psyche. For example, one of the spider-like texts begins early in the day with behavioral mantras, such as "Do not want too much" and "Do not give too much" while another part of the piece, written six hours later, questions the purpose of such analysis, asking, "What in the name of heaven made me do this?" and declaring, "It is absurd, it is useless, it doesn't make sense."
Recommended: Marina Abramović and James Turrell Design Spa for Tasmanian Collector
Four fascinating works in the third gallery complete the show. The fabric collage Untitled (2005) repurposes a precisely cut-up blue-and-white-striped bedsheet to make two connected spiral webs, while Spiral (2009) groups four loosely painted red drawings into one piece. Bourgeois often stated that "red is the color of blood" and by applying the gouache to wet paper she made her mark run like a bleeding body. Normally a control freak, she let go when painting these spirals, giving into chance while making scores of them and then keeping only the best.
In contrast, her suite of 12 woodcuts, Spirals (2005), presents crisp prints of her recurring subject. Varying in style and color, the ganged pieces represent a catalogue of the kinds of spirals Bourgeois created throughout her life. Hanging nearby, the polished-aluminum sculpture Untitled (2004), a gorgeous glob of tubular forms, distortedly reflects the dozen prints and everything else in the room—including the audience—bringing us deeper into the artist's inner realm and holding us there, if only for a precious moment, before we go on.
Next Post