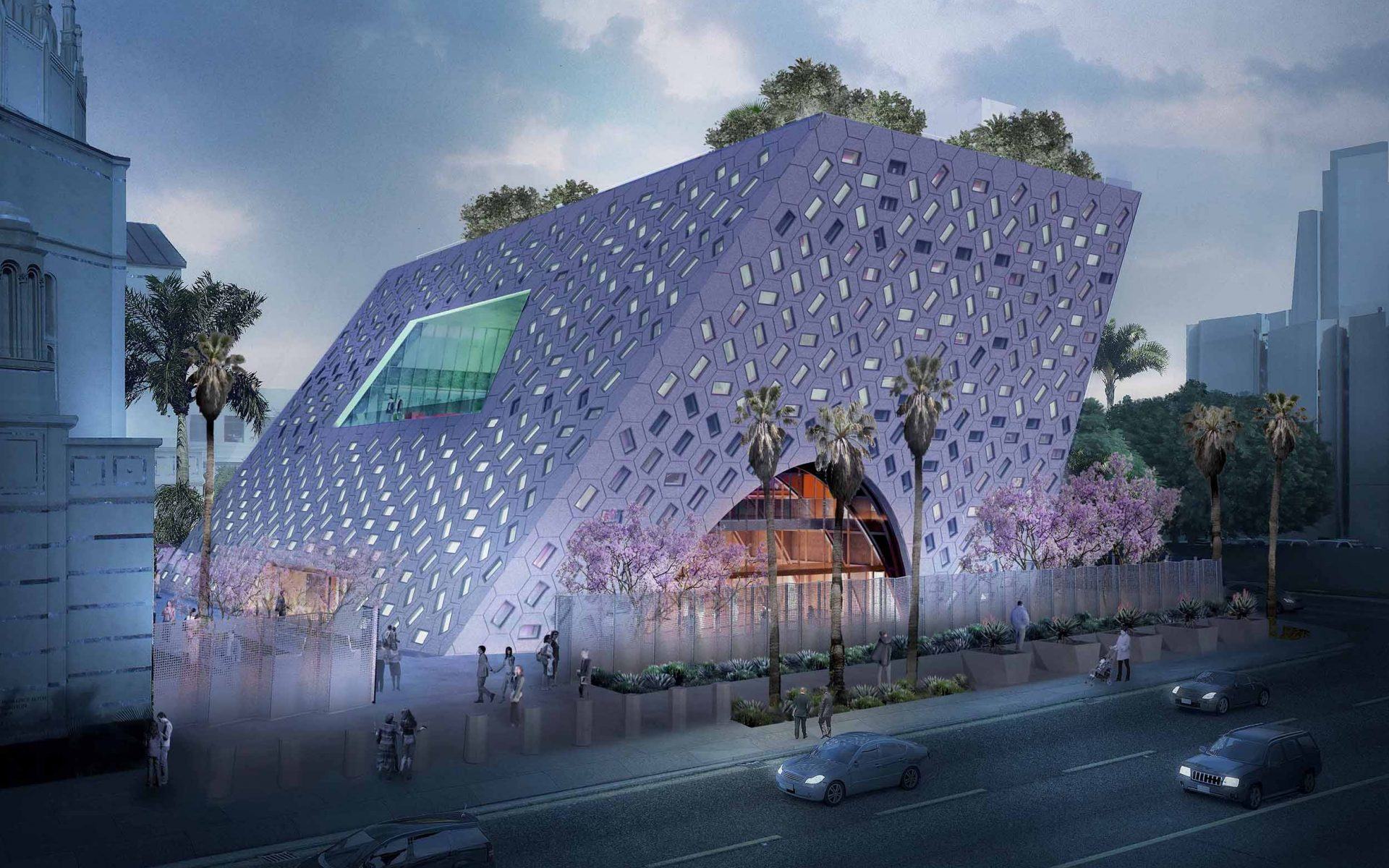 10 of the Most Anticipated Buildings Opening in 2020
Dazzling structures by Renzo Piano, Zaha Hadid, and Bjarke Ingels are set to make their debut
A slew of buzzworthy architecture firms are gearing up for a monumental 2020. Heatherwick Studio, for instance, is following up its enormously popular (and polarizing) Vessel with another New York City project: a modern residential building with sculptural bay windows that recall the firm's Silo Hotel in South Africa. Pritzker Prize winner Renzo Piano, meanwhile, will see the completion of his long-gestating Academy Museum in Los Angeles. And one of the last buildings designed by Zaha Hadid before she died will also be realized in the Middle East.
See below for the full list of highly anticipated projects opening this year.
1. Renzo Piano Building Workshop
Academy Museum of Motion Pictures, Los Angeles 
When it opens in December, the long-awaited Academy Museum will display the massive collection of the Academy of Motion Picture Arts and Sciences, which boasts 190,000 film and video assets, as well as over 100,000 pieces of production art. Famed architect Renzo Piano collaborated with the firm Gensler to retrofit a 1939 building at Fairfax Avenue and Wilshire Boulevard, connecting it to a new orb-shaped theater that can seat 1,000 people. It's destined to become one of L.A.'s most visited attractions.
2. Killa Design
Museum of the Future, Dubai
Home to the world's tallest building, Dubai is already well-known for boundary-pushing architecture, but a new museum located on central Sheikh Zayed Road is looking to cement that reputation. Masterminded by Killa Design, the torus-shaped structure is an engineering marvel, clad in reflective metal with an oval cutout in the center. With a façade inscribed with Arabic calligraphy, the sleek building will function as an incubator of sorts for futuristic innovation and design.
Recommended: See Inside the Dazzling $21 Million Penthouse at 111 West 57th Street
3. Heneghan Peng Architects 
Grand Egyptian Museum (GEM), Cairo 
Located about a mile from the famed Giza pyramids, the Grand Egyptian Museum is being billed as the world's largest archaeological institution, presiding over a collection of 100,000 artifacts, including some 5,000 objects once belonging to King Tut. An 83-ton statue of Ramses II made of red granite will welcoming visitors to the 5.2-million-square-foot museum when it opens later this year. The whole project—designed by Dublin-based Heneghan Peng Architects—is estimated to cost $1 billion.
4. Snøhetta
Le Monde Headquarters, Paris

For the new headquarters of French media group Le Monde, groundbreaking architecture firm Snøhetta created a block-long structure with a bridgelike silhouette, a reference to the company's "flow of information." A pixelated matrix of glass panels, each in various degrees of opacity, will give the façade a visually arresting quality from both the inside and out.
Recommended: Snøhetta Designs Europe's First Underwater Restaurant in Norway
5. Heatherwick Studios
The Lantern House, New York

Fresh off a monumental year, Thomas Heatherwick's Heatherwick Studio will see the completion of its first residential project in the U.S., located a few blocks south of its much-discussed Vessel at Hudson Yards. Dubbed Lantern House, the pair of buildings (one 10 stories, the other 22) straddle the High Line and feature a network of bulging bay windows that pay homage to the neighborhood's maritime past.
6. Studio Gang
Vista Tower, Chicago 
Slated to become the third-tallest building in the Windy City, Studio Gang's Vista Tower comprises a trio of shapely volumes—the largest of which will soar almost 1,200 feet above the Chicago River. Once complete, the development will contain some 400 residences plus a luxury hotel, and it will be the tallest structure in the world designed by a woman, firm founder Jeanne Gang.
7. KPF
One Vanderbilt, New York
Located adjacent to Grand Central Terminal in Manhattan, One Vanderbilt will top out at over 1,400 feet—the most substantial office building the neighborhood has seen in 50 years. Designed by KPF, which completed several buildings in Hudson Yards last year, the 77-story tower is sheathed in alternating bands of glass and terra-cotta, with a crown that features elegant setbacks that recall the nearby Empire State Building. Owners SL Green and Hines will welcome tenants, among them TD Bank, in August.
8. Bjarke Ingels Group
Musée Atelier Audemars Piguet, Switzerland
Set within Swiss watchmaker Audemars Piguet's main compound in Le Brassus, this sculptural museum will house not just exhibition space but also workshops and presentation facilities for future product launches. Designed by cutting-edge architect Bjarke Ingels and his firm, BIG, the spiraling structure gets its shape from the coils within the luxury horologist's iconic timepieces.
Recommended: Bjarke Ingels Creates a Twisting Art Bridge in Norway
9. Zaha Hadid Architects
Bee'ah Headquarters
Known for her aversion to right angles, Pritzker Prize winner Zaha Hadid conceived a host of voluptuous buildings that not just challenged the rules of architecture but also seemed to defy gravity. One of the last such structures she designed before her sudden death in 2016, this dune-shaped headquarters for waste-management company Bee'ah will be integrated with artificial intelligence and Tesla technology to make its energy consumption net zero.
10. OMA/Shohei Shigematsu
Audrey Irmas Pavilion
Opening in November, the Audrey Irmas Pavilion will make a striking addition to the Wilshire Boulevard Temple, L.A.'s oldest Jewish congregation. The $75 million project, designed by Shohei Shigematsu of OMA, will serve as an event space for the community with the capability to host banquets, markets, conventions, performances, and other art happenings. Punctuated by a trio of geometric voids, the structure's exterior will feature a mesmerizing network of hexagonal panels.
Next Post