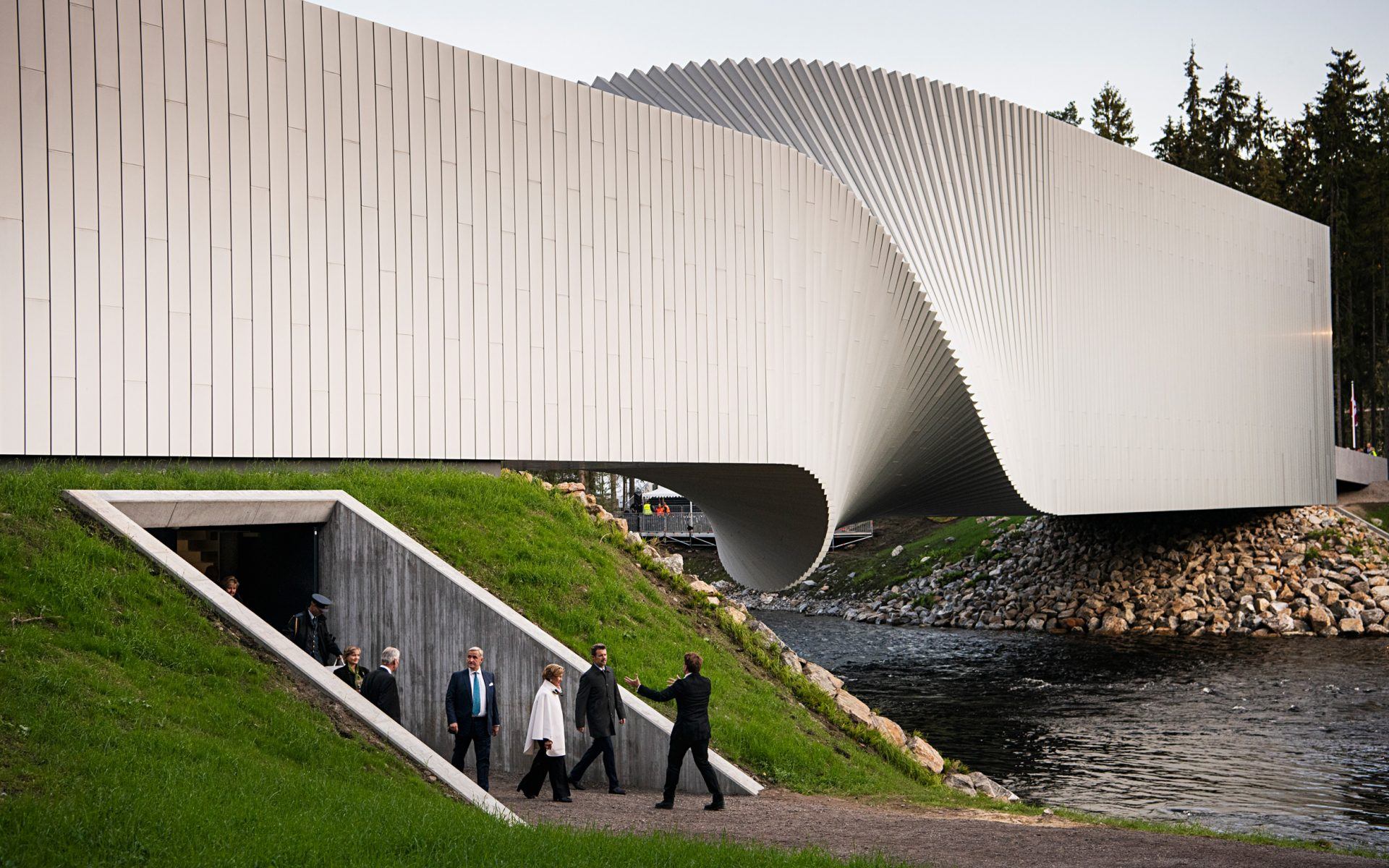 Bjarke Ingels Creates a Twisting Art Bridge in Norway
Known for bold silhouettes, the Danish architect has conjured a new landmark befitting the blue-chip collection at Norway's Kistefos
Known for crafting complex buildings with bold silhouettes, the Danish architect Bjarke Ingels has conjured a new landmark befitting the blue-chip collection at Norway's Kistefos Museum and Sculpture Park, outside Oslo.
Trisected by the Randselva river, the 44-acre grounds are dotted with major works by Anish Kapoor, Olafur Eliasson, Tony Cragg, and Yayoi Kusama. But the previous layout often sent visitors meandering through a series of dead-end trails with just two narrow crossings on the far side of the greenspace. Enter Ingels, whose firm, Bjarke Ingels Group (BIG), masterminded a dazzling span, fittingly dubbed the "Twist," that's part bridge and part art gallery, which creates a better footpath through the site.
"We started with another architect 20 years ago when I first founded Kistefos, but I didn't even own the land on that side of the river then," says Kistefos's founder Christen Sveaas, a private investor who made his money via consumer finance, dry cargo shipping, and commercial real estate, among other sectors. His grandfather's wood-pulp business, established in 1889, formerly operated on part of Kistefos's grounds, and several outbuildings still hold relics from that era.
Approximately a decade ago, Sveaas acquired the adjacent plot and invited Ingels to Kistefos so he could get a lay of the land before designing a new structure. Ever the visionary, the young Danish architect masterminded an aluminum-clad edifice beginning on one side of the river as a single plane that spirals midway through to become a double-decker exhibit hall on the other.
Recommended: David Adjaye Conjures a Museum Wonderland in San Antonio
"You can enter the building from both sides, which means you can start the exhibition wherever you like," explains Sveaas. "It's not a traditional room for a museum, but I think it's inspiring, exciting, and mysterious."
Last month, the 10,800-square-foot addition made its debut with "Hodgkin and Creed: Inside Out," an exhibition that juxtaposes the work of the late British painter Howard Hodgkin and conceptual artist Martin Creed, with performance as a central focus, on view through November 17. To mark the opening, a 500-person fête was attended by the country's art-world movers and shakers as well as the HM Queen Sonja of Norway and HRH the Crown Prince of Denmark.
The show is a full-circle moment for Sveaas, who began his collection of international contemporary art in 1990 with a piece by Hodgkin. (Sveaas started buying art around 1983, "but that was more typical, old-fashioned Norwegian art from the 1850s," he says.) It was curator Guy Robertson who suggested pairing Hodgkin with Creed since they were good friends. "I think Creed would say Hodgkin was his mentor and favorite when he studied art," says Sveaas.
Robertson, who worked in Hodgkin's studio for a number of years, sought to create an environment that reflected the contexts he observed during that period. "Performance is an important theme in this exhibition, and Hodgkin's studio practice was a kind of performance," says Robertson. "He would work on paintings for years at a time and would change between them by covering and revealing them with large white screens. It was a kind of drawn-out dance, each painting accreting after every approach, stroke by stroke." A special performance piece by Creed—which takes place multiple times per day and features a variety of costumed players—amplifies that moving theme. 
A version of this article first appeared in print in our 2019 Late Fall Issue in the section "The Artful Life." Subscribe to the magazine.
Next Post