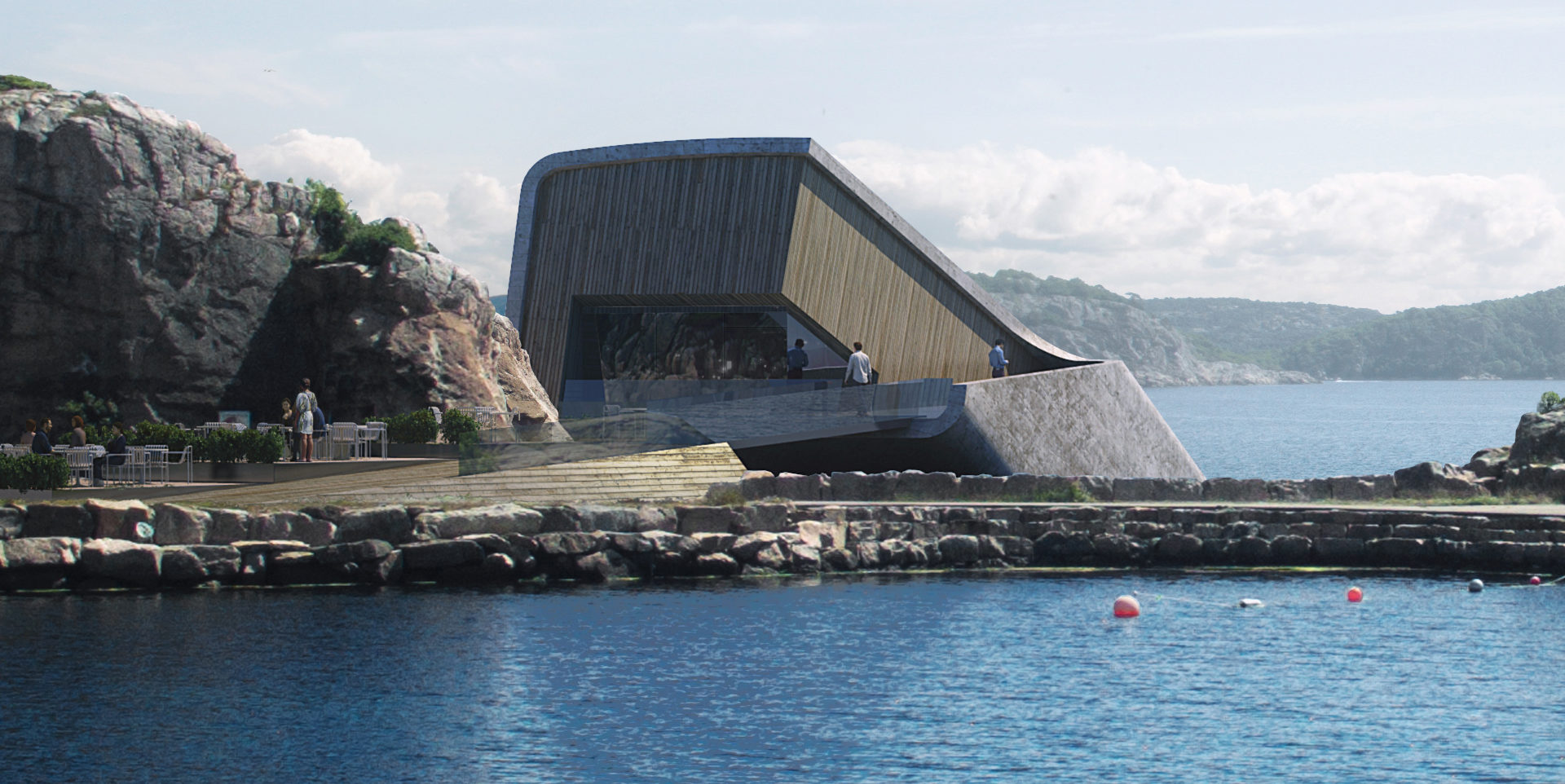 Snøhetta Unveils Plans for Europe's First Underwater Restaurant
An upcoming restaurant on Norway's southern coast doubles as a stunning marine research center
Destined to be the first restaurant of its kind in Europe, this imaginative underwater eatery—fittingly dubbed Under—will take a sleek dive into the sea at Norway's southern coast, becoming a friendly neighbor to the surrounding marine wildlife. Conceived by groundbreaking architecture studio Snøhetta, the three-story vessel carefully considers the aquatic flora and fauna of its setting. Going beyond respect for the site, it has an eco-driven mission to actually heighten biodiversity and improve water quality. (The coarse concrete shell, for instance, is designed to provide a home for water-filtering mollusks.)
For land-dwellers, Under is sure to activate all the senses, with visitors first venturing down the coastal terrain on a path dotted with plaques that offer bite-sized information on the region's biodiversity. At the end of the trail, and upon arrival at the submerged restaurant, guests will enter an oak-paneled portal—and perhaps even a refreshing mist of ocean spray—followed by the coat room, and a sumptuous champagne bar one flight down.
At the bar, patrons will have a view of the 100-seat dining room below, dubbed the "seabed level," the centerpiece of which will be a huge 36-by-14-foot acrylic window that frames an ever-changing, immersive aquamarine expanse. The scene is meant to act as a visual accompaniment to the dishes of Danish chef Nicolai Ellitsgaard Pedersen, who will prepare seafood caught nearby.
Beyond its place as a restaurant and habitat for wildlife, the Under plans to welcome marine biology teams, too. These researchers will be able to study fish behavior up close throughout Norway's dramatic seasonal shifts, while also helping optimize conditions on the seabed so that fish and shellfish can thrive in the restaurant's proximity. From the outside, what could appear as an infringement on aquatic life turns out to be an architectural feat of a visual, experiential, and intellectual nature.
A handful of top restaurants, spas, and hotels already offer the coveted experience of being beneath the sea. The Ithaa Undersea Restaurant, located Conrad Maldives Hotel on Rangali Island, for example, is located five meters below sea level in an all glass setting—and said to be the first underwater eatery. Also in the Maldives is The LIME Spa at the Huvafen Fushi hotel, which offers aromatherapy treatments as schools of fish swim by, while Dubai's ultra-luxe Atlantis The Palm boasts two incredible underwater suites.
Construction for Under is expected to start next year with completion in 2019.
Next Post