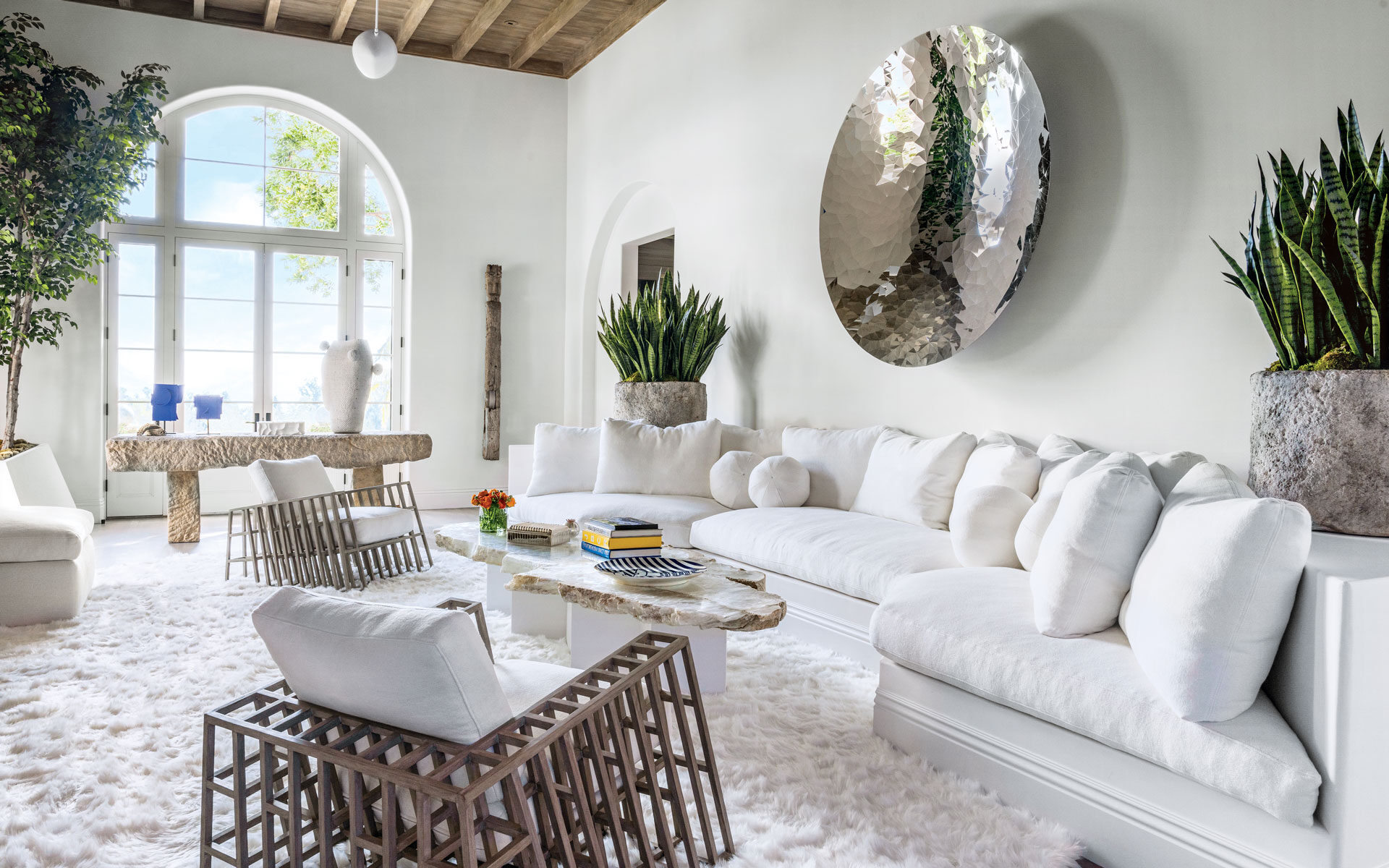 Go Inside a Thoughtfully Renovated Wallace Neff Architectural Gem in Montecito
Powerhouse cultural patrons Jane and Marc Nathanson enlist designer Richard Hallberg to fashion a weekend retreat where their collecting passions can take center stage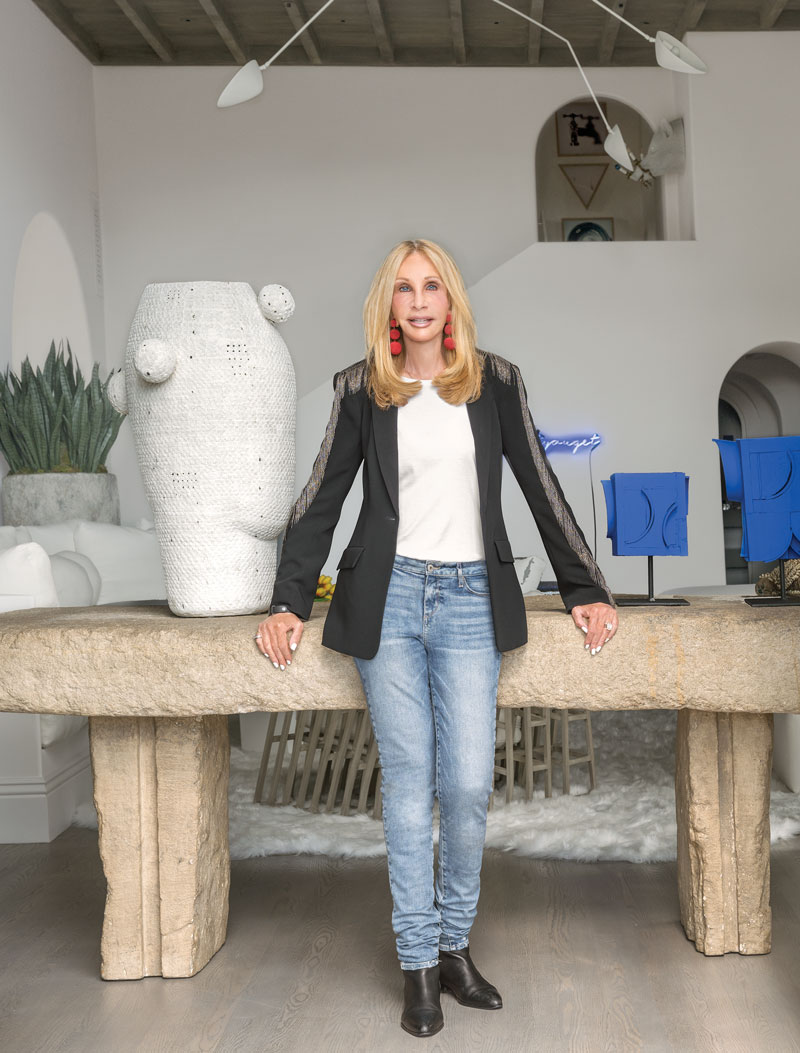 For collectors Jane and Marc Nathanson, art defines the home. All three of theirs, in fact—in Los Angeles, where the couple is based; in Aspen; and, most recently, in Montecito, California. "People and art are the color in my houses," says Jane, who, with her husband, has amassed a venerable trove of postwar and contemporary works over five decades. "The focus is the art, and everything else is supposed to be muted and fade into the background."
Long one of the West Coast's leading art-world power couples, the Nathansons are prominent philanthropists in multiple arenas, from culture and the environment to politics and mental health—a field that Jane, a psychologist, specializes in. Marc founded Falcon Cable, which sold in the late 1990s, and later launched the family holding company, Mapleton Investments, as well as Falcon Waterfree Technologies, a global maker of water conservation products. Jane is a founding member of the Museum of Contemporary Art in Los Angeles and currently sits on the board of the Los Angeles County Museum of Art, to which the couple has promised eight important works from their collection, including pieces by Andy Warhol, Roy Lichtenstein, and James Rosenquist.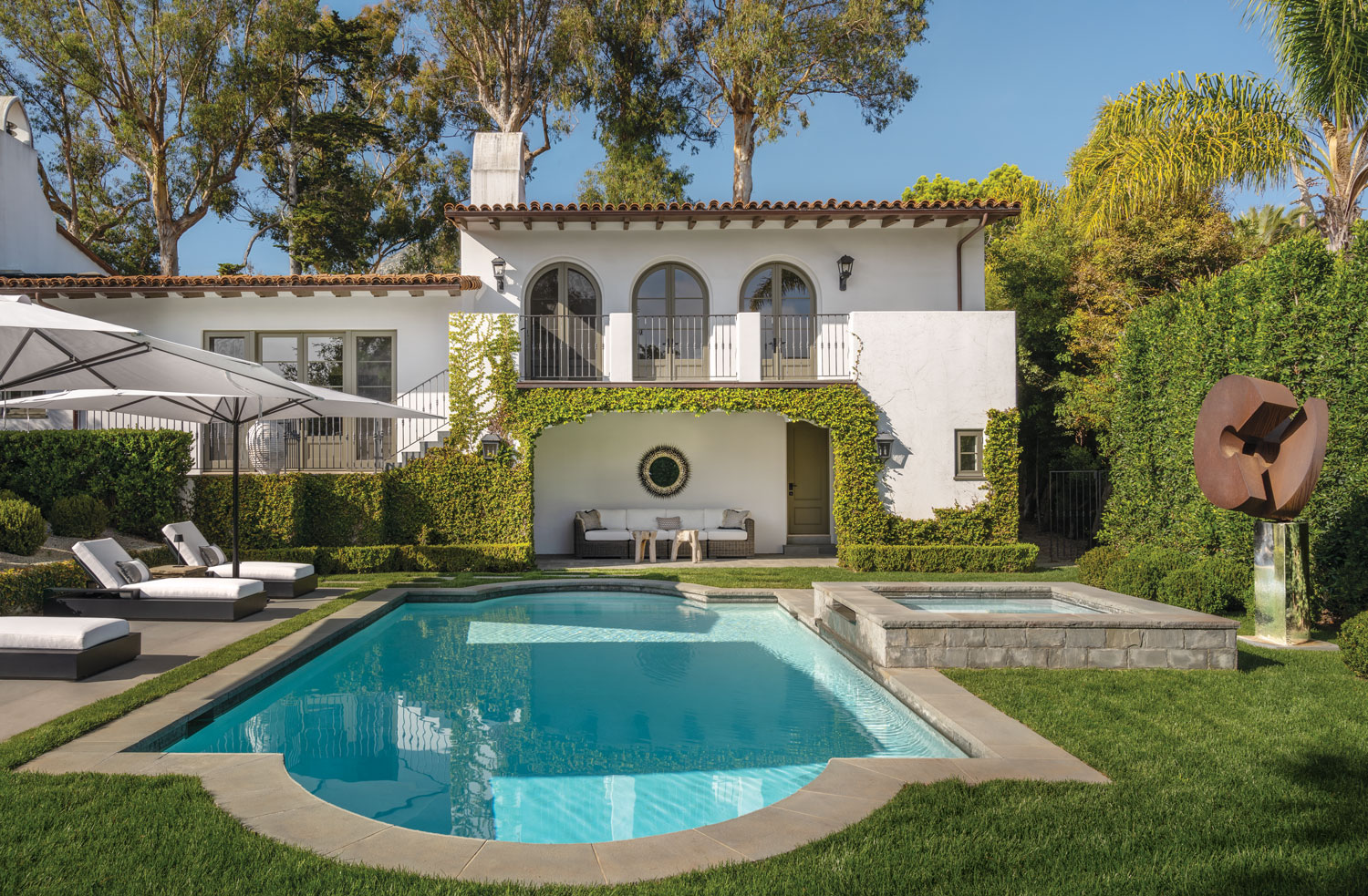 The Nathansons acquired their Montecito residence in 2021. When COVID hit, Jane says, "it became evident that it would be nice to have an escape that was just an hour and a half from the city." Constructed in 1975, the Mediterranean-style residence was one of the final projects by noted architect Wallace Neff, who enjoyed a successful career designing estates for Hollywood moguls and screen stars. (His renown among the entertainment elite endures: Brad Pitt, Madonna, Barbra Streisand, and Diane Keaton have all owned homes conceived by him.) Neff's graceful architecture serves as a compelling foil for the Nathansons' eye-popping art, and the task of combining them was placed in the creative hands of designer Richard Hallberg. "Richard's done six houses for me," says Jane, "and he understands that each of our houses is really an art house."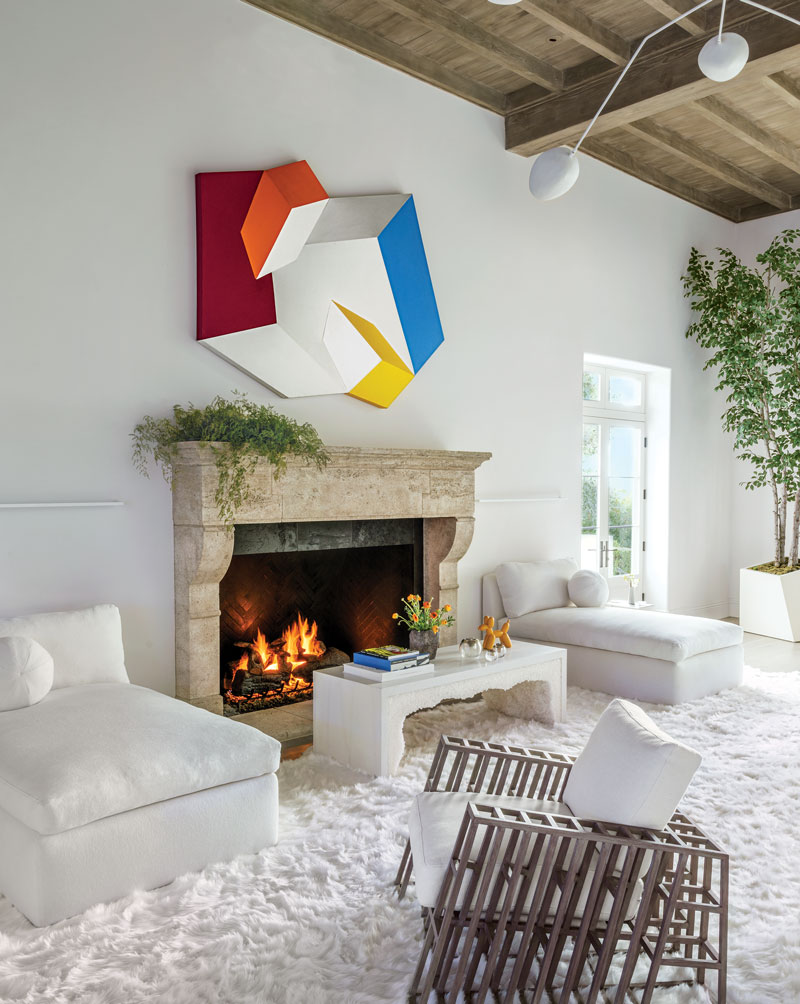 Included in the changes Hallberg made was to refinish the dark-beamed ceilings in a light gray and paint all the walls a brilliant white. He also plastered over a wrought-iron staircase to create additional wall space for artworks. "We just cleaned and modernized it," the designer says, "without dishonoring the architecture of the house." 
"People and art are the color in my houses. Everything else is supposed to be muted and fade into the background"

Jane Nathanson
Art now commands the eye in every space, engaging in a lively visual dialogue with Neff's architectural details. In the high-ceilinged living room, a three-dimensional painting by Charles Hinman is centered above the fireplace, its vibrant palette and dynamic geometric forms playing off the elegant lines of the pale limestone mantelpiece. It has the distinction of being the first piece in the Nathansons' joint collection, a 1966 engagement gift from Jane's parents. "I grew up in a family of well-known art collectors," notes Jane, a native New Yorker. "As early as I can remember, our weekends were spent at museums or galleries."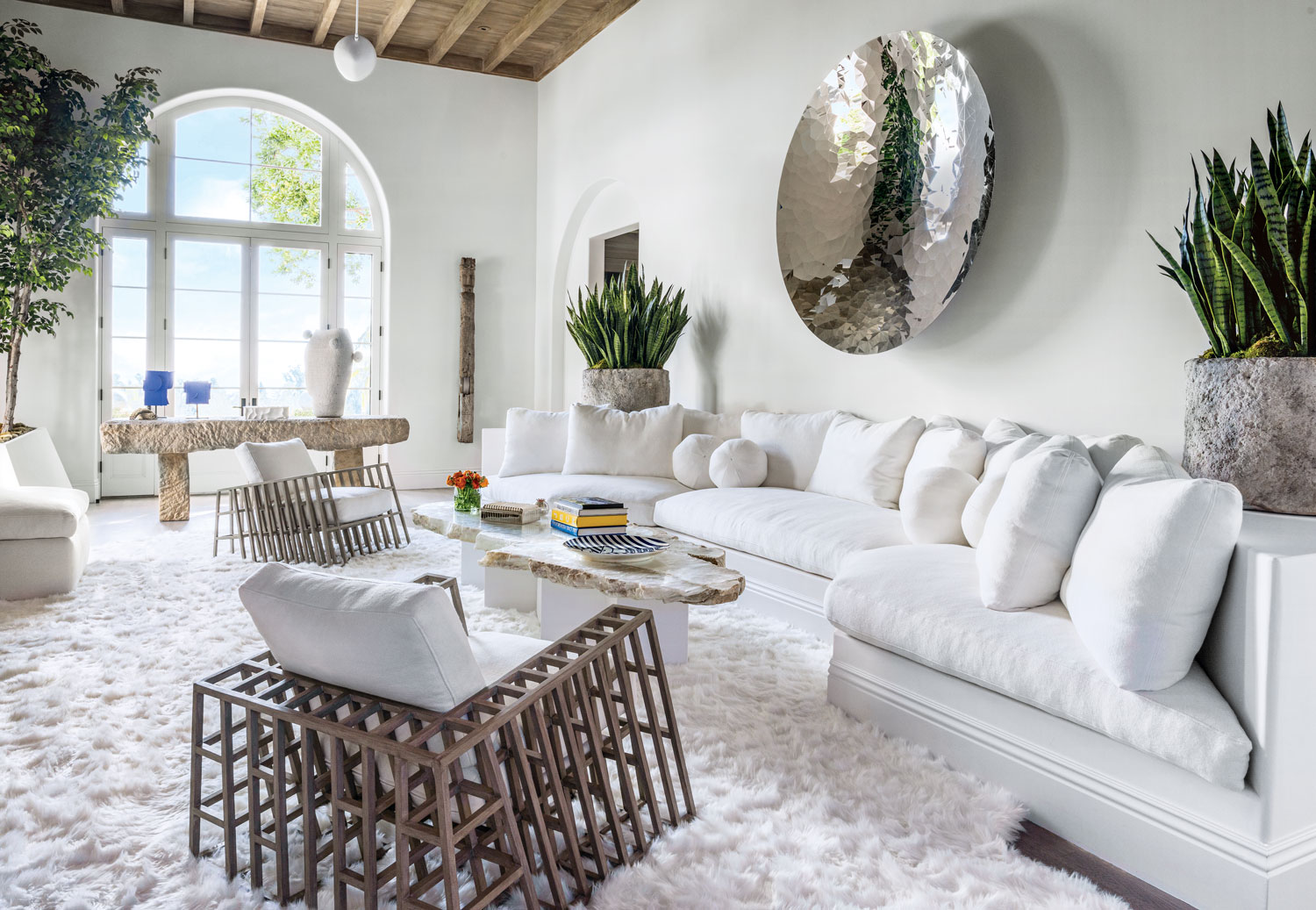 One of her favorite pieces, a concave mirrored metal wall sculpture by Anish Kapoor, floats above the living room's U-shaped banquette, its hand-hammered surface casting mottled reflections around the space. The room itself is a study in layered textures, from the cocktail table topped with an enormous slab of rough-hewn selenite crystal and the pair of architectonic wood-frame armchairs by Formations to the furry white rug that flows in soft waves underfoot.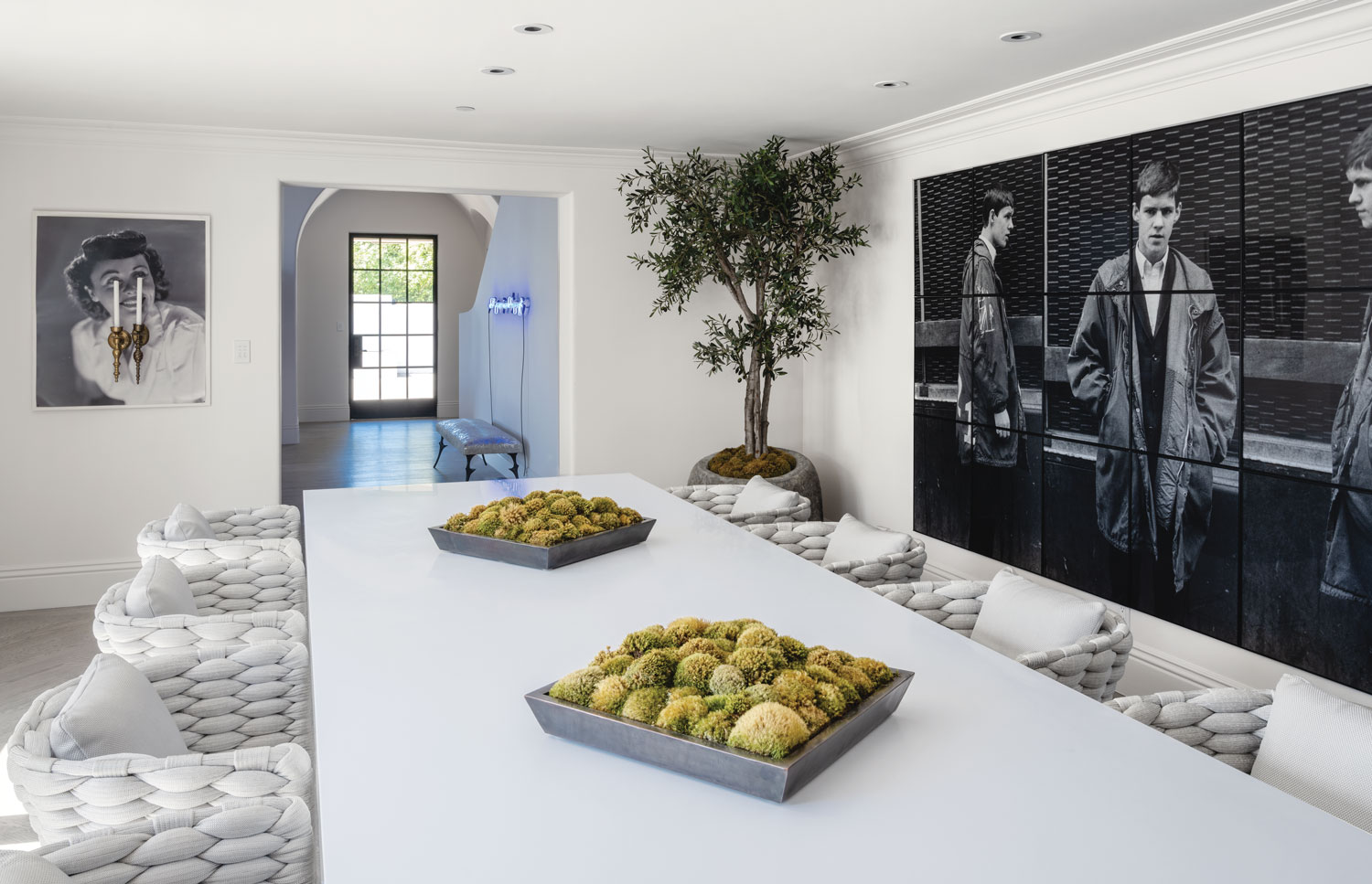 In the all-white dining room, where the sleek lacquer surface of the custom dining table is contrasted by thickly woven Paola Lenti chairs, a Doug Aitken mirrored sculpture that spells out more dominates one end of the space, while Marc Sijan's hyperrealistic sculpture of a security guard stands nearby. "I've always done my own curating," Jane says. "People ask, 'How do you know what's good?' And I say, Keep going to galleries and museums and keep looking, because it's like pizza: If you've eaten enough of it, you can tell a good one from a bad one."
"We just cleaned and modernized without dishonoring the architecture of the house"

Richard Hallberg
Outside the downstairs guest bedroom, another lifelike sculpture, Duane Hanson's Old Couple on a Bench, sits near a large Barbara Kruger photograph of a woman's face overlaid with the words seeing through you. Kruger—a good friend of Jane's—is also represented by a graphic red, black, and white text piece just inside the bedroom, joined by a bright red Eero Aarnio Pony chair. 
In the primary bedroom upstairs, Mitchell Syrop's exhortative piece Pull Yourself Together is displayed prominently above the fireplace. "Being a psychologist," says Jane, "I realize how important culture and art are to mental well-being. I feel very fortunate that we get to live with art."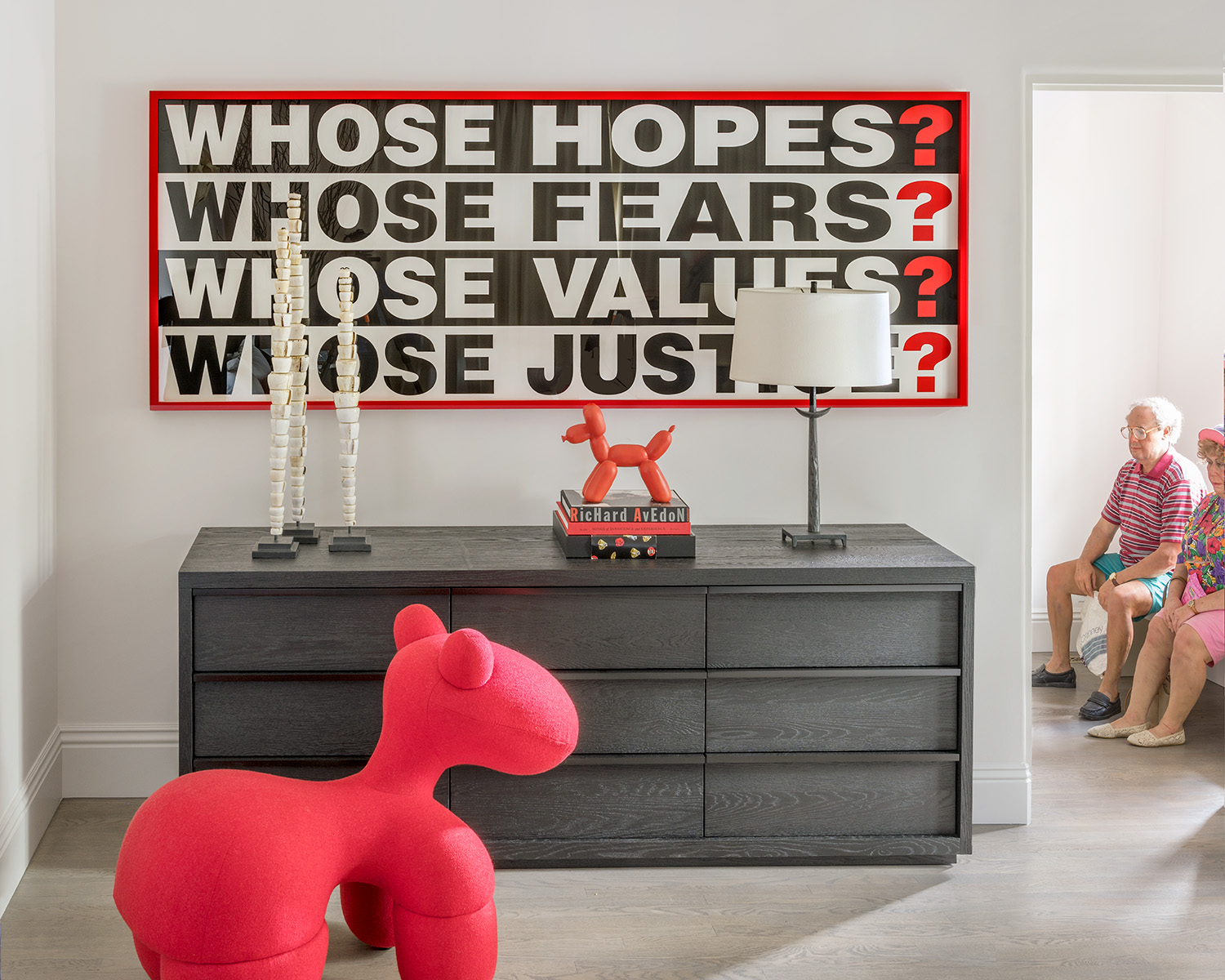 And the couple will soon have more walls to fill. Marc, who served as chairman of the Broadcasting Board of Governors during Bill Clinton's presidency, has been tapped by President Joe Biden to be the U.S. ambassador to Norway. "I hear they have a real burgeoning contemporary art community there," Jane says with a delighted smile. "I'm looking forward to it."
A version of this article first appeared in print in our 2022 Summer Issue under the headline "Art & Soul." Subscribe to the magazine.
Next Post