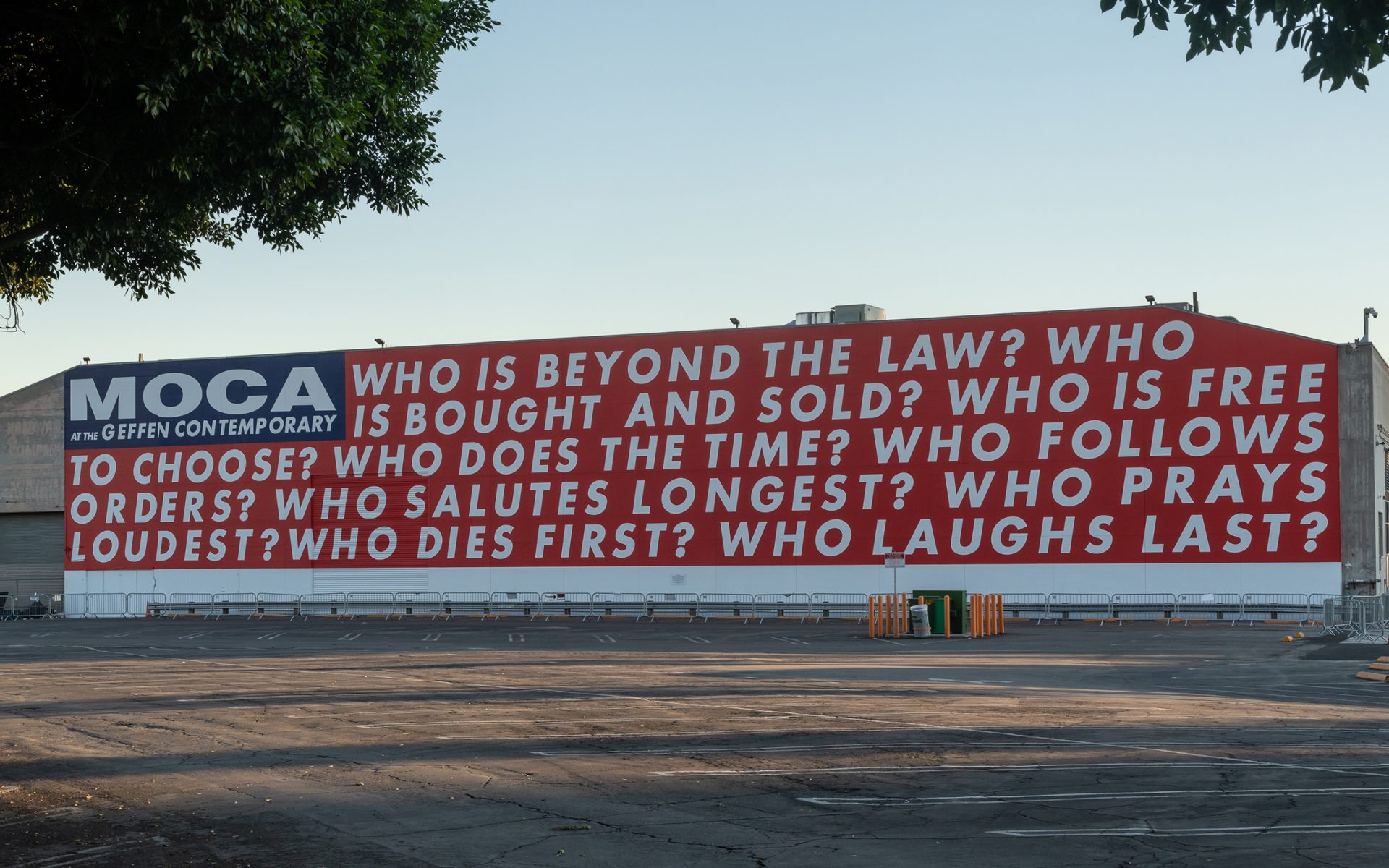 L.A. MOCA Revisits Monumental Political Work by Barbara Kruger
A 1989 installation, which aims to encourage civic engagement, is still 'tragically' relevant
The Museum of Contemporary Art, Los Angeles, has reinstalled a monumental wall work by artist Barbara Kruger that after decades is still relevant.
The piece, called Untitled (Questions), was originally commissioned by MOCA in 1989 for the exhibition "A Forest of Signs: Art in the Crisis of Representation" and was last installed in 1990 on the south wall of MOCA's then Temporary Contemporary building.
"I continue to try to address the issues of control, loyalty, hope, fear, and the uses and abuses of power," Kruger said in statement. "It's both tragic and disappointing that this work, 30 years later, might still have some resonance."
This iteration is installed on the north façade of the Geffen Contemporary at MOCA, facing Temple Street, and measures 30 feet by 191 feet. The work includes nine questions such as "Who is beyond the law?" "Who is bought and sold?" and "Who is free to choose?" The artwork uses these questions to point to issues of patriotism, civic engagement, and power relations.
Recommended: See James de Givenchy's Incredible Collection of Rare Gemstones
This installation is the first public-facing project since the appointment of Klaus Biesenbach as MOCA's director and reflects his commitment to the museum's active engagement in civic dialogue, democratic participation, and community activation. In connection with the installation, a series of voter registration efforts will be anchored by the artwork in advance of the 2018 midterms, as well as the 2020 general election.
"When I started working as a curator in 1990s I first learned about MOCA through this iconic Barbara Kruger work," Biesenbach said in a statement. "For me this work always stood for MOCA going forward and was a great emblem of the museum's ability to engage artists and support their important role in society! It means a lot that Barbara agreed to this new installation reflecting on 40 years of MOCA and at the same time looking forward with a plea for civil engagement."
The work is currently on view and will remain installed through November of 2020.
Next Post