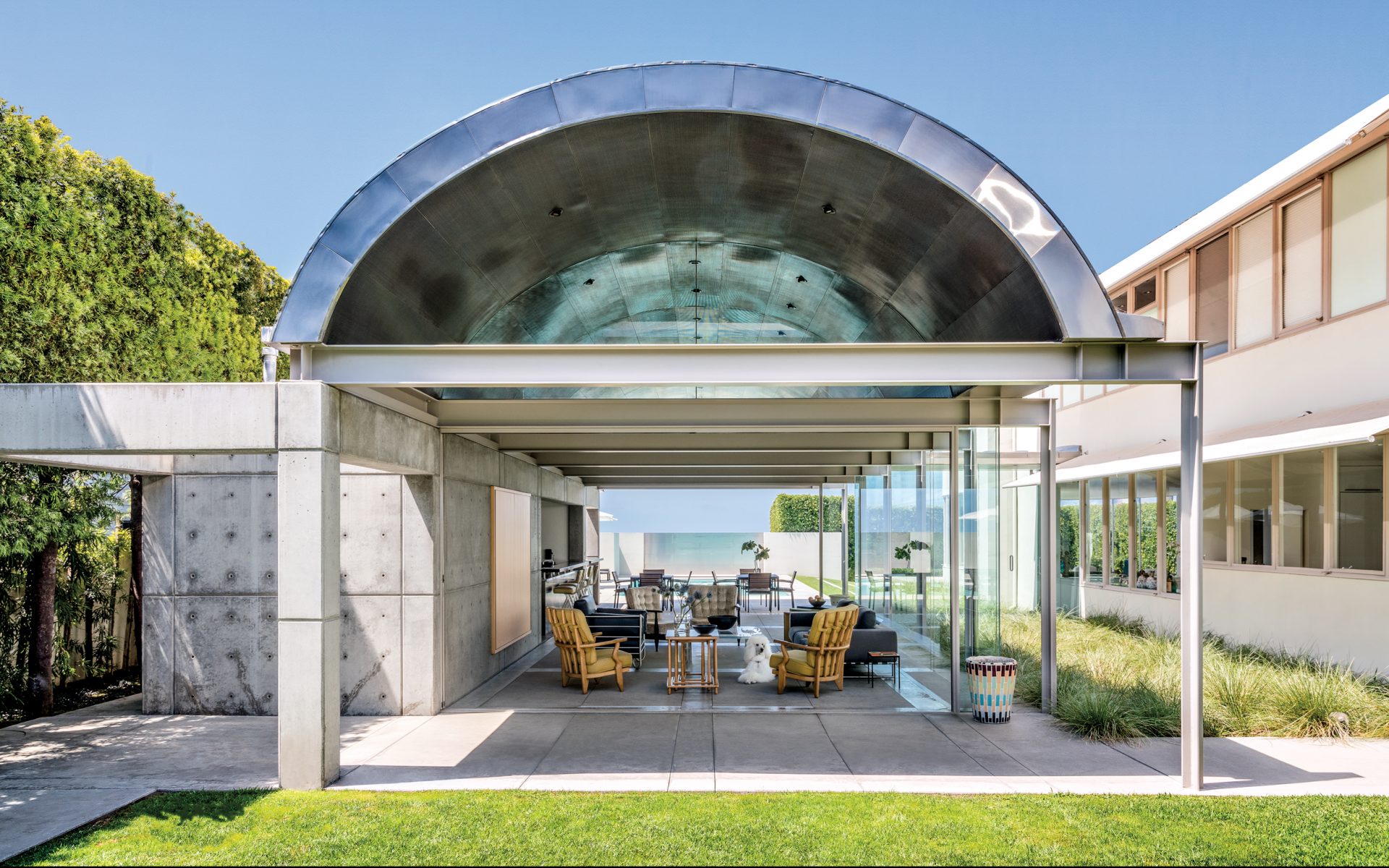 Tour L.A.'s Most Exclusive Homes and Gardens
A new book by Jennifer Ash Rudick and photographer Firooz Zahedi documents the art-filled residences of West Coast elites
In the past decade Los Angeles's interior design and art scenes have taken center stage, thrusting the city's local artists, architects, and interior decorators into the global spotlight. Thus, L.A. became the obvious choice for my next book, City of Angels: Houses and Gardens of Los Angeles (Vendome Press, $75), the latest installment in my series on design, which includes Out East and Palm Beach Chic. Yet despite the inordinate amount of coverage the city was logging in design magazines, there remained an untapped well of seemingly unobtainable, art-filled homes to be explored and documented. Enter photographer Firooz Zahedi, who would serve as my guide. 
Zahedi, an Iranian-born, L.A.-based photographer, launched his career shooting celebrities for Vanity Fair and Andy Warhol's Interview. The clarity and precision of his work earned him countless admirers on the West Coast, granting us a virtual key to the city. 
In the spring of last year, we met up in L.A. and hit the ground running, touring houses in neighborhoods threaded together by ribbons of highway, an urban sprawl not unfamiliar to this Florida native. We saw midcentury glass cubes perched dramatically on hillsides, Mediterranean-style mansions shielded behind curtains of palms, charming bungalows, and smart, stylish Regencies. 
Recommended: 11 Design Books to Read This Fall
In our days of endless scouting, we dropped in on house after house, gaining more than a few stories. At the home of Steve Tisch, a film producer and the chairman and executive vice president of the New York Giants, he showed us his Lombardi Trophy—awarded each year to the Super Bowl's winning team—while his designer, the über-talented Peter Dunham, redirected our attention to the art in the living room.
Another time, as we spent a quiet afternoon at the seaside cottage of American portrait artist Don Bachardy, he recounted the tale of how, in the 1960s, he and his boyfriend, the late writer Christopher Isherwood, were banned from living together as a gay couple in Beverly Hills and so moved to Santa Monica. "From then on," Bachardy said, "everyone came to see us." 
In between appointments, Zahedi and I retreated to the Westwood apartment he shares with his wife, curator and art patron Beth Rudin DeWoody. Zahedi and DeWoody, whose combined curiosity about all things creative is insatiable, have found themselves at the epicenter of the city's growing wave of enterprising and community-minded artists, patrons, and art dealers. We had the privilege of visiting and photographing the homes of some of these prime L.A. movers, including gallerists Margo Leavin and Sarah Gavlak, as well as collectors Jane and Marc Nathanson and Mandy and Cliff Einstein. 
Recommended: The Cultivist's Guide to Los Angeles
That said, L.A.'s identity will forever be inextricably linked to the movie business, and local designers—like Michael Smith, Kelly Wearstler, Madeline Stuart, and Suzanne Rheinstein—have always understood the importance of a solid narrative with international appeal. Their unique brand of California casual sophistication has been translated around the world.
A year spent immersed in L.A.'s design scene has thoroughly seduced this East Coast loyalist.
A version of this article first appeared in print in our 2018 Fall Issue under the headline California Dreaming. Subscribe to the magazine.
Next Post