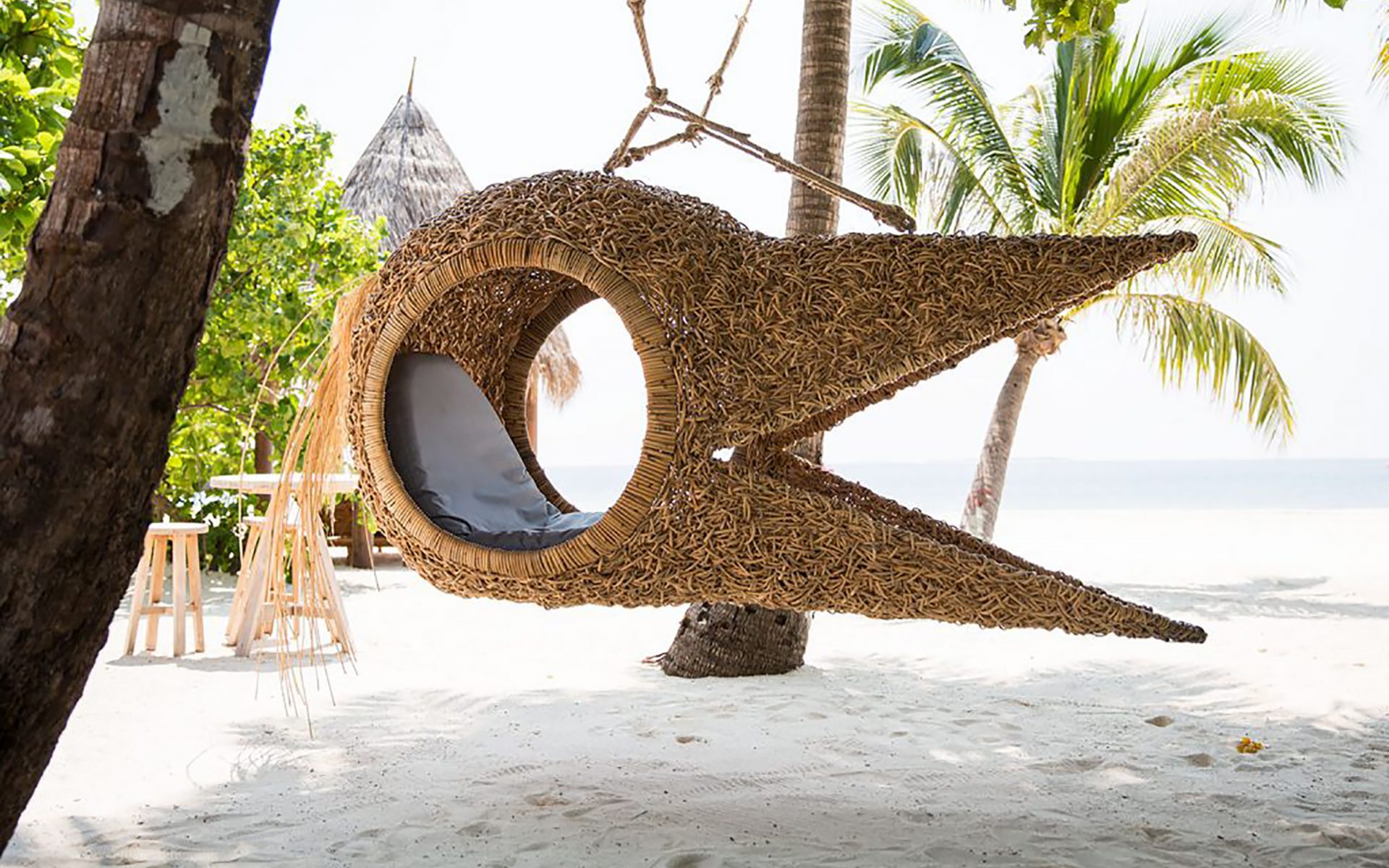 Art Meets Nature at This Stunning New Resort in the Maldives
Artists including Misha Kahn, Porky Hefer, and Nacho Carbonell contributed to the luxurious getaway
Dotted across the Indian Ocean, just below India and Sri Lanka, the Maldives is made up of some 1,190 islands, each ringed by turquoise water and pristine white-powder beaches. Long renowned as one of the world's most luxurious and remote destinations, the archipelago is now poised to gain a reputation among art and design lovers, thanks to the opening of the new Joali Maldives hotel, which features site-specific pieces by Misha Kahn, Porky Hefer, Chris Wolston, Nacho Carbonell,  Zemer Peled, Studio Glithero, Doug Johnston, and Reinaldo Sanguino.
Just 40 minutes by seaplane from the capital of Malé, the lush island features 24 beachfront and 49 overwater villas, each equipped with its own outdoor infinity pool, green-marble-lined shower, and floral-inspired millwork. Designed by Turkish architecture firm Atölye4N with interiors by Autoban, they are the ultimate sanctuary to return to after you've indulged in the host of amenities, like Saoke, a Japanese restaurant masterminded by Tokyo's Studio Glitt; a full-service spa with vitality pools; a boutique selling clothing and accessories; a fitness center; and an ice cream parlor that will produce any flavor imaginable—with just 24 hours' notice.
But the biggest draw is undoubtedly the top-notch immersive art program, which was hatched in July 2017, after enterprising curators Ala Onur and Zeynep Ercan of No LaB wrapped up a buzzworthy exhibition in Istanbul. Seeking funding for their next show, the duo went to Joali owner Esin Güral Argat, a Turkish executive whose family runs the sixth-largest glassware-producing company in the world.
Recommended: Wilbert Das Designs Zen Brazilian Retreat for Art Dealer Ivor Braka
"We wanted her to sponsor the artists that were coming to do glass and ceramic work," Ercan tells Galerie. The meeting quickly developed, and it became clear that Argat had another plan in mind. "She wanted us to come up with a concept for the hotel being planned. She wanted more than the usual hotel art but something totally unique."
The pair quickly agreed and started mulling a variety of themes. "In the end, we came up with the simplest idea: Art meets nature," says Ercan. "Either the forms, the materials, or the process has to be something to do with nature. We really wanted people to experience these pieces instead of just looking at them, to interact with them, to get out of their comfort zone a little bit."
South African–based Porky Hefer, for instance, was an organic fit due to his whimsical hanging "nests" made in the shapes of animals, letting users experience their point of view. One of the works Hefer created for Joali is a suspended lounge chair in the shape of a gray heron, an unofficial Maldivian symbol, which can be found in the pool area.
He also dreamed up a stunning tree house in the shape of a manta ray, a creature that can be spotted while snorkeling around the island. Accessed via a boardwalk that snakes up the canopy, the thatched aerie functions as an intimate dining area, with seating capacity for eight. In the lead-up to the opening, Hefer visited the island three times in order to work with the architectural team and ensure the stability of the structure, which is accompanied by another "baby" ray lookout perched on the beach.
Recommended: 8 Hotels with Museum-Worthy Art Collections
New York–based Misha Kahn, whose vibrant creations evoke the worlds of Dr. Seuss, also visited the island while creating his works, which include a massive communal table and stools wrapped in colorful mosaics. The art isn't limited to land either. Visitors will also be able to experience art under water, thanks to Kahn's imaginative sculpture installation composed of six works that can be viewed on a special scuba dive.
"With my pieces they're all about encouraging people to think about our effect on the ocean," Kahn tells Galerie. "They go from colorful and vibrant to macabre and colorless, a reflection of how humans have made the oceans acidic and unfriendly for sea life. The last piece is a tower with footings for new coral polyps to develop—and I hope the experience encourages people to help the oceans in whatever way they can!"
Also drawing inspiration from the reefs, Israeli-born artist Zemer Peled created a 700-pound sculpture bursting with intricate porcelain corals in shades ranging from fiery orange to completely clear. "I break all of the pieces, glaze them, then smash them," she says of her process, which took place in her Los Angeles studio. (She also works out of a larger space in Baltimore.) "Getting it to the Maldives was a big operation," she adds. "It took two months on a ship—I think the crate was too big for the plane."
Spanish designer Nacho Carbonell also faced the Maldives's equatorial climate when re-creating a cocoon-like bench that he first debuted in 2008. "With these extreme outdoor conditions, it was too much of a challenge to use the original material," says Carbonell. "We mixed two types of sand to create the color, then added organic resin for the inside part. We found black marble powder for the outside and combined it with organic glue, then extruded that material through a layer of metal mesh to create the texture."
Artisanal touches are found in almost every detail of the hotel, from the terra-cotta planter chairs by Chris Wolston and painterly stools by Reinaldo Sanguino to the coiled lighting pendants by Doug Johnston and sculptural bench by John Paul Phillip. The walls haven't been forgotten either, as London's Studio Glithero lined a nook with tiles that feature imprints of native flora they gathered on their first visit to the island.
Recommended: Monumental David Salle Installation Adorns New Luxury Manhattan Hotel
The art also extends to the villas, with custom glassworks by Fyshan Onar, wall sculptures by Seckin Pirim, and carved wooden panels by Ardmore Ceramics, which also designed the heron-inspired kimono motif.
The hotel's eco-friendly philosophy is just as important. "There's been lot of investment in sustainability," general manager Steven Phillips tells Galerie, sharing that a team of marine biologists and a sustainability manager who will soon join the staff. There's also a robust composting program, plastic is reused, and all of the wood is sourced from sustainably managed forests. Even the organic bath soaps, he notes, are green: "Nowhere else in the Maldives does drinkable shampoo!"
Currently, work is underway on a nearby island where a wellness retreat under the same brand will ultimately feature 70 villas, 35 treatment rooms, and 100 staff members. "Hopefully, we'll open in mid-2020," reveals Phillips. When pressed on other expansions that might be on the horizon, he gives a coy smile. "We won't be a Hilton or a Four Seasons—just Joali."
Rates at Joali Maldives start at $2,140 per night. 
Next Post