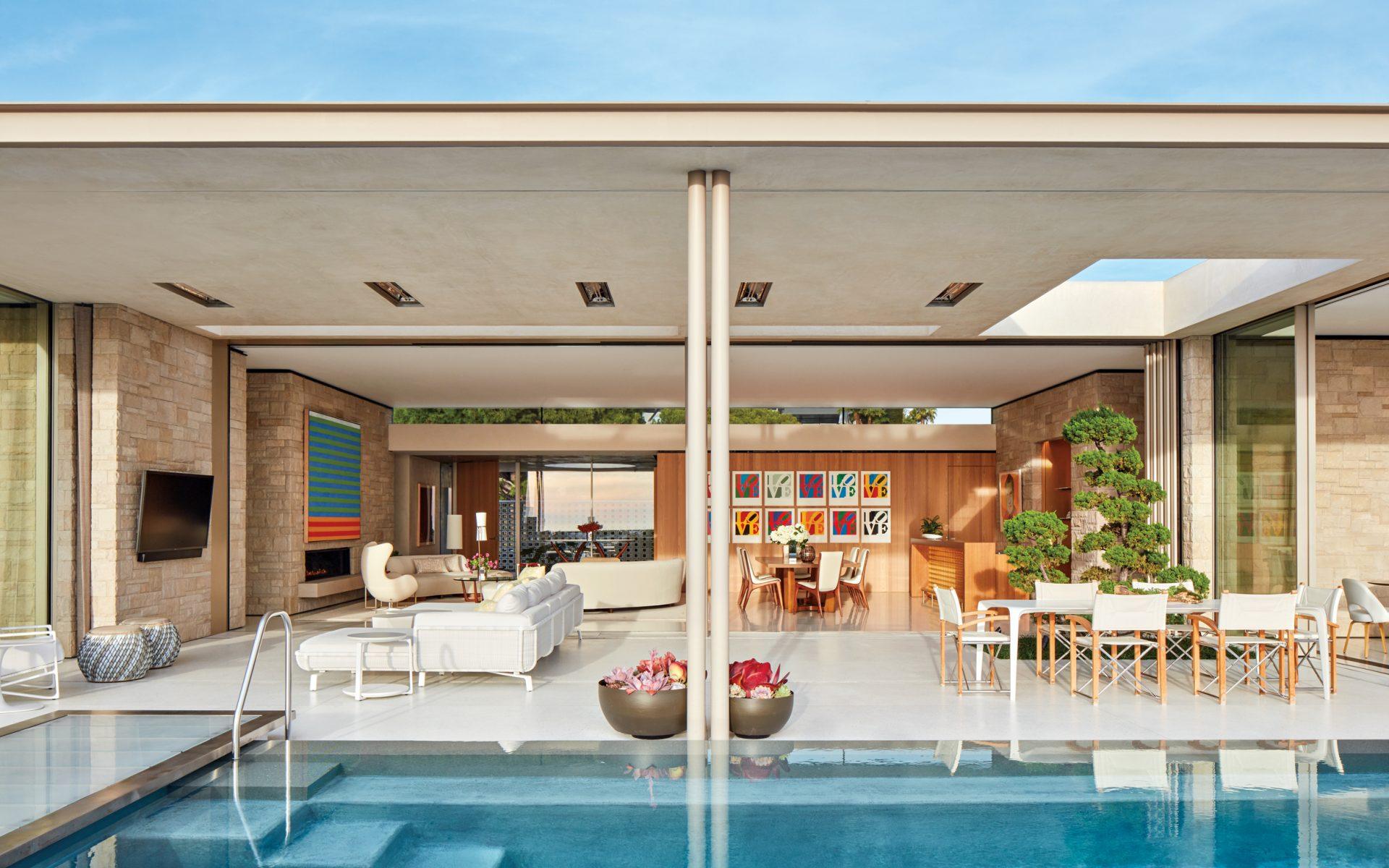 Lori Kanter Tritsch's Beverly Hills Home Is a Modernist Masterpiece
The art-filled home she shares with beauty executive William P. Lauder is a dazzling 21st-century take on Southern California indoor-outdoor living
Back in her student days, New York City architectural designer Lori Kanter Tritsch felt an aesthetic kinship with West Coast modernists like Richard Neutra and John Lautner. So when she and her partner, William P. Lauder, executive chairman of the Estée Lauder Companies, began searching for a base in Los Angeles, she envisioned a home with a modernist spirit and a distinct sense of place. "William has always lived in very classical houses, and that's his comfort zone," she says. "But I thought, When we're in L.A., let's be in L.A."
Arguably no place is more emblematic of postwar Southern California's ideal of indoor-outdoor living than Trousdale Estates, the Beverly Hills neighborhood created in 1954, when 410 acres adjacent to the Greystone Mansion were sold to developer Paul Trousdale. Within a few years, Trousdale would boast one of the city's largest collections of modern houses, designed by such luminaries as Wallace Neff, Paul R. Williams, A. Quincy Jones, and Lloyd Wright, among others. Early celebrity residents included Elvis Presley, Frank Sinatra, and Dean Martin. Swifty Lazar's famous Oscar party began life as a smallish gathering at his Carla Ridge house. "To be in a community where people genuinely care about architecture is so fantastic," says Kanter Tritsch, whose firm, Graph Design, focuses on high-end residential projects and commercial interiors.
The house she and Lauder acquired needed significant renovations, prompting them to clear the property and start from scratch. To build a new home worthy of the setting, Kanter Tritsch collaborated with local architecture firm Kovac Design Studio, while architects Scott Anderson and John Slagle oversaw construction.
[Slideshow: See more photos of Lori Kanter Tritsch's Modernist Southern California Home]
It proved to be an ideal partnership. "Lori brought invaluable insight, not just about the property and about what she and William were looking for, but with her training we could exchange ideas in schematic phase, where most clients might require a 3-D rendering," says Michael Kovac.
Recommended: Tour Kombuch Mogul G.T. Dave's Minimalist Los Angeles Compound
Their concept was essentially an exuberant update of Trousdale's signature single-story dwellings with flat-line roofs, deep overhangs, and wide expanses of glass that open up vistas and blur the lines between indoors and out. Kanter Tritsch also craved a home that would be as inviting as it was glamorous. "Modern houses can be cold, and I like houses to have heart and soul," she says.
To reach the home's front door one ascends a corridor of wide steps enclosed by dazzling walls of breeze-block. The interior of each block is painted gold to create visual interest during the day, and embedded LED lights transform the walls into glowing lanterns at night. At the all-glass entrance, which offers views straight through the house, visitors are greeted by a small pool with green taro plants, while a vibrant mosaic of swirling organic forms designed by Kanter Tritsch stretches along one wall. "It has all of the color and movement of a Burle Marx garden, which was my inspiration," she says.
Inside, the cinematic views—a seemingly endless panorama of L.A. and the ocean beyond—take over. White terrazzo underfoot extends to the pool area, while sliding glass walls pocket away, turning the entire house into a breezy, sun-dappled pavilion. It's an ideal space for entertaining, which the couple often does when Lauder is in town on business. The public areas, at the center, are flanked by the spacious master suite and sitting room on one side and the screening room and three guest bedrooms—each with its own small garden—opposite.
Tempering the architecture's crisp, rectilinear volumes are furnishings such as curvy Vladimir Kagan sofas and Ted Abramczyk pendants, while the living room's creamy white rug is trimmed with graceful interlocking golden circles. Quietly luxurious seating by Holly Hunt and Cassina ensures comfort throughout.
"Our home has a modern aesthetic and is a terrific place for us to entertain and share time with family," Lauder says.
Recommended: 5 of the Most Architecturally Significant Homes in Los Angeles
Also adding warmth are walls clad in linen, leather, sandstone, or oak, the latter used for a living room gallery wall outfitted with picture rails, so the couple could hang artwork without using a single nail. Lauder inherited his appreciation for art from his father, Leonard, whose legendary collection of Cubist works has been promised to the Metropolitan Museum of Art. (Philanthropy, of course, also runs in the family, and among the initiatives supported by Lauder and Kanter Tritsch is the annual $50,000 Kanter Tritsch Prize in Energy and Architectural Innovation at the University of Pennsylvania, where they both studied.)
[Slideshow: See more photos of Lori Kanter Tritsch's Modernist Southern California Home]
Thanks in part to Kanter Tritsch's influence, Lauder's art tastes run more to postwar contemporary than his father's. "William and I decided early on that we would try to keep mostly modern in this house," she says. Together they've acquired pieces by Richard Misrach, James Turrell, Robert Indiana, Robert Rauschenberg, and Gene Davis. "When I found the works by Rauschenberg and Davis, I didn't realize how complementary they would be," says Kanter Tritsch, who, in turn, adopted some of those colors for the entryway mosaic.
In the end, Lauder fell under the spell of modernist living. "William would never have done anything like this," says Kanter Tritsch, "but it really opened his mind."
A version of this article first appeared in print in our 2020 Spring Issue under the headline "Inside Out." Subscribe to the magazine.
Next Post