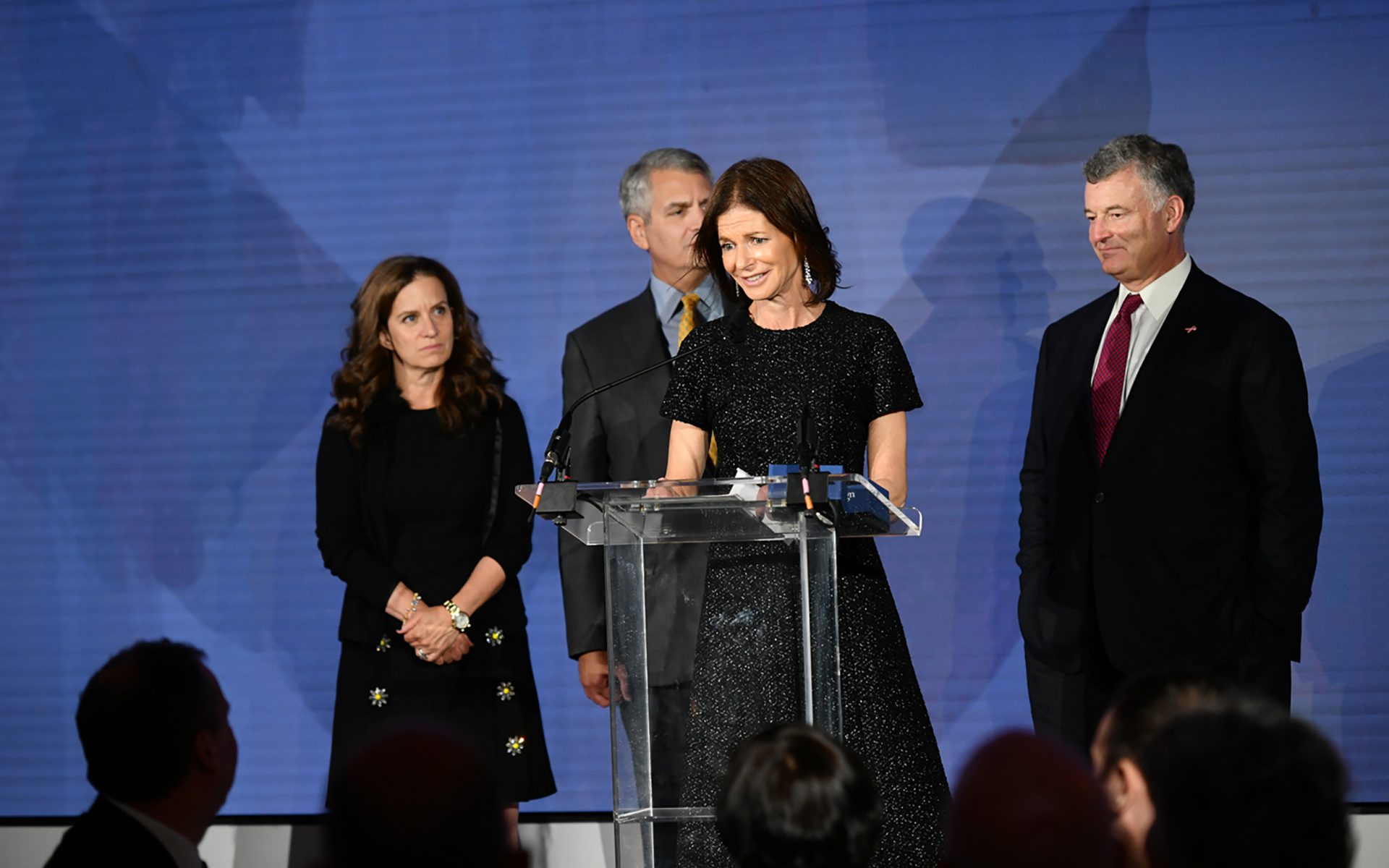 Tod Williams and Billie Tsien Awarded Inaugural Kanter Tritsch Medal for Excellence
The architects, who are currently designing the Obama Presidential Center, were recently honored at the Frank Gehry-designed IAC building
According to architect Frank Gehry, "Architecture is a small piece of the human equation, but for those of us who practice it, we believe in its potential to make a difference, to enlighten and to enrich the human experience, to penetrate the barriers of misunderstanding and provide a beautiful context for life's drama." Such was the sentiment at Gehry designed IAC building where The University of Pennsylvania School of Design's inaugural Kanter Tritsch Medal for Excellence in Architecture and Environmental Design was awarded to architectural team Tod Williams and Billie Tsien.
"Making the world a better place is personal for Tod and Billie. You can see it in their work," said designer and University of Penn alumna Lori Kanter Tritsch (March'85), who initiated the Medal and Prize with a $1.25 million gift to PennDesign on behalf of herself and her partner William Lauder (W'83), a Wharton alumnus and Penn Trustee. 
Williams and Tsien projects include the American Folk Art Museum (2001), New York; the David Rubenstein Atrium at Lincoln Center (2009), New York, and the LeFrak Center at Lakeside (2013), Brooklyn, both of which earned LEED Gold status. In Philadelphia, they designed the Barnes Foundation (2012), Their firm is currently designing the Obama Presidential Center in Chicago.
Recommended: Scarlett Johansson Snags a $4 Million Hudson Valley Retreat
In parallel with their practice, Williams and Tsien have lectured widely and taught at the Cooper Union, Harvard, Cornell, and Yale; they were visiting professors in the Department of Architecture at Penn in 1986.
"Tod and Billie have been incredible role models," said Winka Dubbeldam, Miller Professor and chair in the university's department of architecture. "But more than that, they've been committed to teaching the next generation of architects."
The evening's awards also included The Kanter Tritsch Prize in Energy and Architectural Innovation, a $50,000 fellowship that was awarded to second-year student, Alexandra Mae Adamski, for demonstrating transformational thinking on the built environment and innovation in her approach to energy, ecology, and/or social equity.
"The design of the built environment is absolutely central to our urban and ecological challenges," said PennDesign Dean and Paley Professor Frederick Steiner, who helped establish the Sustainable SITES Initiative, the first program of its kind to offer a comprehensive rating system for sustainable land development and management. "We want to elevate beauty and efficiency in their highest form."
Looking towards winner Adamski, Kanter Tritsch explained, "architecture is all about passing it on. You are thanking us for this award, but it's we who should be thanking you for wanting to make a difference."
Next Post