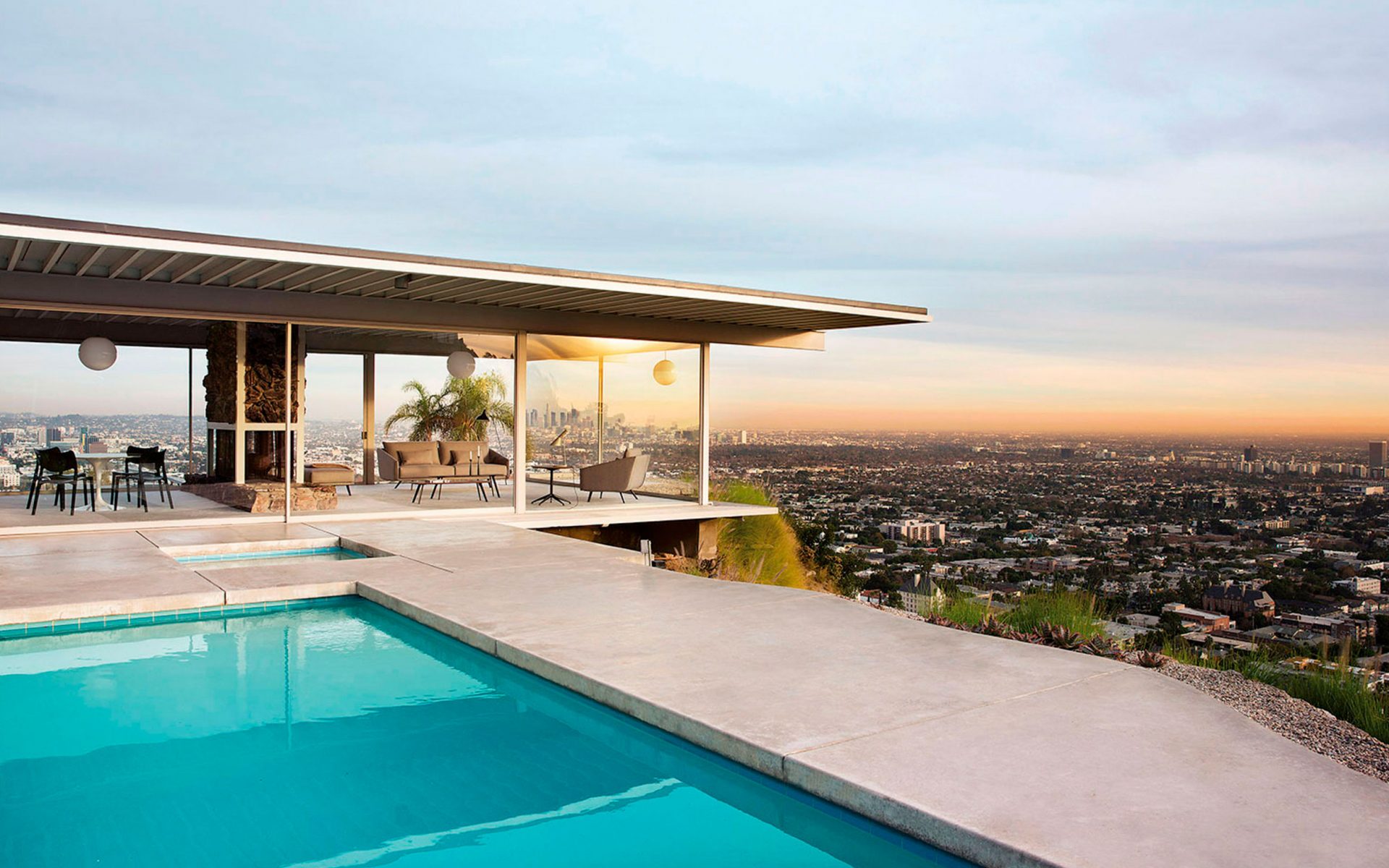 5 of the Most Architecturally Significant Homes in Los Angeles
Immerse yourself in L.A. history at one of these spectacular estates
In addition to being a glittering mecca for film and television, Los Angeles proudly boasts a stunning trove of residential architecture, from splashy Mediterranean revival villas to sleek midcentury-modern marvels. While many of these landmark homes are privately held, occupied by Hollywood A-listers, a few of them have been preserved and are open to the public. We've rounded up five of our favorites  that are well worth a visit.
1. Hollyhock House
The first Los Angeles commission for revered American architect Frank Lloyd Wright, the Hollyhock House was completed in 1921 and is credited with setting a foundation for California modernism. Gifted to the city in 1927 by its owner, oil heiress Aline Barnsdall, the home today forms the heart of East Hollywood's Barnsdall Art Park, an 11-acre urban green space that is open for self-guided and docent-led tours.
2. Stahl House
Perhaps the most famous example from the Case Study House program, the 1959 Stahl House, by architect Pierre Koenig, boasts spellbinding views of the city from its perch in the ritzy Hollywood Hills. Thanks to floor-to-ceiling windows and daring cantilevering, the modernist dwelling has appeared in numerous TV shows and movies, including Galaxy Quest, Playing by Heart, and Nurse Betty. While the estate is still owned by the original family, the public can schedule a viewing online.
Recommended: The 9 Most Beautiful Hotels in Los Angeles
3. Eames House
The longtime residence of creative powerhouses Ray and Charles Eames, this Pacific Palisades home was designed and completed by the couple in 1949, also as a part of the Case Study House program. (Early sketches were done in collaboration with visionary architect Eero Saarinen.) Today, the glass-and-steel dwelling and its adjacent studio are maintained by the Eames Foundation and are open for tours by appointment only.
4. Schindler House and Studio
Austrian-born architect Rudolph Schindler designed this West Hollywood abode while in L.A. overseeing construction of Frank Lloyd Wright's Hollyhock House. Completed in 1922, the modernist house and studio served as the private sanctuary of Schindler and his wife—even after they divorced—and was a known gathering place for their politically charged social circle. Managed by MAK Center for Art and Architecture, the compound is currently open to the public without reservations and hosts art exhibitions, including installations by Alison Knowles and Yoko Ono during Frieze Week.
5. Neutra VDL Studio and Residences
Famed midcentury architect Richard Neutra conceived this glass-walled dwelling in Silver Lake with his son Dion to serve as their family home. Completed in 1932, the 2,000-square-foot structure burned down in the 1963 fire and was rebuilt by Dion with oversight from his father. The estate is currently owned by California State Polytechnic University in Pomona, which runs tours every Saturday from 11 a.m. to 3 p.m.
Next Post