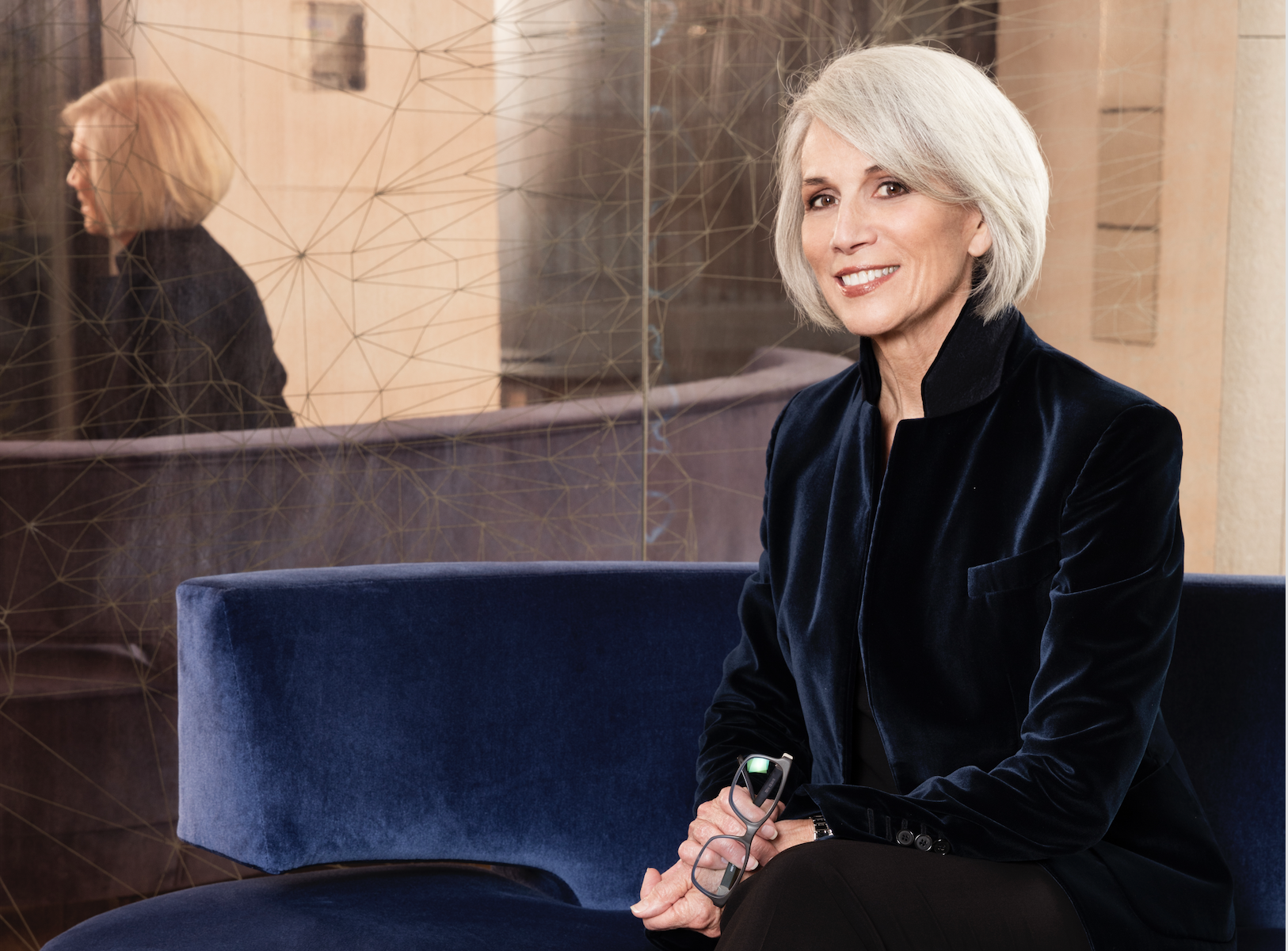 Design Legend Holly Hunt Shares What Inspires Her
From her newfound love of bamboo to what shapes her impressive art collection
You might think that after 34 years in the home furnishings business—turning out collection after collection, inking deals with hot designers, building showrooms across the country (nine and counting), and being an all-around powerhouse in modern American interiors—Holly Hunt would be ready to slow down. Having sold her eponymous company to Knoll for $95 million in 2014, the silver-haired West Texas native could be kicking back in her art-filled Chicago apartment. But Hunt, still CEO and creative top dog of the firm, remains fully in the game. "I live for that sudden epiphany, that emotional excitement you get from seeing something new," she says.
Case in point: the outdoor furniture collection she recently launched. "It came from a single profile sketch of a chair made by Alberto Velez, my director of design," she says. "It had a certain geometry that for me was the essence of something. I saw it and just knew, This is it!" Another recent high point for Hunt: bringing the designs of the late, great Vladimir Kagan into her showrooms. Here, Hunt shares the inspirations that get her heart racing.
I could never travel without Google Maps voice navigation. How did we ever find our way around without it? I like the voice with the English accent—I call him Charles.
A material that blows my mind is bamboo. Three years ago I visited Bali, where I experienced the incredible bamboo architecture made by Ibuku, the company started by jewelry designer John Hardy's daughter, Elora. The multistory houses she makes are strong, light, utterly elegant, and totally sustainable.
The color I'm drawn to right now is orange, ranging from pale orange to red-orange. It's a wonderful accent color that looks amazing with grays and pewters. I'm also into deep blue-greens and rich reds.
I can't stop collecting horse art. I'm not even a rider! I have a bronze sculpture by Salvador Dominguez, a photograph by Edward Curtis, paintings by Joe Andoe and Ashley Collins, and the list goes on and on. Maybe it has something to do with my Texas roots.
At home I love the sight and scent of Casa Blanca lilies. They're gorgeous and make the room smell divine. If you're really lucky, you can sometimes find Sumatra lilies, which come in a mahogany red and are magnificent.
For an unforgettable trip that feels like going back in time, visit Cuba, if you can. When I went there a couple years ago with the National Council of the Aspen Art Museum, I was especially struck by the cars. You see American convertibles from the mid-1950s in gorgeous pastel colors, in great condition. Unbelievable.
My favorite restaurant anywhere is Daniel, in New York. It's a near-perfect experience, from the service to the food. I was at a dinner there for about 200 people, and it was as good as when I'm in a party of two. That's hard to pull off.
I'll always be loyal to Warren Edwards. He's the shoe designer I've been going to for 35 years now. He's even made custom pairs for me. I just bought some alligator heels from him.
A recent Italian discovery is Castello di Reschio, in Umbria. You can rent a full-service guesthouse on this beautifully rebuilt estate that dates from the 14th century. 
When visitors come to Chicago, I take them to stand under Anish Kapoor's Cloud Gate in Millennium Park. The experience of the reflection of the skyline is extraordinary.
One of my most treasured possessions is a painting by Sean Scully that I bought years ago in Paris. His work is so strong and so rich. I've since purchased two other works by him, all with his signature stripes. 
I would love to own a piece by Theaster Gates. He works here in Chicago using discarded roofing and other industrial scrap materials to make beautiful sculptures and installations. It's incredible he's making something from nothing.   
An experience seared in my memory is my first visit to the Pantheon in Rome, when I was in my 20s. I remember looking up at the oculus and thinking, Oh my God, how did they do that?
Next Post