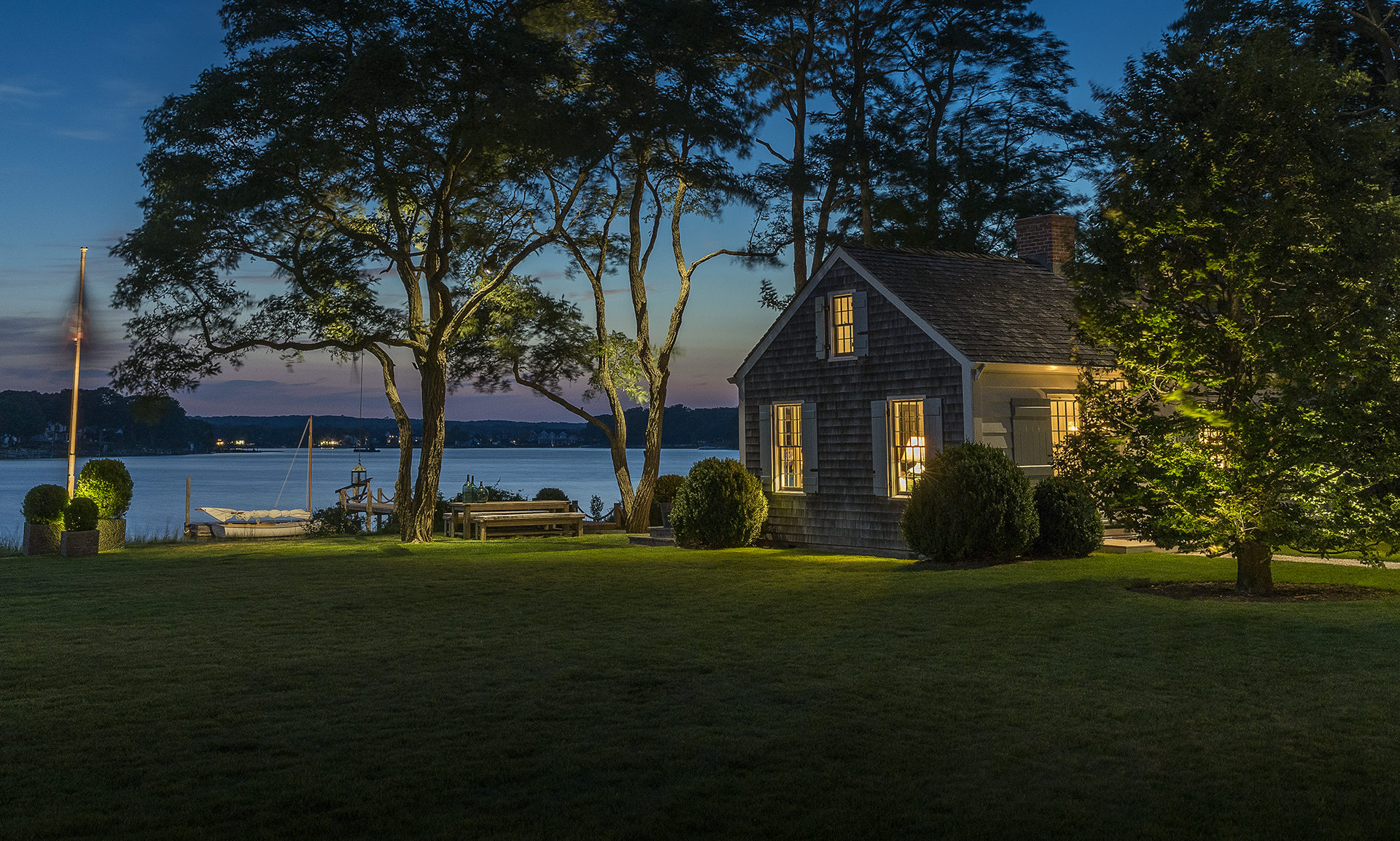 Top Tips on Lighting an Art Collection from Expert Nathan Orsman
The design world's go-to lighting guru shares the most innovative ways to perfectly illuminate your art collection
No room can stay awash in the perfect, golden hue of light at all hours of the day and night. That's where the magic of lighting design comes into play. Even if you have the best art collection and most exquisite interiors, they're impossible to appreciate in the dark—or worse, in harsh, bright light.
"It totally affects how you feel and interpret a space," says Nathan Orsman of Orsman Design, known for his incredible ability to imbue rooms with the perfect amounts and color of light. With clients who include some of the world's most important collectors, he's the person to go to if you need to light a Mark Rothko in a living room and a Richard Serra on the lawn. Over the past ten years, he's created lighting schemes for houses around the globe designed by such noted architects and designers as Victoria Hagan, Jamie Drake, Steven Gambrel, Blaze Makoid, and John Barman.
Orsman works in tandem with the architect or designer to make sure that every space has a soft, beautiful light by reducing glare and creating the best temperature with the latest technology. "The play between light and dark is important—and everything shouldn't be evenly illuminated," notes Orsman. "That's how you create a magical moment."
When it comes to creating these schemes, there's no single, fits-all solution, but there are some basics that can enhance any space or work of art. Here, Orsman shares his tips on how to perfectly light a home and enhance an art collection.
Rooms need multiple sources of light. 
"We're currently working with Jean-Louis Deniot and met with him in his apartment in Paris. His living room has 18 sources of light. That includes floor lamps, candles, sconces, chandelier, downlight. All doing their own little thing to create a perfect space to enjoy at night."
Sconces at eye level make eyes sparkle. 
"We're working on a house for Eric Ripert, and he has such an appreciation for lighting. He's in a business that involves ambience and creating special moments. For his home, he asked to see the sparkle in people's eyes. If you only have down lighting, you can't create that. You need sconces at eye level to have the ability to reflect light through the eyes."
Not all recessed lights are created equally. 
"In terms of recessed lighting, the bulb or glass lens must be regressed and not at the ceiling plane. The regressed pushes it up and reduces the glare so your pupil dilates correctly and you can see the painting properly."
Color temperature is critical.
"The color of light is massively important. You need to pick the perfect temperature. Some people want a cool, contemporary white, but it's very hard to live in day to day, even though it seems new and fresh. The spaces that attract you long term are warmer spaces that are not overly lit. After all, you don't want to live in a refrigerator."
With LEDs, there's no standard.
"Everyone wants to use 2700 Kelvin, which is a soft white, but each LED manufacturer has a different version of that. Incandescent used to show everything in a normal way, but with LED it can go cooler, more pink, or more blues."
Circadian rhythm is the next big lighting trend.
"We're doing more work in regard to circadian rhythm for our health-oriented clients. For a client's basement-level music studio, we're creating a sense of day and night. It really affects people's moods. We also design systems with day and night options for the lighting schemes that are easy for the client to adjust although it affects up to 300 lighting circuits."
Contemporary art requires contemporary lighting.
"Old-fashioned art lights just blobbed light at the top center of a painting. With more contemporary art, it's about seeing the whole piece. In modern homes, a traditional art light just doesn't aesthetically fit. We designed a collection of art lights called One Illuminates that pushes light down with a 25-degree beam spread instead of just focusing it at the top and works with more streamlined decoration."
Different art absorbs light in disparate ways.
"With Rothkos, it's all about warming it up and keeping it at a dim level, because they eat the light. An Anish Kapoor disc is the trickiest to light, because you if you have more than one light source you have two reflections. On the other hand, a COR-TEN Serra sculpture absorbs light unlike a shiny aluminum sculpture."
Choose a focus when lighting outdoor sculptures.
"For outdoor light, you're working in 360 degrees, so you're going to see the light source. You need to establish a hierarchy of where you're going to see the sculpture from and then place the lighting. Keep in mind the shadowing and lighting on the ground affects how you look at the piece just as much as the light directly on the art."
Next Post