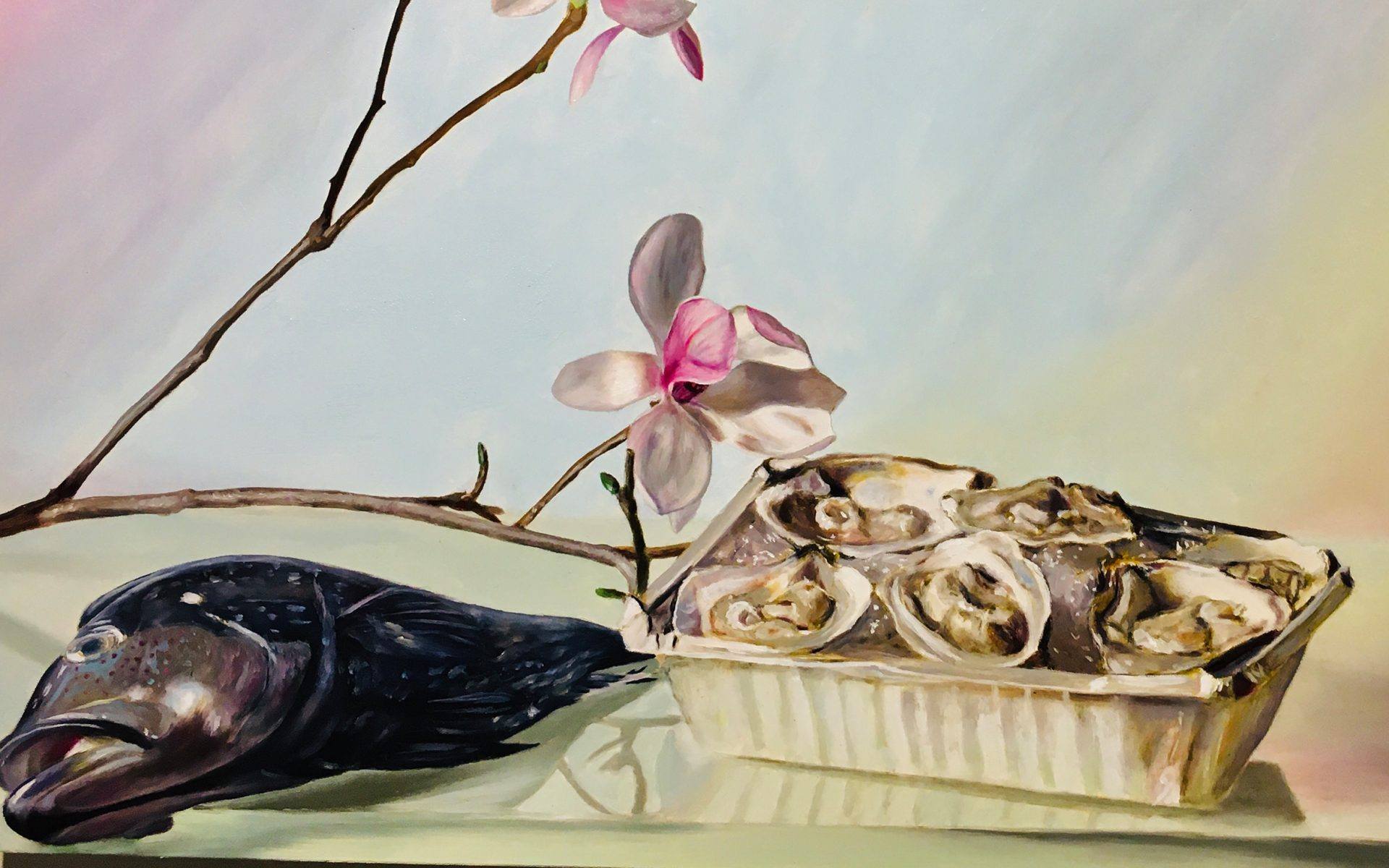 John Gordon Gauld's Contemplative Paintings Go on View in the Berkshires
Art dealer James Salomon writes about his road trip to visit the Berkshire Botanical Garden's absorbing new show
It was the holidays, and I needed to get out of town. My father had just passed away. I was more or less at peace with it all but in no mood to bask in the sun drinking mai tais with pink umbrellas. So my wife, Hala, and I packed up the car and set off to see an old buddy, artist John Gordon Gauld, who was having a show of his paintings at the Berkshire Botanical Garden. The Taconic State Parkway is a pleasant drive, and our trip north was long overdue.
We arrived on a gray afternoon that was getting darker by the minute. Matt Larkin, the board chairman, was there to greet us in the Anna and Frederick Henry Leonhardt Galleries, where John's paintings were hung. To call Matt "interesting" is just not enough—he can school many of us on horticulture and topiaries, wet plate collodion photography, body suspension, interior design, and a host of other fascinating subjects. Matt suffered a family loss as well, so we spent some time commiserating before delving into art.
I walked through the galleries, which are three rooms with a refurbished rustic feel. The ceiling wasn't exceedingly high, which served the show well because the paintings are small and there was a sense of intimacy. John had been noticeably busy working on this show, entitled "Unborn Sun," and I encountered many pieces that I had not seen before. Others felt like familiar faces, like the series of egg tempera still lifes. These works are based on astrological signs, which would be represented in the compositions with real-life elements (a Pisces work would include a fish, for example). They are all very sexy and mysterious. In other gilded works, we come upon a fuzzy reflection of ourselves.
Recommended: 12 Must-See Art and Design Exhibitions in 2020
After bidding farewell to Matt we went down the road to The Red Lion Inn to meet John and his significant other, journalist Kaitlyn Wylde, for dinner. The hotel is a dated, campy, and terrific place. Dogs on leashes inhabit the lobby with their proud owners, reminding me of bygone days when that was acceptable without proper paperwork. Ruling the room was Norman, an oversize cat who would give warning taps to toddlers who got too close. I didn't ask, but he was probably named after Norman Rockwell, who included the Red Lion in many of his works.
Recommended: Nicole Wittenberg's Alluring Work Goes on View at Skarstedt Gallery
Kaitlyn smuggled her dog, Dean, into the main dining room and under the table. I ordered prime rib with horseradish, and it came with a dollop of mashed potatoes and about three string beans, but no matter, you pay for the atmosphere. We are literally in a Rockwell painting. Dinner was great fun because of the setting, the company, the conversation. I learned that John had been dealing with periods of insomnia, which was intriguing, because I have always had trouble sleeping. I asked what kept him up at night, and, to no surprise, it was a mix of philosophical and pragmatic issues. We all have our own stuff to deal with, no one is safe. Yet he also has a more romantic approach to nighttime activity, which comes out on canvas.
After dinner, Hala and I drove into the darkness to the Seven Hills Inn in Lenox, where we would rest our heads for the night. We watched some crappy TV and shut our eyes. When I opened mine, it was 3 a.m. My fate was sealed, knowing that my day started now. I'd stare out the window between the wooden horizontal blinds. I'd think about getting dressed and going for a walk, but I wouldn't. I'd think about random people and places and things. I'd think about money, and how I need more, how most people do. I'd think about my father and play back years upon decades of stored memories. I'd think about shooting hoops with my son, whom I don't see as much as I would like to. I'd think about my daughter and the world she will grow up in. I'd think about how long I will last. As night turns to dawn, I'd think about what the new year, the new decade will bring. John's "Unborn Sun" represents, among other things, hope and optimism. That's what gets us through the day.
"Unborn Sun: The Paintings of John Gordon Gauld" will be on view in the Anna and Frederick Henry Leonhardt Galleries at the Berkshire Botanical Garden through February 7. James Salomon is an art dealer and curator at large. He lives in Jersey City with his family.
Next Post