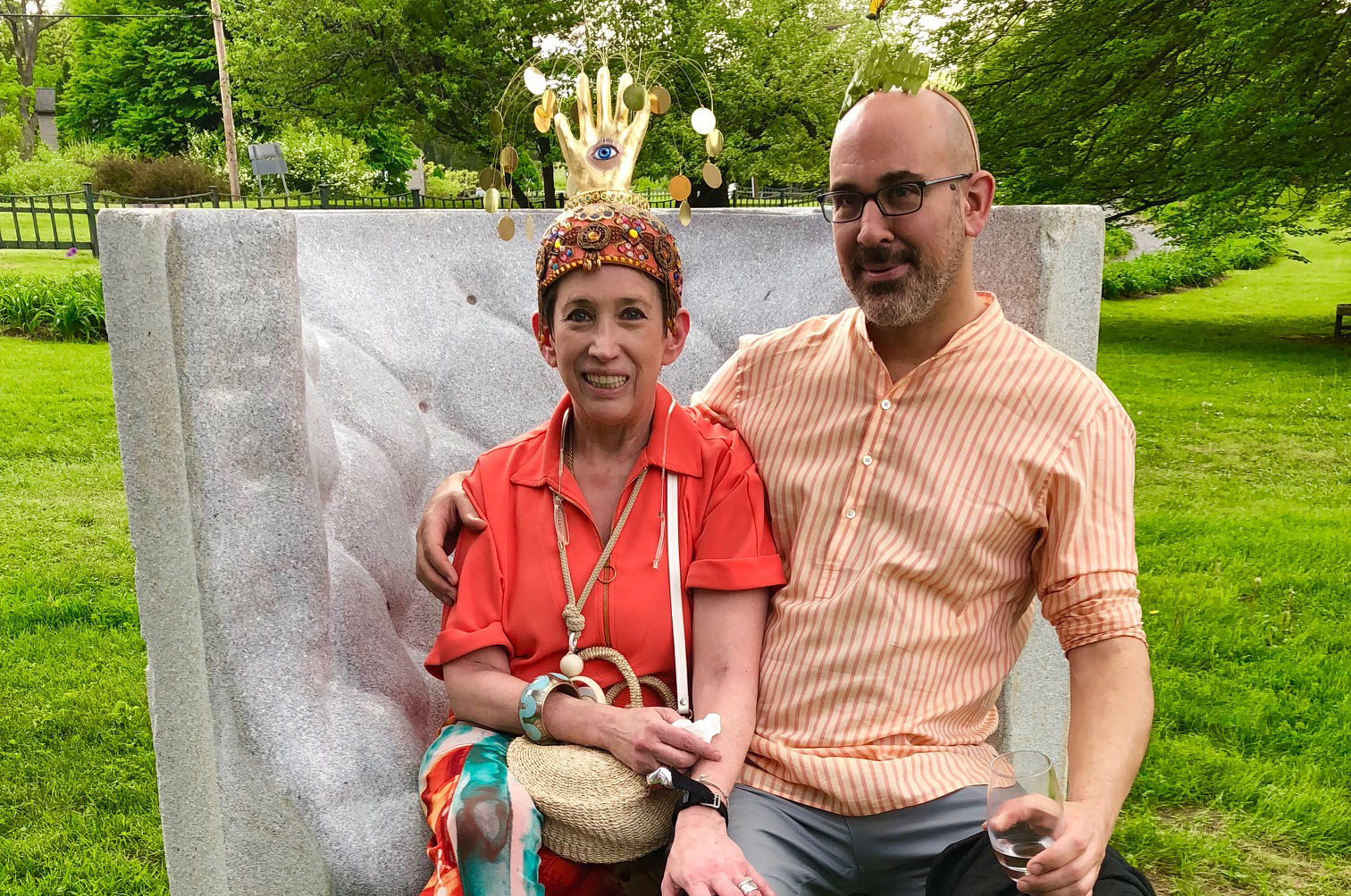 Art Patron Beth Rudin DeWoody's Berkshire Diary
The collector chronicles her visit to the opening of a new show at the Berkshire Botanical Garden
Collector and philanthropist Beth Rudin DeWoody shares a few pages from her journal chronicling her visit to the opening party for "Beautiful Strangers: Artists Discover the Garden," a summer exhibition at the Berkshire Botanical Garden. Curated by James Salomon, the show features work by Alice Aycock, Wendell Castle, and Michele Oka Doner, among many others. Road trip to the Berkshires anyone?
Over 30 years ago, Joanne Leonhardt Cassullo and I joined the board of the Whitney Museum. We had met a few years earlier when Joanne moved to NY and joined the Phoenix House board where I was a member. Drawn together by our mutual love of art, design…and collecting, we bonded immediately.
It didn't hurt that I had a two-year-old son, Carlton, as Joanne was a natural Mary Poppins and loved children. A few years later my daughter, Kyle, was born, and Joanne became a second mother to them. Joanne was a natural curator, having graduated from the Whitney's Independent Study Program in 1983. She has become a stellar board member on many boards, and is innovative, and stalwart, in her support.
Recommended: Inside Beth Rudin DeWoody's Art-Filled Bunker in South Florida
In an effort to help bring contemporary art into the garden, she recently joined the board of the Berkshire Botanical Garden at the behest of the board chair, designer Matt Larkin, and his wife, Lainie Grant, of Grant-Larkin.
In the inaugural exhibition of the newly created Art/Garden series, Joanne underwrote a fantastic outdoor sculpture show called Beautiful Strangers, which was brilliantly curated by James Salomon. James, a longtime dealer, used to own spaces in Chelsea and East Hampton where, several years ago, I co-curated a really fun show with him called Hunt & Chase.
On Saturday, May 26, the Berkshire Botanical Garden hosted their annual gala, Fête des Fleurs, celebrating the opening of "Beautiful Strangers." The Fête was a smash hit. Because of the buzz surrounding the show and the renovation of the Center House Leonhardt Galleries, tickets quickly sold out.
Recommended: Inside Darren Star's Seductive Hamptons Hideaway
Inside the tent, rare plants were put on silent auction to benefit the BBG. Outside, enjoying the unusually warm May evening, guests at the Fête, many decked out in eccentric hats and fascinators, wandered around the sculptures taking selfies and marveling at the moments of genius seen in the juxtapositions between art and nature.
Those in attendance were Madeline & Ian Hooper, Steven Godwin & Rod Pleasants, William T. Georgis, Jennifer Olshin, Michael Beck & Beau Buffier, Hugh Freund & Sandra Wijnberg, William Stuart & Barbara Ruckert, Valerie Pels & Richard Pasquarelli, among many other Berkshire luminaries.
Joanne invited several artists from the show up for the weekend, and we all stayed at The Red Lion Inn, which has great New England charm, straight out of John Irving (or maybe Wes Anderson!). Carter Foster also joined us for the weekend; he wrote an essay for the Ellsworth Kelly plant lithographs exhibition, which is currently up in the BBG's newly renovated Center House. Honestly, a must see!
Recommended: Ellsworth Kelly's Final Work Unveiled in Austin
Carter, who was formerly a curator at the Whitney, is now at the Blanton in Austin, TX—home to the newly opened Ellsworth Kelly Chapel, "Austin." After two days of exploring the local towns (we managed to sneak in some shopping and antiquing) and stops at MASS MoCA and the Norman Rockwell Museum, we are no longer beautiful strangers to the Garden…. We are big fans!
Beautiful Strangers will be open at the Berkshire Botanical Garden through October 8. Participating artists: Alice Aycock, Wendell Castle, E.V. Day, Fitzhugh Karol, Mark Mennin, Michele Oka Doner, Toni Ross, Ned Smyth, Stephen Talasnik, and Rob Wynne.
Next Post