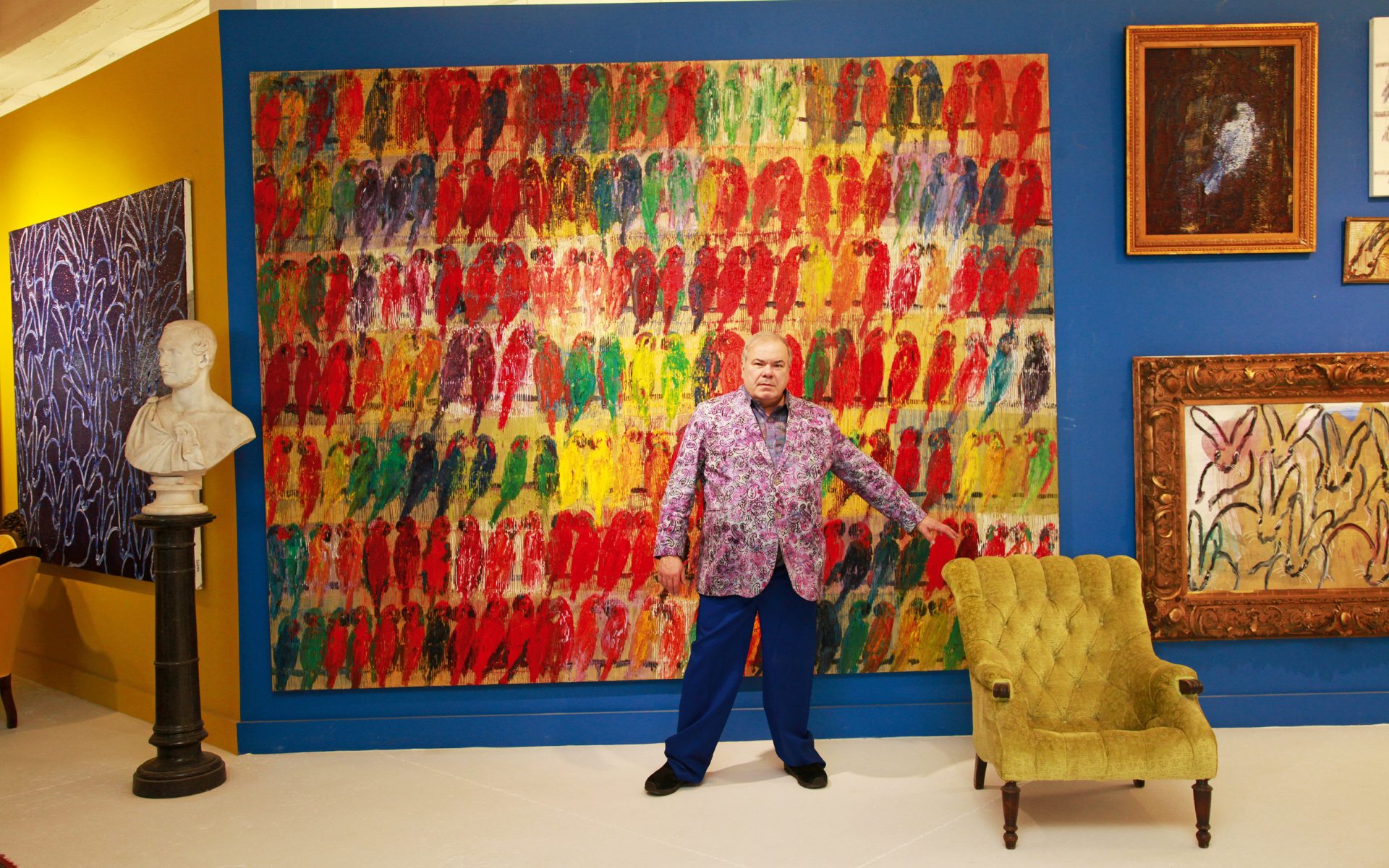 Hunt Slonem on the Art of Preserving Grand Historic Properties
The eccentric artist talks to Galerie about the magical restoration of the Watres Armory in Scranton, Pennsylvania
"Hunt Slonem is the kind of artist whose life becomes his art" says collector Beth Rudin DeWoody in Slonem's latest tome, Gatekeeper: World of Folly, (Assouline,$85). It's not hard to believe, given that the Neo-expressionist painter's 45-year career spans all aspects of art and design. Slonem is known for his repetitive and colorful paintings of birds and rabbits, influenced by Pop art movements and his travels to tropical countries. These repetitive works have even appeared in fabrics and wallpapers through a partnership with fabric brand Lee Jofa.
Slonem captures the idea of life becoming art with his awe-inspiring preservation of historic properties. Gatekeeper takes readers inside his restoration of Scranton, Pennsylvania's Watres Armory, which he took on after moving from his New York City studio four years ago. The eccentric artist transformed the interiors of the Romanesque-Revival building with vibrant paint colors, historical antiquities, and his own artworks to create a wondrous masterpiece where one would only hope to get lost.
Here, Galerie speaks with Slonem about his stellar collection of homes and the details of the artful renovation.
When did you first become interested in historic properties?
I started right before 9/11, on August 17, 2001. I bought the Cordt's Mansion by chance in Kingston, New York, and I still have it right on the Hudson River. It was built by the brick manufacturers Cordts family. They built a lot of buildings in New York City, and it is a beautiful Victorian estate with gazebos, barns, and other houses. 
Recommended: The Unlikely Backstory of the Most Expensive House in America
Tell us about some of your other estates.
I have bought three or four more since purchasing the Watres Armory. I have the Charles Sumner Woolworth House in Scranton, the Belle Terre in South Kortright, which is a 34-bedroom house on 50 acres, and it looks like the White House. They are all landmarked, and then I have Madewood Plantation in Napoleonville, Louisiana, where The Beguiled (2017) was filmed and where Beyonce did Lemonade.
What attracted you to Watres Armory?
The reason that I got the Armory is because my building in Manhattan was being torn down for Hudson Yards, and I had to be out within a year. I found a spot in Brooklyn for my studio, and it is a huge space but it wasn't finished. And I had to be out by July or I was going to forfeit the buyout and everything. A neighbor of mine on Houston Street had to get my leases. Anyway, he was acquiring the Armory, and I asked if  I could rent it. The rest is history.
What was the process of decorating the rooms?
Well there's no decision that is premeditated. I went in with color chips by the hundreds and just started placing them on walls. I used colors that I never played with before because there were so many rooms. We had to choose colors for hallways. We got rid of the linoleum floors. We took up the lowered ceilings and revealed some interesting architectural elements that had been hidden for 50 years. There was even a time capsule in one of the rooms.
Recommended: Get a Rare Glimpse of the Royal Family's Private Rooms at Buckingham Palace
Do you know what was in the time capsule? 
Nothing much—they actually opened it without me. I was more interested in this grand wooden staircase that goes up four floors. There's even a pool in the basement from 1879-ish, and there are tunnels that were probably party of the Underground Railroad that go on forever. We've had a lot of ghosts. I've had Angelique de Wolfe clear it many times. I have a show at the museum in Scranton right now called the Everhart we're going to have some dinner parties at the Armory.
Is there is a highlight in one of the rooms that you particularly love?
Oh, there are so many. I love every room in the place. I spent many years working on rooms. I'm almost in a trance when this goes on because I have to find chandeliers, we have to paint colors, we have to re-do floors, I mean not to perfection. I believe in patina and showing as much of the early stuff without over restoring. There are great fireplaces in a couple of the rooms. There's a bar where five American presidents had cocktails before speaking: Kennedy, Roosevelt, Woodrow Wilson, I think Ford.
Also, Sergei Rachmaninoff played at the Armory when it was used for great public events in the 50,000-square-foot drill hall. I have a lot of huge paintings that very few people could accommodate. Furniture just flows to me magically, and I have a lot of my fabrics on them that I do with Lee Jofa, which is fun. I travel a lot, so I find things all over the country. We can drive trucks into the building, which is wonderful for deliveries and whatnot.
How do you go about mixing some of the art and antiques? 
Well, the best part of the whole thing is that I had 30 years of rolled up paintings that I didn't have the space to keep stretched or store properly. A lot of them were pretty compromised, but we've been able to unroll them, re-stretch them, and one of my caretakers is restoring them. Actually the works that are being shown at the Everhart Museum until January were part of that group. It's a pre-Colombian gold series I had done in the '80s that never saw the light of day again. 
Recommended: Abandoned Church Reborn as New Carpenters Workshop Gallery
We have a room we call the 'Queen Room' where I have lots of portraits of royalty, and it's red. We've uncovered this great arch that had been hidden by the lowered ceilings nonsense. Each room has a theme and a color, and paintings line all of the hallways. I love reviving that period, from the 18th century to about 1895. I have beds from plantations in Louisiana, I have phenomenal portraits, I have people who find me things. A lot of people can't house this stuff anymore, and a lot of people don't want that period around them, so it's been a great expansive experience. I just bought a suit of armor in Louisiana that's winding its way up there. I interweave them. It's a composition rather than a collection.
Do you ever feel like you're completely finished?
It felt like I was completely finished with the Armory, but there are still some goals that I have. I'd like to turn the great drill hall into a palm court someday; I've seen pictures of it in the 19th century, when there was a plant show and they draped it and had fountains. We do have a lot of plants that are doing exceedingly well. 
We have evidence of other dimensions simultaneously existing in this space. I mean one day a mover took a video of this green orb, and it flew from the truck into the building. I asked my English ghostbuster and she goes "Oh, that's an intergalactic being." I said it seemed to have a little smiley face on it, and she said sometimes they do, but it's benign. 
Do you have a dream historic property you would want to decorate? 
Yes, I've had one dream for many years, and I was finally blessed with being able to view it. It's called Lynnewood Hall in Elkins Park, Pennsylvania, owned by P.A.B. Widener, who had one of the greatest art collections in America, and most of it went to the National Gallery. It's the size of four walled-in city blocks, and it's not in good shape. Lynnewood looks like the National Gallery; it's so huge and phenomenal. Horace Trumbauer was the architect, and I have wanted to save that forever. I'm hoping to do that before I die. Who wouldn't? Yes it's quite a project it's just acres of house but it's very, very grand.
I love all of my properties. I never get tired of them, and each one is like starting a new canvas. I'm not a decorator, and I'm not a designer. I'm an artist.
Next Post