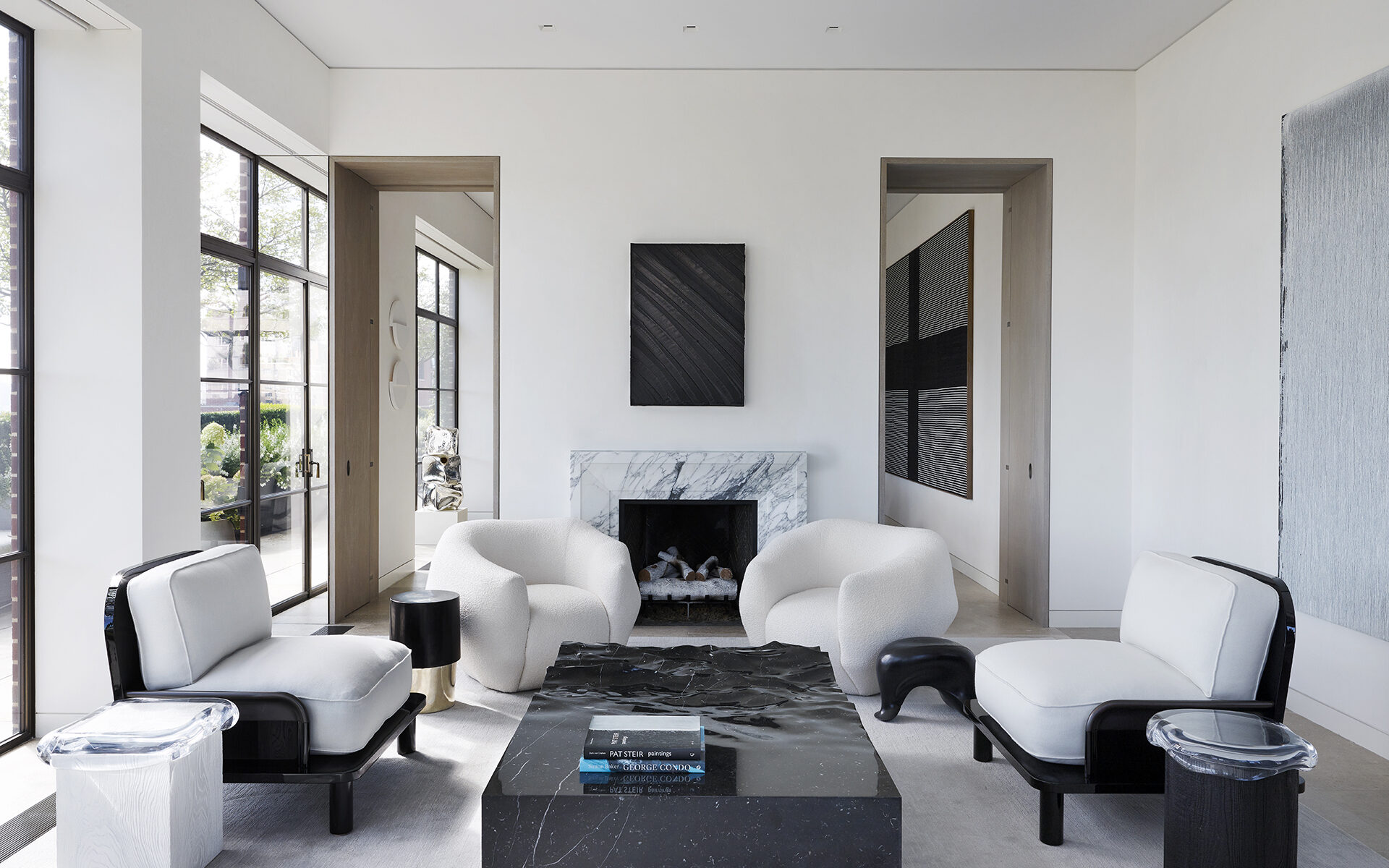 A High-Contrast Apartment by Grade Makes a Bold Statement with Art and Design
To craft a serene residence for a burgeoning collector, the designers combined an array of adventurous furniture pieces and textural elements with works by George Condo, Pat Steir, and Bosco Sodi
Apartment hunting in New York can often sound like that familiar fable—this one is too cramped, that one too dark, until you find the address that is just right. It was a similar story for one ambitious executive who searched across the city until discovering a full-floor, 3,800-square-foot penthouse in lower Manhattan with a wraparound terrace that flooded the space with natural light. Introduced to Thomas Hickey and Edward Yedid of Grade five years prior, the client had several requests to make the two-bedroom residence his own, including raising the ceiling height to better accommodate his tall stature and utilizing a neutral palette of black, white, and grays to create a calming, elegant interior.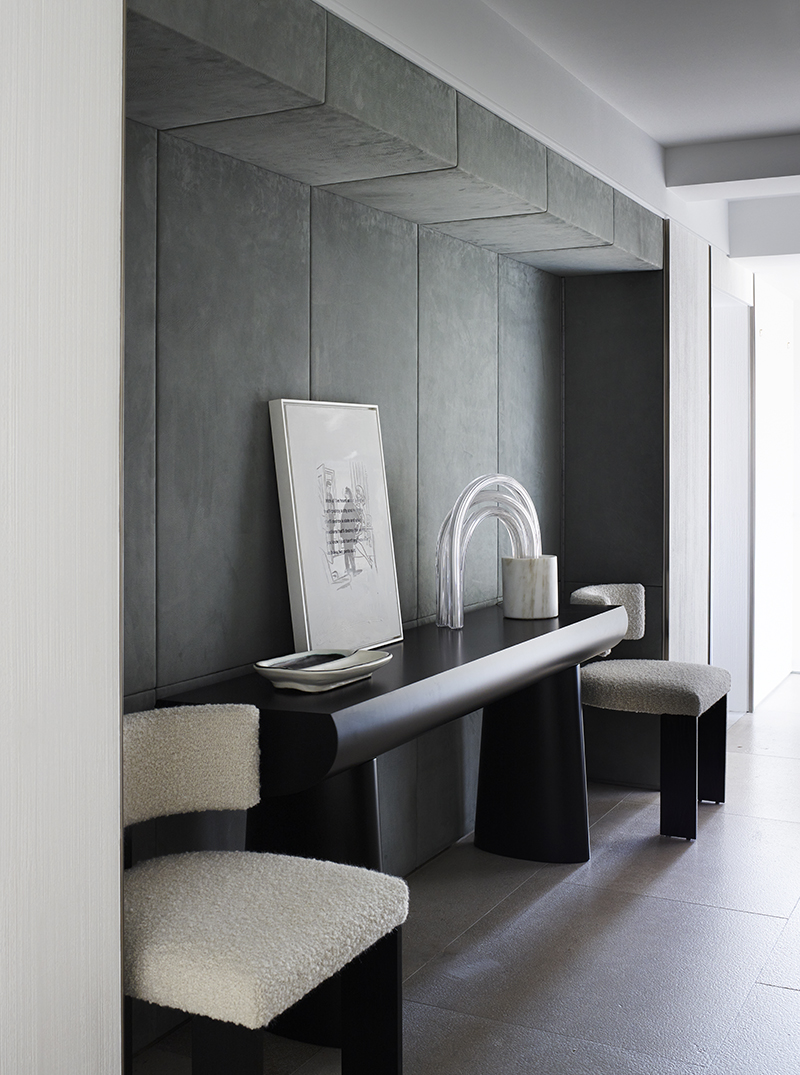 "He wanted a beautifully tailored apartment," Yedid tells Galerie. "We had to really think about the use of materials, the different forms and shapes, and the types of furniture, as well as bringing in art and texture to create a graphic quality that we were looking for."
Inspired by the composition of a black-and-white photograph, the designers approached the layout by reviewing how each object sits in relation to the next. Central spaces were brightened with custom plaster striated white walls. Cerused oak adds warmth to the library and door surrounds, while metal and stone elements balance the softness with structure. "We wanted to make sure everything felt very handcrafted," explains Yedid. "It was an extreme amount of attention to detail. He wanted it to be sleek; he didn't want it to be slick."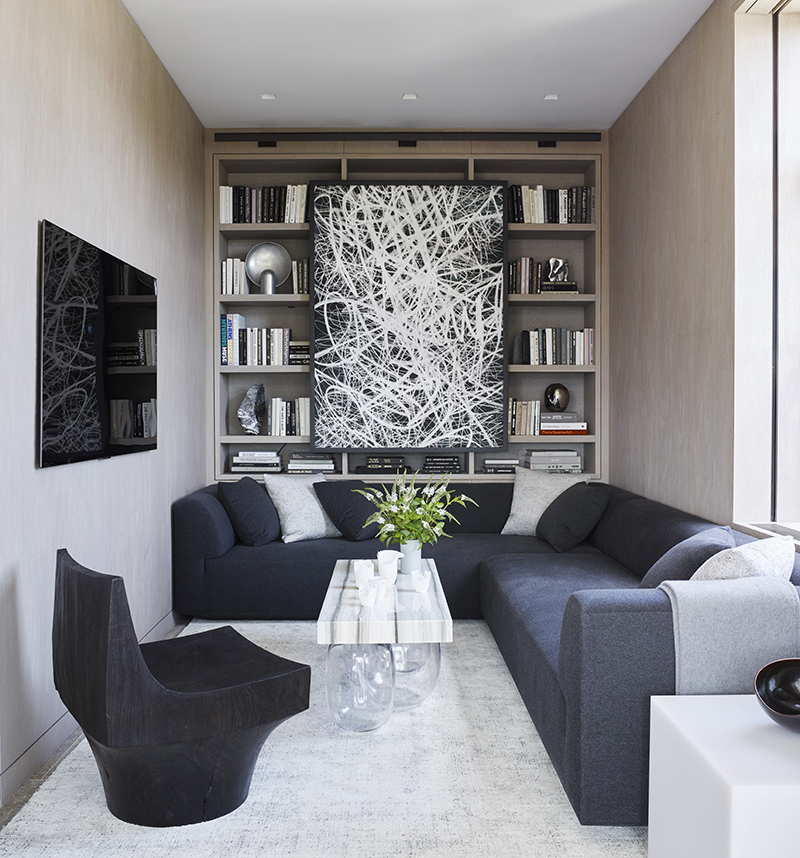 "It was an extreme amount of attention to detail. He wanted it to be sleek; he didn't want it to be slick"

Edward Yedid
The play of light was another driving factor in the interior design. Here, the designers mixed matte finishes with high-gloss elements, including a dynamic Mathieu Lehanneur Ocean Memories cocktail table, customized for the space, that anchors the living room. Reflective surfaces on the Liaigre lacquer chairs, Mattia Bonetti side tables, and Aldo Bakker stool pair with quieter textiles from Pierre Frey and Jouffre and sumptuous Pierre Yovanovitch armchairs, upholstered in a textural Rogers & Goffigon bouclé. "When you're doing a design that doesn't have a lot of pattern or color, you need to find more interesting ways to catch your eye," says Yedid.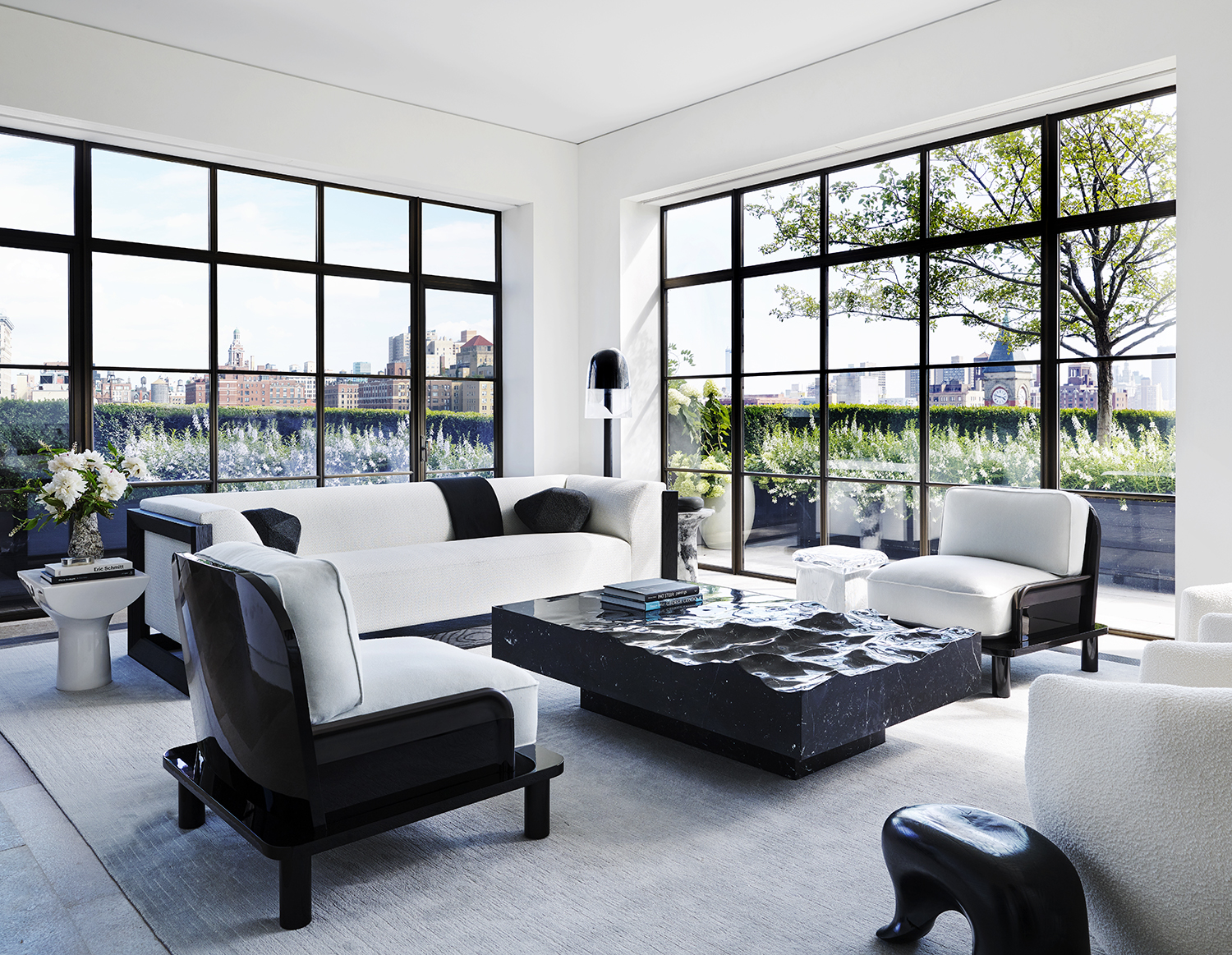 Different shapes were implemented throughout, including in the dining room, where a monolithic marble table is paired with a round Eric Schmitt pendant lamp, circle sconces by Richard Meier, and a curved Bernar Venet sculpture. "We're looking for those relationships between texture and contrast, other different principles of black-and-white relationships, and then we find specific pieces that fold into that narrative," says Hickey.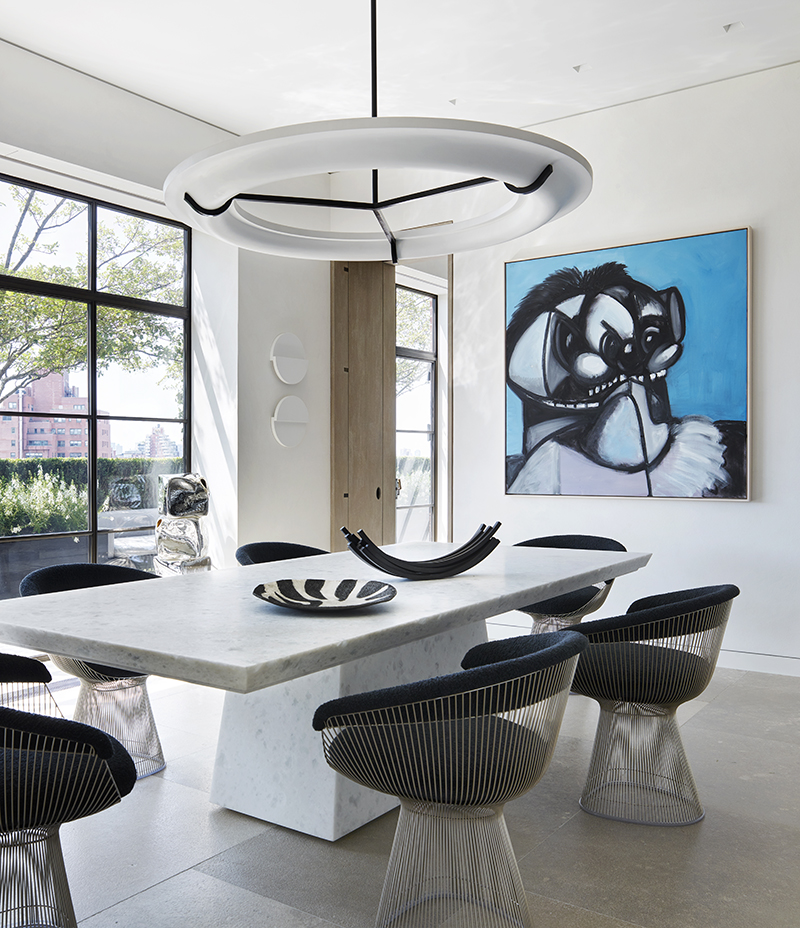 Throughout the process, the client looked at the shopping experience as an education, discovering more selective design pieces from talents like Lehanneur and Schmitt, and visiting galleries and artist studios in London and New York, including the Brooklyn space of Bosco Sodi, where the team selected a textural work that hangs in the main bedroom.
"It was important to see different things by these different artists that exuded all these qualities that we were trying to apply to the apartment in different ways," says Yedid, himself a collector for more than two decades. "Black, gray, and white can be very repetitive so you have to find different applications of those colors in different textures, finishes, and put them together in a way that is meaningful."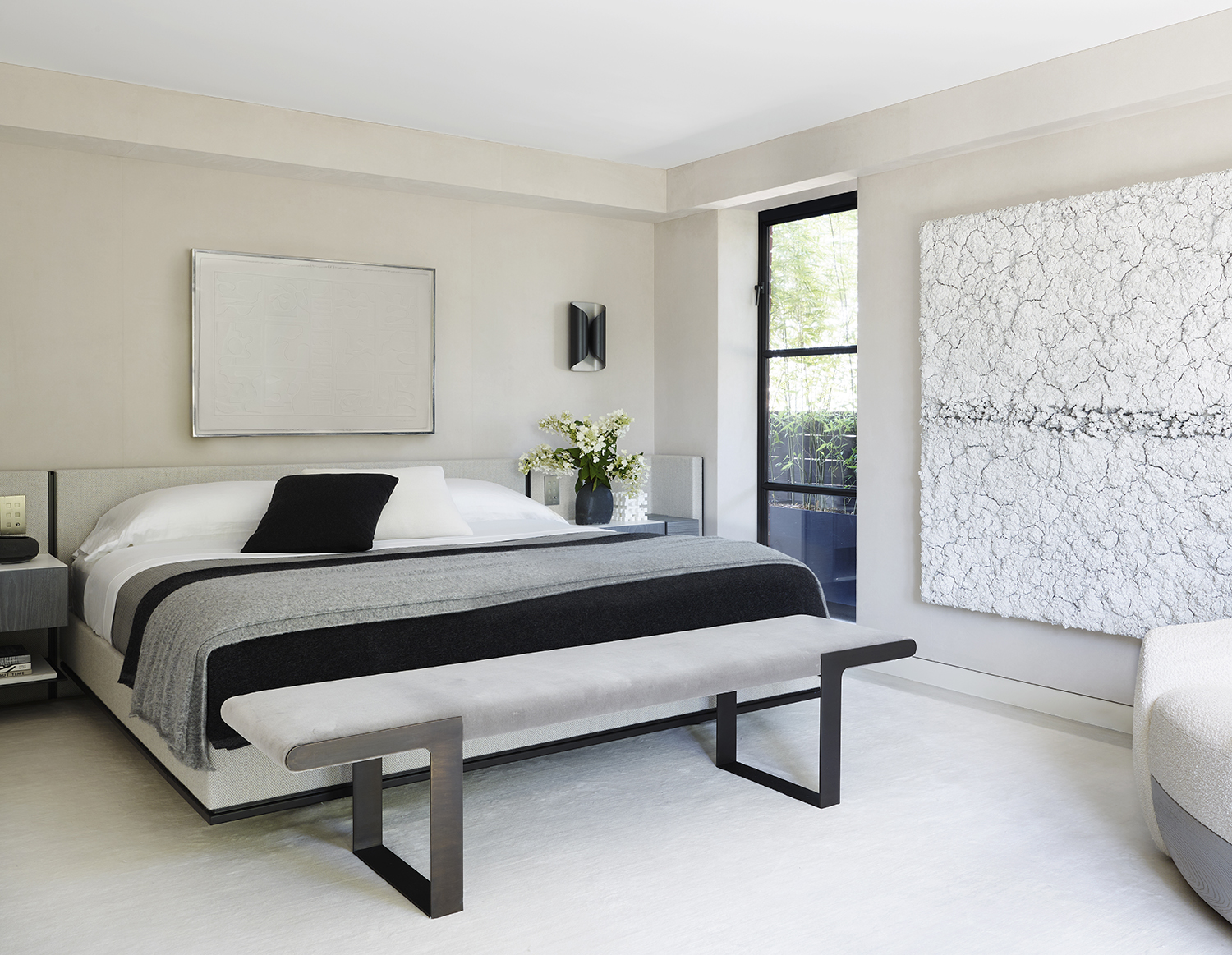 One of Richard Prince's "joke" paintings joins a Spring onyx and white marble lamp by Lehanneur and a Georges Jouvre ceramic dish in the foyer, adding a bit of whimsy to a serious compilation. "Eddie was able to loosen him up with art pieces that didn't align with everything, or even just relaxing symmetries so it wasn't so strict," says Hickey. "There's a way to find a balance with everything."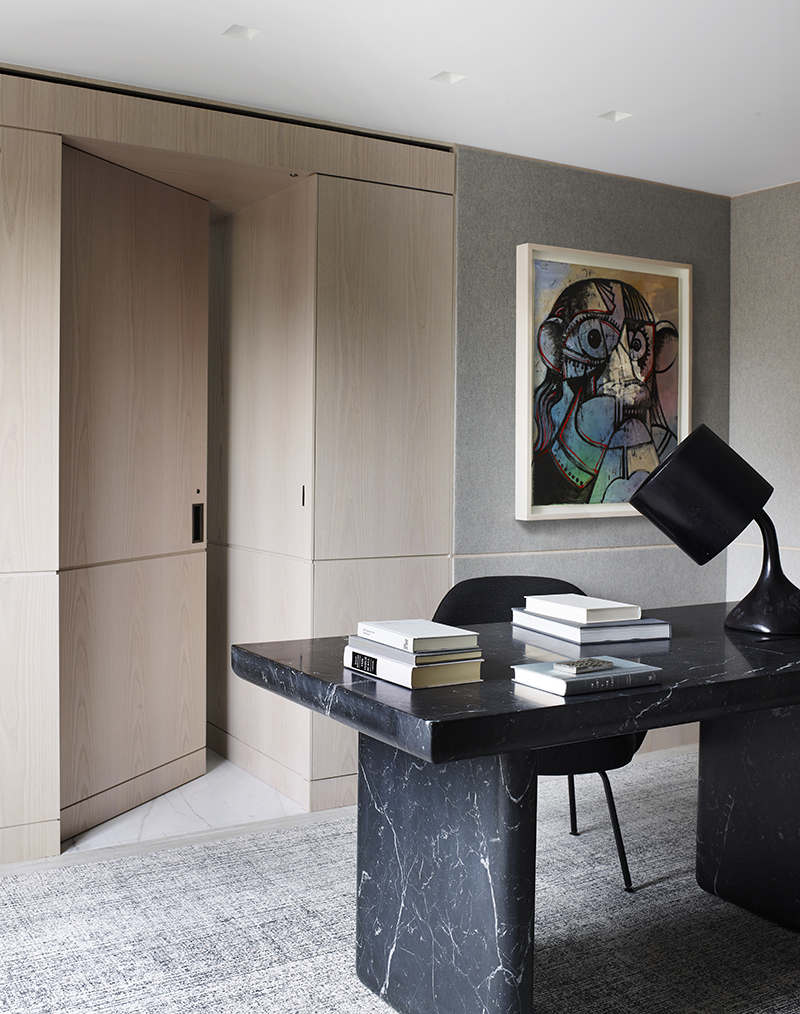 Art also provides conservative pops of color throughout, such as the turquoise blue of a George Condo painting in the dining room, a fiery red Glenn Ligon study in the library, and Richard Prince photograph in the study. "To be able to play and manipulate a black and white palette the way that we did would have been completely different than the way a traditionalist may have done," Hickey tells Galerie. "It's somewhat satisfying to see a client evolve because he went in with a very black-and-white attitude. Not only is the project great because we were able to achieve such an amazing space for him, that's very unique for him, but to also to see that he's evolving to appreciate things outside his comfort zone."
Next Post