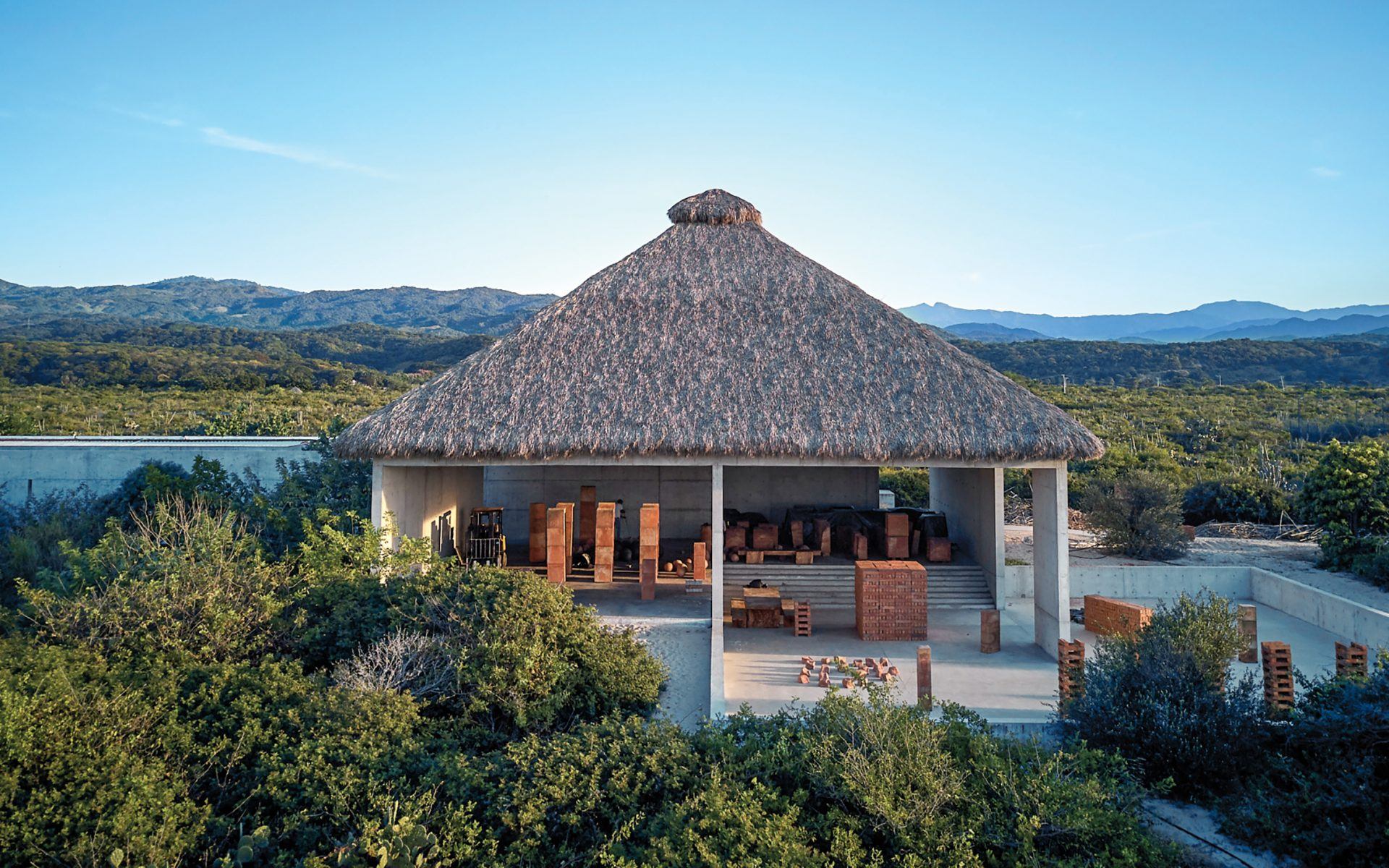 Bosco Sodi Embraces the Japanese Philosophy of Wabi-Sabi in Quarantine
The artist has been busy creating new works at his Tadao Ando–designed art foundation on the coast of Mexico
Located in the sun-drenched Mexican town of Puerto Escondido overlooking the Pacific Ocean, Casa Wabi is a creative haven for artists and the local community that feels a million miles away from the rest of the world. It's little wonder, then, that the artist Bosco Sodi—who founded the art foundation in 2014—felt it would be the perfect place to hunker down with his wife and three  children when the COVID-19 pandemic hit and quarantine orders were put into effect. "When they announced that schools were going to be closed, we decided to come straight here," says Sodi, who also maintains studios in New York (his primary residence) and Barcelona. 
Named after the Japanese aesthetic philosophy of wabi-sabi, in which imperfections are celebrated, the sprawling seaside compound was designed by Pritzker Prize–winning architect Tadao Ando and provides residences for visiting artists, exhibition spaces, a ceramics studio, and programs for local schools. "One of the perspectives I wanted to share with my kids was that this is a very serious moment, but we have to make the best of it. We came to Casa Wabi to be in nature, to create some interesting projects together, and to work on the foundation," he tells Galerie after being there for two months now. "Seeing the positive side of this was really important." 
Recommended: Inside Bosco Sodi's Sprawling Red Hook Studio
For his part, Sodi has been busy working on a new series of ceramics and experimenting with different types of clay work, which due to their enormous size are going to take around six months to dry. Misshapen rectangular forms using raw earth are loosely stacked upon one another in columns, and monumental spherical forms resemble globes or planets.
The artist has also been working on a new series using burlap bags he found in a market that were once used to carry dry chilies. Replacing the uniform surface of a traditional canvas, he paints the rough texture of the sacks with vibrant circles in red, yellow, and orange. Deeply inspired by Arte Povera, the avant-garde Italian art movement founded in the 1960s that makes use of humble, everyday materials, Sodi says: "Here at Casa Wabi, the sunsets are so beautiful, so I have been painting a sun on the cloth. I am very happy with them." The director of Sodi's gallery in Brazil, Luciana Brito, has already asked to showcase them in an upcoming exhibition for the space in São Paolo.
"The works relate to the perfection and state of how we were living, and now we are rebuilding and things are changing shape," he says. Indeed, Sodi's practice can be characterized by an exploration of the power of material, guided by a deep spiritual connection to the art. Describing his creative process as "controlled chaos," Sodi is showcasing his extensive oeuvre in a new book by Rizzoli (the first comprehensive publication of his work) that comes out in July. 
Recommended: Francesco Clemente's New Watercolors Offer a Seaside Escape During Quarantine
Under normal circumstances, Sodi maintains a busy schedule, traveling around the world for his many exhibition openings at the nine galleries that represent him, including Kasmin in New York, where he was due to have an exhibition in April. (The show, titled "Ver l'Espagne" is now slated for October.) "The reality is that time moves much slower here," he says, "and I have more time to work on all these things." Days are spent going for swims in the ocean, reading, listening to music, and making improvements on the grounds—including overseeing the construction of a pavilion designed by Solano Benítez, the Paraguayan architect who won the Golden Lion for best participant at the Venice Architecture Biennale in 2016. 
Sodi has also been going through his writing from the past 20 years, all of which is preserved at the estate. "I have been writing about art for a long time, and I have been arranging all of my texts to publish a simple book about my art and art in general." Working with an important editor from Mexico, he plans for the book to be called In Quarantine. "It's one of those projects that I have always wanted to do but never had the time." 
Recommended: Artist María Berrío's Dreamscapes Offer a Powerful Symbol of Hope
As the world at large has been forced to slow down during this period, Sodi hopes we will see long-term changes for the better. "I hope that art will be less about the market, but we will focus again on the soul of the works," he says. "So many of my artist friends said they had no time for reflection and for putting roots in a place. I want to show my children that the most important thing in life is the connection with other human beings, with the earth, and with nature, and the importance of friendship and family. We must look at the beauty of life—even when you are in quarantine in your house and you look at a beautiful painting or sculpture and you think, Life is still beautiful, no?" 
Next Post