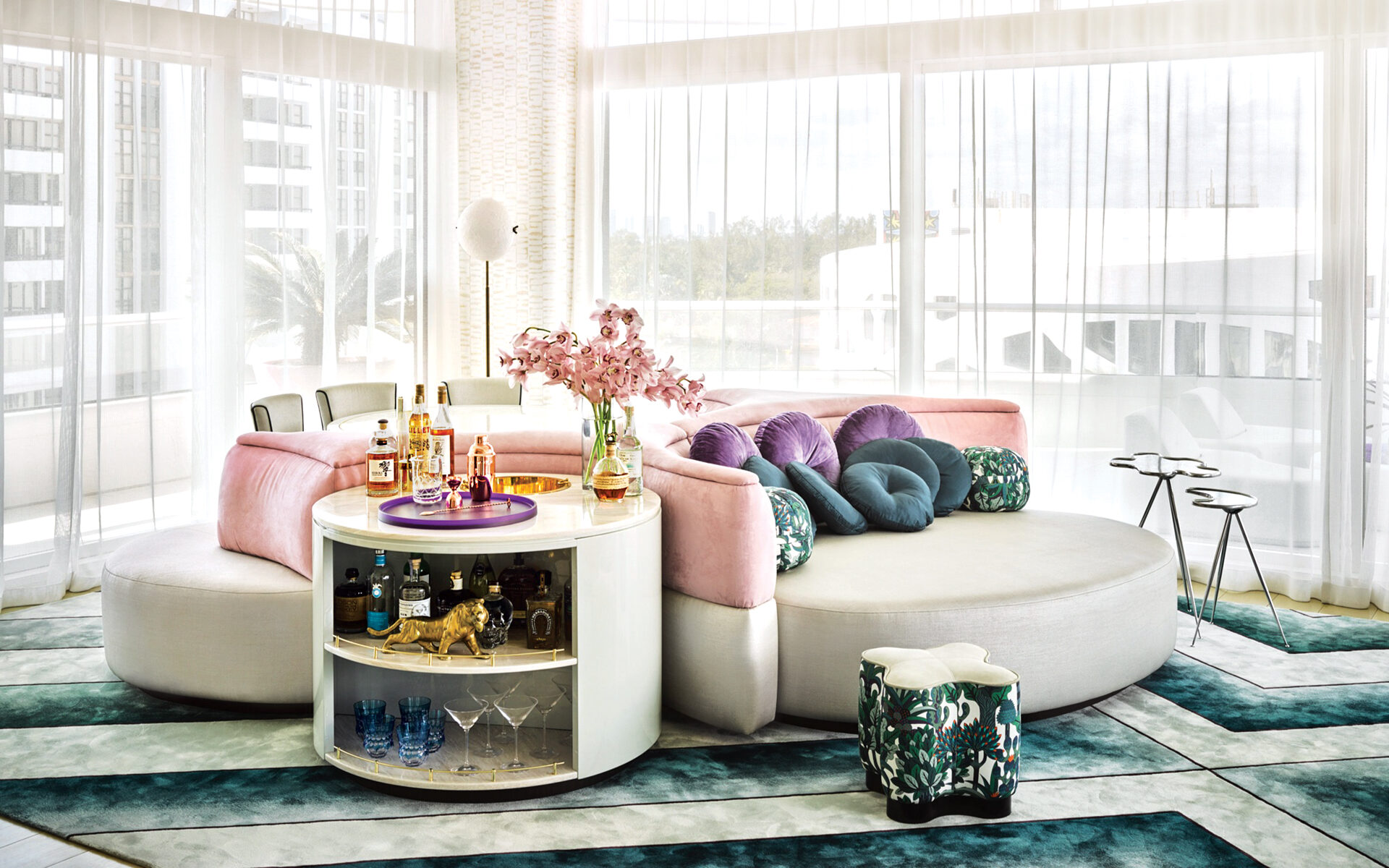 How to Craft a Home Bar That's Equal Parts Function and Fabulous
Top designers including Miles Redd, Alexa Hampton, and Ken Fulk offer creative solutions for ideal entertaining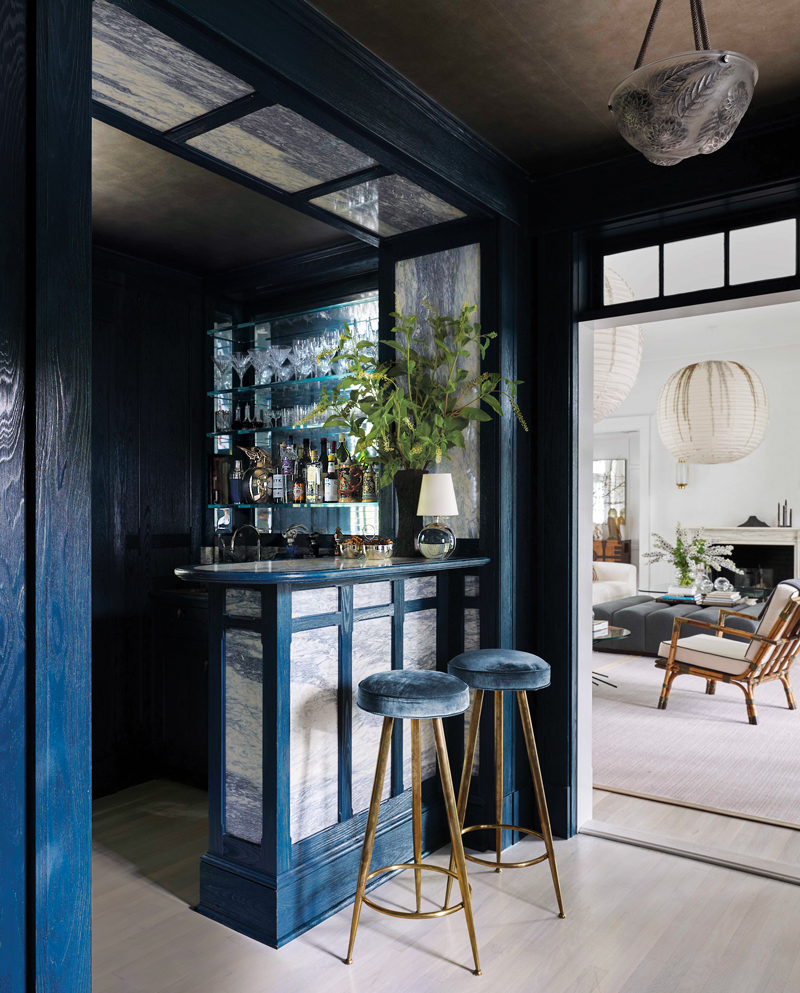 More exclusive than the VIP room, a fully stocked and decadently designed bar at home has quickly become one of the most in-demand client requests for designers—and rightfully so. Tucked into an alcove or in a dedicated space all its own, these luxurious additions allow for intimate gatherings while also giving permission to push aesthetic boundaries with colorful materials, dramatic schemes, and accessories with lots of personality.
"A bar is like a powder room. It gives an opportunity to really do something personal and potentially quirky," says Frank de Biasi, who is currently devising a bamboo model inspired by a 1940s design for his own home in Tangier, Morocco. "You don't have to follow the recipe or the rules for what the rest of the house is."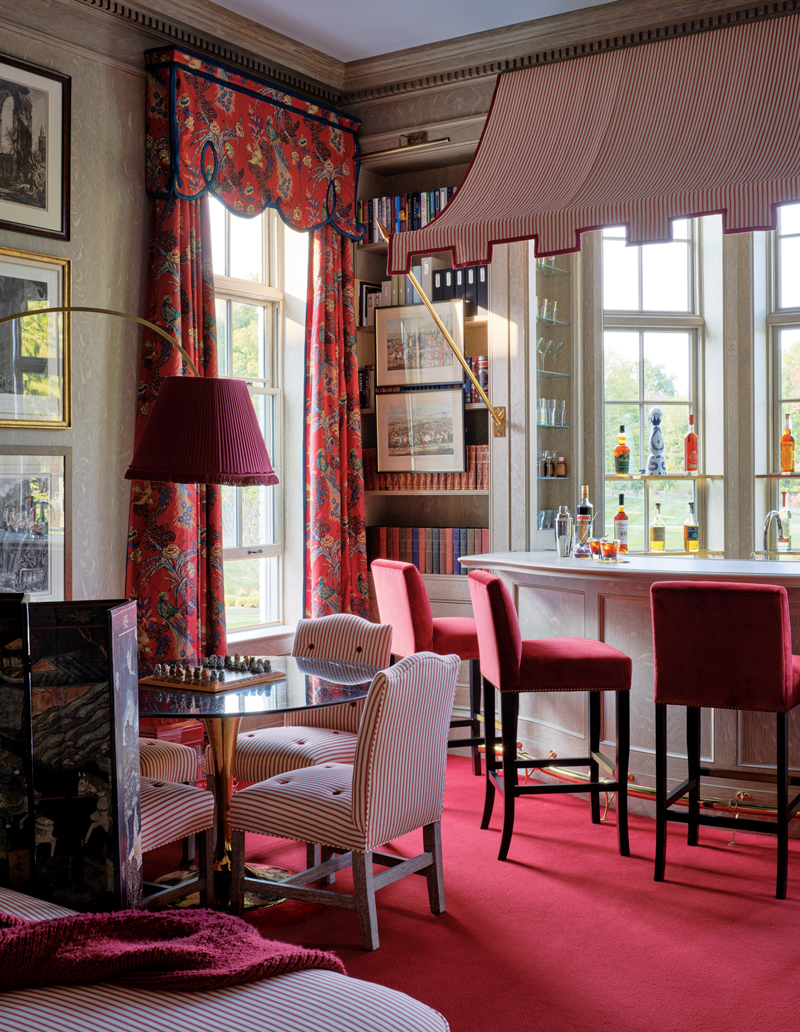 Pulling Up a Seat
"We don't want the bar to feel like a cafeteria at the end of your living room," says designer Miles Redd, whose interior spaces pop with bold strokes of color and exuberant embellishments. To disguise sinks, refrigerators, and other functional elements, he suggests drawing the eye up with sculptural additions, like colorful canopies. "I also love a well-curated, well-styled drinks table—they can make sad spaces immediately feel warm and cozy."
"I also love a well-curated, well-styled drinks table—they can make sad spaces immediately feel warm and cozy"

Miles Redd
Shelves of glistening bottles may create interest, but seating informs how guests interact. Designer Bryan Graybill advocates for going without to allow people room to roam, while Brigette Romanek prefers options with backs, such as iconic Mario Bellini designs. "They have a specific look, and they're sophisticated but also comfortable," says the decorator, who just debuted her first furniture collection with Mitchell Gold + Bob Williams. "Often a barstool
can be so architectural and cool, but you don't want to sit there for more than two minutes."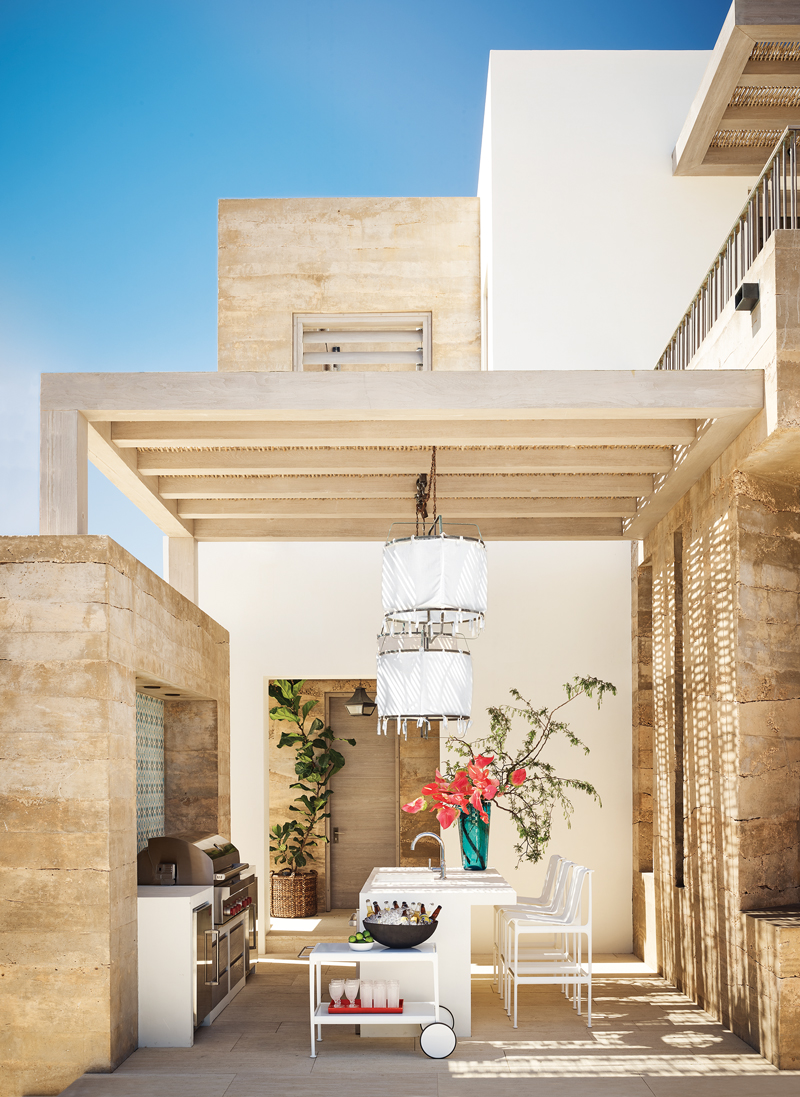 Setting the Mood

 
Ambience is the ultimate goal in the bar area, and the right mix of lighting is crucial—from discreet votives to statement-making pendants. Mirrors and reflective materials amplify and enhance any light source. "Smoked-mirror backsplashes are great, because when you have the bottles on the counter, it multiplies them to look like an infinity of booze," says Alexa Hampton. 
William T. Georgis loves using mirrors to create a "filmic experience," collaging people's reflections with the spirits' decorative labels, even once creating a grid of refractive prisms inspired by a 19th-century palace in Istanbul.
Metal bar tops can also add to the radiance. "I have a pewter countertop that I love from François & Co., which did the ones at Balthazar," says Hampton. "Pewter really gets banged up, but that's the point—you want it to look like a bar that's had some life to it." But stone surfaces, particularly rare marble and onyx, continue to be popular no matter how difficult they are to maintain.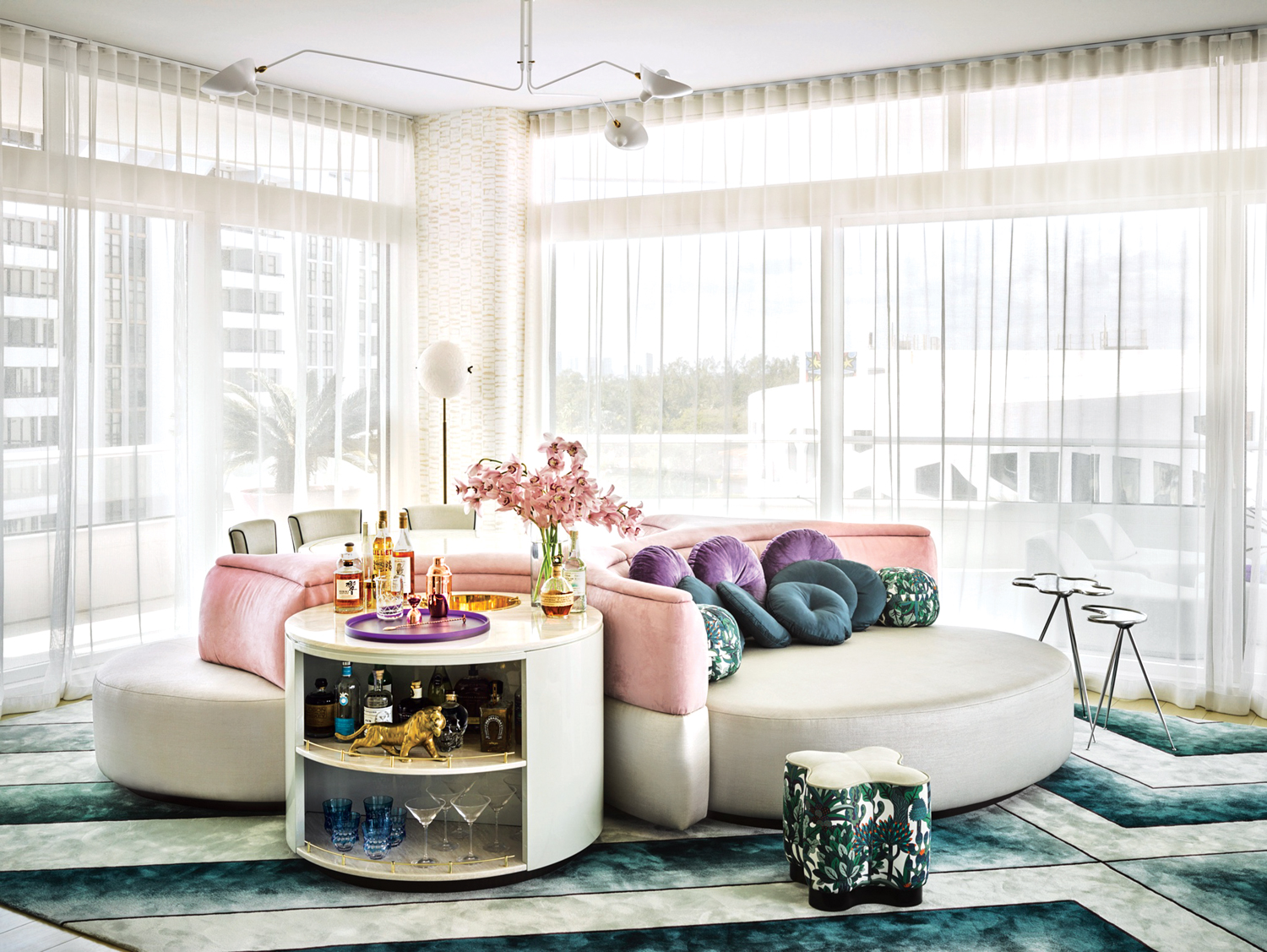 Serving It Up
"The art of making a fantastic cocktail requires a lot of great tools and a really good layout," says Ken Fulk, whose hospitality design for venues such as Lutie's at the Commodore Perry Estate in Austin, Texas, and Carbone in Miami Beach has taught him about the importance of proper glassware and ice. "If you're serious about drinking, you need a zester, masher, shaker, cutting board and knife, stirring spoons, and bamboo toothpicks for olives," adds Georgis, who favors the silver barware from Asprey but also seeks out unique pieces such as 1930s monkey-shaped mezcal bottles, Japanese sake jugs, and bottle openers that resemble fish.
"The experience of having a good cocktail comes to life by having a proper glass"

Ken Fulk
Just like the perfect garnish, the final accoutrements give that wink of personality. De Biasi collects vintage airplane swizzle sticks; Romanek loves mixing crystal from Hermès and Moser; and Hampton prefers Baccarat's Harmonie glasses, which her parents used as well. "The experience of having a good cocktail comes to life by having a proper glass," observes Fulk. That, and having a beautifully designed bar to enjoy it in.
A version of this article first appeared in print in our 2021 Winter Issue under the headline "Creative Spirits." Subscribe to the magazine.
Next Post