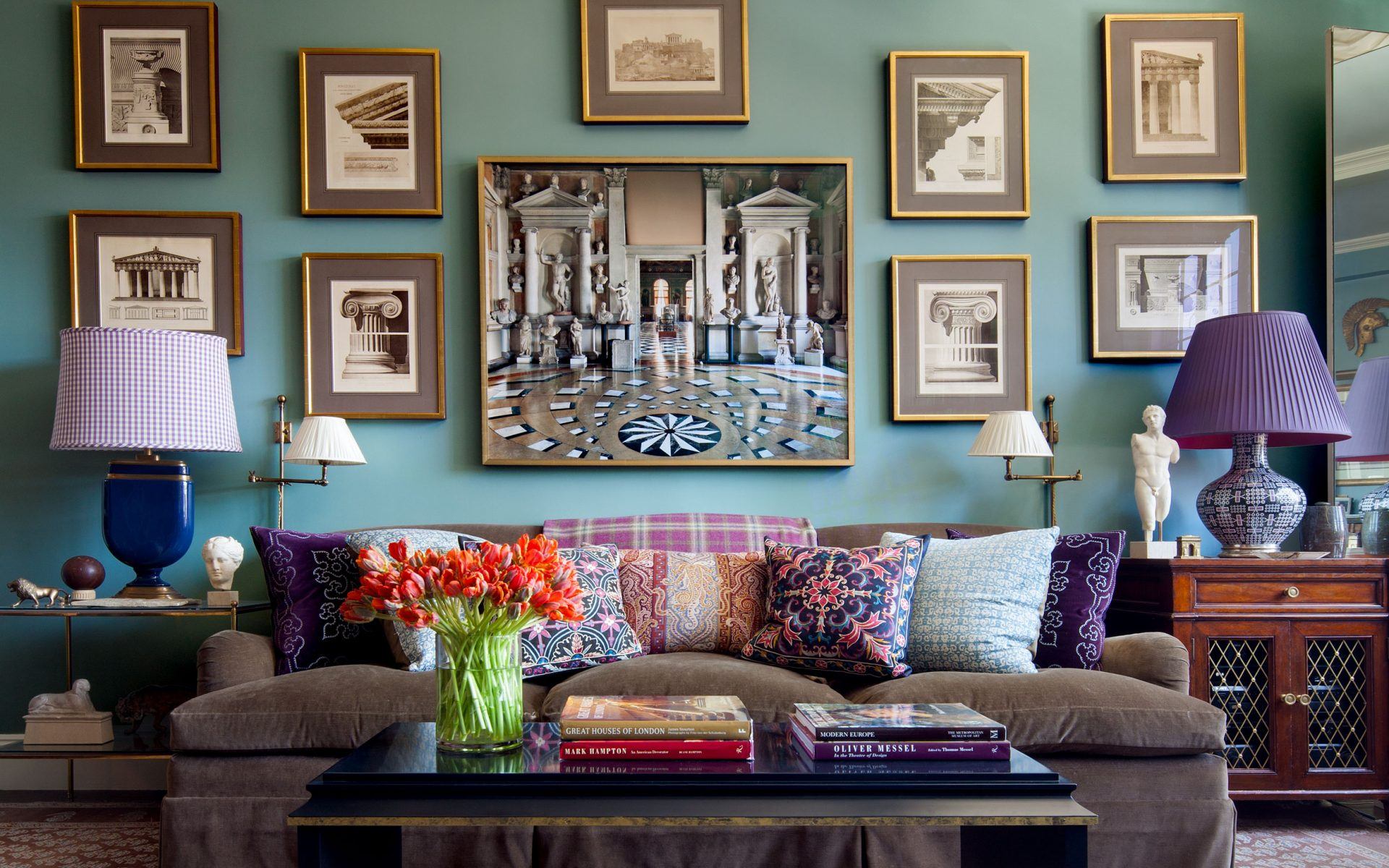 Why Designer Alexa Hampton Longs for Her New York Home More Than Ever
A decades-long love affair with her Manhattan apartment leaves the designer yearning to return
Alexa Hampton's wit and wisdom are almost as formidable as her keen knowledge of design. When asked to share why she loves her home more than ever, she put quill to paper—or rather fingernail to wireless keyboard—to craft a passionate love letter to her New York City apartment, where she has lived for almost two decades.
While she expanded the property to neighboring units and rejiggered the floor plan, she still has eyes for the core of her home, which has seen her go from single lady to proud mama. Although she and her brood have decamped from the city, she's ready to return to her real estate soul mate. Here, she shares with Galerie a wonderfully inspired ode to her apartment as well as photos of the space over the years—a testament to how treasured objects and furniture are reimagined with time.
Dearest Darling Apartment,

I miss you. I really, really miss you. I know we have had our moments over the years, but that's what comes with a long, meaningful relationship, no? When we first met, I was single and in my twenties. Do you remember how innocent we both were? Great bones and lots of potential lay beneath your somewhat unkempt appearance. But I detected the twinkle in your eye, and I was able to look past those ridiculous glass fuses in your fuse box and the uncased openings that so blatantly dated you. I didn't mind.
I had recently lost my father, and I looked to you to provide me with structure and shelter. You were a great investment, I thought. You invested in me, too. You loved my boyfriend, Pavlos, and eventually, once we were married, we both called you our own. We didn't want to change you. We loved you as you were. Evolutions were necessary with time, so we helped kit you out with a new electrical system and some much-needed appliances. We fixed up some stairs and checked that your flue worked. We started to lay down roots.
The following year, the twin towers fell. It was shocking. I couldn't get in touch with Pavlos because he was downtown in the World Financial Center, North Tower. I trudged uptown to my childhood apartment on Park Avenue to watch the news and wait to hear from him. That's when I realized: Park Avenue was no longer my home. You were. I needed to get to you. Pavlos and I converged at your familiar doors, and we stayed with you while panic ensued and others fled the city.
In the years since, we have had many trials. We had that blackout that one time. I had to walk up ten flights of stairs, barefoot, to get to you and Pavlos. He had filled your tubs so we could all have water. I had brought a six-pack of Heineken, a pack of Marlboro Lights, and two Charleston Chews to sustain us. Pavlos looked at me like a divorce might be forthcoming. But his mood passed as we watched the sun go down and we lit candles and chewed our Chews.
In 2006, you helped us welcome our twin sons, whom we squeezed into your tight second bedroom. Soon after that, we expanded together. You, by merging into the apartment next door, and we, by bringing our daughter into the world. This necessitated our rejiggering things a bit. The baby took the boys' room. The boys took our old room, and Pavlos and I moved into a bedroom next door. But we never left you. Your Kitchen and Living Room still nourished us. And while we had baby paraphernalia littering your halls, we did erect fencing to protect you.
I remember swaying with you during an earthquake and hiding out with you during Hurricane Sandy, but things really got going in 2015, when we expanded again. The apartment next door to the old apartment next door became available, and our center of gravity shifted a bit further west. All the plumbing finally got the attention it deserved. Paint was cleaned up, fresh moldings applied, and new ACs abounded. The new parts of the apartment would house the kitchen, bar, living room, dining room, and dressing and master bedroom. You still house our precious children, the family room, and the laundry. As the elder statesman of the three small apartments, you are the indulgent grandparent to the kids. They have fun with you, but must mind their manners in the other two apartments. Your fireplace is mostly cold, and your entrance has been blocked off for safety; but we love you dearly.
Now we are in the era of COVID-19. Pavlos had to quarantine with you for a week while the kids and I quarantined on the newer side, waiting for Pavlos's test results to return. Happily, he tested negative. Then we packed up and left.
That was in March. Now we are in May. This is the longest we have been apart in our time together, and I really miss you. I miss your plumbing. I miss your laundry. I miss your views. I miss your clean smell. I miss the books on your shelves. I miss your mahogany doors. I miss my home. But I promise we will be back as soon as it is safe. And we will make you feel loved all over again.
xoxo Alexa
Next Post