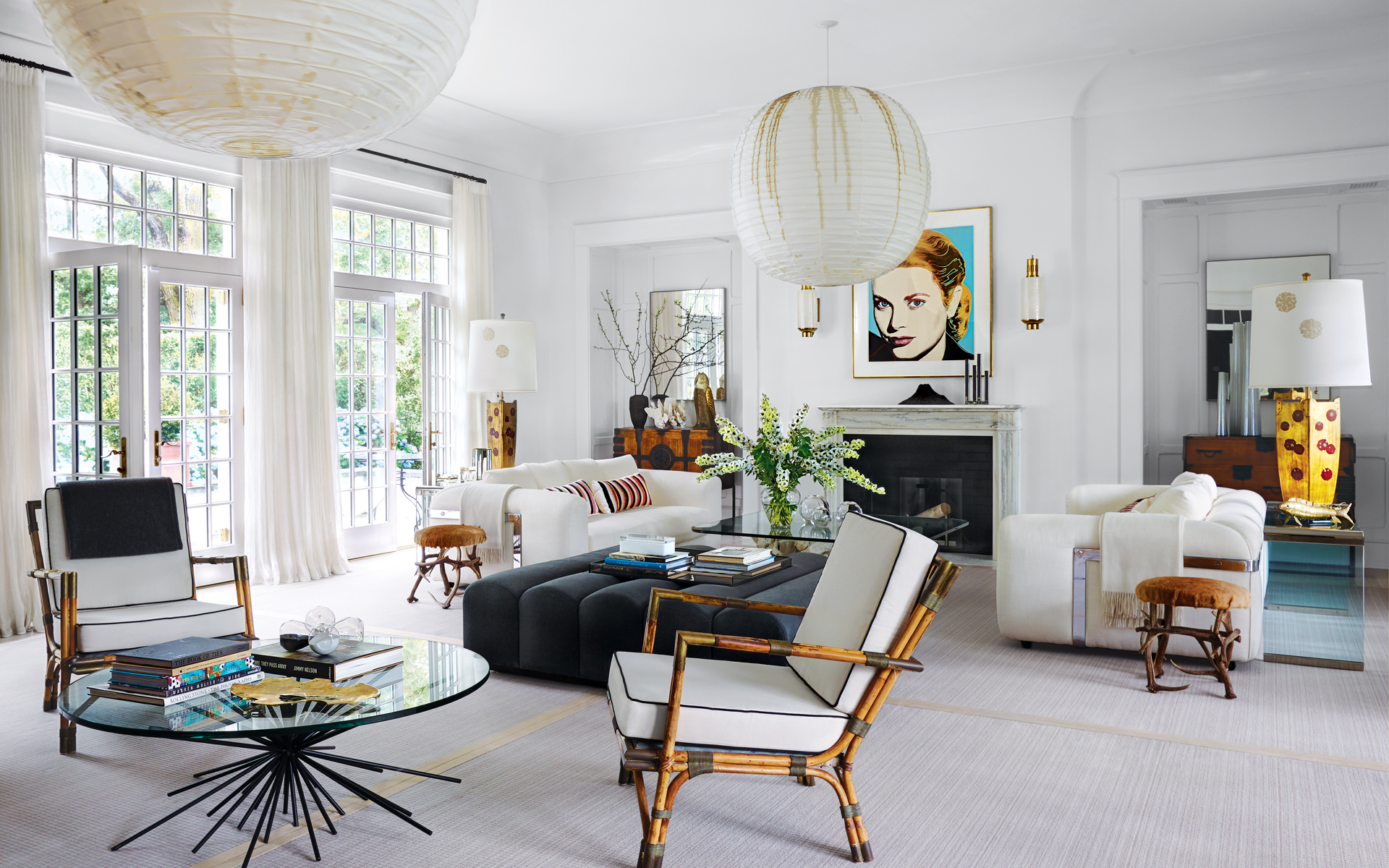 Step Inside a Historic Home in Southampton Reimagined by William T. Georgis
Elevated yet easygoing, mindful of tradition yet thoroughly up to date, Georgis & Mirgorodsky's refresh of a 1930s Hamptons getaway strikes just the right balance
What do a suite of offices in the iconic Seagram Building decorated with rugs in oversize spermatozoa and blood-spatter patterns have in common with a proper Upper East Side townhouse powder room paneled in bullet-shattered mirror? They both came from the creative mind of William T. Georgis, an architect and interior designer who walks a supremely tasteful line between the genteel and the transgressive, the soigné and the subversive, weaving high-impact moments of edginess into pedigreed settings.
It's an approach he brings to even his most understated projects, including his revamp of a circa-1930s Colonial Revival home several years ago in the heart of Southampton on Long Island. Relatively modest by local standards, the five-bedroom, white-shingle home's stately enfilade of rooms and mature gardens call to mind a backdrop for the kind of old-time WASP revelry documented by Bert Morgan or Slim Aarons. Now it's the weekend getaway of a thoroughly modern Manhattan couple, both European-born financial professionals.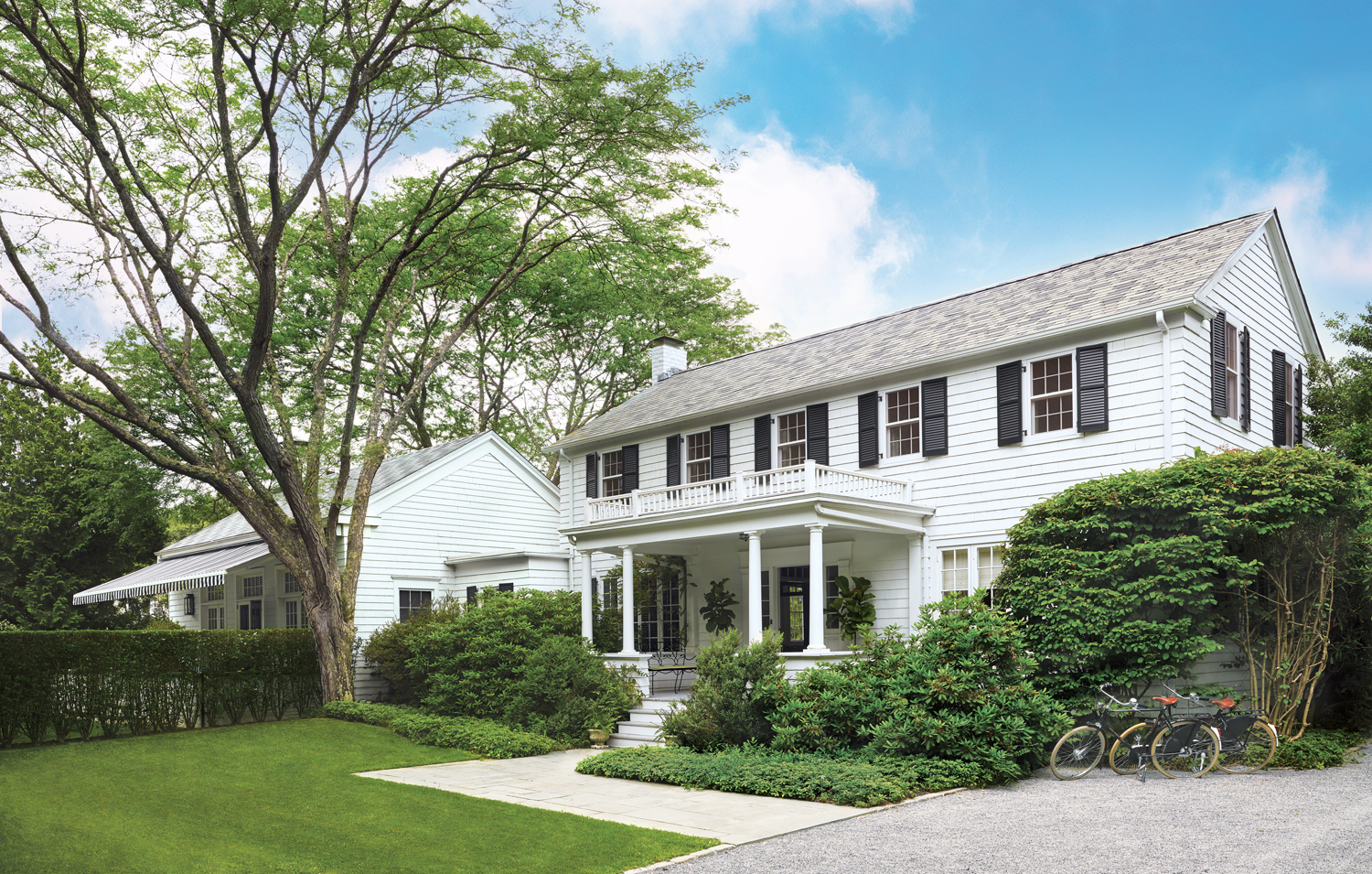 "They're young, they're cool, they're fun and low-key, they collect art, and they're adventurous," says Georgis. Indeed, "adventurous art collector" pretty much describes the typical client of Georgis & Mirgorodsky, the New York City and La Jolla, California–based firm he heads with Ilya Mirgorodsky.
In Georgis, the couple found a kindred spirit—educated, charming, and well traveled—perfectly suited to bringing their sophisticated tastes to life. In fact, this project went so well that they've since hired Georgis to do a multiyear renovation of their Park Avenue triplex as well as a recently purchased home in Palm Beach.
"The house is not precious at all, which I like. It has an easy, lived-in feeling. It's not studied or overlabored"

William T. Georgis
In Southampton, speed was a big priority for the clients, and the architectural alterations were kept modest: crafting up-to-date baths, adding a shaded terrace off the living room—itself an addition to the original structure. The house came with a few "gifts with purchase," including a piano, a Savonarola chair, and a classic Mies van der Rohe chaise, originally upholstered in beige leatherette but now sporting a crisp pink linen. "It was fun, like a chess game," says Georgis of integrating these inherited objects.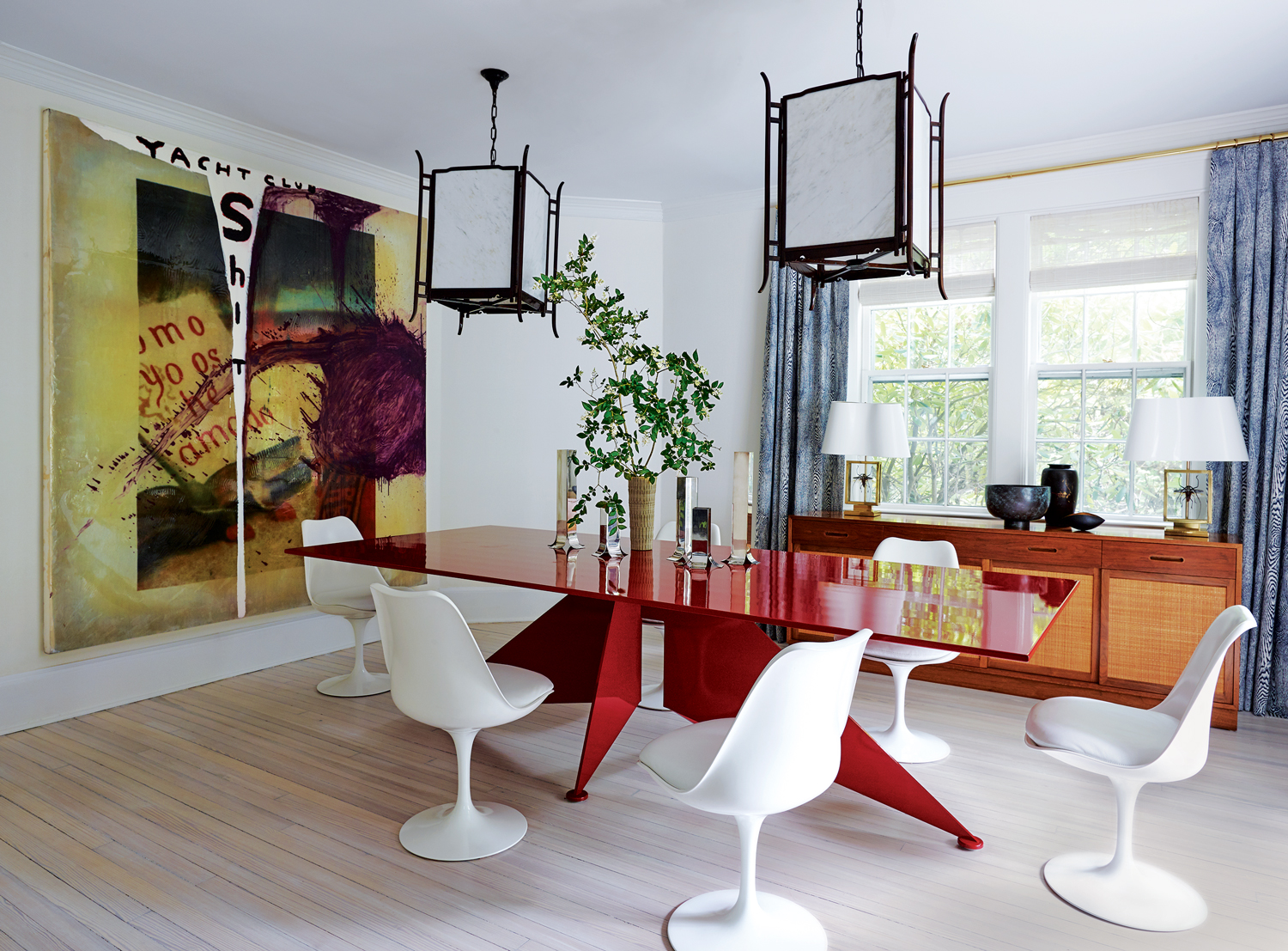 Although the work was done over just a few months, Georgis was still able to weave in the kind of elevated, bespoke details that enliven his more time-intensive projects. The dining room's custom cherry-red table features a base of steel plates reminiscent of an Alexander Calder sculpture. The primary bedroom sports a custom Portuguese needlepoint rug and a coverlet made from vintage Venetian silk velvet commissioned by an adoring owner to mimic the coat of his pet beagle. The winsome guest bedroom features an ivy-print rug and a desk that the European-born client toted from Germany to Oxford to Manhattan and now Southampton, where it has anchored his work-from-home setup for the past year.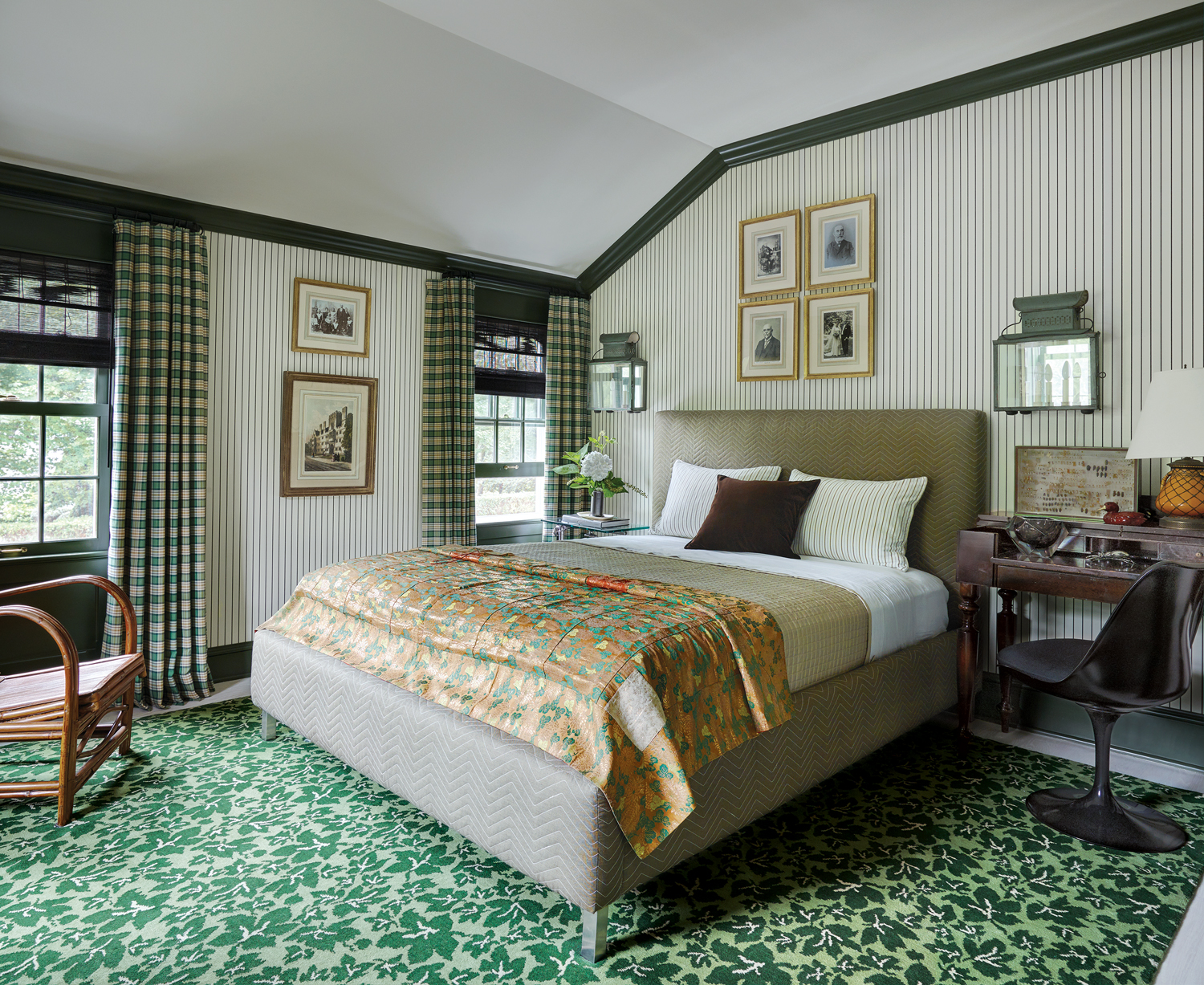 Naturally, a new home calls for new art, including pieces by Andy Warhol, Ed Ruscha, and Marilyn Minter. The couple also acquired several works directly from Julian Schnabel, who has ties to the Hamptons. One of his "Des + Gina" paintings hangs in the entry hall, while another large canvas presiding over the dining room is provocatively scrawled with the words "Yacht Club Shit." Mixed among the blue-chip art are portrait photographs of the husband's family spanning many generations.
The homeowner reports that friends with weekend homes nearby, "even those with larger, fancier houses, some also designed by Bill Georgis, all say ours is just perfect." Adds Georgis, "The house is not precious at all, which I like. It has an easy, lived-in feeling. It's not studied or overlabored."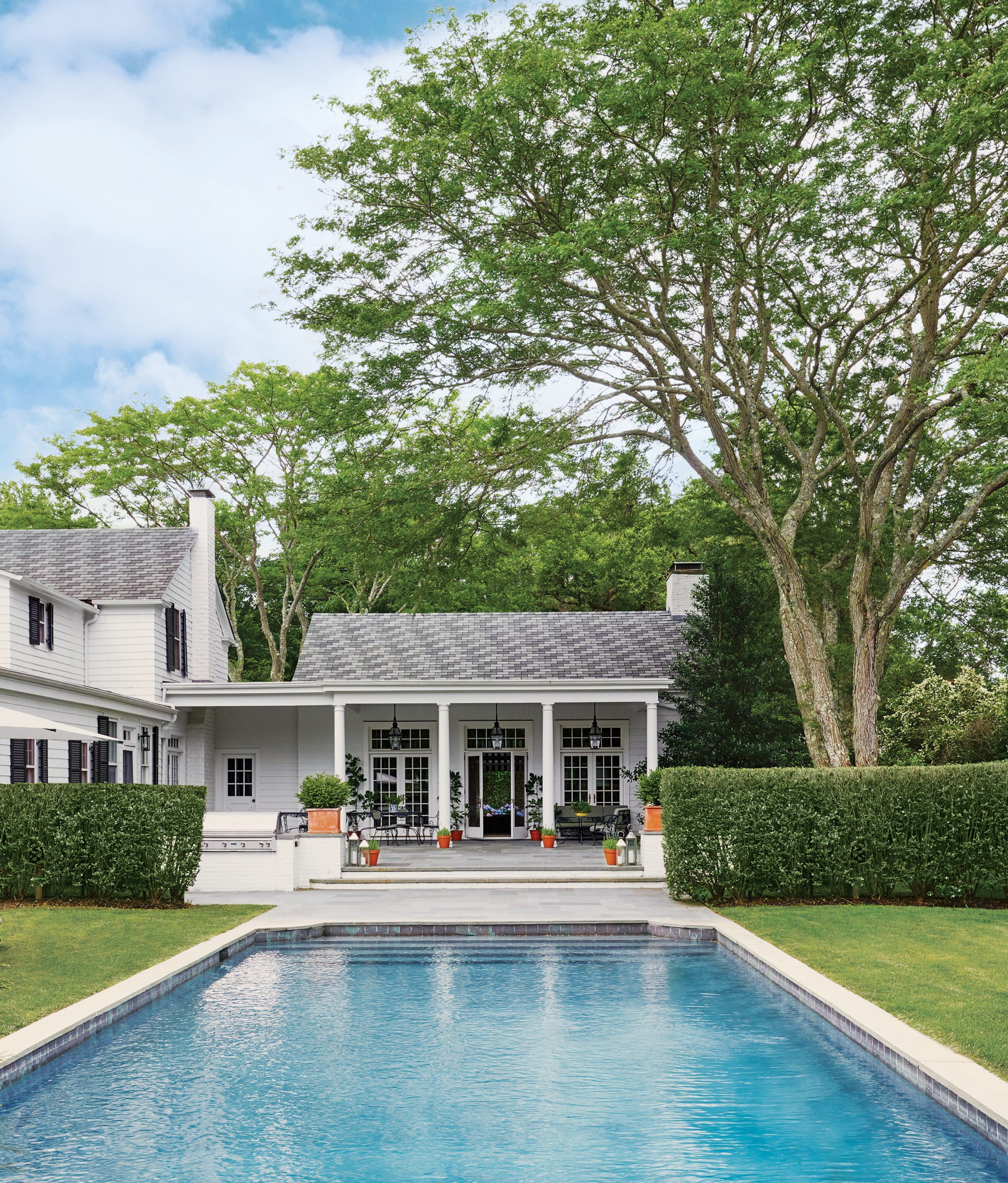 In other words, this home was not Georgis in his full maximalist glory. And that was the intention. "It's fun not being so serious," the designer says. "This wasn't our typical project in that it was put together quickly and on a budget. But it captures the couple's sensibility and point of view."
The client agrees. Working within their parameters, he says, "Bill really just hit all the right notes."
A version of this article first appeared in print in our 2021 Summer Issue under the headline "Happy Medium." Subscribe to the magazine.
Next Post